Whenever I'm daydreaming about taking a holiday it's always to tropical destination. As Mr GG and I flew into Cairns admiring the gorgeous ocean dotted with islands and reef, I had already slipped into holiday mode.  I was looking forward to checking into the luxurious Shangri-La Hotel Cairns, and basking in the far North Queensland sunshine.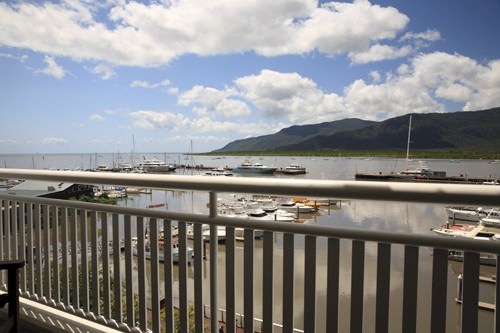 The Shangri-La Hotel Cairns Marina is located right on the waters edge at the Marina. Yes, the name is a clue to the location. What I wasn't expecting was a gorgeous view of the marina from our suite. I find water views so relaxing, and when we entered our room I was immediately drawn to the balcony.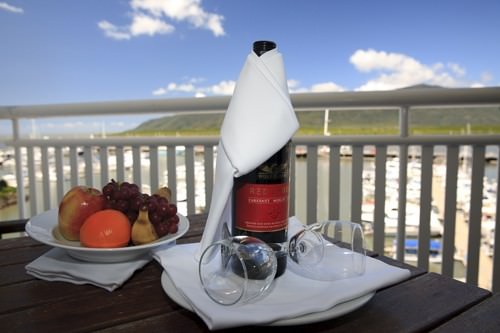 Brett & I watched the boats and yachts come and go.  People strolled along the esplanade and we had a birds eye view of all the seaside activities. It had been an early flight so we thought we would take some time to enjoy our surroundings and relax a little. As I melted down into my chair on the balcony with a glass of red wine there was no where I would have rather be in the world.
The skies were impossibly blue, the temperature was just perfect. We were sitting on our private balcony at the Shargri-La enjoying a gentle sea breeze. Best of all, I was sharing a beautiful moment in this gorgeous hotel with my amazing husband.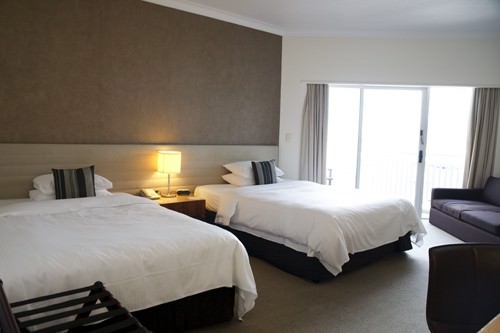 When we finally came in from the balcony I fell on the bed and I sank into the linen. I warned Mr GG that I may never move from that spot.  The linen was sumptuous thick Egyptian cotton, covering a goose down quilt. WOW! So comfortable!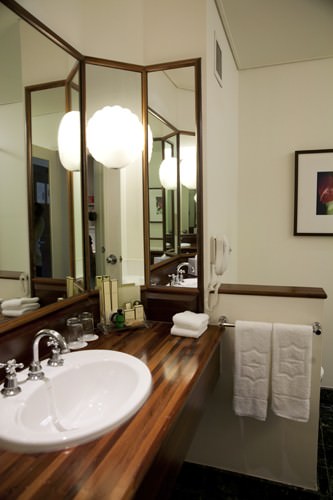 No matter how much I protested, my restless husband kept wanting to explore.  I think he may have been a dolphin in a past life because he was needing to swim. No amount of fawning over the bed covers, or pleading for another five minutes was going to stop him from finding the pool.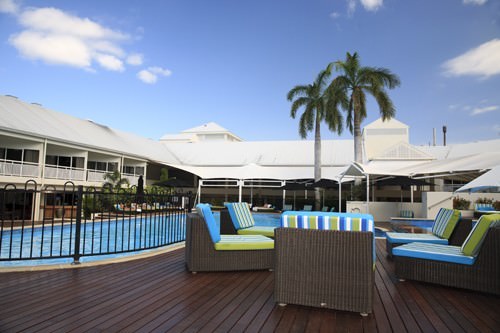 Have you ever seen such beautiful, clear blue skies?
My job was to lie on one of the cushioned recliners and bask in the sun while Brett swam.  It's not a difficult job by any means but a girl can get a tad thirsty in the tropics.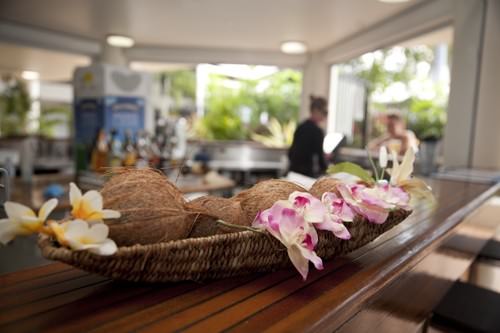 Thankfully the rehydration station wasn't far from my lounge.  There were quite a few cocktails to choose from but I settled on something fruity and fresh and returned to my position by the pool.
It wasn't long before Brett was drying off and talking about travelling further afield. The Shangri-La Hotel Cairns is situated on the Cairns esplanade. It's ideally located alongside restaurants, bars and the beautiful Cairns Esplanade.So thankfully our further afield was about 100 metres away.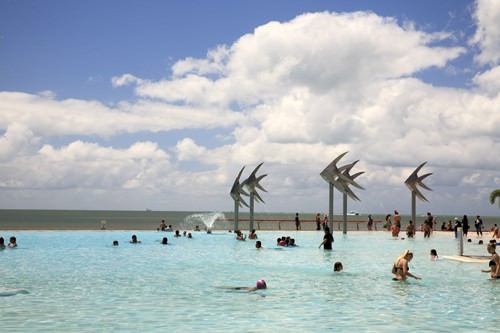 We took a lazy stroll to the beautiful Cairns Esplanade and the lagoon. The Esplanade is Cairns focus point. We have visited here before with the children and we just LOVED it! The Esplanade lagoon is a huge pool filled with sea water from the Trinity inlet. The lagoon has varying depths, shaded areas and a lovely flat grassy area to throw down your beach towel.  We found on our previous visit that we barely moved from this location.
So many activities are located on the Esplanade! Free Yoga and Zumba are available in the mornings, the markets are held each Saturday and live entertainment is a weekend affair with local entertainers keeping the atmosphere buzzing into the night. Cairns restaurants are all located within walking distance to the Esplanade.

Hubby took another swim in the lagoon before we made our way back to the Shangri-La.  Our central location has meant that we had no need to hire a car.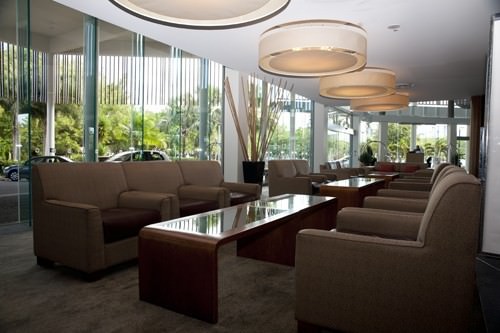 Shangri-La Hotel, The Marina, Cairns
Pierpoint Road Cairns Qld, 4870
Website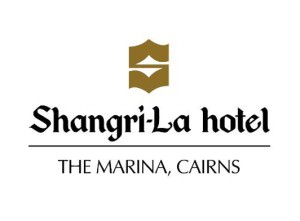 Hubby and I are enjoying Tropical Far North Queensland and will be bringing readers our feature series on the area thanks to our FNQ Sponsors Shangri-la Hotel, The Marina Cairns and Tigerair. As always the opinions contained in this review are written without bias and in accordance with my disclosure policy.