SeaSalt Sawtell is very easy to find.
It's located on the Main Street of sunny Sawtell and usually has a crowd of people hanging around the door, waiting on orders. Locals know all about this popular fish and chip shop so the three bench seats out the front of the store are at a premium around lunch time!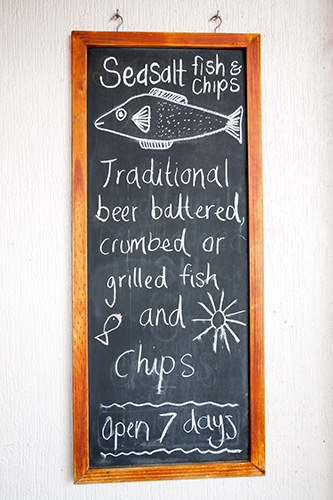 I stumbled upon Seasalt whilst I was looking for Coffs Best Chip. I ran a Gourmet Getaways Facebook Poll to see who made the best chips in Coffs. Locals nominated places they thought made good chips, and everybody voted for their favourites. Seasalt Sawtell was in the top 5!
To get the definitive answer, "Who Makes Coffs Best Chips," we put the top chip takeaways through a rigorous chip tasting. SeaSalt Sawtell was voted number one, by the panel of 10 judges!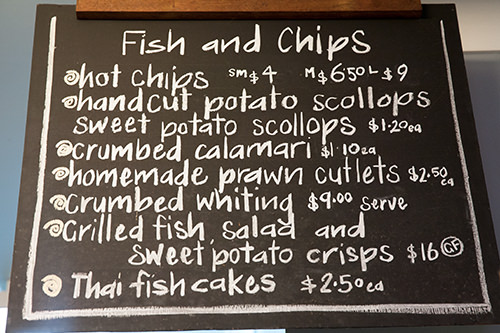 So after Seasalt had such a resounding success at our "Chip Off" I thought we should scoot out to Sawtell and check out the Seasalt menu. Secretly, I wanted to get my hands on more of those chips!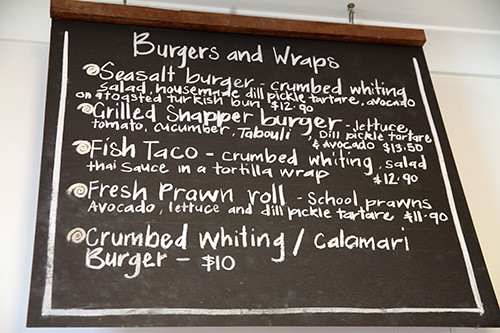 Plus, one friend had mentioned that they made pretty awesome burgers, and another had great things to say about the fish taco.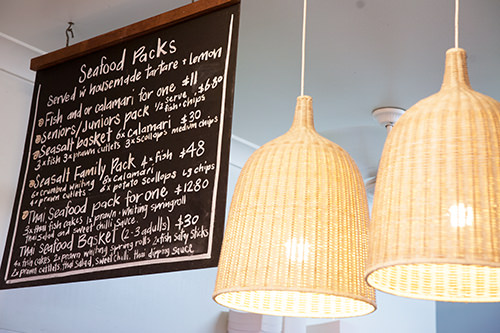 After looking through the menu I knew we were going to struggle.  There were so many things I wanted to try but only the two of us to eat all the food! Such dilemmas! Sweet potato crisps, Thai fishcakes, hand cut scallops!! YUM!
We ordered, and even though there were a lot of hungry people waiting the orders came out quickly. In a short time we had our food and were heading to a park on the water. I even managed to resist eating the chips on the way.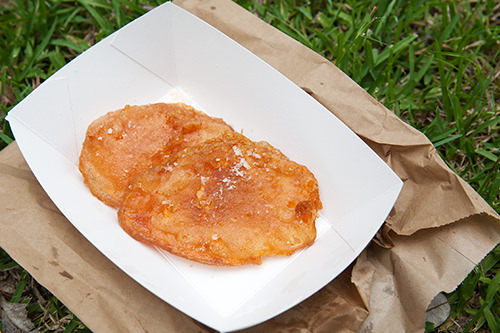 The moment I had noticed the hand cut potato and sweet potato scallops on the SeaSalt Sawtell menu I new they had my name all over them! I ordered two sweet potato scallops and one potato scallops… Just for a taste comparison.
I'm guessing someone at Seasalt was looking after my waistline because we didn't get the potato scallop. It's possibly a good thing because I would have drowned it in the homemade tartar sauce and wrapped my mouth around it before hubby had a chance at it!
I nearly hid the second sweet potato scallop from Brett. They were CRAZY good! Omg… a thin crisp batter so crunchy and moist with delicious salty oil!! Yum, inside thinly sliced soft sweet potato! WOW!
This is the kind of stuff my happy food dreams are made of!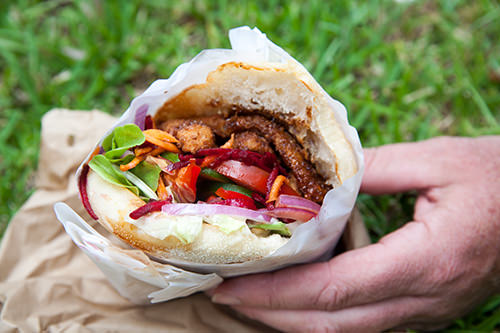 Hubby had ordered a Seasalt Burger with no tomato and no beetroot. I think he is the only Australian who doesn't like these two items on his burgers. The Seasalt burger is served on a huge piece of toasted Turkish bread. Its packed full of salad and crumbed whiting and features a delicious Asian style sauce. It was a massive burger!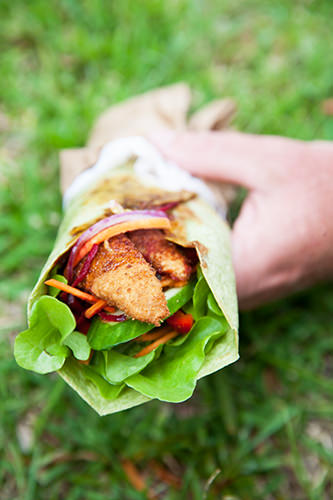 I had ordered the fish taco! I wasn't really prepared for what I received. It was the biggest wrap I have ever been handed. My fish taco was actually a massive spinach wrap packed full of fresh healthy salads, avocado and crumbed fish. It had the same sweet Asian sauce that was on Brett's burger. It tasted healthy and delicious.
I asked hubby if he enjoyed the burger and he said "Yep, I really did."
I had expected today's lunch to by a binge on junk food but it was really quite healthy.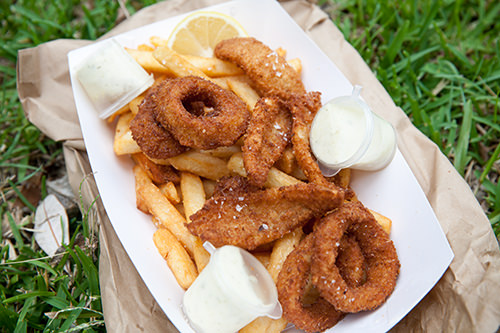 To satisfy our deep fried food craving we had also ordered the fish and calamari with chips. The chips absolutely lived up to their reputation as being the best in the area. They are just so crispy on the outside and fluffy in the middle. The calamari and whiting was the same as you would get in most takeaways, but the lemon and abundant homemade tartar sauce is a nice touch.
It's was so good to relax in the park and have a fish and chip binge.  Better yet we walked away feeling like we had eaten something really good. SeaSalt Sawtell has a great selection of healthy burgers and fried food so it's not all guilty pleasures.
SeaSalt Sawtell Takeaway
29 First Avenue, Sawtell, NSW, 2452
Ph: (02) 6658 9199