Where to stay, eat and what to do. Santa Monica or Venice Beach?
I had the hardest time trying to decide on accommodation when we were planning our trip to visit California. I knew I wanted a hotel near the beach, near restaurants and near public transport as we needed somewhere to stay with lots of things to do.
I wasn't sure whether to stay in Santa Monica or Venice Beach.  At first glance, both places seemed to have everything I wanted!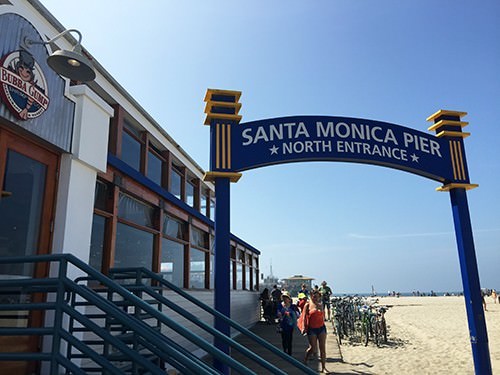 I also didn't know if the big dollars it costs for a hotel near the beach would be worthwhile.  After all, I like shopping and restaurants, so if I was a couple of blocks back from the beach, would it be so bad? I'd just be in the midst of the shopping and cafe scene.
Also, I was a bit confused. Why was accommodation on the beach at Venice Beach, so much cheaper than hotels on the beach in Santa Monica?
Now that we've had our time in both places I know the answers to these questions and so much more. Looking at them, Santa Monica is certainly the more stylish, upmarket suburb of the two.
It's catering to more sophisticated shopping and travel. Venice Beach attracts a younger more grungy traveler, and the accommodation is styled and sized to suit that market.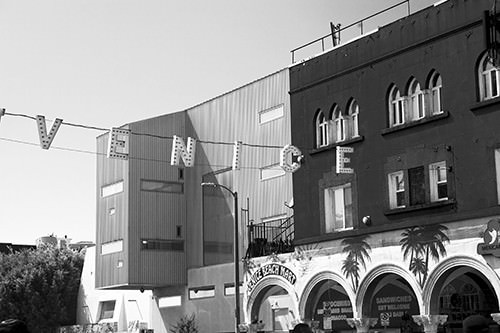 Not knowing the geography of Los Angeles or the "feel" before we arrived, made choosing between the two area's even more difficult. Where do we stay, Santa Monica or Venice Beach?
I was also concerned that if I chose neither and booked something on the beach between the two suburbs, we would be isolated. I need not have been concerned about that!
Between Santa Monica and Venice Beach are cycleways and pedestrian paths which hugs the edge of the sand and is gorgeous.  On the Santa Monica side of the cycleway, you have the Santa Monica Pier.
---
Visiting the Santa Monica Boulevard and Pier
"All I wanna do is have some fun
I got a feeling I'm not the only one
All I wanna do is have some fun
I got a feeling I'm not the only one
All I wanna do is have some fun
Until the sun comes up over
Santa Monica Boulevard"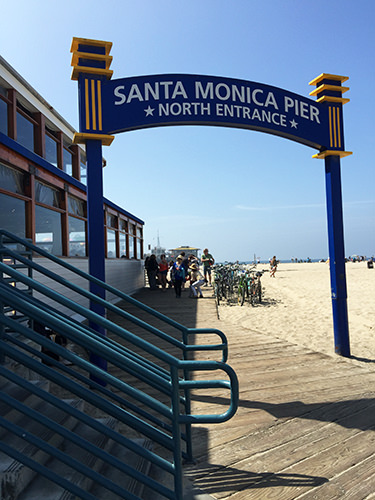 Sheryl Crow had a hit with "All I wanna do" in 1992 with this song about the Santa Monica Boulevard.
Since then, anytime I think about it the song comes to mind, and here we are now. I'm strolling down Santa Monica Boulevard, humming the tune and taking in the atmosphere.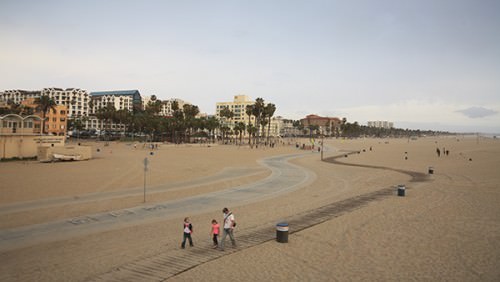 After our epic drive from Vegas to Los Angeles, our prize was a glorious sunset over the Santa Monica pier. It's a little surreal seeing the sun go down over the water in the evening, the reverse of what we experience in the eastern states of Australia (of course Western Australia is different).
It's Spring Break in America so everyone here has that holiday vibe about them. The alfresco bars on the boulevard are filling up whilst other people can still be seen on the beach making the most of the last remaining light.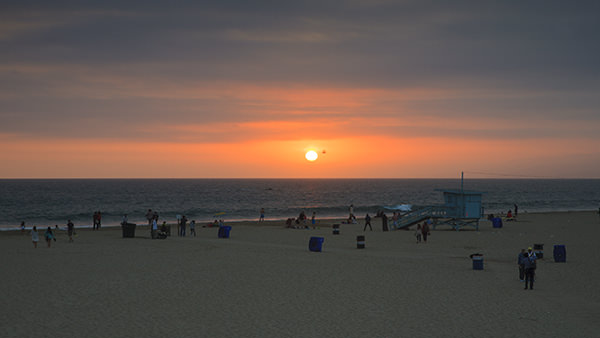 The Santa Monica Pier is busy with couples, families, and teenagers all laughing and chatting whilst enjoying the mild weather and carnival atmosphere.  A lot of the buildings on the Pier have a lovely art deco feel. The Hippodrome was actually built in 1916.
Now it houses the historic carousel and little children can be heard giggling as they ride the hand-carved horses. Nearby there is a vintage soda fountain which also adds to the feeling of the period.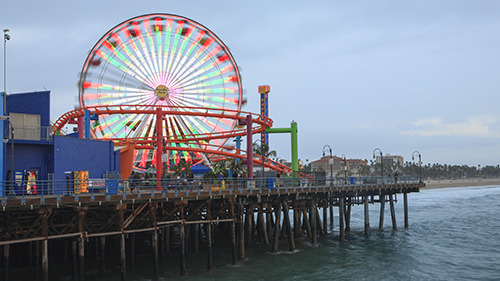 The whole experience is larger than life. I took a deep breath in and could smell the salt in the air. We walked further out on the pier and saw buskers performing as the wooden roller coaster thundered overhead. The blur of the Ferris Wheel lights added yet another element to the scene.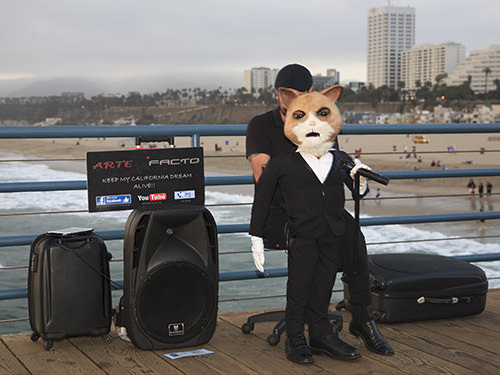 ---
Bubba Gump Shrimp Co on the Santa Monica Pier
I'd like to say we watched the surfers getting their last wave of the day, but there weren't too many waves on this day.
By the time we completed our walk the restaurants on the pier were getting quite busy. I noticed one called Bubba Gump Shrimp Co. You may remember the Pier for its role in the Forrest Gump movie.
Forrest runs across America and back again and the pier is featured in the movie. Now there's a Bubba Gump Shrimp Co franchise restaurant on the pier for Forrest Gump fans. Yes, only in America would this happen!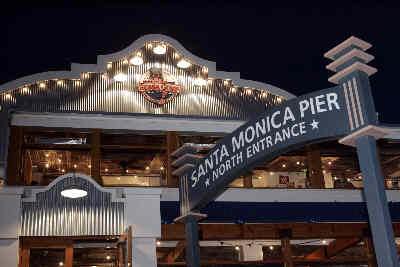 I checked out the menu, and it was mostly prawn dishes as expected.  There were some Cajun and Southern Style dishes too. After spending five days in Las Vegas where everything except the bar stools was deep fried I was looking for a healthier meal, perhaps even vegan and raw!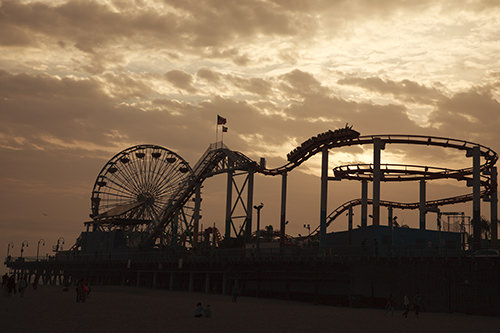 After just a brief walk on the pier, and along the famous Santa Monica Boulevard it is already everything I had imagined it would be.
If you continue to Venice Beach you'll see numerous beachfront cafes until you get to Muscle Beach, a little along from there, you will find yourself at the Venice Beach Markets and then the Venice Pier.
In between the two beaches, there is plenty to keep the average traveler entertained, and it's just beautiful!
Did you know Baywatch was filmed here? Although there wasn't any sign of "The Hoff" while we were on the beach.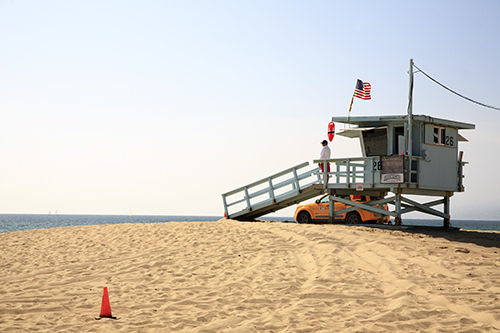 ---
Venice Beach is loaded with fun things to do
Venice Beach is where I would stay if we were on a couples holiday, a holiday with friends or backpacking. There is so much here to offer! It's funky and a little rebellious.
I snapped a pic of this metal VW as Brett looked for a skateboard in one of the beachfront stalls. To me, this really summed up the feeling of Venice Beach, a little retro, a bit cool, a little beat up but totally carefree.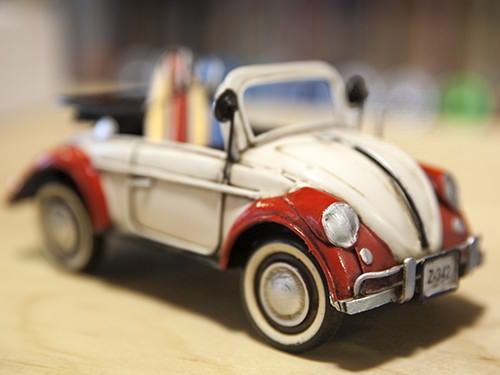 The area has lots of grungy pubs, live bands playing and it seems like a great spot to just chill. The Beach has budget accommodation located right on the sand.
We saw people just sitting in the windows, watching the surf, and watching people strolling by all day. They usually had a cold beer in their hand or have been down to the "Green Dr."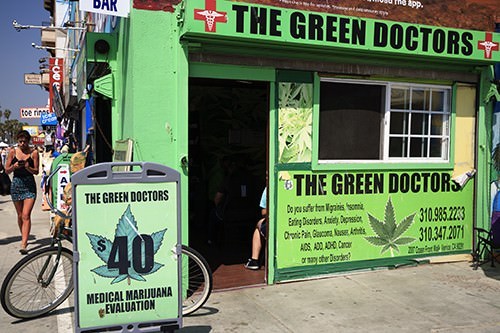 Oh, a little word of warning, don't inhale too deeply.  The smell of legal marijuana starts at dawn and only gets stronger in the air as the day progresses.
Perhaps that is why I have such a mellow feeling about this place. Anyway, I guess if that's what you're looking for then look no further. The clinics are spaced about 50 meters apart so you can't miss them.
Even our children asked me about the smell! It was time for us to go back to Santa Monica!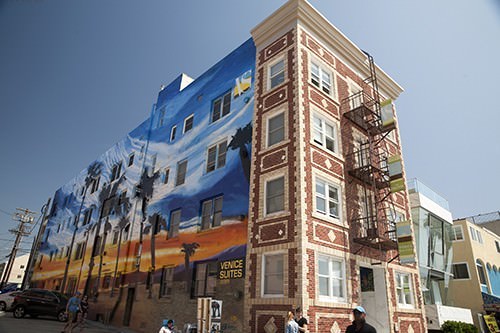 One more plus about being in Venice Beach is it's just full of entertainment. The buskers are out on the street; stall holders are seeking their wears, crazy mofo's ride past on bikes talking gibberish to themselves.
Venice Beach is just entertaining!  It would be amazing to have the time and location just to sit back and watch everyone's day unfold.
Venice Beach and Santa Monica both have an amazing dining scene, but where Santa Monica has a slant toward a more sophisticated style, Venice Beach had a casual, healthy, funky food flair happening.
We spent nearly a week enjoying the best of Santa Monica and Venice Beach. As we walked around, did some shopping and dined at as many restaurants and cafes as we could.
---
---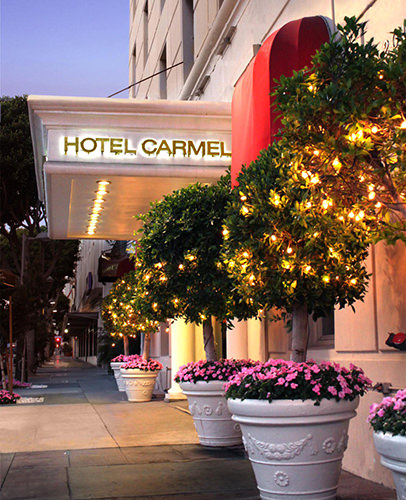 We stayed for three nights at the Hotel Carmel with the children.  It's older style building with original 1920 features and lots of charm.  The Hotel Carmel is a budget hotel, but I consider it a great "find." The tariff included a lovely continental breakfast served in the lobby.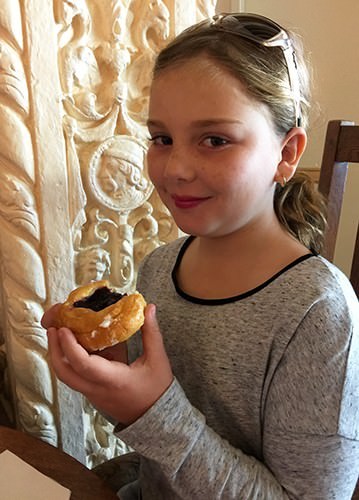 The hotel is located on the 3rd Street Promenade which is only one block from the beach and right in the middle of shops and restaurants.  We didn't need the car at all during our stay. All the staff were fantastic. Going past this for value and convenience would be hard.
---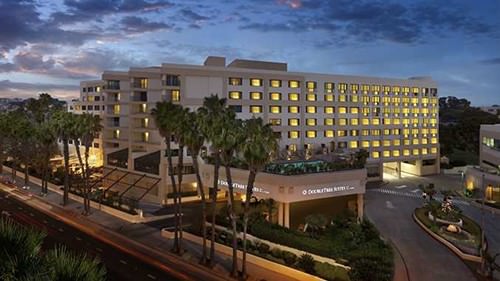 We had a two-night stay at DoubleTree. The children preferred this hotel over the Hotel Carmel as it had a swimming pool. On a comfort level, DoubleTree is a Hilton Hotel so as expected the level of comfort and style was typical of the Hilton Hotel the brand.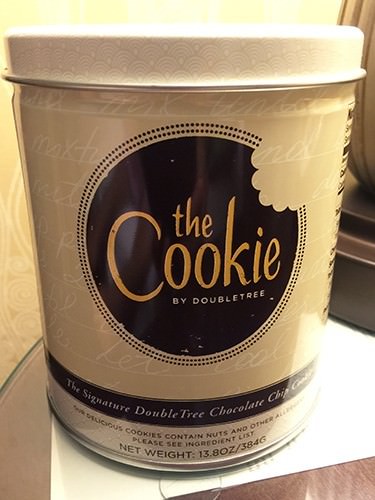 Oh, and I loved the cookies. Now, I know you shouldn't judge a hotel by their cookies, but I can't help it!
I would go back just to get more of the warm cookies they give you at check in.
They were out of this world!  I noticed they were also available via room service in take home tins. Obviously, I had to buy a tin. Only it didn't make it home with me.
DoubleTree is a little out of the main shopping and restaurant area of Santa Monica and a distance from the beach so we did need to use the car. They do provide a free courtesy bus for guests.
---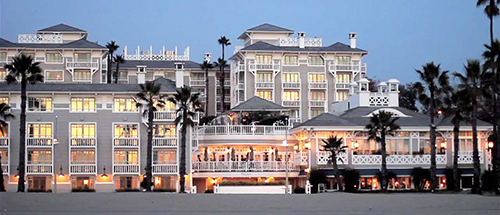 Shutters on the Beach is a standout, luxury accommodation on the beach at Santa Monica. There is literally nothing between you and the sand! I noticed the 5 star Hotel the first time we ventured onto the beach, and I was instantly envious of everyone staying there.
I can honestly say, there is no better location in Santa Monica, and the style of this property is like no other in the area. The hotel has an elegant opulence, while still maintaining a beach house feel.
The facilities include a day spa and three restaurants, all with beautiful views of the ocean. Alas, we didn't stay at Shutters on the Beach, but we did enjoy a meal at one of their restaurants which only made me want to stay here more.
Get the best Deals for Shutters on the Beach here at Booking.com
---
Accommodation in Venice Beach, California
Su Casa at Venice – Budget – Couples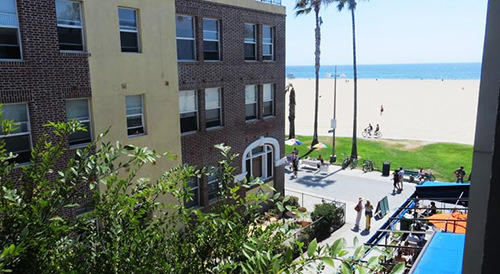 I admired this property during our many strolls along the Ocean Front Walk between Santa Monica and Venice Beach. I never imagined the rates would be so reasonable.
I thought the people sitting in the sandy courtyard must have been rockstars in between gigs.  The apartments are literally on the sand.  I chose the Su Casa because they are not located in the busiest section of Venice Beach, so I think it would still be reasonably peaceful if you wanted to stop partying.
Venice Breeze Suites – Mid Range – Couples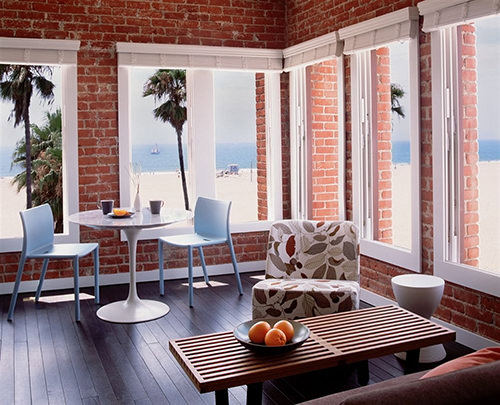 This is another block of holiday let apartments, which we admired from the beach. The property has been renovated, and the apartments are modern. There's a rooftop terrace we noticed with a BBQ area that guests were using.
Venice Breeze Suites is plainly visible from the beach, and I was more than a little jealous.
I haven't included any high-end accommodation for Venice Beach as there didn't seem to be anything that was worth mentioning. Venice Beach is relaxed, casual and cheery.
If you're looking for something more exclusive one of the other beaches is probably going to be a better fit.
I also hadn't included any family accommodation in Venice Beach because when we were looking, I wasn't able to find anything suitable.
So these are my picks of accommodation in Santa Monica & Venice Beach. I haven't seen everything on offer, but I did make a point of looking at the hotels that were in the spots I liked.
I hope this list helps you next time you're looking for accommodation in Santa Monica or Venice Beach.
---
If you're looking for places to eat in Santa Monica we highly recommend:
The Independence Tavern – Read our review here.