Bhing and I are travelling between Sydney and Brisbane on a foodie road trip at the moment. We have been spending some time on the Central Coast and finding it amazing. The winding roads snake around the bush covered mountains, and the lakes are just beautiful. Each turn of the corner seems to yield a new and wonderful place to eat.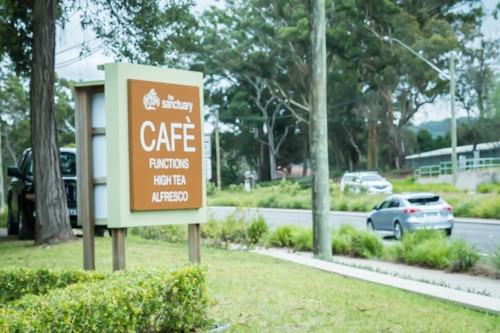 Located in one of these scenic bushland areas we found the charming and aptly named Sanctuary Cafe. It was positioned next door to the awe-inspiring Ken Duncan Gallery in Erina Heights.
We were booked in for lunch and Chef Luci Dengate met us with a smile when we arrived. Luci is also the the owner of this busy cafe.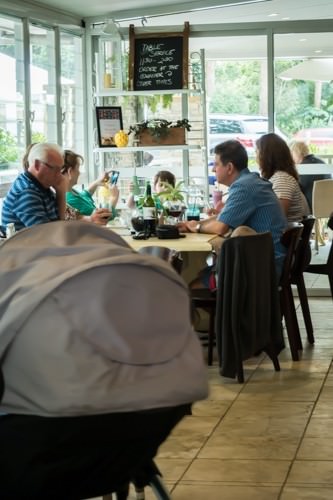 We were seated on a cosy couch by the window. It had a calming view of lush green trees and trimmed grass.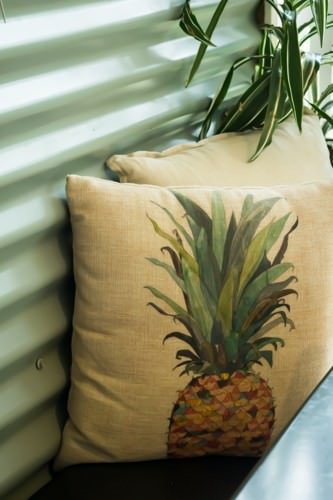 At the recommendation of the wait staff for drinks, we had ordered the Iced Tea. I'm not usually an ice tea drinker but the staff had mentioned this particular iced tea was quite special. Iced Tea had sounded boring to me when I saw it on the menu but I couldn't have been more wrong. When the glass arrived I was amazed. The fresh raspberry had given the tea a nice scarlet tinge. There was a hint of lemon and mint, which made for a flavourful fruity tea.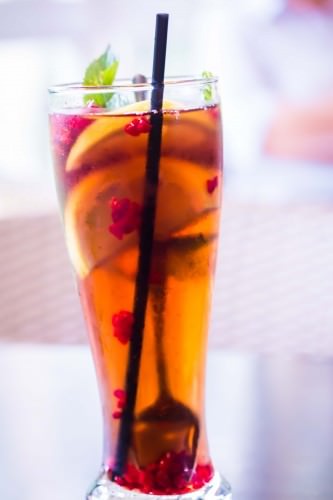 Looking around the room I noticed some crisp Corn Fritters coming out of the kitchen. The balls were fried beautifully, and crisp on the outside. I knew I had to order these.
Biting into each revealed moist fritters made with corn and carrots. The king prawns worked well with the sliced fresh avocados and salad greens. I particularly liked the chilli jam they served as a dipping sauce for the fritters, too. It was sweet and spicy.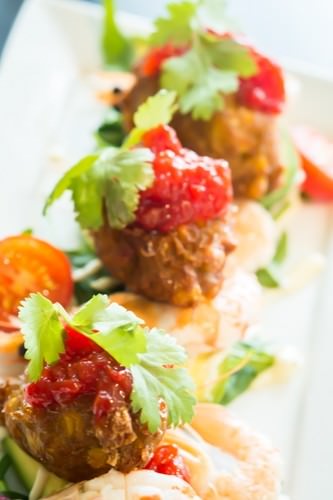 Bhing had ordered the Warm Tart of Asparagus, Dill and Ricotta. It was stacked high with crunchy greens but I must say the smoked salmon stole the show for me. It was really good. Even Bhing who doesn't usually eat a lot of salmon finished a good portion.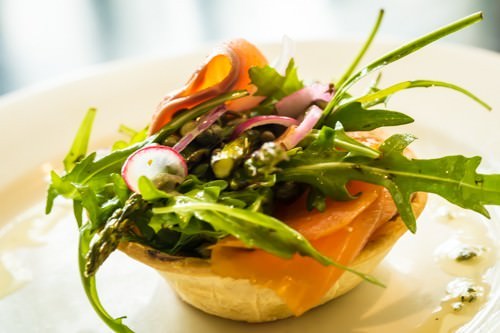 Whilst we had been enjoying all the delicious food I had watched diners finish their meal and leave only to have their table snavelled up in a second. There was never an unoccupied table. This was a obviously a very popular restaurant. It was no wonder with all the delicious food.
I always like to watch the dishes that are brought out from kitchen, it gives me ideas about what to order. I noticed a colourful dessert being presented to various tables. Looking at the menu I presumed it was the Eton Mess.  So, we ordered an Eton Mess and the Salted Caramel Semi-Freddo.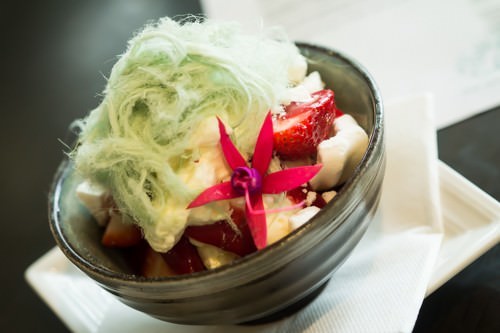 The dessert was gorgeous! Bright green fairy floss garnished the top of this sweet treat. Lovely fresh strawberries were combined with chucks of crunchy meringue. The dessert was sweet, but the fresh raspberry coulis cut through the sugar. I still felt guilty about consuming such a decadent treat.
The Semi-freddo plating was beautiful. Two blocks of creamy white semi-freddo were served with  crushed roasted pistachio and a generous stripe of salted caramel. A pretty pink flower made the dessert a work of art.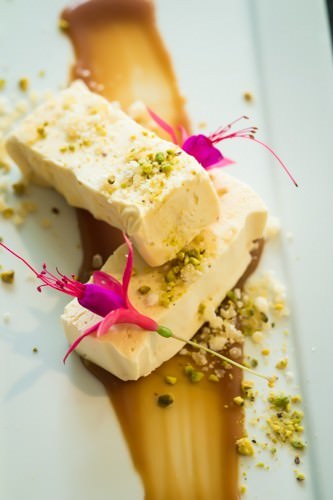 The balance of flavours was amazing, sweet and salty, crunchy pistachios and creamy semi-freddo.  It was just the right proportions of each flavour and texture.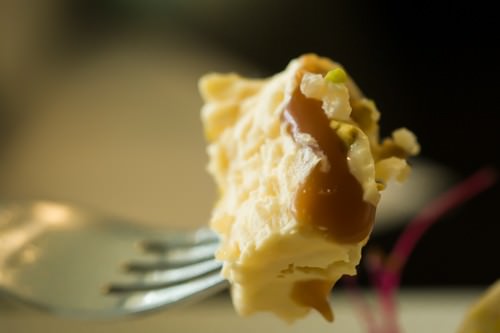 I would have loved Julie and Brett to have joined us for lunch so we could sample more of these delicious dishes.  I could smell the rich aroma of coffee and I know Julie would have ordered one for sure, it would have been  perfect for the cold weather.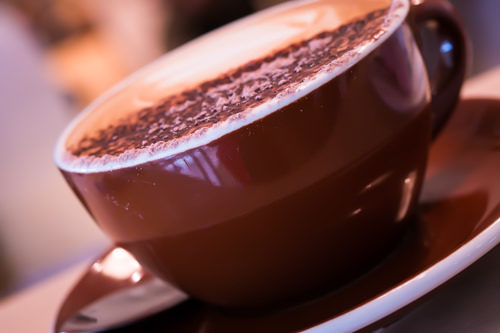 The childlike Bhing decided the Hot Chocolate with the pretty pink marshmallows was the best way to warm ourselves, hehe, too much sugar is never enough.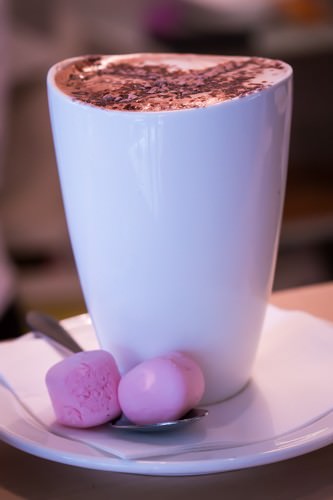 On our way out my eyes locked in on the coasters laid out on a table. I smiled reading at each one. I'm guessing Julie's favourite would be – "Life is short, eat dessert first." Or would it be her little girl Anais'? 😉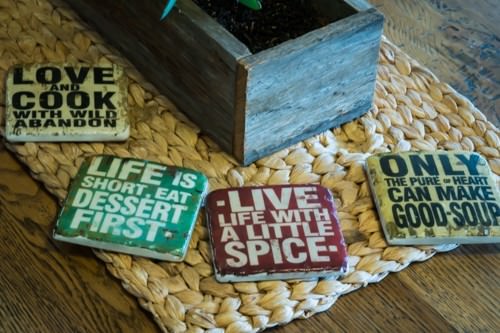 At the counter I took notice of the ordering numbers and décor. It had a feel of fun and inspiration in every piece.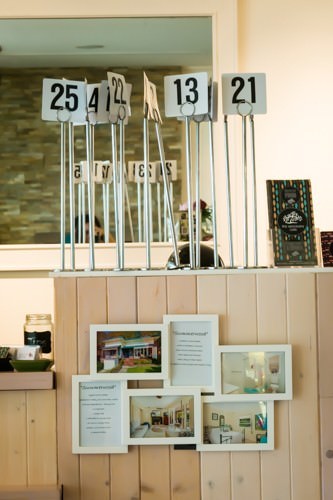 Even though this was a busy restaurant it was a pleasant surprise to see how fast the orders were served.  The staff were so friendly and efficient, and the dishes were not only gorgeous but truly delicious.  They had a homely, wholesome taste.  I love home cooked meals, but I really love being able to go to a restaurant or cafe and feel like you have had good honest, fresh food.
It's easy to see why The Sanctuary Cafe is so busy, good food, great service and the most beautiful green leafy outlook.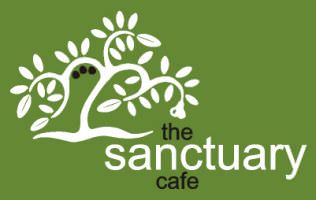 Gourmet Getaways would like to thank The Sanctuary Cafe for the opportunity to experience the restaurant. The opinions contained in this review are written without bias and in accordance with Gourmet Getaways' disclosure policy. 

The Sanctuary Café
 414 Central Coast Highway ,Erina Heights, NSW 2260 T: (02) 4365 6955