Avid food connoisseurs will be pleased to know that Salt Meats Cheese has now opened a sister outlet to it's popular Alexandria food emporium. Mosman's Military Rd is home is now home to the new premises which promises to be just as popular as the original store.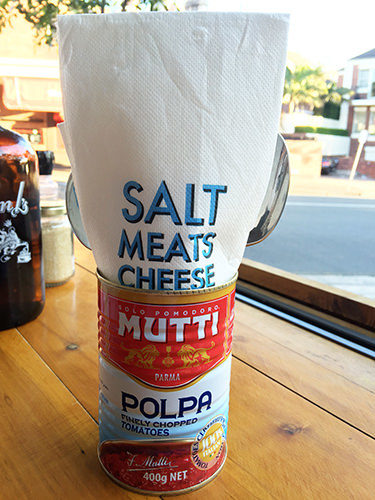 I initially received a recommendation from my friend Joanne who is a chef.   The text to me was  simple, Salt Meats Cheese "Great cocktails. Brilliant cheese."  Given that cured meats, imported cheese and cocktails are some of my favourite ways to waste an afternoon I didn't take too much convincing. Hubby and I decided to stop by the new location and take a look.
We arrived at Salt Meats Cheese at about 6pm, it was still daylight and there were stools available at the window. We chose a spot where we could look out at the Mosman streetscape. We only intended to stop by for a quick cocktail so we perused the drinks menu.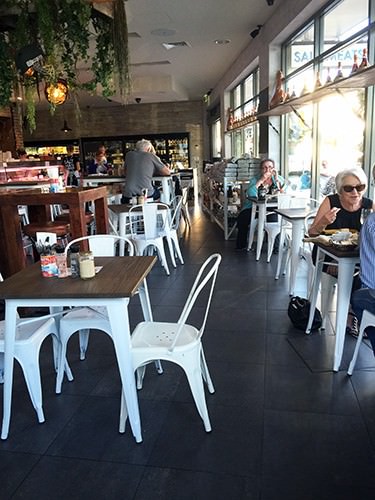 Brett was pleased to find some beers on tap that he hadn't sampled previously. He eventually decided on the Manabrea Lager from Italy. I wanted something refreshing so I selected the White Sangria. The Sangria included sauvignon blanc, fresh fruit, apple cider and limonata. I loved how it looked when it arrived at the table with the three grapes and full of fruit. It was the perfect choice, so delicious, cool and crisp, just what I wanted after the hot summer day we had experienced.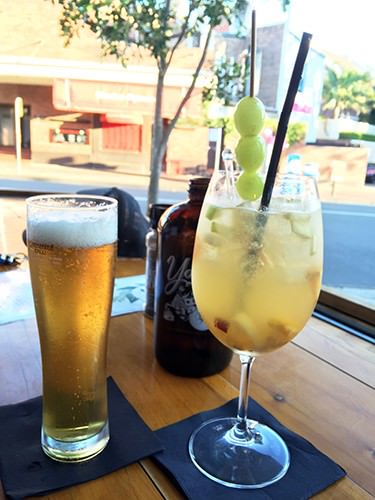 The waitress also brought some mixed nuts for us to snack on as we lazed.
"Yum!" "Smokey nuts!"
I said, huh, looking up from my trance!
"You have to try the nuts," Brett said.
The nuts had been roasted in a smokey seasoning which made them very special.
"OMG! Even the nuts are special!" I exclaimed. "I need these nuts in my life, I wonder if I can buy them?"  We demolished the nuts is no time and even though we weren't planning to stay our appetite had been sparked for something more.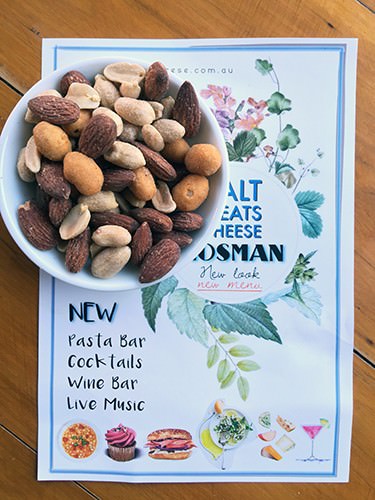 We looked over the menu and decided to order the Grazing Board which included a selection of cured meats and imported cheeses. By this time Brett had finish the Italian beer and decided to try the Japanese Orion Lager, which was also on tap. I asked him what the beers were like and he said,
"Good… all beer is good."
I'm sure this is not really true but it was his way of saying he was happy with so that was good enough for me, so I left it at that.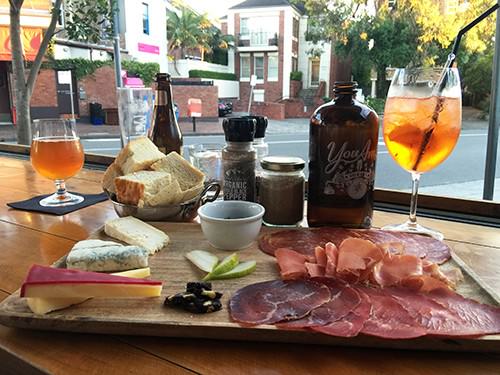 The tasting plate arrived as I was finishing my Sangria so I order a Classic Venetian Aperol Spritz to have with the food.  This was another pretty cocktail which consisted of Presecco, Pinot Grigio and Aperol. Again I had chosen a cocktail that was refreshing and not overly sweet. The predominate flavour of the cocktails was the burnt orange and aromatics from the Aperol.
The grazing board arrived with toasted Turkish bread and water crackers, sliced pear, a date paste and a selection of three cured meats, a blue cheese, imported waxed cheese and a provolone cheese. The blue was by far my favourite on the board. I layered generous amount of the creamy blue with date paste and the spicy salami, it was a taste sensation. I swear I could live of these food combinations.
The cocktails were rather large so Brett had finished his beer before I had made a dent in my drink. He decided to order the Endeavour Pale Ale while he waited for me to finish my cocktail.
I took a look around the store as Brett finished the grazing plate. There was so much amazing food! In the freezer I found about 8 varieties of gourmet Arancini balls ready to heat and serve. There was a selection of pizza's which included a squid ink pizza, quattro fromaggio and so many other delicious flavours. The deli fridge is packed with pasta, salads, ready made focaccia and the most amazing looking desserts.
I couldn't resist the croquembouche mini tart which featured a buttery shortbread shell, lemon patisserie creme and three toffee coated creme puffs.  I knew at first glance one of these babies was coming home with me!
Before we left I also chose two pizza's and the Pumpkin and Cheese Arancini Balls to bring home for dinner. I will be back shortly for one of the Passionfruit Tarts!
Salt Meats Cheese Mosman is all things to everyone. It's open early to cater for the morning coffee and pastries crowd. They have a delicious selection of salads, pizza, focaccia and panini for those looking for something a little special for lunch. Best of all they are opening into the evening to cater for those looking for a gourmet selection of wine, cocktails and imported cheeses in the evening.
Salt Meats Cheese – Mosman
3/803 Military Road, Mosman, Sydney