Rusty's Market Cairns
One of the first things I do when I am visiting a destination is to take a stroll through the local market.
It's a great way to get the palate and mind prepared for the flavours to come.
Rusty's Market Cairns has been operating since 1975 and had more than 180 stalls.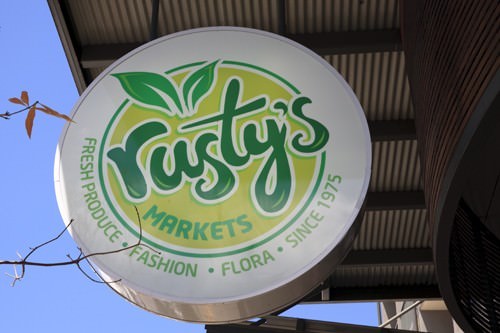 Gourmet Getaways was invited to join Chef Markus Strieby, the executive chef at Teshi's Restaurant on his morning walk through Rusty's market.
Teshi's Restaurant Mercure Harbourside Cairn's
Teshi's Restaurant is the Mercure Harbourside Cairn's marquee restaurant so it was a real privilege to be enjoying a guided tour with the executive chef.
I was particularly curious to see what items would spark a creative interest in Markus.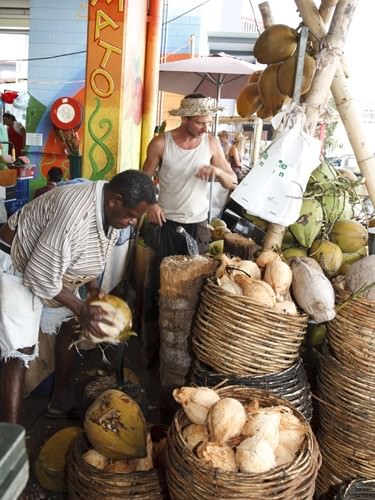 The first stall to catch our attention was located just outside the market.
There were baskets piled high with coconuts!
For a second I had to remind myself that I was in Cairns and not Thailand, Bali or Malaysia.
We watched as the husks were removed and the coconuts were split.
A machine with an aggressive boring device was then used to loosen the meat until a pile of grated coconut filled the shell.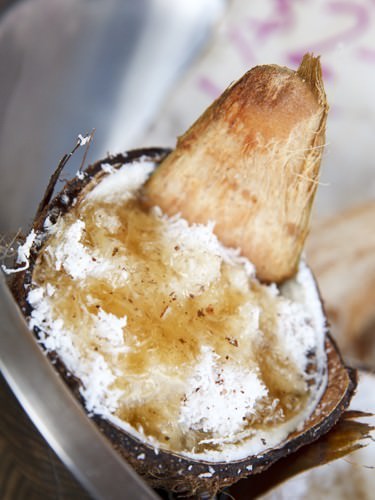 Next a generous drizzle of organic local honey was being drizzled over the moist coconut meat.
Another piece of the coconut shell was used as a scoop.
The flavour of this simple food was amazing.
The moist coconut and sweet honey was a delicious combination, and surprisingly refreshing on this hot Cairns morning.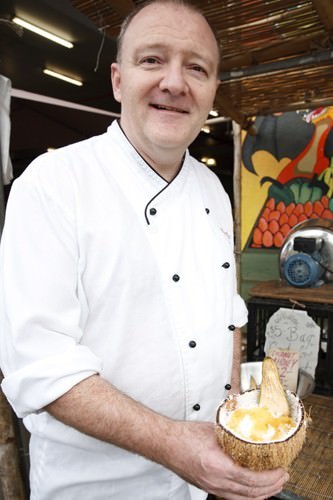 Markus joked that now we had our energy to tackle the markets.
He told us he particularly enjoyed this treat now as he is trying to reduce his coffee consumption.
The coconut and honey is a great morning pick me up after a late evening shift.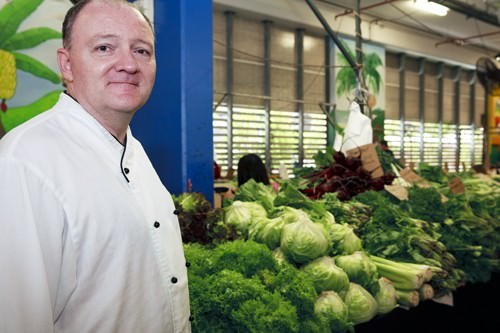 I let our guide lead the way. Markus informed me that today he was only looking for a few items.
His chefs had given him a small list of extra's they needed for garnishes.
Chef said it's always good to have a look around Rusty's to see what items were looking particularly good at the time.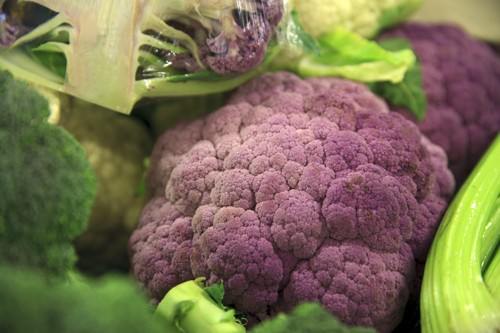 I thought everything looked particularly good!
I was so impressed by the variety of produce on offer, especially bearing in mind that Cairns is a long way from anywhere.
Equally impressive is that fact that almost all of the items at the market were grown locally.
As we wandered through Markus greeted the familiar stall holders.
Each proprietor cut up produce and invited us to try a sample.
The tropical Queensland weather produces the sweetest fruits.
Mareeba is a town just west of Cairns, these pineapples were grown there and I cannot describe the intense sweet, perfumey flavour they had over a Woolworth pineapple.
I know you may be able to get this brand in store, but sampling the item fresh from the farm was a sublime experience.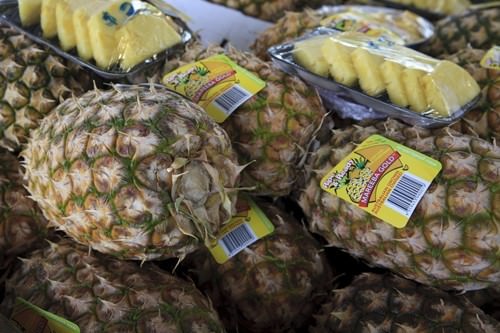 Markus has an impressive resume which includes cooking for Thai royalty and a long list of celebrities.
I was very curious about the types of dishes the Thai royals like to eat. When I questioned him he had to think for a while.
He answered that they all like different dishes.
The older royals preferred their traditional Thai dishes whilst the younger family members like more worldly foods.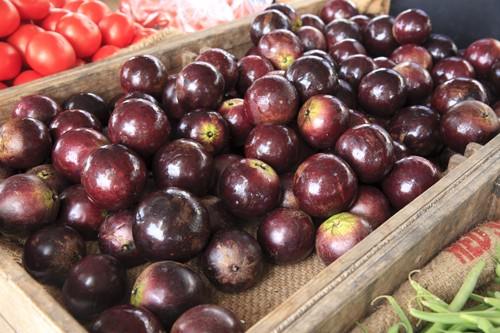 Markus has a Swiss background so this made me particularly excited to see what style of food he prepares in his restaurant, Teshi.
With such a varied background in cooking styles and so much exotic local produce on his doorstep I was beginning to get a taste for what the Teshi menu may look like.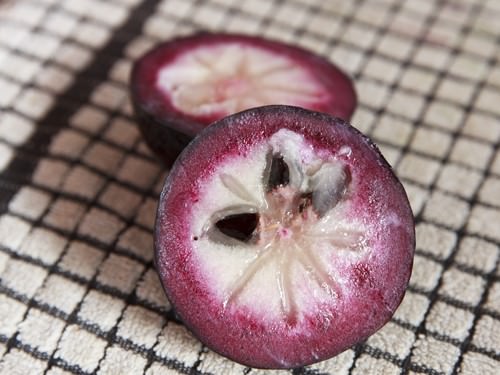 Rustys Market was overflowing with exotic fruit and vegetables. Even the range of herbs and chillies were phenomenal.
Mareeba is also know for its coffee beans and these were also available at the market.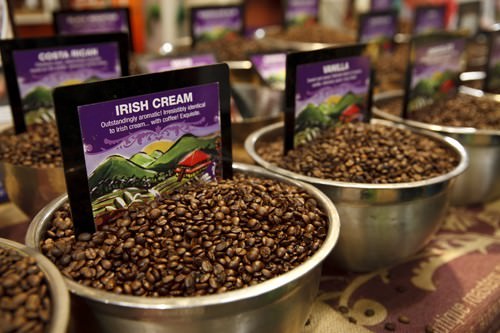 Although you can't eat most flowers I do love seeing them at a market.  They just brighten the day and give me a warm happy feeling.
If I were at home I would  have bought a giant bunch of these Gerbera, but given we were only here for a few days more I was content to take a photo.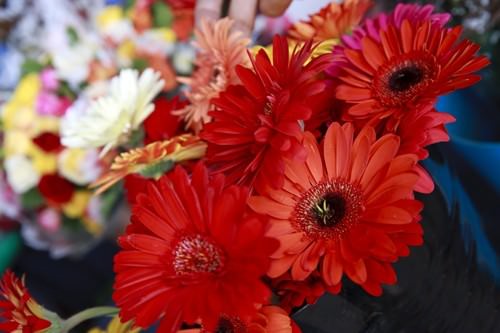 One of the items on chefs shopping list was pandan leaves.
I asked how the leaves would be used in the menu.
He told me that Teshi currently has a pandan pannacotta on the menu.
Oh yum! I gave Mr GG a knowing look! I will be leaving space for dessert.
Pandan is one of my favourite flavours and in a sweet, creamy pannacotta it would be divine.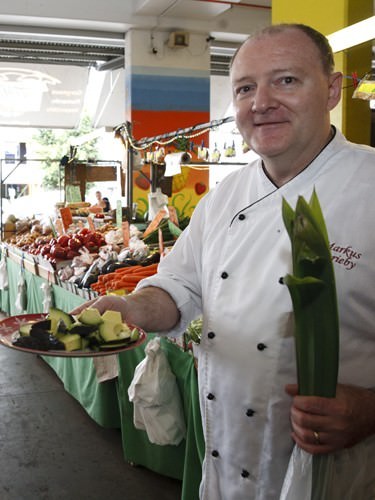 Shopping is thirsty work and Marcus suggested we find something to drink.
Being in the tropics that natural choice for a healthy drink is coconut water.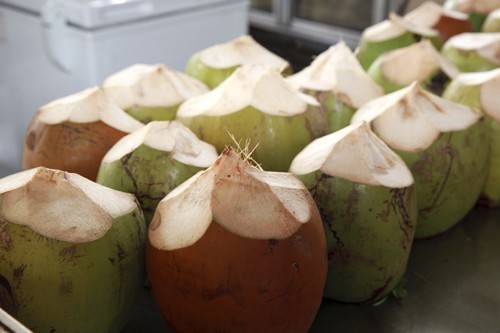 This stall offered coconut water served in the coconut with a straw and crushed sugar cane juice.
Both options were lovely and refreshing.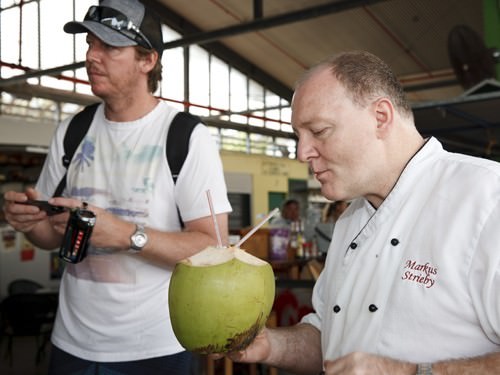 Brett loves his coconut water but my choice is always the crushed sugar cane juice.
I have had it a few times previously but each time I am surprised at how refreshing it is on a hot day.
The juiced sugar cane is not nearly as sweet as you would imagine and has a lovely, earthy, green flavour.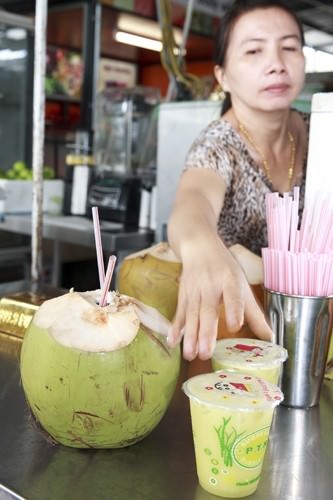 Customers could choose to add flavours such as lemon to the crushed sugar cane but I preferred to have mine served just over ice.
Just alongside the drinks stand we noticed some fresh lychee. Markus opened a lychee for each of us.
I love fresh lychee and these were so juicy! We continued to eat our way through the market sampling the most fresh, sweet produce.
I felt like I had given my body a mega nutrient boost.
All the colours and flavours of the rainbow were represented in the market.
Speaking with Markus it was great to learn how much his Teshi menu is designed to showcase healthy, fresh, flavoursome dishes.
I asked him about the decision to include a calorie count next to all the menu items.
He informed me that he felt this was an important menu inclusion.
"When people are travelling they are eating out all the time.
Our menu allows them to make good food decisions."
I noticed the Teshi menu also has a significant number of Gluten Free, Dairy Free and vegetarian options.
With our market tour drawing to a close I am more excited than ever about our dinner reservation at Teshi's Restaurant.
Rusty Market Cairns
44 Spence St, Cairns QLD 4870  
Mercure Cairns Harbourside
209 – 217 The Esplanade (entry via Lake street)
Cairns, Queensland 4870