Ridgeview Estate in the Hunter Valley is somewhere you are going to want to stop and stay for a while.  This sprawling estate is so tranquil and conducive to rest and relaxation. Ridgeview has everything you could want from a Hunter Valley getaway right on their doorstep.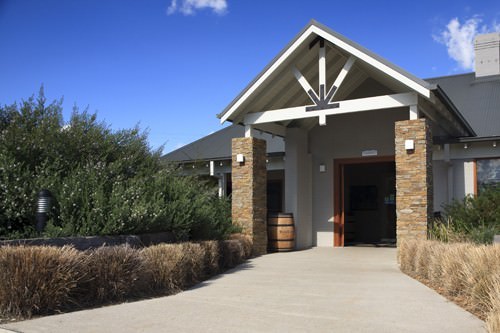 Mr GG and I were initially just booked in for lunch, but as sometimes happens, the lazy atmosphere and welcoming ambiance was enough to see us settle in and learn more about this lovely estate.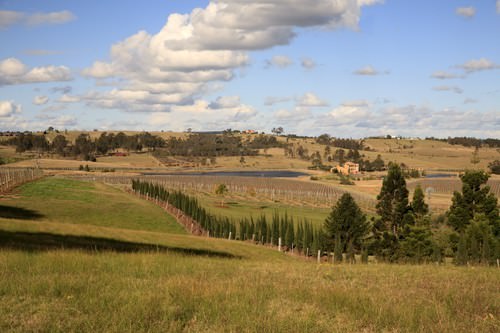 Ridgeview estate has 4 self contained cottages strategically placed about the property to afford guests with privacy and a feeling of seclusion.  The cottages are perched high on the ridge and have the most gorgeous view of a typical Australian bush landscape with spotted gums, and the Ridgeview vines. Perfect for a couples romantic getaway they each include a spa and two person shower.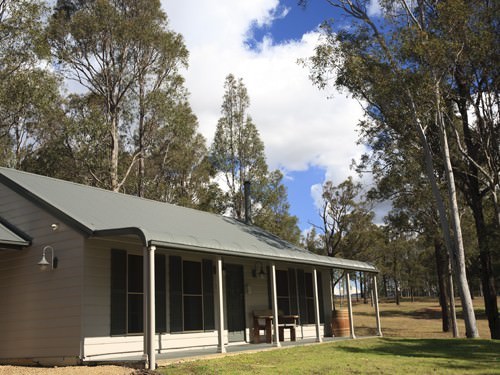 We are here to visit the restaurant and cellar door but find ourselves lured into taking a walk around the property first. Even the laughing Kookaburra is in a good mood watching us explore. When we visit a restaurant I am always pleased to see a kitchen garden, or to know the food is grown locally.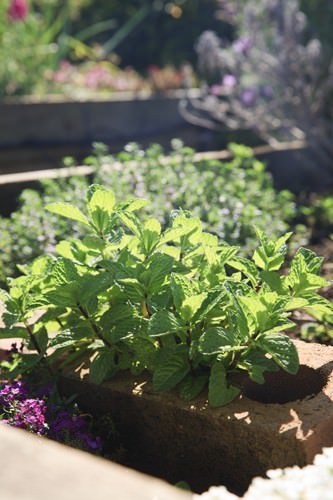 At Ridgeview restaurant the kitchen garden adds seasonal produce to the menu. We are visiting just as the pumpkin has finished, so I'm told pumpkin soup is off the menu. I did notice this lovely Mojito plant, I believe its common name is mint, but when I look at such a lovely specimen I think MOJITO!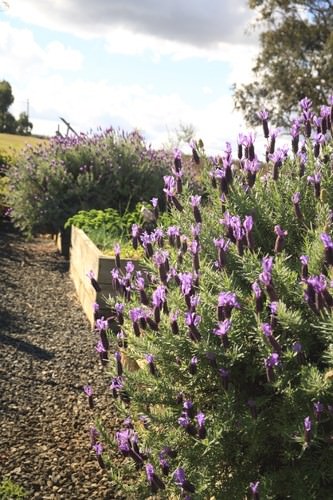 Regular readers may notice I always photograph Lavender. I just find it such an attractive plant. At the Ridgeview Restaurant garden the lavender is growing alongside, parsley, thyme, chives and sage.  You will just have to take my word for it though because I found the lavender much prettier to photograph than the herbs.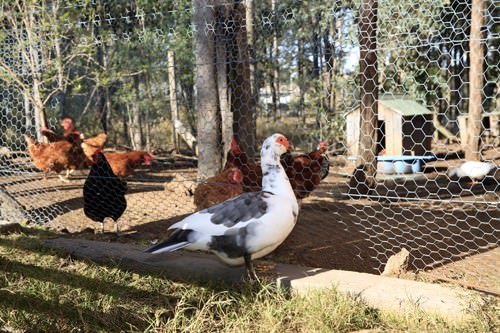 Continuing up the hill we come to "Le Palais de Poulet" or the "Chicken Palace" as its known by staff. These little ladies are responsible for the breakfast eggs and they are treated like queens. As we come closer to the pen all the hens run toward us. They are used to being fed scraps from the kitchen and are rather disappointed when they find I am not baring a food hamper.
The chef Donna tells me of an afternoon when the hens are free ranging on the property they follow her around like puppy dogs expecting more scraps. She tells me they are conditioned to see any chefs checked pants and think FOOD!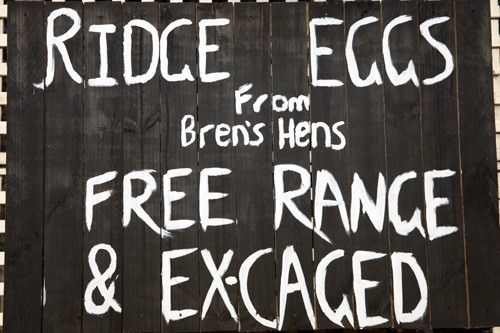 The ladies didn't always have such spacious accommodation, the hens are rescued animals. All the 70 hens are ex caged chickens which came from RSPCA. When you look more closely you can see they all look a little worse for wear.  There are hens in the coup without beaks, missing some of their cone or feathers.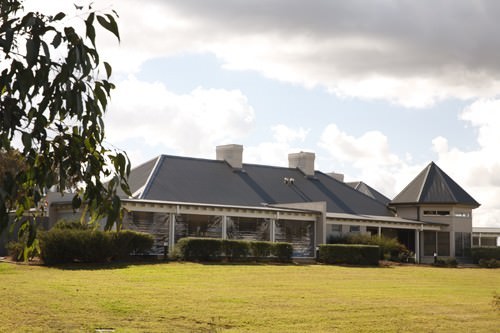 Before sitting down to lunch Mr GG and I decided we would sample some of the Ridgeview wines. The vineyard was established in 2001 and the first harvest took place in 2004. Since that time the vineyard has made a huge impression in the wine industry having won more than 526 awards.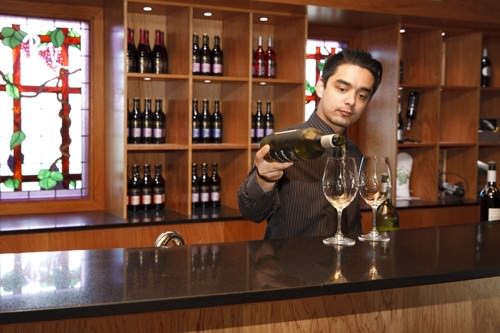 Ridgeview Estate currently has 6 wines noted as 5 stars in the 2015 James Halliday wine companion. Notably the Impressions Chardonnay 2011, Impression Shiraz 2011 and  Semillon 2005 have all received a point rating of 95 in the guide.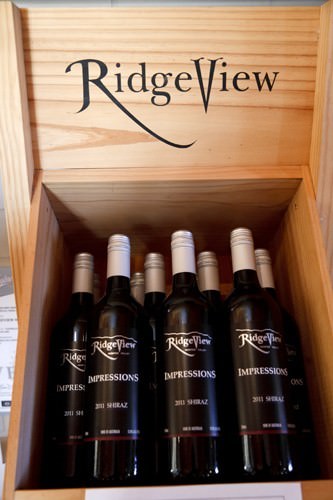 Mr GG was particularly taken by the reds in the Ridgeview Estate range so I left him with the task of choosing a wine to enjoy over lunch.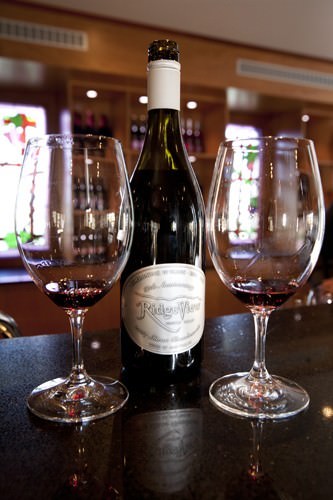 We are also informed that the wines we sampled are available on the Ridgeview Website by becoming a member of the "The Liquid Lounge" .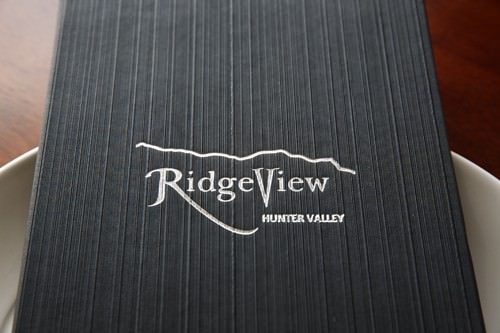 All that walking and wine tasting had given me an appetite, so I was pleased to take a seat in the Ridgeview Restaurant. We had a lovely spot which opened onto the deck. Thankfully the weather was being kind and it was warm enough to sit outside and really enjoy the ambiance.
We were introduced to Donna Hollis, the Executive Chef.  She explained the menu is a Mediterranean, Middle Eastern inspired style which is designed to entice the tastebuds and excite the senses.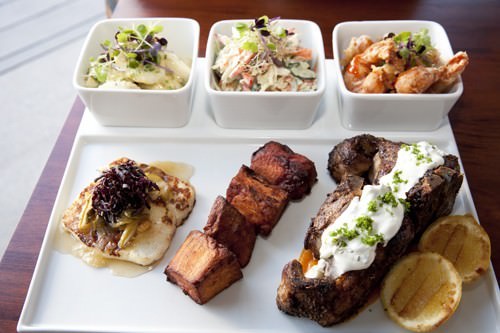 Donna says the menu is conducive to a relaxed style of dining, where friends and family come together to share a slow feast. I love this style of eating.  Ridgeview Restaurant signature dish is the Cypriot Mezze Platter. It consists of 4 courses and is usually consumed over a 3 hour luncheon. Guests spend the afternoon grazing on dishes at their leisure and the dishes can be matched with wines from the estate.
Knowing that I would struggle with the usual 4 course Cypriot Mezze Feast for lunch we chose a few dishes from the second and third course. If only you could smell the aroma!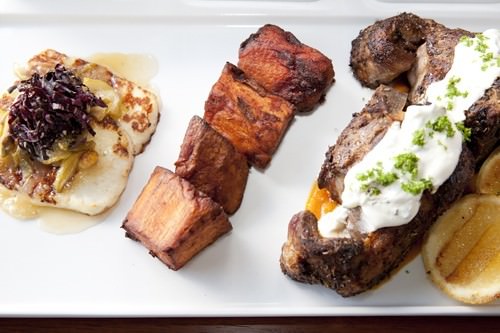 The 2 inch thick lamb shown above was rubbed with greek herbs and cooked over a Cypriot charcoal grill. We were told the oil from the lamb dripping onto the coals gives the meat its amazing smokey flavour. I simply cannot describe to you how moist and succulent the meat tasted. The meat was lovely and charred on the outside and beautifully pink on the inside. The lamb was resting on a sweet pumpkin puree, (last of the garden produce) and served lavished with creamy yoghurt and fresh herbs.
Even the sweet potato was from another world. It had been coated in a sugar and cinnamon which formed a sweet, crunchy crust as it baked.  I adore sweet potato so this was a delicious surprise.
Another lovely variation on a flavour was the grilled Haloumi. The Haloumi on this platter was served with caramelised pear, drizzled in sweet honey and topped with buttered pistachios. It was a serious wake up call to my tastebuds.
Have you ever had silky calamari? What I mean by silky is where the calamari just melts in your mouth, giving very little resistance to the bite. This dish was crazy good!!! The calamari had been cooked confit style in oil, and then served with a rich creamy garlic sauce. I will never be able to describe just how much this dish oozes garlicky goodness or that it was the most sublime flavour and textural combination.  All I can say is I wanted to lick the bowl, and I will travel to have this dish again.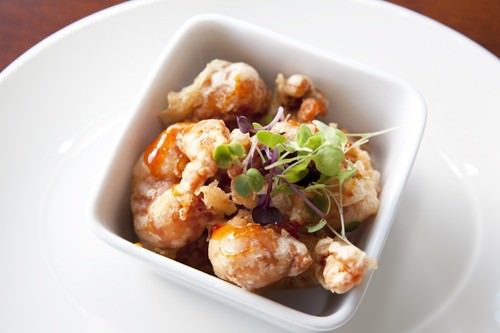 You may think the meal could not get any better. But it did, I had to try not to moan out loud when I moved onto the tempura prawns.  These little morsels were so incredibly light and crunchy in their chili spiced battered.  Even Mr GG's appreciation for the dish was becoming audible. The sweet seafood  was coated in a delicious spicy batter and then served with a lime aioli! WOW!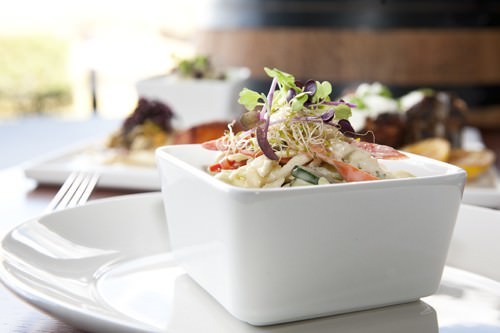 The final dish was described as a Greek Village salad.  The chef explained that it consisted of ribboned carrot, sliced cabbage, cucumber, red and green capsicum and a creamy tart dressing.  It was a lot like a coleslaw but with more crunch and variety.
I would have loved to try some of the delicious desserts on the menu but unfortunately both hubby and I couldn't find the tummy space! Such a shame as the desserts looked amazing.  I told hubby we would have to return for the chefs dessert plate.

 Ridgeview Restaurant
273 Sweetwater Rd Pokolbin NSW  Ph: 02 6574 7332 Mobile: 0487 235 527
Reservations
  Gourmet Getaways would like to thank Ridgeview Restaurant Hunter Valley for their generosity in hosting this experience. As always the opinions contained in this review are written without bias and in accordance with my disclosure policy.