Restaurant Eighty Eight is located inside Peppers Convent.  We have been staying in this gorgeously restored convent during our Hunter Valley getaway. It has been such an amazing experience to learn about the history and care which has gone into restoring this old building.
We arrived at Restaurant Eighty Eight and were given a seat overlooking the courtyard.  The courtyard also had seating available, but it was a little too cool for outdoor dining. I can imagine how beautiful it would be to dine in the courtyard when the wisteria is in full bloom. Even now the space looked so lovely and romantic.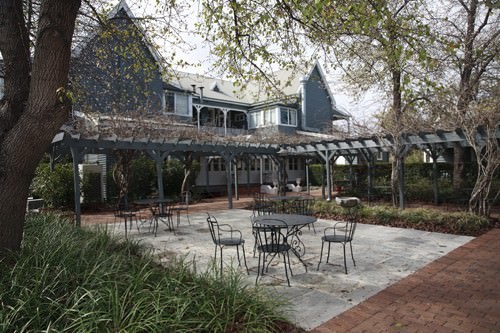 Inside the restaurant had a french country cottage feel.  The walls were white, the room had large windows and was light and airy.  Chairs and tables were a white wicker with crisp white layered linen.  Around the outside of the room were pieces of antique furniture in distinctive dark wood. Finishing the scene was a vase of beautiful white flowers which adorned the central serving table.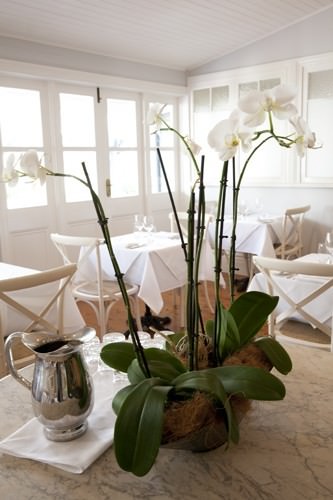 I think I may have a cup and saucer fetish.  Everywhere I go I like to collect all different styles of tea sets. The sideboard in Restaurant 88 caught my eye, they had some lovely examples of pretty cup and saucer sets.  Since they were for decoration, and not for sale I had to be happy with some photos of each set.
I'm sure my nan has some of these patterns in her china cupboard!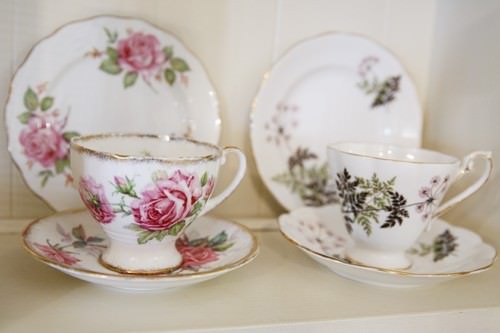 I hope I am painting a picture of a romantic, whimsical setting because that was the mood of the restaurant.  At a table near us a mother and daughter were enjoying a high tea platter together, and another couple were just finishing lunch. The atmosphere was very relaxed.
Being on holidays, and among the Hunter Valley vineyards I felt it would be negligent of me not to try one of the local sparkling wines. Mr GG loves his fresh squeeze juice, so he ordered a glass of restaurants 88's orange juice.  He said how delicious and pulpy the squeezed juice tasted.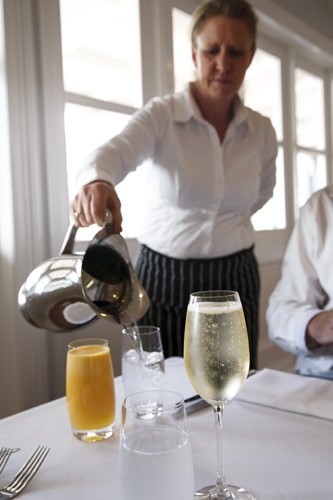 As I read through the menu it was obvious that healthy, fresh food was paramount.  The menu states;
"All items on this menu are ethically sourced. They are either organically grown on the property, acquired locally, or sustainable farmed. These ingredients have been nurtured by nature, their goodness should flow through to you." 
We had already noticed the large garden at the front of the property which services Roberts Circa 1876 and Restaurant 88.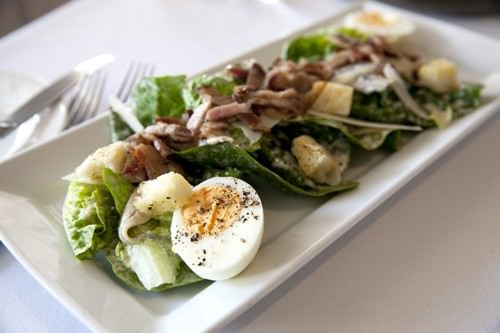 With garden fresh goodness in mind Mr GG ordered the Caesar Salad. It arrived on a long platter and looked impossibly fresh with crisp lettuce and crunchy croutons. It was served with deliciously salty white pickled anchovies and house cured bacon. The eggs were fresh from the farm chickens and completely organic.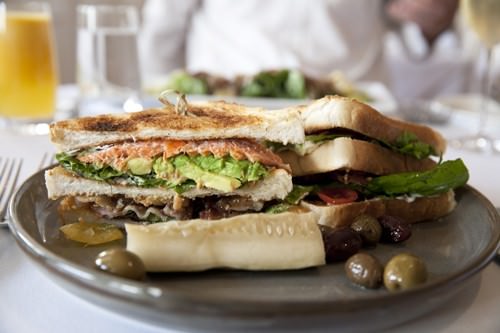 I find it difficult to pass up smoked salmon or ocean trout so the Ocean Trout Club Sandwich had my name all over it. The sandwich consisted of thick sliced toast with mountains of grilled salmon.  The flavour was lush! Also on the sandwich was a generous serving of house smoked bacon, homemade aioli and creamy avocado. I noticed a lovely selection of heirloom tomatoes had been added to the bacon layer which gave it a freshness.
On the plate was a pickled cucumber which had come from the front garden and pickled to save waste from a surplus crop. The overall dish reminded me a little of a plowman's lunch, with the thick bread and the 3 types of marinated olives adorning the plate.
Although we were quite full I simply had to try a dessert.  After a quick look at the menu we settled on the Baked Lemon Tart with Coconut Milk Sorbet and Gingernut Rose Dukkah .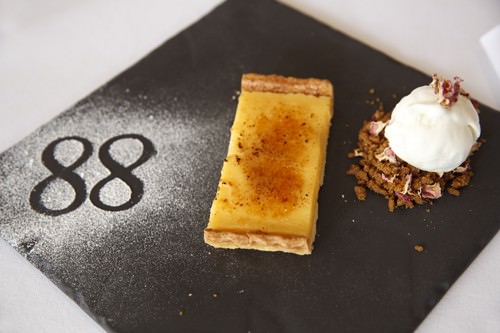 "Oh god!!" I exclaimed to Mr GG "I almost had a religious moment!!!"
He laughed at my reference to dining in the convent.
Dessert was sublime.  The coconut milk sorbet was an absolute revelation!!! It had such a creamy rich texture with a strong toasted coconut flavour.  So perfectly smooth, it just melted in my mouth.  Biting into the bruleed lemon tart  was a treat. The lovely thin crisp toffee crust sitting on the tart was gorgeous. The tart itself had just the right balance of sweet and lemon tang and the pastry base was thin and buttery.  I particularly enjoyed the unique ginger and rose crumb, the rose water was light but remained the lingering flavour after dessert was complete.
I am so pleased we made room for dessert!

Restaurant Eighty Eight
Peppers Convent – Hunter Valley 88 Halls Road
Pokolbin NSW 2320
Phone: (02) 4998 4999
Website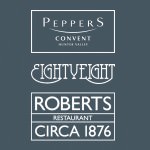 Gourmet Getaways would like to thank Peppers Convent Hunter Valley for their generosity in hosting this stay. As always the opinions contained in this review are written without bias and in accordance with my disclosure policy.