Arriving at Redsalt restaurant, we were led to a table overlooking the illuminated Crowne Plaza pool. The pool looked absolutely gorgeous! The blue lights made it a relaxing focal point whilst we perused the wine menu.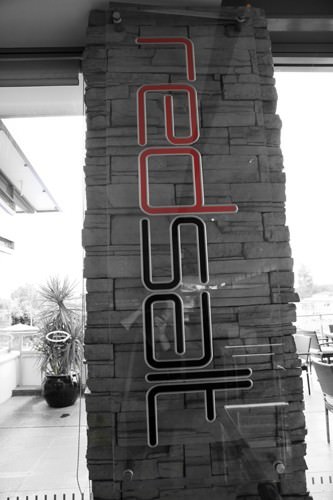 I might be a little bit spoiled but I do like to start a nice meal with some bubbles. After a quick look I chose a Hunter Valley sparkling Semillon from Bimbadgen.  I had only taken a single sip before I announced to hubby, "Do you know, I'm really enjoying the Hunter Valley Semillon!"
Everywhere we had visited in the Hunter Valley seemed to be producing lovely wines from this particular grape variety.  My sparkling Semillion was no exception. It was the second time this weekend I had enjoyed the pleasure of a glass of Bimbadgen Semillon. The beautiful beads of fine soft bubbles traced their way through the light straw wine. The flavour was crisp and lemon, perfect for preparing the palate our meal.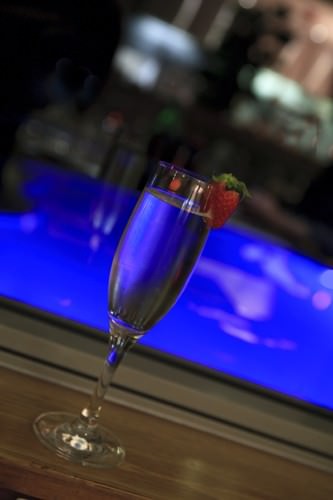 Mr GG Was looking forward to trying the local Lovedale Brewery Surry Hills Pilsner.  The beer is actually brewed on site at the Crowne Plaza! He described the flavour as being big on hops and a full bodied Czechoslovakian style beer.  Husband described the aroma of the beer as what you would expect to smell, if you walked into a brewery.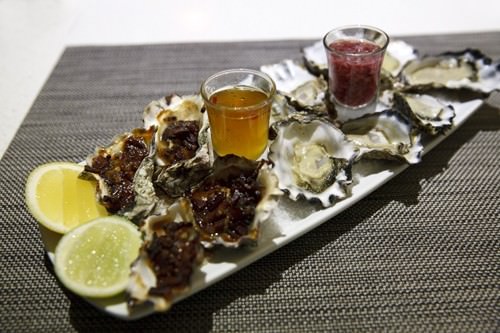 When it came time to order we couldn't go past the natural oysters. Six oysters were served in the shell with two different style of sauces. The other six were served Kilpatrick style.  Kilpatrick is an oldy but a goody! Done well oysters, bacon and Worcestershire sauce make such a great flavour combination. These Oysters Kilpatrick were sublime! Smokey bacon with salty sauce and the plump fresh oyster, YUM!
The other sauces were served in a shot glass with fat, fresh, natural oysters.  The first sauce was a syrupy, sweet chilli with Thai flavours.  The second sauce was a complete contrast consisting of red onion shallot with vinegar. Both these sauces highlighted the fresh sea flavour of the oysters in their own way.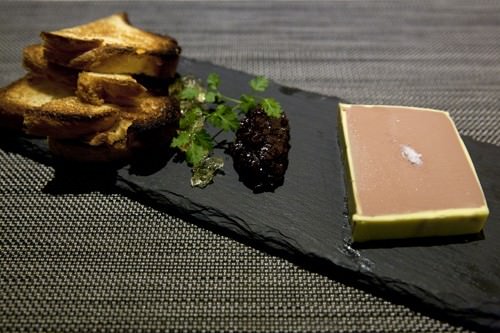 The second entree ordered was the Chicken Liver Foie Gras Parfait. As you can see by the image it was an incredibly generous slice of foie gras. The parfait was a perfectly smooth, velvety mousse, so rich and meaty with a delicious level of saltiness. The parfait was served with a sweet toasted brioche.  It was impossibly light and buttery and literally melted in my mouth. Alongside this was an aged Verdejo jelly which had a lovely lemon flavour and enough acidicty to cut through the richness of the foie gras.  The pear and saffron chutney by contrast was sweet and used lovely aromatic spices such as star anise, adding another dimension to the dish.
We were off to the perfect start with our meal. Mr GG and I were both thoroughly enjoying our menu selections thus far.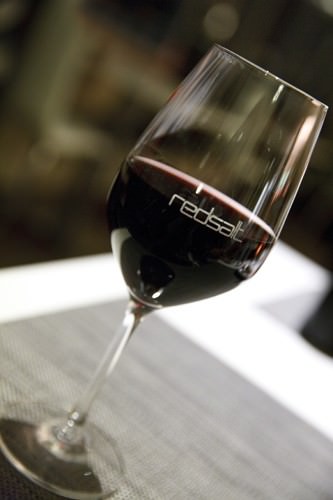 Prior to our mains arriving we decided to order a Tintilla Estate 2012 Justine Merlot.  It was a lovely smooth, medium bodied wine. Lovely blackberry and spice flavours with a smooth mellow mouth feel.
Redsalt Restaurant has a menu and wine list which pays homage to the quality wines and produce of the Hunter Valley. It's always heartening to see restaurants embracing local, fresh and seasonal produce.
Mr GG has been longing for lamb recently.  The moment I saw the Milly Hill lamb rack on the menu I knew the main would be an easy choice for him.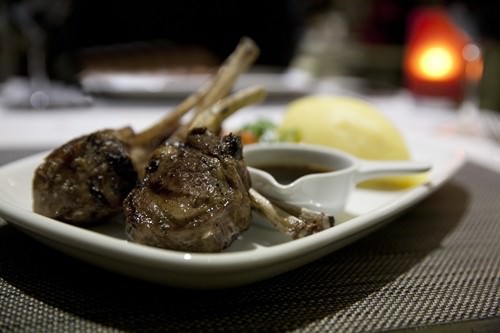 Milly Hill lamb won the Royal Agricultural Society Presidents medal for the superb marbling, taste and tenderness of the meat. It was being cooked over the grill which gave the meat an amazing smokey, charred flavour.
The look on hubby's face as he ate said everything.  The lamb had been "frenched" and served in thick sliced cutlets.  The meat was so moist and juicy.  Mr GG looked at me and said, "The meat and potato is so good, I can't bring myself to use the jus!!!"
Having sampled everything on his plate I assured him, "But the jus is delicious too!!"
"I know" he said, "but this is so good!" I had to agree with him.  The mashed potato quenelle was so lusciously silky and buttery with just the right level of saltiness.  It was the perfect mash!
I find it difficult to go past duck on a menu, especially when it's served with some of my other favourite flavours.  The Seared crispy skinned Thirlmere Duck was served on a bed of Puy Lentils with a smear of Beetroot and a Star Anise Jus.   I love the earthy flavour of lentils and they went so well with the gamey duck. The duck skin was perfectly crispy as you would expect from a quality kitchen, and it had a  delicious saltiness. The meat was moist and succulent with a thin layer of luscious duck fat.
Accompanying the duck was a silky smooth, sweet beetroot purée which mirrored the earthy tones of the lentil. Finishing it off was a sticky, salty and rich star anise jus.
The elements combined beautifully on the fork to give an earthy balanced dish that showed the duck off to perfect.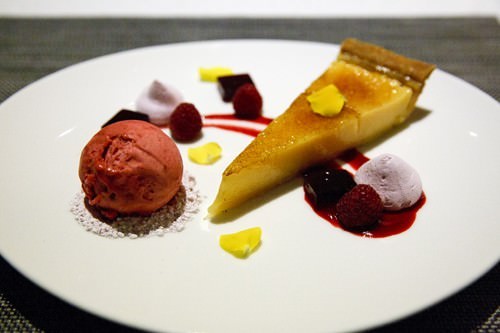 Although quite full at this stage, the dessert menu was calling my name. I warned hubby that my jeans might not fit in the morning, but I knew it  was a risk I would have to take.
The difficult part was choosing just two dishes!
The first dish was described as a caramelised lemon tart with textures of raspberries.  Not knowing really what to expect we were stunned at the beautiful piece of food art set before us. The lemon tart had the thinnest, crispy short butter pastry.  It was filled with a light, tangy, tart, lemon curd and given a bruleed, sweet, toffee crust topping.  The tart alone was amazingly delicious.  In addition were the "Textures of Raspberries"?  These textures consisted of a lush raspberry sorbet which was surrounded by a purple fizzy raspberry sherbet and squares of sweet raspberry jelly. Just in case that isn't enough raspberry, there were fresh berries, a raspberry coulis and a light, crisp raspberry meringue.
The dessert was an absolute explosion of sweet, citrus and berry flavours.  I loved the addition of the playful sherbet fizz on the plate.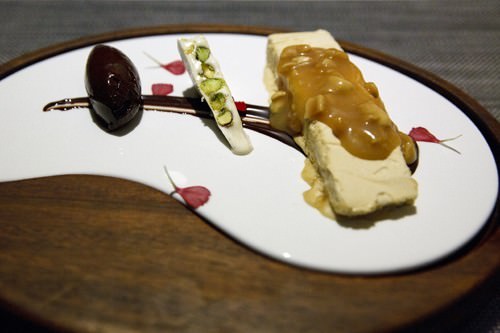 It would be true to say the two desserts we chose were poles apart. The first fresh and fruit, the second rich and creamy.
Again we had not expected such a delicious dessert masterpiece when we ordered the Caramel Semifreddo. My love of caramel had drawn me to the dish and I wasn't disappointed.   The rich, creamy, caramel semifreddo was covered in a thick butterscotch and peanut sauce.  It was served with a smooth, velvety bittersweet dark chocolate ganache quenelle.  Immediately this dessert reminded me of a grown ups version of a deconstructed snickers bar… but oh so much better!!
Even the nougat added to the feeling that this dessert had an element of mimicking. The nougat was sweet and chewy with the welcome crunch of pistachio. Such a decadent dessert.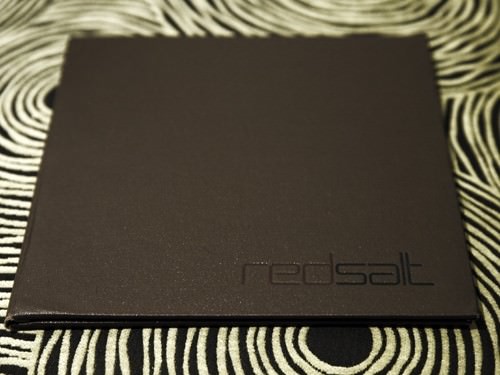 I am so pleased we decided to go all out and have two desserts. They were both gorgeously artistic in presentation, but the flavours were so completely different.
If I were to sit down to dessert again at Redsalt I would struggle to choose between having the same desserts or trying a new one.  I'm not sure I can actually live my life with out enjoying them again! (…and again…).
What are your thoughts readers? Do you find it difficult to try something new when you make a return visit to a restaurant? Or perhaps you are someone who likes to work their way through the menu?
RedSalt Restaurant
Crowne Plaza Hunter Valley 430 Wine Country Drive Lovedale, NSW, 2325, Australia Phone : +61 2 4991 0000  
Gourmet Getaways would like to thank the Crowne Plaza Hunter Valley for their generosity in hosting this stay. As always the opinions contained in this review are written without bias and in accordance with my disclosure policy.