Good Morning readers!
What do you do when your day goes to pieces and nothing is working. I eat dessert! Today I can't eat dessert because my computer has died and I am waiting for a technician, but I can tell you about a delicious café which serves Raw GF desserts that are amazing.

The blue washed wooden tables on the footpath grabbed my attention as we walked down the main street of Cabarita Beach. I was looking for my morning cappuccino and the funky décor had caught my attention.
I noticed a few gorgeous soft scarves in the window and some kitchen wear so I was confident I had stumbled across somewhere worthy of a peek inside. I have never really jumped on the bamboo bandwagon. I think I have mentioned previously that I'm a "late adopter." I'm a born sceptic so I like to investigate things myself in my own good time.
First things first, however, coffee!!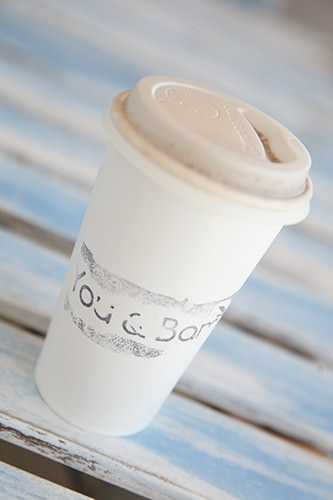 I ordered a cappuccino and found that I could have it made with almond milk. Yeah, this has been my milk of choice lately. We had stumbled across a little café that specialised in fresh, raw, gluten free items. I really love that so many unique businesses are springing up to cater for different health interests. It's making my eating pleasures very varied.
While the coffee was being made I had some time to look at the products available in the store.
I was intrigued by a dubious looking bar of black soap. Hmm, black soap. I touch the edge and got black all over my finger! Eww, it was charcoal and very soft! I asked the waitress if she had tried the soap.  She said she uses it all the time and it was beautiful. She promised it made her skin feel so soft!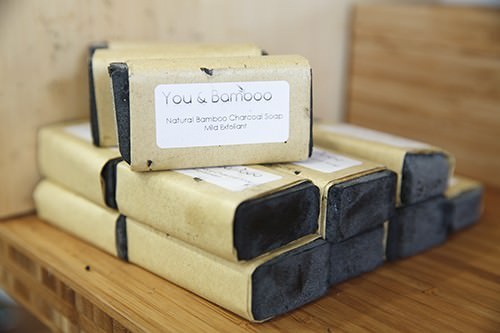 Hmm, her skin did look nice, but then she was only in her early twenties, hehe…
I wondered what sort of mess it would make in the bath or shower! I was assured that it washes away clean???  She did tell me that when you lather the charcoal soap you become completely black! LOL!!
Maybe because I'm a child at heart, but I had to buy a bar of the soap. I will let you know how it goes.
I went around feeling the scarves and clothing.  The fabric was all so impossibly soft and light. I had never realised there would be such a difference in the feel.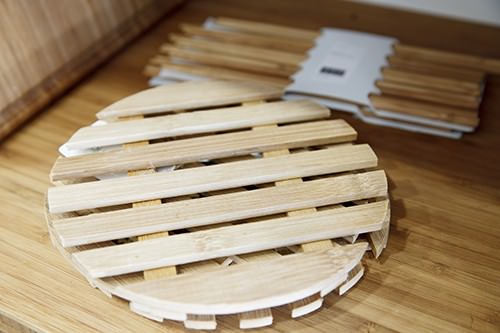 The store also had serving boards and chopsticks made from bamboo. Again, compared to wood the weight was much lighter.
As I was wandering around the store I noticed that Anais had her nose firmly pushed against the dessert cabinet. I couldn't really blame her, everything did look delicious.
You and Bamboo serves a range of Raw GF Desserts. All the desserts are made on the premises using fresh, local ingredients. The majority of the treats are also Vegan so it is a fantastic choice for so many different dietary ranges.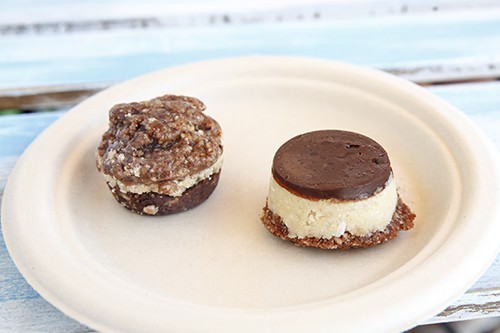 My interest in the dessert was not due to a dietary restriction, I just wanted something sweet to have with my coffee. Anais and I chose the Peppermint Slice and Tiramisu which were Vegan, Gluten Free and Raw.  We were just about to take a seat with our purchases when a large Mango Cheesecake was placed on the bench for cutting.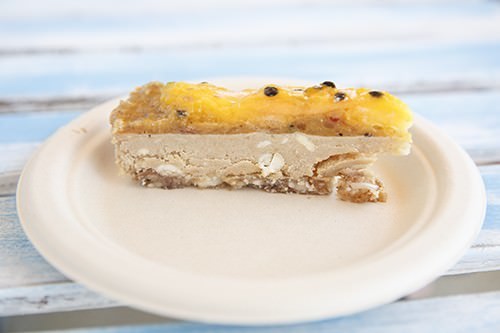 It's hard to go past a mango dessert so we ordered a slice. The Mango cheesecake was so full of fruity flavour. Slices of fresh fruit had been placed on top of the cheesecake and drizzled with passionfruit pulp. The base had a rich coconut flavour and the smooth creamy centre had a slight lemon tang. I'm not sure what the actually ingredients in the cheesecake were but the flavour was very similar to a cheesecake and the dessert was delicious!  We saved a bite for each of the boys and the enjoyment was unanimous.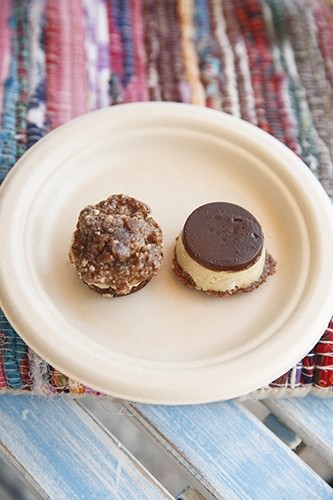 The Peppermint slice was the next contender.  Anais and I both took a bite.  I don't know if I can even describe how silky the chocolate layer tasted. It literally just melted away in my mouth. The biscuit base had just the right amount of peppermint to carry through the whole slice, whilst the middle gave substance to the slice and allowed the chocolate and mint layers to meld together perfectly.
Is it wrong to admit that I ordered the Tiramisu because I thought I would be allowed to have it all to myself?
Well, I ordered it because no one except me likes coffee, so I thought it would safely belong to me! NOPE!
It was to be another share item. Although the coffee flavour was present, the other flavours were sufficient for it to be a dessert that everyone enjoyed. The Tiramisu had a lovely hazelnut crunch through the base and a soft sweet topping.
The ingredients of all these Raw GF desserts are a complete mystery to me, but I loved the intense flavours of each treat.
This little café was a fantastic find! If your ever near Cabarita Beach do give them a try.
For me, there is no more dessert. It's back to my dead computer which is looking more like a Frisbee as the day goes by. I now need to work out how to get my life off a dead brick and onto the cloud.  The only thing my computer is telling me is that "no bootable device has been found."
I'm curious though readers, what draws you into a café when you're in a new area? Do you like to try new things or prefer to go toward something you know?
You & Bamboo
Shop 1, 39-45 Tweed Coast Road Cabarita Beach, NSW 2488 Ph: 02 66760762