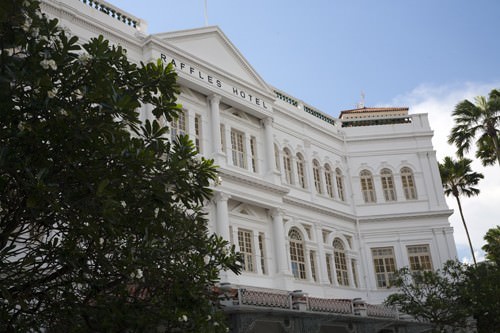 In case you a planning a quick trip to Raffles Hotel for a few pictures, and a bit of a sticky beak, I'm here to tell you, that perhaps you should think again.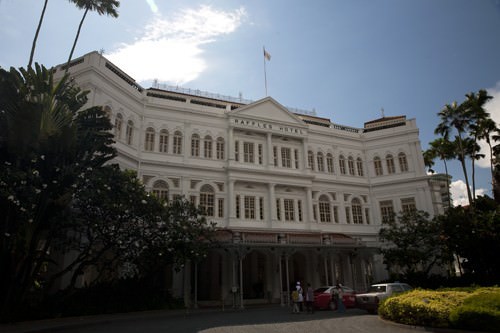 Anais and I turned up for high tea in a taxi. We were driven to the front entrance of the establishment where the concierge, door men and valets were eagerly waiting to be of assistance. I told Anais to go inside and sit on the lounge whilst I took some pictures of the building. Like a little princess she did exactly what she was told. I took my images and then went to join my daughter, and locate the Tiffin room, ready for High Tea.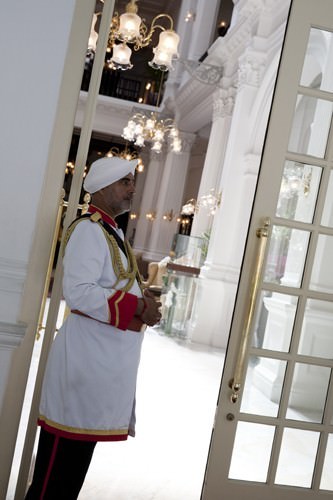 The doorman who was so eagerly opening the door just five minutes earlier, quickly asked me what my business was with the hotel. I said I was booked in for High Tea in the Tiffin room. Whilst standing in front of the door he informed me that the hotel lobby is strictly off limits to members of the public, and that I could access the Tiffin room via the side of the building.
Stammering I informed him that my daughter was already in the lobby.
I got "the look!"
Just then Anais came out to join me on the steps. I thanked the doorman and went around the side of the building as directed. I was just a tad meeker than I had been five minutes before. On the way to Tiffin room I noticed various signs directing members of the public to keep out! All areas of Raffles Hotel are off limits to the general public except "The Long Bar" and "Tiffin Room," both of which have side doors so the elite never have to mix with the commoners.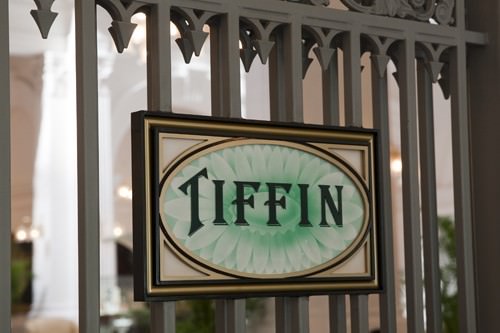 Did I mind?
Not one little bit! Raffles Hotel had gone up about ten notches of prestige in my mind, and I was happy to be sampling high tea at such a fine establishment.
We joined the queue at the side of the building. Anais had obviously been taking in her surroundings and her lobby visit.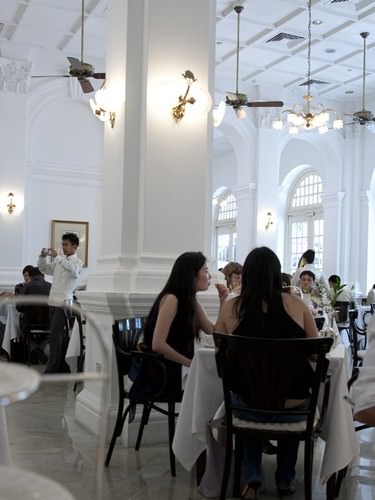 She said thoughtfully, "Mum I think this is really royal!" wide eyed, she added. "I think this might even be for the Queen!" The opulence and luxury of Raffles Hotel was obvious to even my little five year old traveller.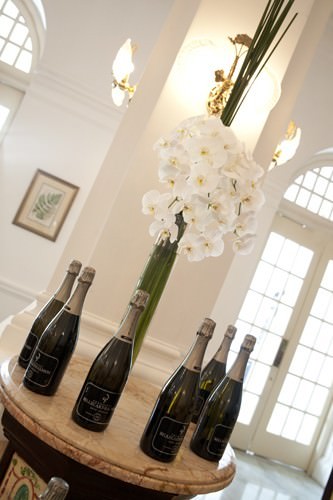 Inside crisp white linen tablecloths and napkins adorned dark wood tables, bone china was ready for the tea and oversized chairs were laden with comfy cushions and rich upholstery. Each table had been supplied with jam and clotted cream in readiness for the piping hot scones.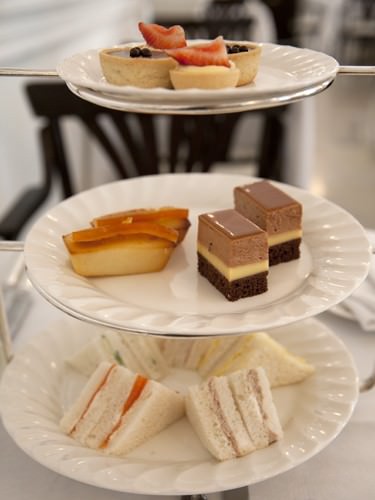 Traditional three tier platters were place on each table. the bottom tier included 5 variety of sandwiches including the tradition cucumber sandwich and egg and mayonnaise, a more decadent smoked salmon sandwich, tuna and mayonnaise sandwich and a ham and cream cheese sandwich.
On the next tier we had the start of the sweets treats. A cute little orange glazed pound cake was the first to come under little Anais watchful eye, it was complete with a strip of candied orange peel. On this platter there was also a four layer slice which included a chocolate sponge cake at the base, a zingy lemon curd layer followed by a light caramel mousse with Florentine crumb throughout and finished with a sweet jelly layer.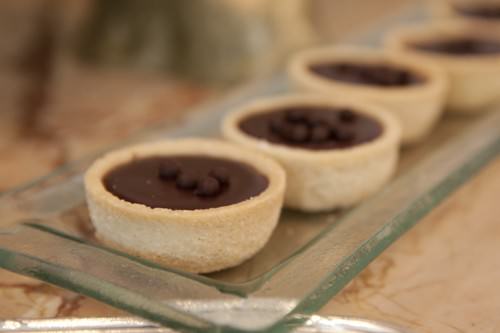 The final tier was reserved for the most delicate and delectable morsels. Here we found a delicious mini Earl Grey Ganache tart with crunchy chocolate drop decorations and another delicious tart of creme patisserie decorated with a sweet strawberry. These were Anais favourite so I didn't get to try the fruit tart.
A choice of scones were brought to our table piping hot ready to be smothered in jam and cream. I chose the Sultana scone while Anais had a plain scone. The basket of warm scones made the rounds through out the afternoon.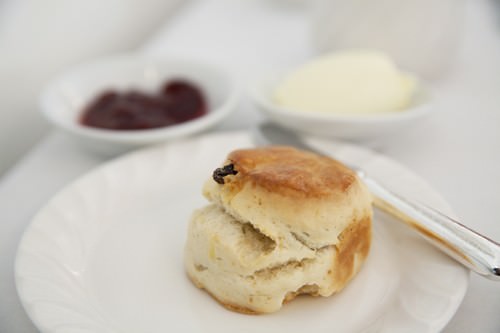 If these treat were not enough we also had a buffet of other lovely tid bits to choose from.
There were more cakes, slices and tarts.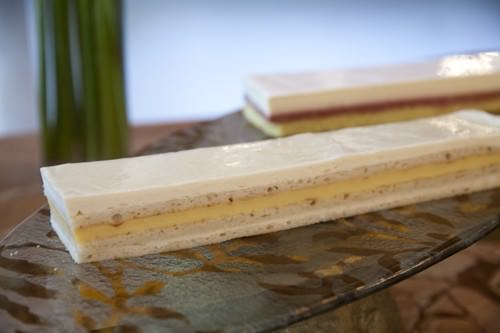 I counted five fruit platters, although I am not sure who would come to high tea and then waste precious tummy space on fruit.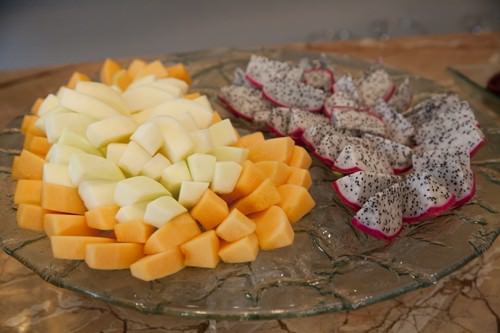 My favourite was the steaming station which included vegetarian dumplings, Char Sui buns, seafood dumplings and Sui Mai (chicken dumplings) with a choice of soy sauce or various chilli sauces.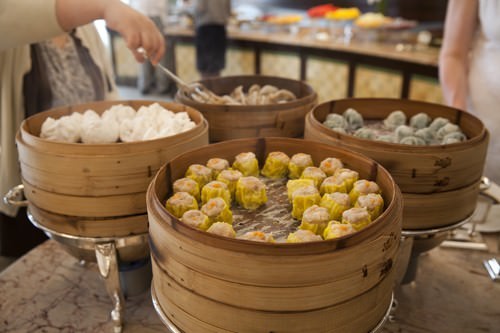 Upon seeing these delicious dumplings I again lamented that I am poor value when it comes to buffets and banquets. I love everything but I fill up at the mere sight of food!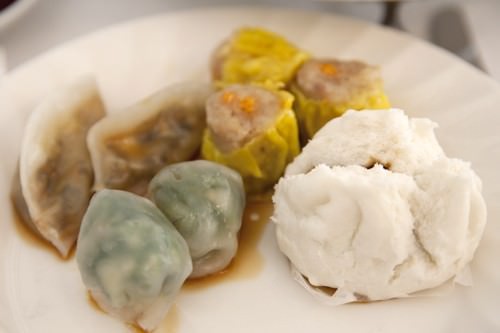 Then I stumbled across the most delicious tart on the buffet. It was a mini Banoffee tart. It was my favourite sweet treat of the afternoon. It pastry was deliciously buttery and crisp and the caramel filling so creamy. The tart was the perfect size for a slice of banana to be added and then it was finished with a swirl of cream.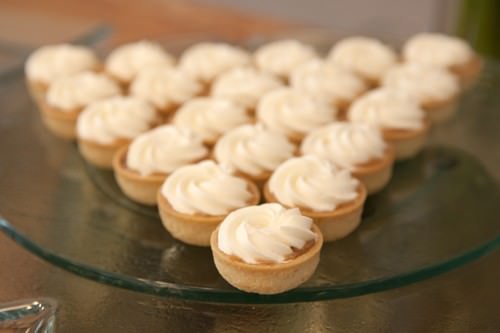 I thought Anais would enjoy the tart as much as I did so I placed two on my plate, one each… I ended up eating both, and then a third tart that she brought to the table and decided not to eat. It is tough being a mum 😉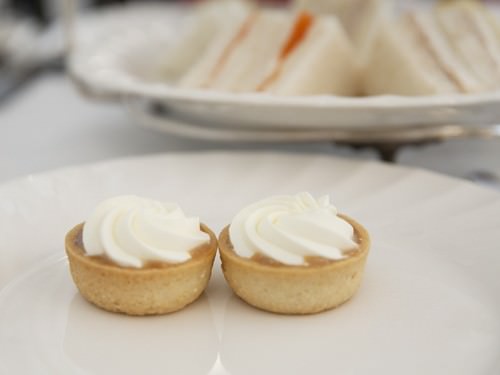 In the background the harpist played modern melodies such as Pink "Sometimes it Hurts" in a soothing, relaxed manner. It added to the ambiance of the room nicely.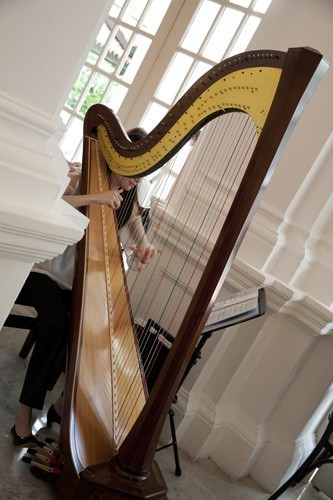 Tea was topped up periodically, but eventually both little Anais and myself had enjoyed our royal surrounding to our capacity.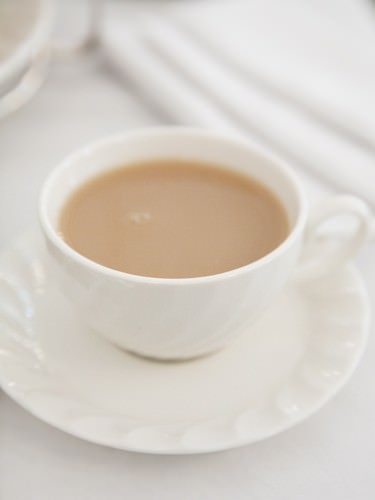 I thoroughly enjoyed our Mother/ Daughter High Tea and I would recommend it to anyone. The service was impeccable with a suitable level of dignity to befit our surroundings. Whilst I have been to High Teas that have presented more intricate desserts or a larger menu I feel that this was perfect. Raffles has an authentic British High Tea feeling, with just a touch of Singapore for good measure. There is no more suitable venue to partake a High Tea than at the oldest restaurant in Singapore, The Tiffin Room at Raffles Hotel.
Just as Anais & I were preparing to leave via the side exit, I was given the ultimate nod by the Tiffin Room manager. He took me aside and said that if I was discreet I could leave via the lobby and take a few quiet images.
Lets just say I felt very special!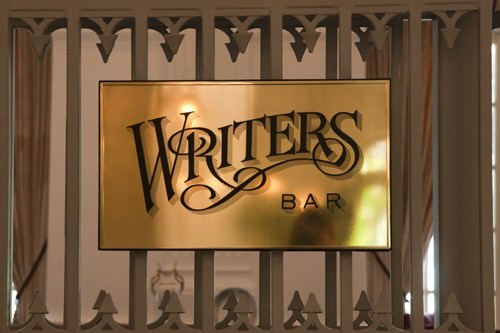 In the lobby I firstly noticed the "Writers Bar," access is for residents and their guest only. The name of the bar is a tribute to all the famous writers that have stayed at, or written about Raffles Hotel.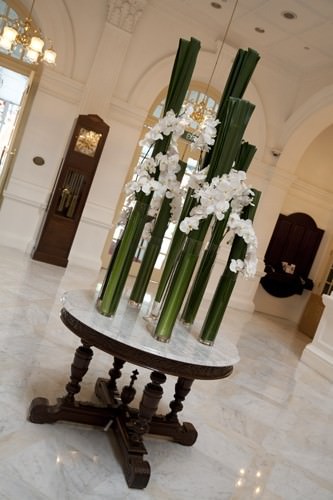 The lobby is gorgeous with marble, dark wood, beautiful vases, grandfather clocks and perfectly classic pieces of art on display.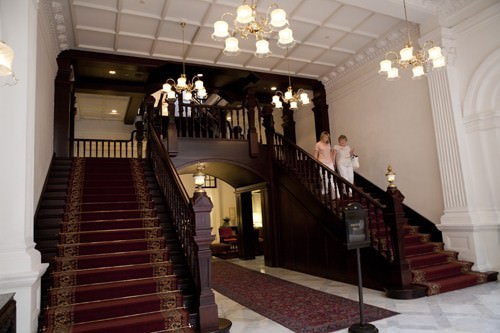 The grand staircase leads residents to their room where they are assisted by their own private valet. There are only 103 suites at Raffles Hotel and each one is said to be generous in size and opulent in fittings.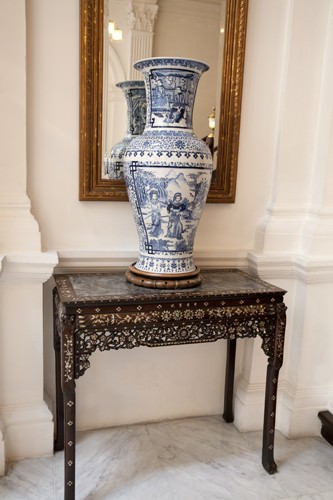 So far, I am yet to know for sure. Perhaps on a return trip, Mr Gourmet Getaways and myself might have a romantic break in one of the Raffles Suites… for research purposes of course 😉