Landing in Queenstown is simply breathtaking!
The airport is surrounded on all sides by The Remarkables giving the feeling of being totally dwarfed by nature.
I stood still on the airport tarmac and just looked around me in awe. The skies were clear blue, the mountains are rugged and snow capped. The gorgeously green grass was dotted with pretty wildflowers which complete the scene before me perfectly.
From the airport to Queenstown is only about 6km and the view all the way is just as spectacular as what we had seen on arrival. We had collected a hire car from the airport and made the short drive into Queenstown following beside Lake Wakatipu which borders the town. I say town and not city because I am surprise to find the population of Queenstown is only about 29,200. This became more apparent as we descended the hill leading into the centre of town.
Whilst Auckland reminded me a lot of Melbourne, with its old historic buildings proudly proclaiming the heritage of the area, Queenstown appeared completely different. Queenstown reminded me of a European ski village in the summer time.
The town centre has a tangible playground atmosphere! I felt like I had set foot into an international stomping ground for the beautiful, fit "20 -30 something's."  Naturally this meant that the town was full of pubs, wine bars, interesting food options, shopping and every activity or experience you could possibly wish to try.
So whilst I am not quite in that age bracket anymore, I am young at heart so I was keen to explore. However my exploring had to begin with my stomach, I needed to find a yummy meal; I was starving, it was mid afternoon and we had skipped breakfast and lunch!
Walking around the streets it occurred to me that this was exactly how I had imagined the Aspen ski village from "Fifty Shades of Grey". I had to laugh as I tried to explain this Mr GG.
We decided on the Thai Siam Restaurant mostly because it was open at this crazy eating hour, and also because it had delicious images of the menu items.  I took one look at the Authentic Thai Style Beef Noodle Soup and fell in love!
I placed my order for the Thai soup and chose a glass of the Settlers Hill Merlot Cabernet. I always enjoy sampling the local wines whilst travelling. The Merlot was a delicious, perfectly balanced wine with lots of blackcurrant flavours. It was almost enough to allow me to forget my hunger pains.
Using the same philosophy of trying new local beers on holidays, Mr GG ordered a Speight's Old Dark -5 Malt Ale.  When I asked him why he chose that beer he said he wanted something completely different to what he would usually drink. Getting a beer review from Mr GG is like pulling teeth.  I wish he understood that if he gave me a few good lines of text, I would give him more beer! After much questioning the best I got was he enjoyed it, but preferred other darks more ie; Tasmanian.
Moving right along…
Thank fully the meal was quick to arrive. When the soup was placed before me, the aroma made me weak at the knees. The spicy, salty meaty broth was exactly what I was craving. I was busy slurping up noodles when Mr GG gently reminded me that he wouldn't mind a taste… oops, sorry honey.
Mr GG had ordered the BBQ Chicken which was marinated in a garlic sauce and then served with a chilli sauce on the side. The skin was crispy and caramelised and the meat deliciously moist.  Mr GG likes his chilli hot so he wasn't disappointed in the accompanying sauce.
For the children we ordered Chicken Larb as the flavours are usually mild and the dish was also served with rice. When it arrived we found that it too had quite a lot of chilli which although was balanced beautifully by the lemon, was a little too much for the kids.  Mr GG happily set to work on finishing both meals.  The children were pleased that they only needed to share the rice, so I think we chalked that meal up as a win for all.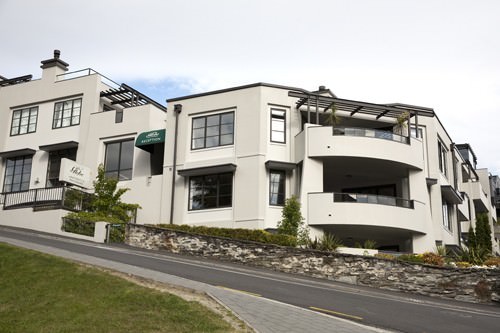 With the most important chore taken care of it was time to check into our accommodation. We had booked five nights at The Glebe Apartments. These three bedroom self-contained units were ideally located just five minutes' walk from the centre of town.
…to be continued