I know the idea of Wordless Wednesday is that I don't talk… but anyone who  knows me will know, that this is next to impossible.
Wordless Wednesday is the perfect forum for me to showcase beautiful images from my travels prior to Gourmet Getaways.
Here is a pictorial review of:
Mosman Gorge Qld
Mr GG and a much younger Little Locky waiting on a bridge for me to catch up.
The water was icy, just perfect for the hot, humid weather of far North Queensland!
Can you see Ty's feet as he crosses the creek in front of my camera.  I am using a slow shutter speed and a neutral density lens to cut out the light of the day.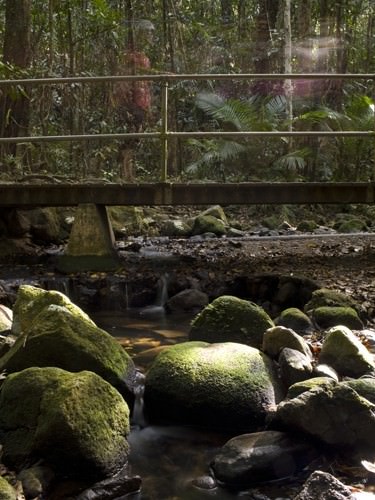 Here Ty makes a cameo appearance as a ghost on the bridge for me 🙂
At the end of the walk it is time to swim…
Thanks you to Trish for hosting the weekly Wordless Wednesday linky, please pop over to see some other great contributor photos from all over Australia.