Dining With a View in Perth
Mr GG & I have a Gourmet Getaway scheduled for the Margaret River area starting in Perth.  I have asked local restaurant reviewer Demi Jones to suggest some great Perth dining options with beautiful views and gorgeous food that I could share with readers. Here are her thoughts;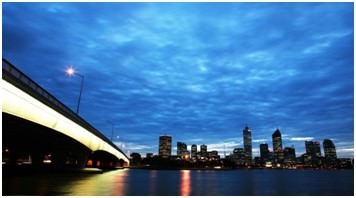 Perth is known for its amazing sunsets, and one of the most enjoyable ways to watch the orange glow is by dining at a restaurant with a view. Whether you're looking for a way to romance a loved one or want to enjoy the beauty of Perth, there isn't a shortage of fine dining establishments that offer both great food and views. From restaurants in the city centre through spots in Cottesloe, Fremantle and other Perth suburbs, you're spoilt for choice in Western Australia's capital city. Read on for five of the best restaurants with a view next time you're in Perth.
Halo Restaurant
If you select hotel accommodation in Perth city and are looking for a recommended dining option with a view close by, you can't go past Halo Restaurant. Located at the Barrack Street Jetty, this establishment is regarded as one of the best seafood restaurants in Perth and provides diners with top-notch food, wine, service and location. Set on the river at Barrack Square and so close to the water you could almost dangle a line from your table, the restaurant showcases spectacular views of the Swan Rive. Sometimes, there are even dolphins in the water nearby as well. Apart from its beautifully presented fine dining options, Halo also boasts a serious wine list that contains a varied list of national and international vintages. While in the city, you can head to this restaurant for a romantic dinner, an elegant lunch or a classy business meeting.
Matilda Bay Restaurant
Located in the suburb of Crawley, this popular special-occasion restaurant is perched on the water's edge just a few metres away from Matilda Bay. A consistent favourite with both locals and tourists, the Matilda Bay Restaurant is the perfect spot for a long, lazy lunch with friends or a loved-up dinner with someone special. Fittingly, considering its location on the water, the restaurant has a strong emphasis on fresh, local seafood and prides itself on providing customers with contemporary, fresh and unpretentious meals. Matilda Bay has amazing views across the water to the Perth skyline and Kings Park, and it's the perfect place to head for a celebratory meal.
Blue Water Grill
Blue Water Grill, an Applecross restaurant with million-dollar views of the city skyline and Swan River, is popular as a wedding venue so make sure you ring to make a booking — you don't want to miss out on dining at this establishment when you visit Perth! The restaurant is housed in a 1920s heritage-listed former hospital perched on a cliff top in Applecross (along the southern side of the Swan River). Its water views are magical, particularly at sunset, and the food consistently delights patrons. Blue Water Grill is famous for its fresh, Western Australian seafood menu as well as its spacious and airy veranda and terrace, both perfect for a romantic dinner.
The Red Herring
An award-winning East Fremantle institution popular for special occasions like Valentine's Day, the Red Herring is set right on the Swan River. It boasts sophisticated, stylish décor and menu. Providing diners with an elegant modern Australian menu to suit all tastes — with a concentration on fresh, seasonal produce — the restaurant is the perfect spot to enjoy sunset cocktails or romantic dinners. The site even provides boat-mooring facilities for those who want to arrive at the restaurant with some extra pizazz!
Il Lido Italian Canteen
Located across from the main beach in Cottesloe, Il Lido Italian Canteen is an espresso bar and licensed restaurant that takes its name from the site's heritage — it used to be the popular "Lido Cabaret". With a menu described by the owners as "Italian peasant food … presented with … individuality", the restaurant showcases local, organic produce, gourmet Italian cheeses and desserts, handmade pastas, quality coffee, an extensive Italian and Australian wine list, and freshly baked pastries. Il Lido has a bright yellow and white exterior, and is fitted out with long communal tables for a fun, casual atmosphere.
Gourmet Getaways has been invited to tour the Perth to Margaret River area in early 2014. My itinerary is fully booked for the first week but I have added a "free," extra week to explore independently.  As yet I have not scheduled any tour operators, boutique properties or restaurants for this period. If you would like my lovely Gourmet Getaways readers to know about your business please feel free to contact me.