Peppers Convent in the Hunter Valley is an easy 2 hour drive from Sydney and makes a beautiful base to explore the local vineyards.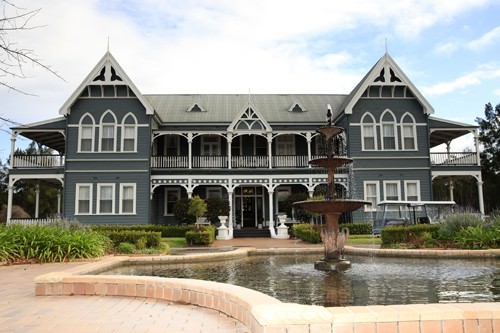 As the name suggests, the building started life as a convent, and housed the Brigidine nuns. The convent was built in 1909 and at that time it was located in Coonamble, six hours away from its current location in the Hunter Valley. In 1990 the grand old building was divided into four parts, and transported to Polkolbin.  Here it was lovingly restored, ready to start a new life, as a luxury guest house.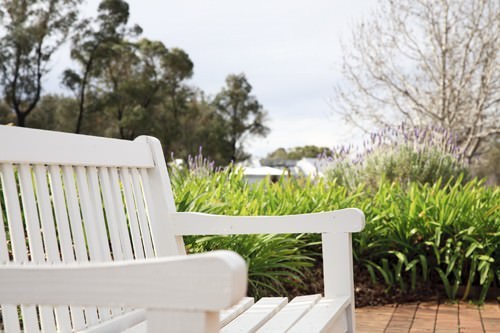 When I walked through the beautifully restored doors of this heritage building a little smile started to play on my face.
I said to Mr GG "I bet the nuns who taught me at school would never have guessed I'd spend the night in a convent."
He laughed, "fair chance."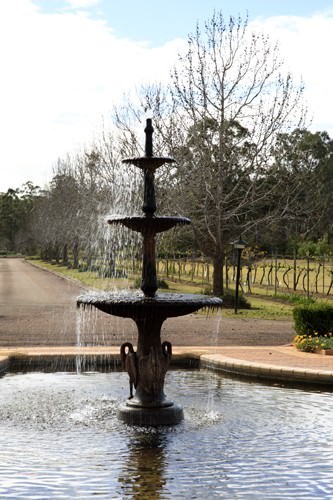 Just between you and I, it wasn't something I would have expected either. I may have given the nuns a bit of grief in my teenage years.
The convent has been beautifully restored. Attention to detail has been meticulous, and as far as possible the original materials were reused in the restoration.
Our room was located on the second floor. The wooden stairs gave a gentle creak with each step. I couldn't help but wonder how many people have listened to the sounds of the house over its 100 years of life. These little noises add to the uniqueness and romanticism of this style of properties.  I knew I was already being charmed by this grand old lady. I pictured her like an old, kind, plump "Mother Superior". Watching over guests and keeping them warm and comfortable during their stay.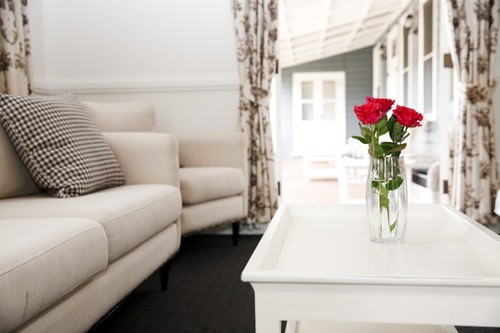 We were staying in one of the corner Superior Room.  The room had two sets of French Doors which gave access to two different verandas. Each veranda provided a beautiful view over the estate, vines and manicured gardens. The scene was so peaceful and serene. Having the French doors and so many windows gave the room an even larger, light and airy feel.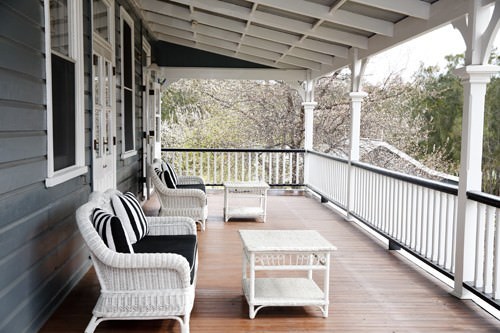 Inside, the room was elegant, with lovely old furniture and sumptuous soft furnishing fabrics. The decor felt like a fusion of French Provincial Country and English Manor style. It was perfect for a romantic getaway.
I love having flowers is a room. The fragrant red roses were the first thing I spotted as I entered our suite.  The feeling was so warm and homely.  It's these little touches which set a property apart from others and makes guest feel so welcomed.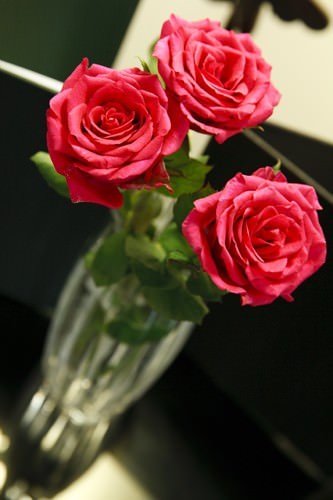 Even the bathroom received a red rose.  It provided a beautiful contrast to the blue crockery and white linen.  Aromatic bath salts were provided for the deep bath, so inviting!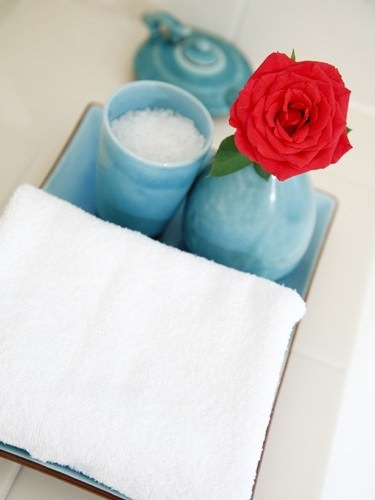 Whilst it was tempting to lie around and relax on the big comfy bed, Mr GG and I decided to take a stroll to the Pepper Tree Wines, Cellar Door. Pepper Tree winery is located on the estate and we thought it would be nice to share a glass or two in our room before dinner.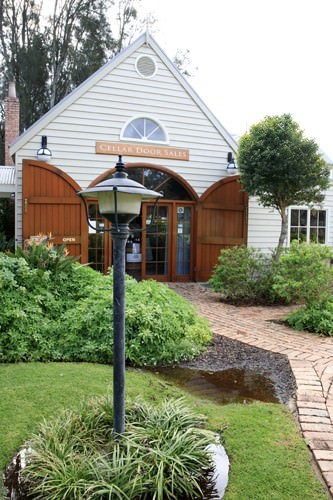 After a little wine tasting we made our way back to the room with our purchases. I will show you a little more of the Pepper Tree Cellar Door in an  upcoming Hunter Valley Wine Tour story.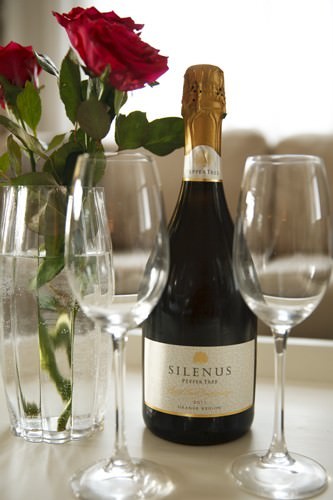 We chose to relax on the veranda with the 2011 Pepper Tree Silenus.  This soft bubbly was a blend of Chardonnay and Pinot Noir grapes with a delicious sweet, strawberry flavour, and a crisp lemon finish. I asked Mr GG if he thought the nuns would mind us drinking alcohol in the room. He just looked at me strangely.  I'm sure he was wondering if I actually thought there were still nuns in the convent.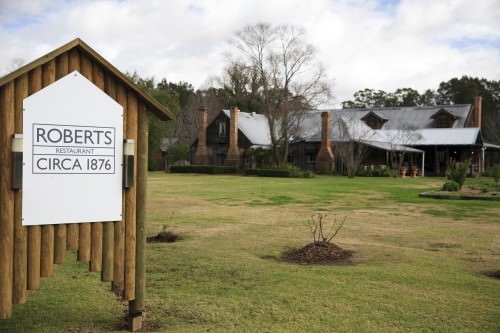 Before too long it was time to prepare for our reservation at Robert's Restaurant Circa 1876.  We were both looking forward to dining at this iconic Hunter Valley restaurant. Robert's is located on the Peppers Convent estate. The restaurant is attached to the original 1876 historic hut, and is a hatted restaurant. Executive Chef George Francisco has fantastic food philosophy. Meals are designed with fresh, seasonal and local produce and there is no wastage.  The large kitchen garden at the front of the restaurant is a testament to how fresh, and how local the food is, on his menu. Review to follow.
Returning to the convent after our meal, the peaceful grandeur of this old building was even more apparent. The fireplace was alight, and there were couples enjoying a quiet moment staring at the flames. This huge stately fireplace has had the job of warming many souls over its' 100 years.  It provides such atmosphere and heart to the property.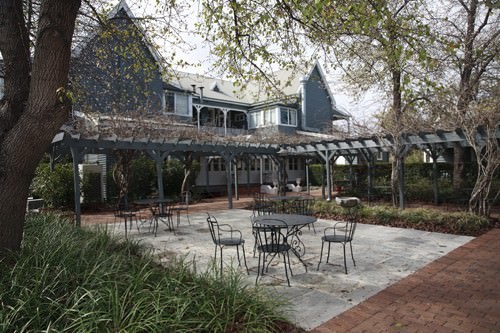 The next morning we were up bright and early ready for breakfast. Breakfast is served daily at Restaurant 88 in the Wisteria room at the convent.  We were shown to a table with a lovely view out onto the courtyard.  The gnarly Wisteria vines snake their way over the pergolas, easily explaining how the room was named.
The restaurant is light and airy.  The room is painted white and decorated with white flowers, wrought iron and warm wooden furniture. Breakfast is included in the tariff, and is a set menu.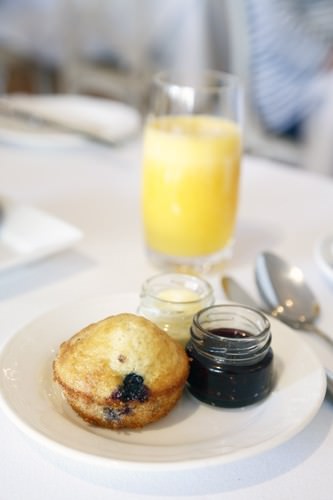 The waitress poured our waters and took my coffee order. When she returned she had a large jug of freshly squeezed orange juice.  Through out breakfast we could hear the juicer working overtime in the kitchen.  The juice was so sweet and delicious everyone was enjoying multiple glasses.
A platter with two home baked warm blueberry muffins served with whipped butter and homemade blueberry jam was placed on the table.  The aroma was delicious!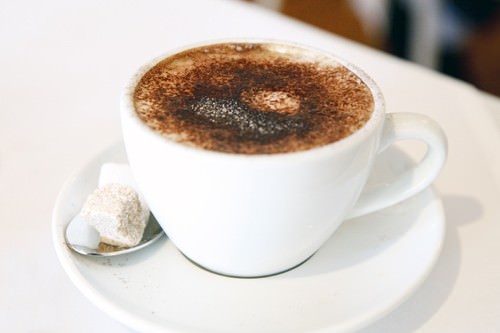 The breakfast deal breaker for me is my morning coffee.  A good cappuccino is a must, and I like it strong! This one was a winner, it helped open my eyes so that I could enjoy the fresh food that was being brought to our table.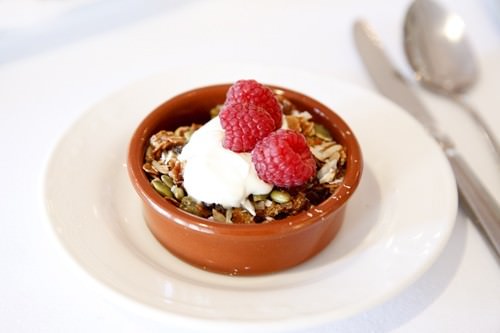 I'm sure I have mentioned that I am not really a breakfast person. I hadn't intended to have more that a bite or two until I tried this homemade granola. Apparently the granola is so popular with guests,the hotel now packages and markets the mix. I tried to identify all the ingredients but there were just too many.  I could see toasted fruit and nut with shredded coconut, sunflower and pepita seeds, but there was so much more.  It was so sweet and crunchy! The creamy, tart, natural yoghurt was perfect with the granola and the topping of fresh raspberries made me feel that I had definitely had a vitamin burst.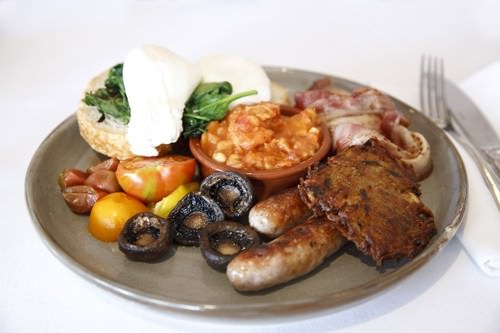 For those that are a little hungrier in the mornings Peppers Convent offers an additional country hot breakfast. The breakfast included perfectly poached organic eggs from the farm served on thick cut sourdough toast with wilted spinach. There was a pot of creamy homemade baked beans which had just a little spice. In addition Mr GG enjoyed the house cured ham, buttery fried mushrooms and the melody of tomatoes, both fresh and grilled. The hash brown was extra special as it was a crispy combination of potato and carrot.  Surprisingly there wasn't even a chipotle in sight when Mr GG pushed his chair from the table.
It was such a healthy and tasty start to the day. Breakfast fresh from the estate farm and kitchen garden.
So TAKE THEE TO A NUNNERY!
Peppers Convent – Hunter Valley
88 Halls Road Pokolbin NSW 2320 Phone: (02) 4998 4999
Website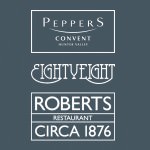 Gourmet Getaways would like to thank Peppers Convent Hunter Valley for their generosity in hosting this stay. As always the opinions contained in this review are written without bias and in accordance with my disclosure policy.