Sometimes you notice something so irresistible on a road trip you just have to pull the car off the road and take a look! We were driving down the highway on the long, lonely stretch of road between LA and Vegas when we noticed Peggy Sue's 50's Diner. There had been nothing to look at for an hour or more but this was so retro and cute we had to stop.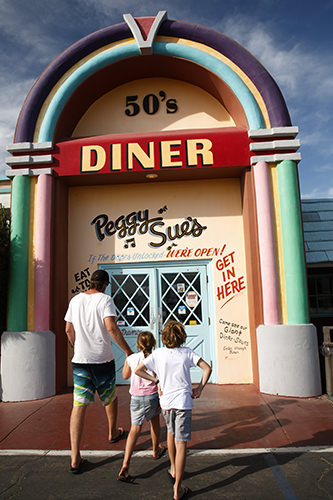 The diner was exactly what we had expected inside! Opening the front door was like going through a time warp. Peggy Sue's 50's Diner was decorated with rock and roll memorabilia from the 50's and was full of atmosphere.  A juke box belted out the hits from the period, while waitresses dressed in teal and candy pink uniforms took orders.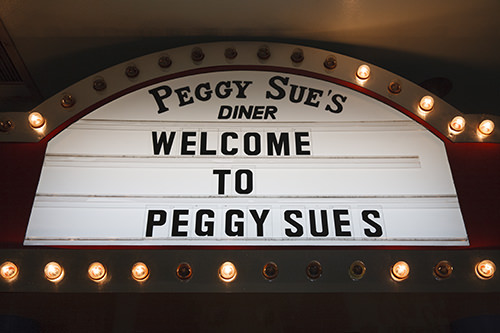 A long counter stretched the length of the first room and had a series of bar stools for guests. The short order cooks could be seen working furiously churning out the orders through a service window behind the counter.
We took a seat at one of the booths near the counter and scanned the menu. Everything looked so good and the aroma was amazing. It was like was good old fashioned American food from a bygone era. We had been told that serving sizes were BIG in America, but I was hungry so we each ordered a separate item from the menu.
The dishes were all self proclaimed "Nifty 50's Favourites" with entertaining names like the Marlon Brandon Burger or the Patti Page Patty Melt. The diners recipes are family favourites, most coming from grandma's collection.
To start the kids ordered the old fashioned milkshakes in chocolate and Brett chose the strawberry shake. When the milkshakes arrived they were as thick as Australian thick shakes.  There was even a swirl of soft serve ice-cream floating on the top! I am sure we had more than one litre of soft serve ice-cream on the table.
I had a mouthful of the strawberry shake and it was delicious! Each milkshake arrived in a old fashioned glass with the accompanying metal milkshake cup. The metal cups contained more milkshake. They were half full! The kids thought they had hit the jackpot!
I had ordered a simple diet coke, it was served in the same large glass as the milkshakes. I was a little put off as the waitress tried to take away my drink when I still had a mouthful or two left in the bottom.
I politely asked if she would leave the glass as I hadn't finished.
she said, "Oh, you don't want a refill?"
Huh… was my less than intelligent response.
"Do you want a refill?" she said, "We refill your glass."
Wow, yes I was happy for a refill.  This was the first place we had encountered the bottomless soda concept.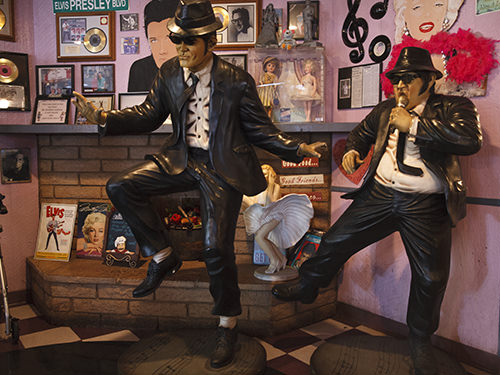 While we were waiting on lunch I took a walk around. Each time someone entered the busy diner the waitresses would tell them there was more seating out back. They were instructed to "follow the yellow brick road." I followed the yellow brick road and found Peggy Sue's expanded into an even larger cafe with more kitsch 50's memorabilia.
I could have explored for so much longer but Anais came to tell me lunch had been served. I had ordered the La Bamba burger. The burger was a homemade ground meat patty served on a soft white roll and then smothered in a tasty chilli and cheese combination. It was delicious. Although perhaps not exactly healthy it felt homely and wholesome.  It was exactly what I needed after travelling for so long and being stuck with chain fast food outlets. The burger was served with crisp curly fries. I tried one for research purposes only… it was good! So golden and crispy… must not eat any more fries…
Anais chose a child's meal that would have filled a man sized appetite! The Grandma's meatloaf was her choice.  It was served with mashed potato, gravy and corn. The side plate contained a bread roll and whipped butter for mopping up all the gravy. The meatloaf had a good old fashioned homely flavor that reminded me of eating at nan's house. It was also the first time we had seen a vegetable which hadn't been through the deep fryer, so the corn and impossibly creamy, smooth mashed potato were a real treat.
Locky ordered the Buddy Holly Cheese burger and curly fries. The boy is very predictable! The burger patty was again homemade and the roll contained lettuce and the now familiar American pickles.  Lucky is becoming accustomed to pickles on his burger.
Brett's lunch was the Jailhouse Rock Chilli bowl which was served with a fresh baked cornmeal muffin. The chilli and bean dish was the same as on my burger, and was delicious with the yellow American melted cheese and diced onion accompaniment. I had never tried a cornmeal muffin before and was surprised to find it warm, crumbly soft and delicate, with a hint of sweetness. It was the perfect accompaniment to the chilli and a great introduction to American homestyle cooking.
We also kept seeing a huge plate of southern fried chicken going out! It was a massive dish! When I checked the menu it said 1/2 a chicken in a crispy crunchy buttermilk batter. WOW, I'm not surprised it was a huge dish!
The kids couldn't finish their milkshake, the silver milkshake container actually held two full glasses! The dishes were huge, homely and delicious, the service is warm and friendly, the atmosphere was a fantastic experience. It was a great stop to make.
Peggy Sue's 50′ Diner
10 miles north of Barstow on the I-15 Fwy
Ghost Town Rd
Halfway between Southern California and Las Vegas