Every year I watch Masterchef and promise myself I'm going to learn pasta making.  This year it seems like every one of the contestants has made pasta in one form or another. I felt like they were taunting me! I've tried to make pasta before and whilst it wasn't a disaster, I knew I needed professional help.  I wasn't exactly satisfied with my pasta making efforts.
The Cheesemaking workshop in Coffs Harbour runs a range of cooking classes including a 3 hour Gnocchi and Pasta Making Workshop. I'd previously attended Lyndall's Soft Cheese Workshop and found it fantastic so I booked myself into the pasta making class.
The Cheesemaking Workshop was initially located at Moonee, but has now relocated to a beautiful space at the Big Banana. The move has allowed them to expand and offer more classes to the public. They now boast a very well stocked deli which specialises in gorgeous cheeses. I was really excited to see one of my favourite imported French cheeses in the deli cabinet!
They also have a range of gourmet conserves, crackers and truffled products to accompany your cheese platter.
I arrived a little early for my pasta making workshop and was immediately drawn to the shop area. I'm a compulsive shopper when it comes to kitchenwares. The shelves held everything you might ever need to make a variety of cheeses, yoghurt, bread or pasta. There was also a gorgeous range of platters and other items that would make fabulous foodie gift ideas.
When it was time to commence the class we moved past the dining room and into one of two large kitchens. On the commercial bench were motorised pasta making machines and all the ingredients we would need to make our pasta. We were given a recipe booklet which contained the recipes we would be using during the class.
Our first job of the day was to make our pasta dough. We each added the ingredients to a bowl and began to incorporated the egg into the flour. We were making the pasta by hand so there was a little bit of kneading to be done and Lyndall checked the consistency of everyones dough prior to it being rested.
Before very long we were ready to laminate the pasta. Laminating is the process of passing the pasta through the pasta machine a series of times. I was really excited to try the motorised machine. My machine is hand turned and I was itching for an excuse to swap to an electric pasta maker.
Lydall gave us a few tips on how to keep the pasta sheets neat and tidy and then demonstrated the technique. It looked so easy!
We all had a turn on our own pasta machines and I found it was every bit as easy to roll the pasta as it appeared. The sheets came through perfectly! They didn't stick, or fall apart or do any of the other things I had feared. Now I want to upgrade my pasta machine!
I looked around the room and found that everyone was having the same success. We were all quite proud of ourselves as we laid our completed sheets of pasta on the table.
The pasta making class teaches, the art of making fettuccine, tortellini, gnocchi and a rag pasta. The first pasta we were shown was the tortellini. We cut circles from the pasta sheet and fill them with a selection of tapenade. Once complete these were placed on a tray ready for cooking.
Next we moved onto the Gnocchi making. We all made our own batch of gnocchi using the recipe Lyndall provided. We rolled the dough out on the bench and cut it into sections.
It took me a few tries to get the hang of putting nice little grooves down the gnocchi.  Before too long I was flicking them off the gnocchi board like a professional. The gnocchi making was surprisingly quick.
Once everyone had completed their gnocchi we moved into the second kitchen to cook all the pasta and gnocchi. The pasta was ladled into boiling water to cook whilst we made the sauces.
Each of the four sauces we made were super simple and super delicious! Below you can see the gnocchi in a homemade blue cheese sauce. I have since recreated the dish at home because it was so easy and SO GOOD!
We then cooked the Tortellini.  It was served with a tomato based sauce and a generous shaving on Romano cheese and fresh herbs.
Another of my favourite dishes was the creamy mushroom sauce with fettuccine. I am so pleased that we were able to achieve such a delicious outcome with our pasta. It still amazes me that we made so much food in such a small amount of time.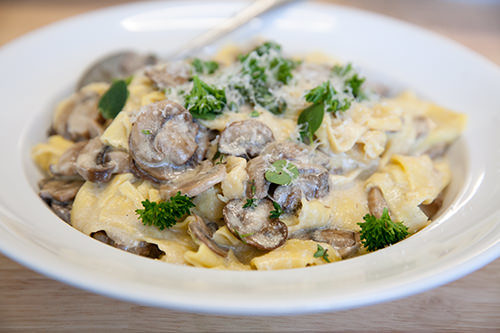 All the completed dishes were served into large bowls and placed on the dining room table. Lydall had also made some gorgeous salads to accompany the meal. We enjoyed a glass of wine from Two Tails Vineyard at at Nana Glen.
It was quiet around the lunch table as we each sampled our efforts. I think we had all exceeded our expectations. The meal was fabulous. It so much fun cooking and eating with a like minded group of foodies.  I would thoroughly recommend doing this course with a group of friends, or as a mother daughter activity.
I am proud to say that I can now make pasta. Can I brag and say, making pasta is a cinch! I honestly never thought I would say that! It just goes to show, it's far easier to be shown how to do something correctly than to try and muddle your way through on your own.
If you're local to Coffs Harbour, or on holidays I recommend stopping in and taking a look at their new shop at the Big Banana.  It's located just next door to the candy shop and they offer cheese tasting! YUM!
I am a bit of a mouse when it comes to eating cheese, I think I probably live off cheese alone! I'm currently looking into the cheesemaking workshops cheese appreciation club. Each month member are invited to a cheese tasting night and receive a box of specialty cheeses.
The Cheesemaking Workshop –  Pasta Making Class
Shop 2A, The Big Banana351 Pacific Hwy, Coffs Harbour, NSW 2450 Ph: (02) 6656 2335 | 0458 562 135