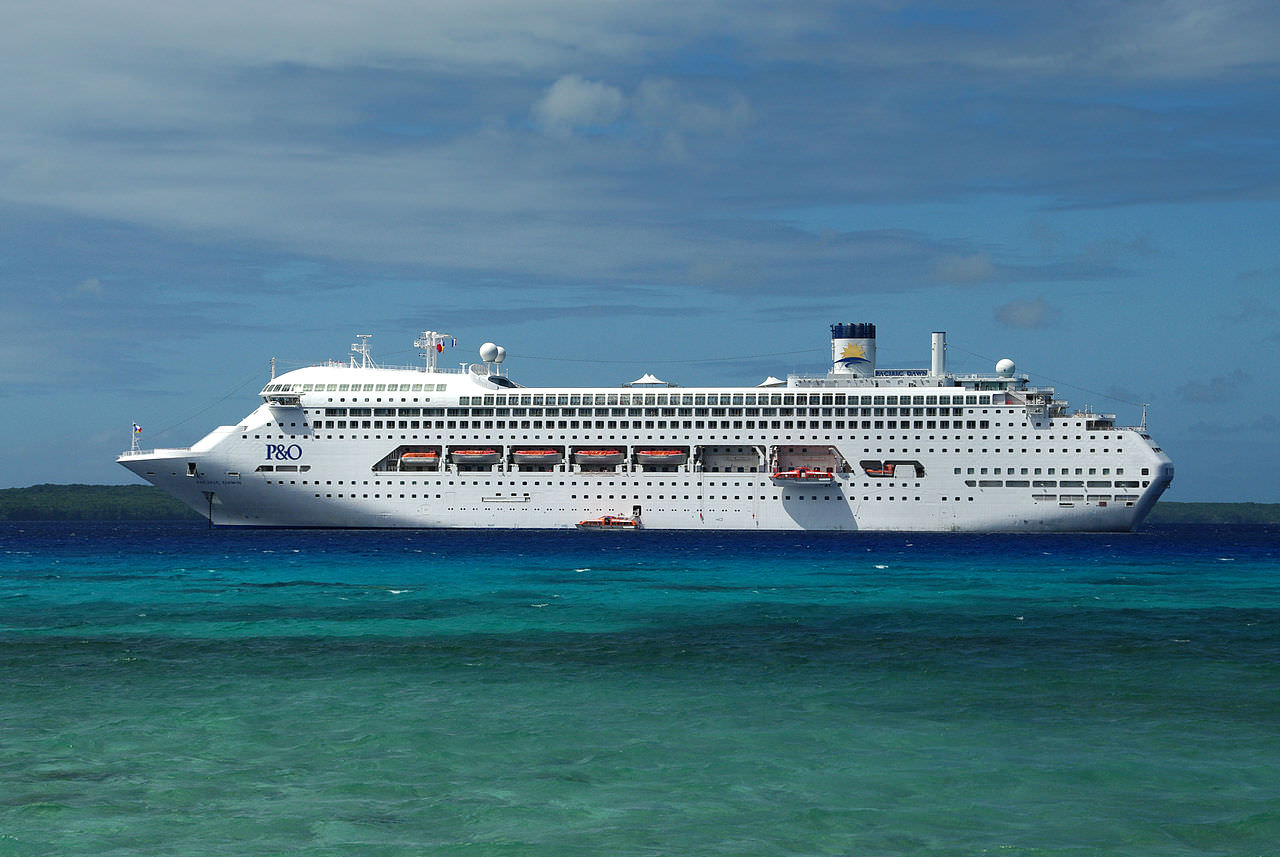 Here we are on board the P & O Pacific Dawn.  This is our first time on a cruise holiday, and I am a little in awe of the size of the ship and the number of people on board. The ship is packed to the brim.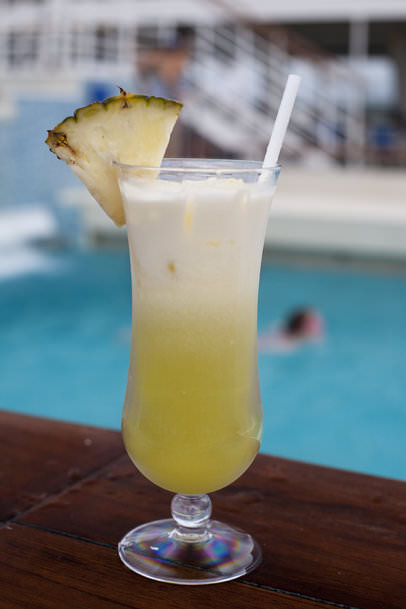 Anyway, we found our way to the room.  For the seven day cruise, we have a four berth inside cabin. The configuration is two sets of two bunk beds.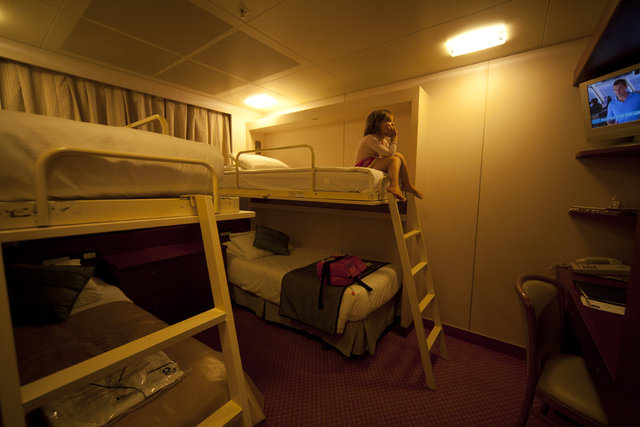 Our luggage hasn't arrived yet, but I am told that it's normal for it to take a few ours. Just as we were getting settled in the cabin, there was a pre-departure fire drill and safety demonstration.  We had just been returning to the main deck when a general announcement was made about the upcoming weather conditions.  It seems we will be leaving the Port of Brisbane amid more rain.  This is no surprise as the weather seems set in here at the moment.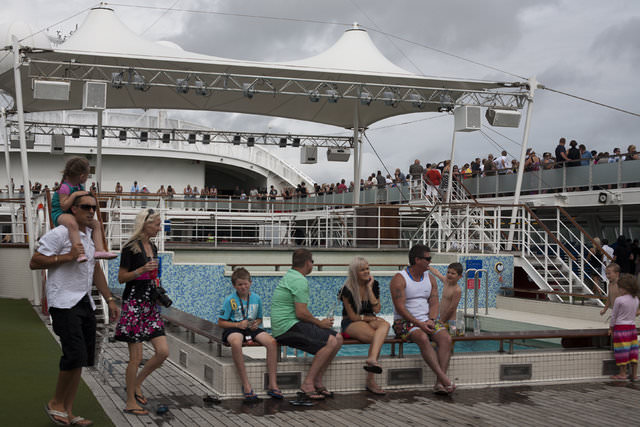 We are informed that we are in for some wild weather, and can expect winds of 40 knots and a swell of 3 ½ metres once we hit open waters at about 6.30pm. I wait hoping this was a joke, but the steward continued to warn that we should use caution as we walk around on board, and will need to make full use of the rails.  This is not what I wanted to hear. I am someone who gets seasick walking on a dock! Mr GG had been assuring me that being on a boat this size is just like being on solid ground. It seems I am about to find out the truth.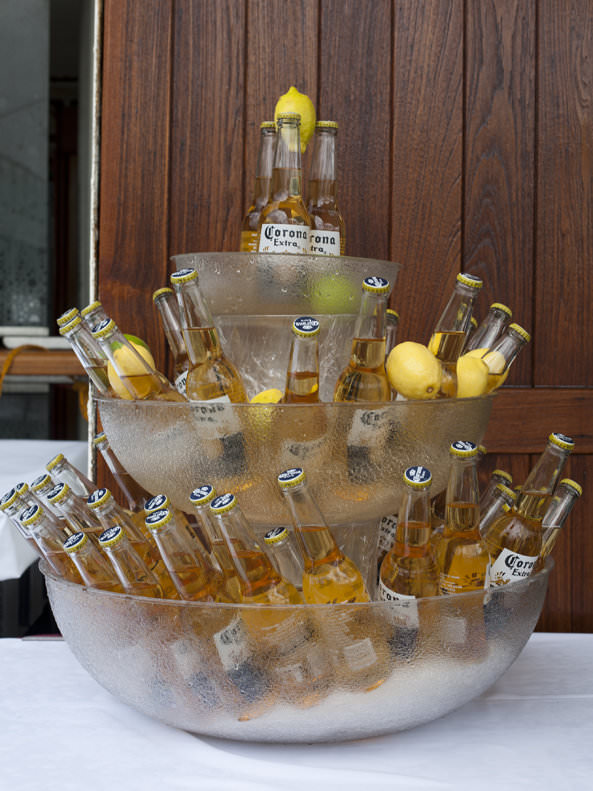 On the positive side, there is a Sail Away party scheduled for 4.30pm. We went to take a look at the kids club, and our children wanted to stay there!! That is not like my kids at all. So it looks like we will be attending the "Sail Away" Party child free. I love the fact that the kids are so well catered for and the child care is complimentary. Now I just need to find a solution to my motion sickness problem. I have my Midori Illusion in hand, and I will keep you posted on the seasickness and the tattooed masses.  I have been warned that internet connectivity will be sparse.
Pacific Dawn Cruise – Day 1 The Evening

Day 1 and by 3.00pm the children had made their way to deck 12, the lido deck and were happily swimming in the pool as the rain fell and the wind blew.  Being kids, they were oblivious to the weather and went between the spa and the children's pool.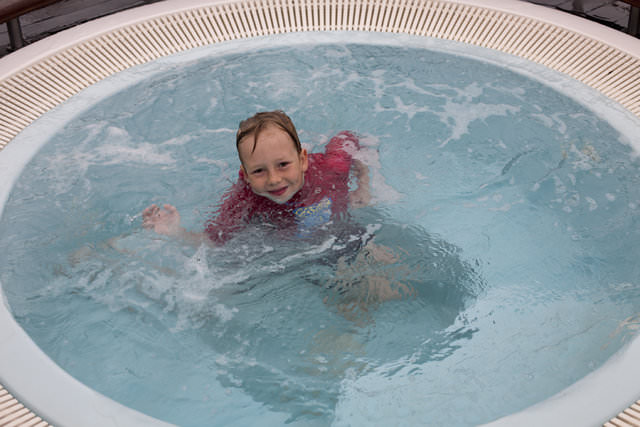 The pools are located on a raised deck so we needed to be up there away from the seating and bar area to supervise them properly.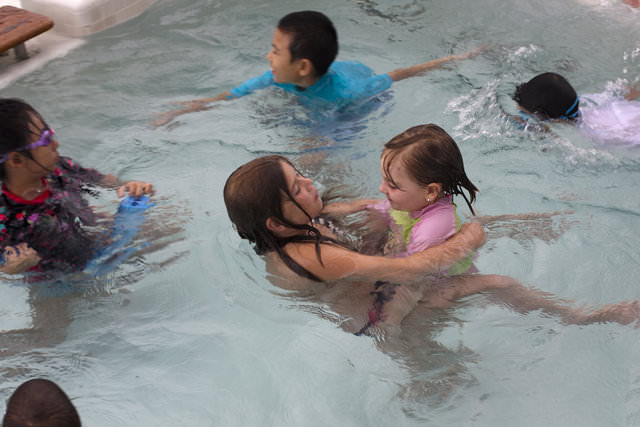 Within a half hour or so, the wind and rain had chased me off the Lido deck. I decided to use the time to do some unpacking in our room.
Tip 1 Unpack all belongings into the drawers and hanger, stow bags away. There is so much more room in the cabins with this job out of the way. While I am busy housekeeping I noticed the room sway for the first time! An announcement had warned we would commence to "rock in and roll at 6.30, but by 5.07 I was hanging on to the walls as I walked, and feeling a little worse for wear. Being the first night on board we decided to dine in the Cafe del Sol.  This is the ships buffet restaurant and is included in the price of your ticket.  We thought this would be the easiest option to satisfy everyone and get dinner out of the way before the evenings activities commenced.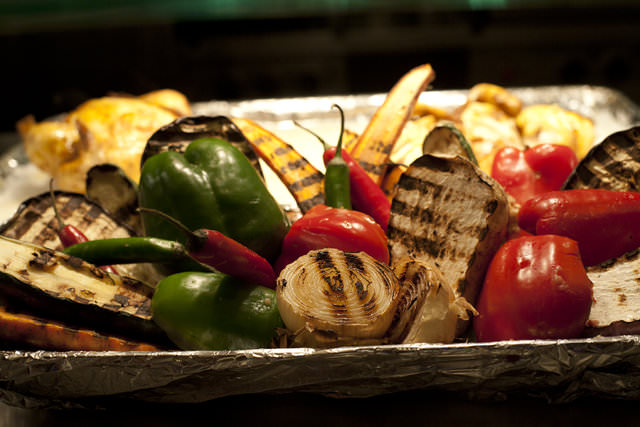 The children wanted to go to the kids club which operates of an evening until 10.30pm.  We had thought we might join the "child free" welcoming party in the ships night club. The teenagers were happy in the Xbox room so everyone would be accounted for.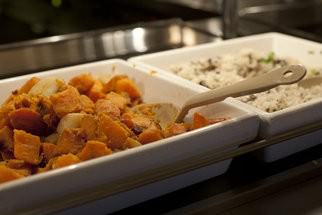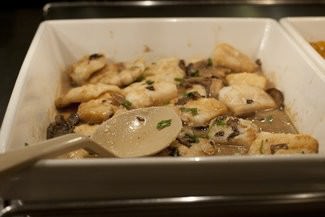 The Buffet wasn't spectacular. It was surprisingly disappointing. I have included images so that you are able to make up your own mind. Everything was bland and boring to look at and to taste.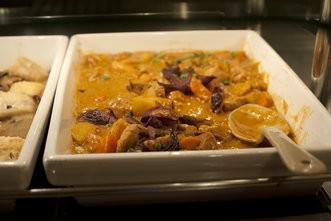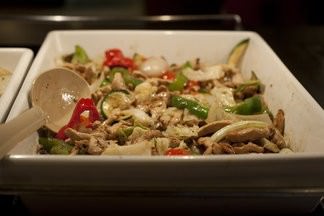 I chose a bite of most dishes.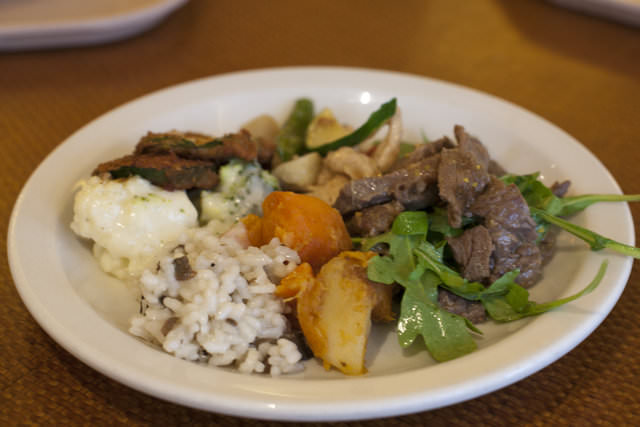 I reminded myself that we are on a boat, and not in a fine dining restaurant, but it still did not enjoy the meal.  I remember the buffet on board the "Spirit of Tasmania" wistfully.  It was full of smoked salmon, prawns and oysters beautiful King Island cheese and Cadbury chocolates… but I digress.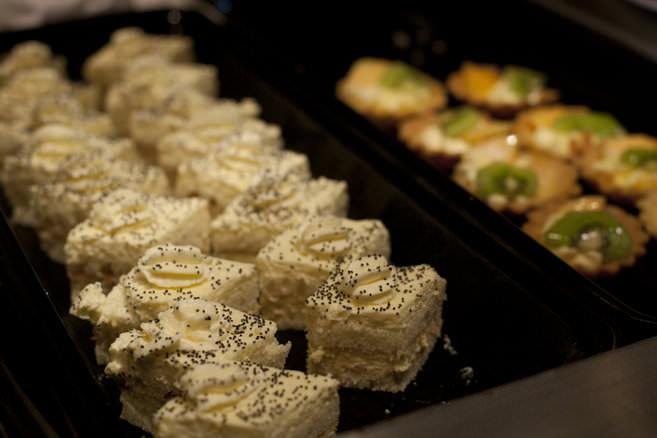 There are other dining options on board so I am sure I will find a more suitable story for my gourmet readers.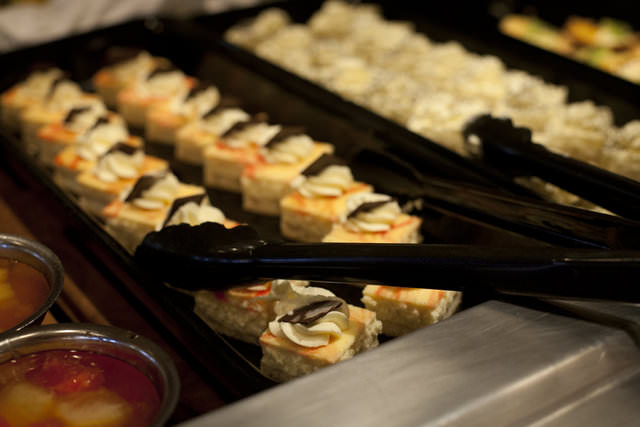 Once dinner was complete we booked the little ones into Turtle Cove and the big ones into the Teen Lounge.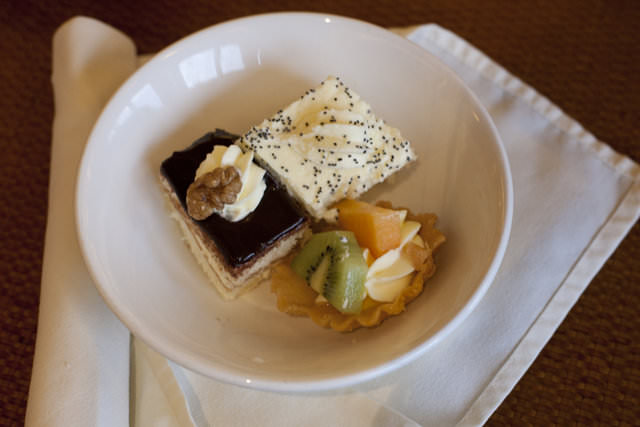 By the time all the kids were in their respective activity centres I was feeling tired and struggling with the motion. I sat on the deck for a while and watched the shore as we tracked along the coastline all the way to Noosa. In spite of my current state it was an amazing view. The sun faded and we watched the lights along the coastline. Once we were just past Noosa the ship headed East toward the Pacific Islands. We decided to skip the welcome party. I day's for the level of movement we would experience in the open seas. I hoped that if I slept, by the morning I would be accustomed to the rocking, and better able to manage my motion sickness.
Pacific Dawn Cruise – Day 2 – At Sea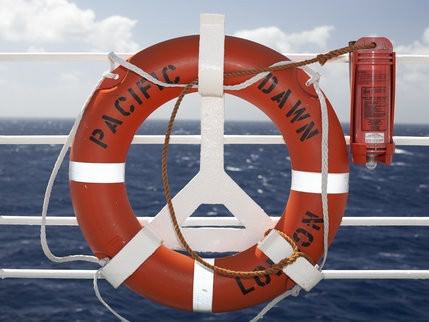 I woke to the gentle swaying of the boat.  To some I am sure this would be soothing, and may even lull a person to sleep. For me who gets ill in a rocking chair or hammock it was more than a little disconcerting.  To my relief though I am not feeling so ill. I start to type the words that have been going through my head since we arrived "this is really not the Palazzo Versace." I realise that I sound like a spoiled prima donna, but all I can think is "I like nice things," and I am feeling so ill.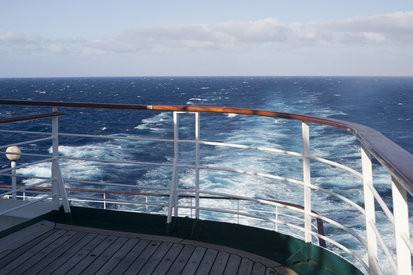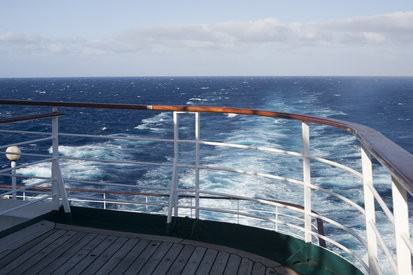 There is no doubt that other people on the boat are having a great time.  Everybody else is loving the food at the buffet, and no one else seems to notice the size of the pool or the number of people packed onto the boat. I reminded myself that I have only had a glimpse of the cruise ship so far, I knew I needed to get out of my room and try to get over the sickness. When I went on deck the pools had been closed and drained due to the high sea's.  We had seen waves breaking at each end of the pool as the water swayed to the boats movement. I am told that pool closures rarely happen.  Strangely this makes me feel a little better. Seems that I am not being as woosey and girlie as I feel. I decided to seek out the more gourmet aspects of this cruise. It occurs to me that readers may want to know the costing of this style of holiday as well as how much spending money they may need to "pimp their holiday." I will include a summary at the end of the seven day review.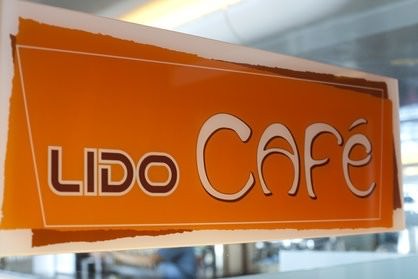 So while the family was sleeping I decided to go in search of a nice cappuccino. My coffee is a morning ritual which cannot be forsaken.  There are some "Nescafe Stations" which are available for guests to help themselves, but I was looking for something more.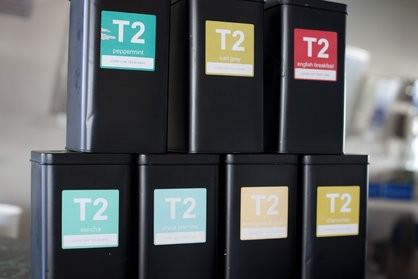 The Cafe Lido answered my call.  I was really pleased to find that the ship had two cafes! I made my way to a corner lounge where I could gaze out the window at the sea below, and ordered a skinny cappuccino.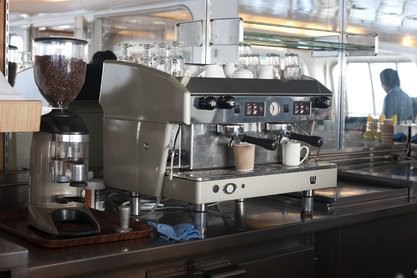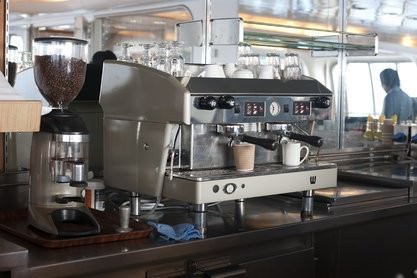 The coffee was music to my lips, it was perfect, and all of a sudden everything was once again right with the world. Up to this point I had been surviving on the self serve coffee stations.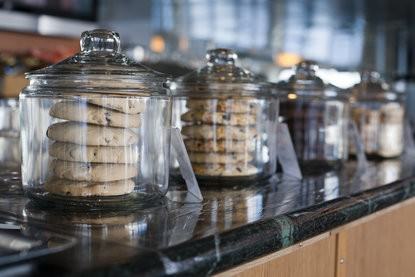 I took my time to savour the view and this relaxing moment of bliss before returning to the cabin.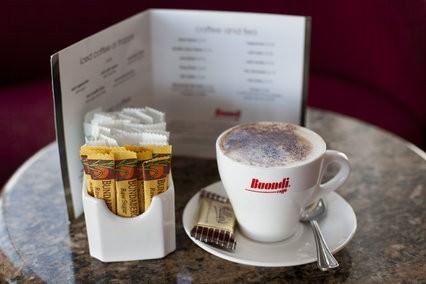 Breakfast was once again a buffet in Cafe del Sol, the breakfast menu was exactly what you would expect at any regular hotel buffet.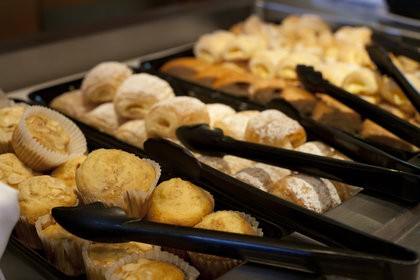 The little ones enjoyed the choice between banana pancakes and regular pancakes with maple syrup.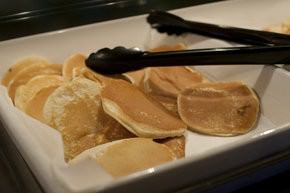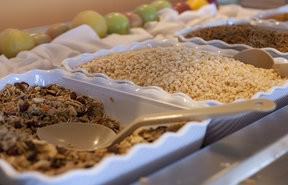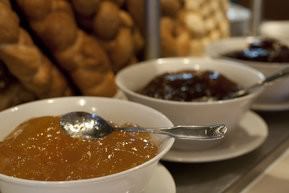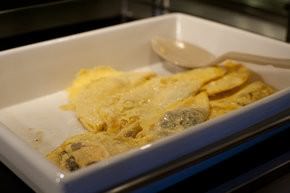 The big boys took their time demolishing the best part of a tray of bacon sausages and eggs.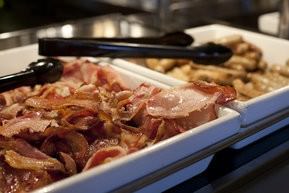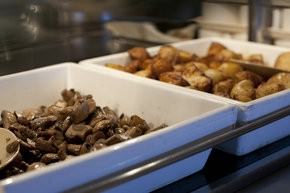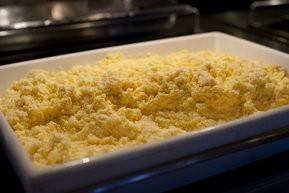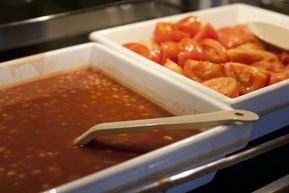 We have been enjoying the choice of fruits available on all the buffets and breakfast was no exception.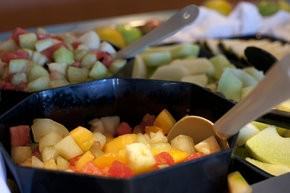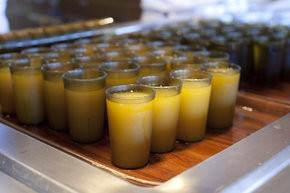 Although I had been trying to talk myself into feeling better I am not prepared to risk food at this point. The children had been begging all throughout breakfast to go back to Turtle Cove.  Turtle cove is the name of the onboard 3-6 years Kids Club. It is very well set up for the little ones.  When we arrived the kids were busy playing and seemed to be having a great time.  Our kids ran in straight away, and were happy playing before we were even given our pager or finished the sign in procedure.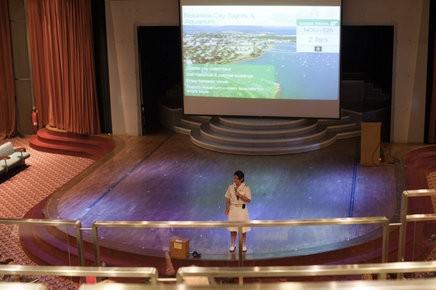 Mr GG & I part ways as he heads to the lower deck and the gym equipment. My motion sickness wasn't too bad at that moment but I felt that the worse thing I could do is start doing physical exercise. Instead, I am off to a one-hour seminar which advises passengers of the tours available at our island destinations. There are so many tours on offer and they really do have something for everyone, from thrill seekers, families, invalids or the elderly. I find that there are quite a lot of tours I would like to do in the limited time available. Ordinarily, I prefer the route of self discovery but given we are in each port for such a limited time it makes sense to take advantage of a pre arranged tour. Once the seminar is over I meet Mr GG and we head to the lido deck with the intention of a swim, spa and a bit of a relax in the open air. We arrive to find the deck quite full of people, with the pools unavailable we can't see any reason to hang with the masses. We took some time on the deck to choose our tours and then decide to collect the children for lunch. Anais has been busy painting and has artwork to show us. She has even made a cardboard sun visor! Locky has completed some colouring. Amazing neither child is covered in paint, as would usually happen at childcare! The children choose their food from the buffet and Mr GG & I do the same. I have inquired about the meals at the "Palm Court Restaurant" which also opens for lunch. We decide that for the convenience of allowing the children to choose how much of each item they want, we would continue with the buffet for the moment. Mr GG and I have christened the buffet "the trough." The kids are in a hurry to get back to Turtle Cove. I had highlighted a "mocktail making" class to take them too but they were more interested in the activities at Turtle Cove.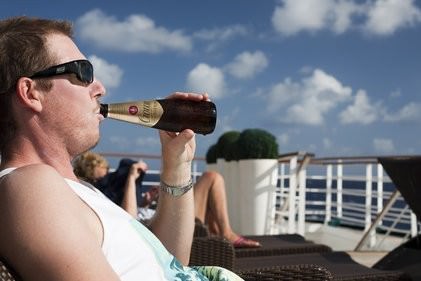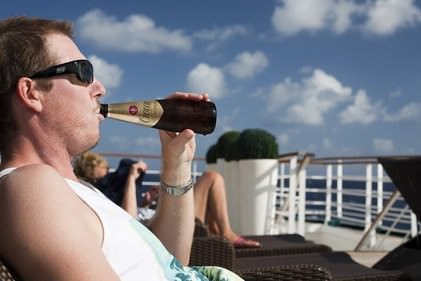 Mr GG and I decided to try and find a quite spot on the boat out of the wind.  The wind had been blowing a constant 40 knots since we left Brisbane and it had not been pleasant to sit on the Lido Deck. We started on level twelve and made our way down the various outdoor decks until we found a little deck to the rear of the boat, and out of the wind. There were only a few guests here as it was designated for adults only due to the bar.  The lounge was aptly called "The Oasis Bar," Mr GG and I settled in with a book each and spent some lovely relaxing hours, reading and enjoying a cocktail or two. The hours seemed to pass so quickly and before too long I realised we had missed the French lesson I had been intending to take, as well as the Martini making class. We decided to spend a little longer relaxing on the deck and skip the "sunset stretch" class also. Mr GG and I had booked in to La Luna for a couples dinner so we collected the kids club and took them off to the buffet for their meal.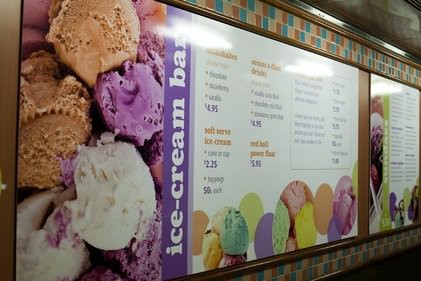 After they had finished dinner we decided to treat them to an ice-cream at the ice-cream parlour.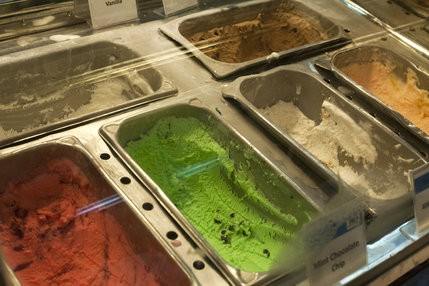 Anais chose a choc mint flavour with jelly bean mix-ins and Lachlan went for a straight chocolate with peanut M&Ms.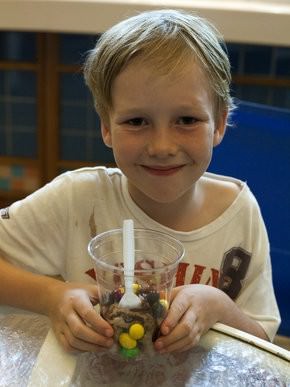 The kids returned to Turtle Cove for the evening movie session and Mr GG and I linked arms and took up our reservation at La Luna.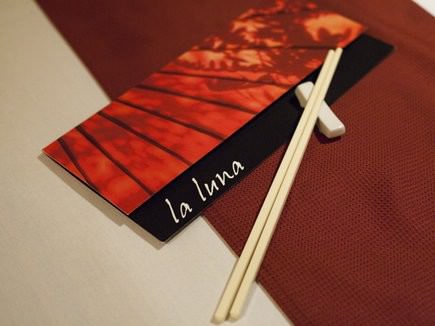 La Luna Restaurant – Pacific Dawn Cruise Ship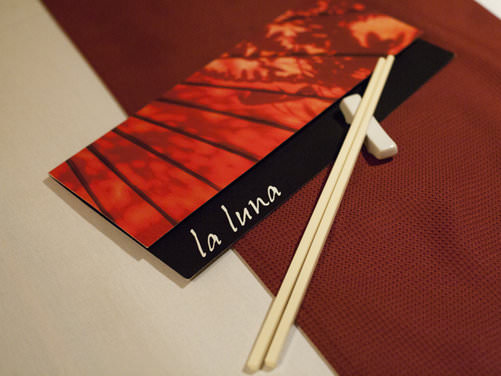 There was a totally different feeling the moment we arrived at La Luna.  We are on our second evening on board the P & O Pacific Dawn. Our destination is the Pacific Islands starting with New Caledonia. Tonight we are dining at La Luna Restaurant. This restaurant is locate right next door to the Cafe Del Sol buffet, yet the mood was so much more relax and the service perfect. Mr GG and I were shown to our table where a coloured slump glass plate had been set at each place. The plate contained a mix of spices which we were told would feature in the banquet we were about to be served. The spices were to reinforce the idea of spice and fragrance being important to the balance of the meal. The aroma set the stage perfectly for the meal to follow.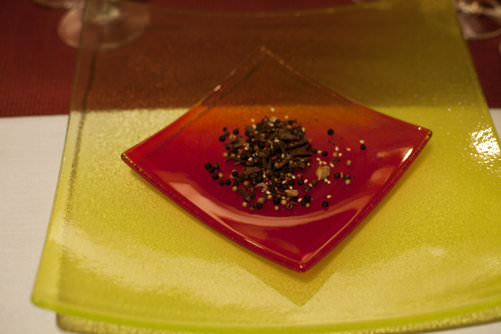 We are told this restaurant was "Asian Fusion," I am not sure what this means but the style was very much Modern Chinese. The meals were adaptations from authentic Chinese dishes throughout various provinces.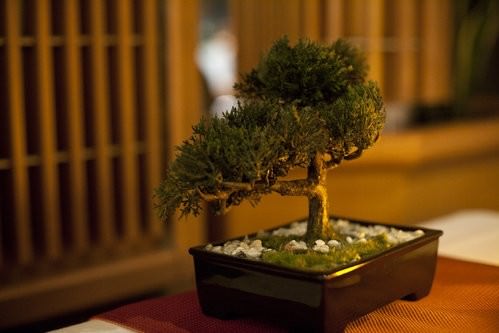 Our eight course banquet commenced with a range of five pickles. My favourite was the "hot and sour carrots with black pepper". These pickles had a very distinctive chai spiced flavour. There seemed to be quite a lot of Star Anise in the dish, the flavour was simple but so delicious.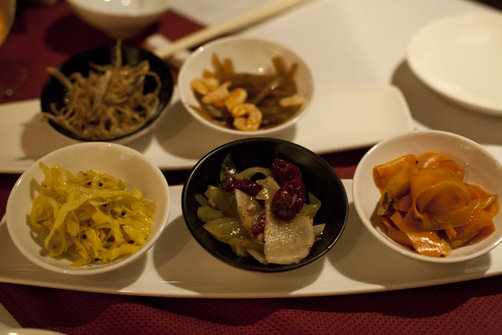 Mr GG couldn't choose between the "Bean Sprouts with dried fish and salted chilli" and the "Szechuan pickled cucumber and radish". I too enjoyed both of those dishes although hubby managed to polish off the spouts dish before I could try it with a dried fish.  Apparently the fish gave it a gorgeous saltiness that finished the dish perfectly. I know I loved the flavours even without the piece de résistance! The other two dishes were a cabbage sautéed with black mustard seeds and "Celery Salad" with dried shrimp and roasted sesame oil tried the shrimp.  Both totally delicious.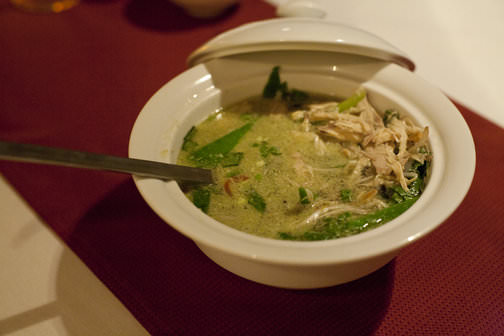 The next course was "Yunnan Steampot Chicken" and lovelt light, fresh broth full of shredded chicken and crisp crunchy green vegetables, topped with bean sprouts. It was a lovely salty broth made using chicken, brandy and a shallot puree. This could easily be my favourite dish, so light, healthy and nourishing.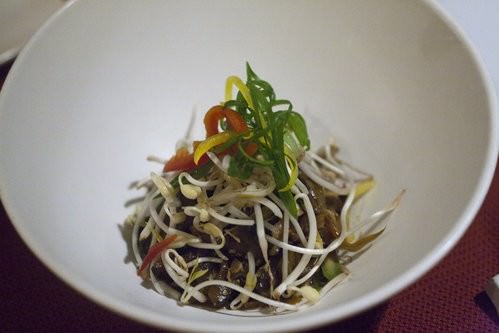 So many courses! next we were presented with a salad of Asparagus, Capsicum and Eggplant. The taste and texture reminded me of a Thai Beef Salad without the meat. The dish share similar ingredients such as the garlic, fish sauce and lime juice topped with crunchy bean sprouts.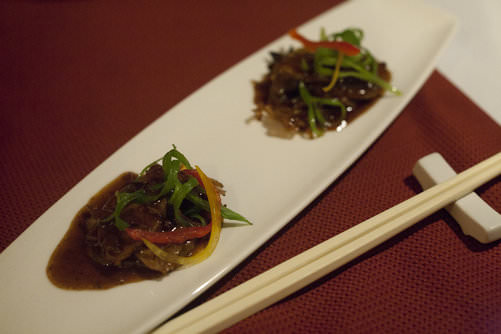 The next dish to be served was the Sweet Guandong Blue Ginger Duck Salad.  This aroma's of this warm salad was amazing as it was set down before us.  The rich moist duck was thinly sliced and served with a rich aniseed and barbeque sauces with crispy vegetables. By this time I am short on tummy space, just sampling the dishes and leaving the majority for Mr GG has somehow filled me up!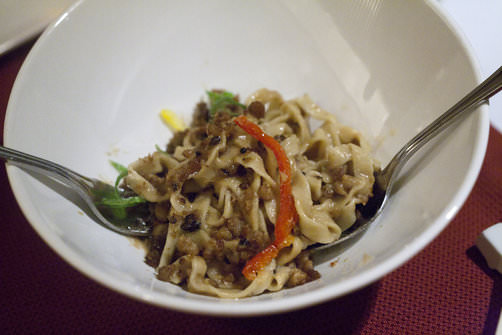 Dan Dan Mian Wheat Noodles was the next dish to arrived. Crisp garlic pork had been fried with Szechuan pepper and combined with a satay sauce to accompany the noodles. A very rich creamy dish which we managed to polish off quite quickly given the quantity of food we had already consumed.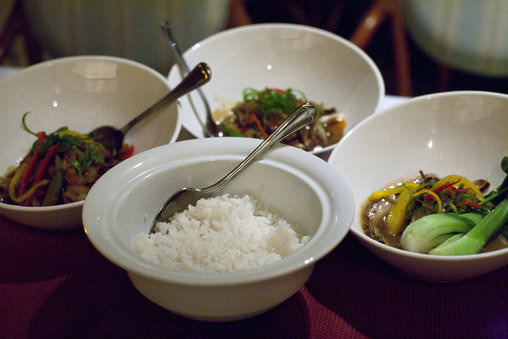 We had finished our starters and ready for our main course.  Yes dear readers, this is no mistake. We are asked to choose our main meal. We have the choice of ordering all six dishes or just a selection. Given the state of our groaning full bellies, we choose just three mains to share.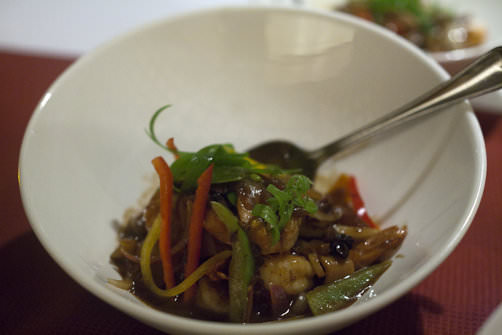 The first dish to be selected was the Guangzhou, tamarind, pepper and honey prawns, which is served in a golden pineapple and chilli syrup. The taste is very similar to a sweet and sour dish but it also has a nice selection of vegetables included.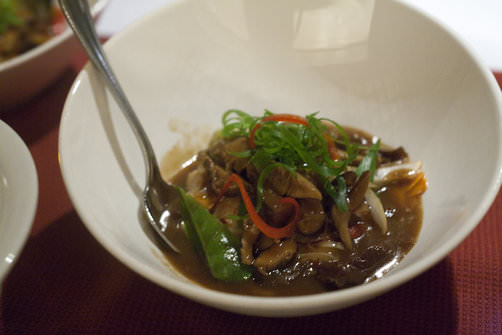 Next was the Szechuan Braised Fish, served in a hoisin sauce with beer lime and soy. The flavours in this dish were a nice contrast to the other dishes we had tried. There was a lovely earthy flavour which came from the use of dried mushrooms. I also loved the crisp green snow peas.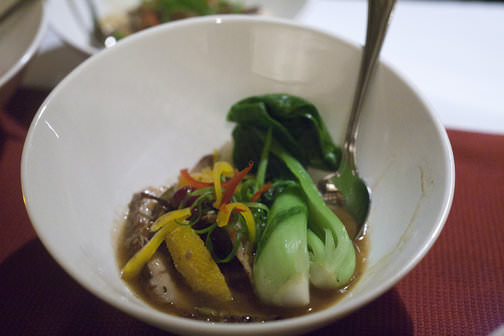 Our final main was another winner! Twice baked Char Siu Pork Belly, there is no greater dish than Char Siu, I love the sweet fragrant flavours.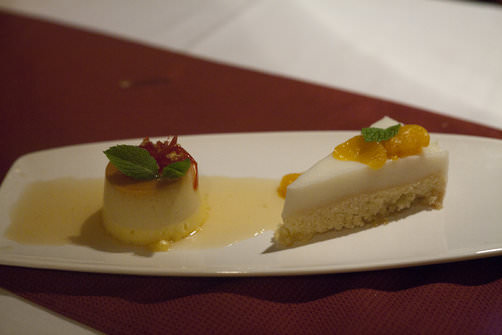 We have come this far we couldn't leave without sampling the two desserts from the banquet menu.
The first was a Lemongrass and Coconut Creme Caramel with candied chilli. This is a lovely creamy dessert with only a mild flavour of lemongrass and coconut. The candied chilli has the texture of glace cherries, a similar level of sweetness but with the warm after taste of chilli.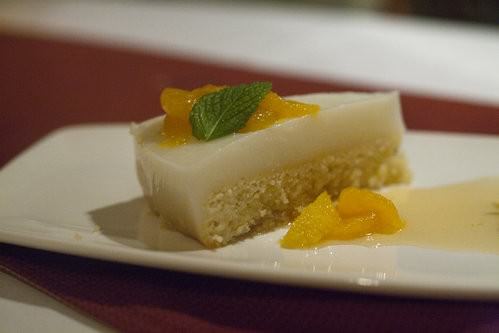 Spiced Almond two ways is the name given to our last offering from the banquet. It is a layered slice with is served with a mandarin and apricot sauce.  The base of the slice is a moist almond meal cake with a gorgeous large crumb topped with a very simple custard which tastes like a creamy almond milk blancmange. The citrus sauce and the salad of mandarin and apricot match the slice perfectly. We have had the most delicious end to our banquet and I thoroughly enjoyed every moment of this feast. I think I have really settled into the cruising lifestyle. The ship was still rocking considerably but I am not finding the movement as much of a problem anymore.
Pacific Dawn Cruise – Day 3 New Caledonia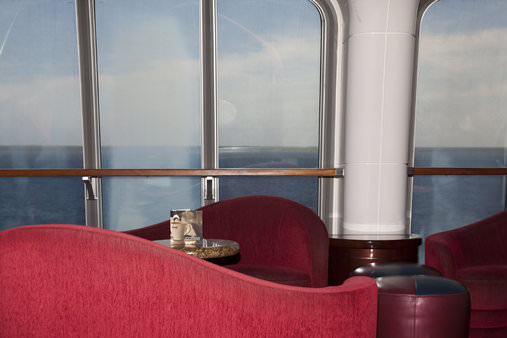 I have found my sea legs at last and bounded out of bed for my sacred cappuccino. Our cabin is internal, so it is pitch black 24 hours a day.  This is a godsend! The darkness allows hubby a chance to sleep in without the little ones waking. When I came up on deck I was amazed that it was such a beautiful day. It was all blue skies and none of the wind that had seemed to have followed us from Brisbane. The pool was still closed as the seas were still quite large. I now love the movement of the boat, I find that it adds to my relaxation.  I sit and enjoyed the quiet of the Lido Cafe and my deliciously strong coffee. I had noted that the sunrise stretch class was schedule for 7.30am with "body conditioning" to follow. After my huge banquet at La Luna yesterday I was determined to check out the morning exercise classes. When I arrived at the class I had to try to slip inconspicuously into position in the circle. The class had commenced right on time! Our trainer took us through a half hour of stretching and then we moved onto Body Conditioning. It was a gruelling workout which was made a little harder by the rocking of the boat. At the end of the hour I was really pleased I had participated and decided to add these classes to my morning ritual.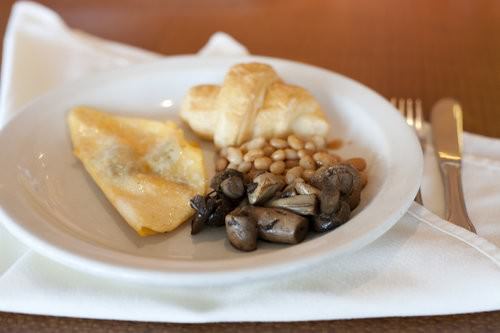 I met the family at the buffet for breakfast.  I decided that my tummy was well settled and it was time to try the breakfast buffet. I made myself a plate which included baked beans, mushroom omelette and garlic mushrooms. with, Naturally I had to include a croissant since we were in french waters!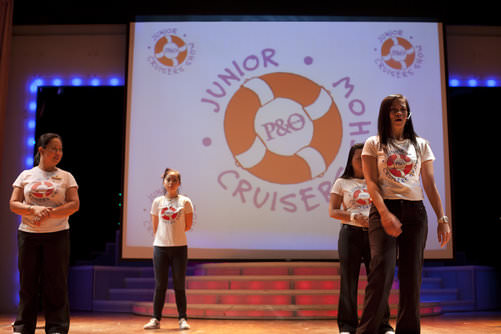 The children began nagging to be allowed to join their friends at Turtle Cove, the onboards kids club. We relented and took them down to level 6, only to find that there is a children's concert in the show lounge in only an hour.  Right or wrong the children didn't want to stay with us! We left them at Turtle Cove and told staff we would collect them for the concert.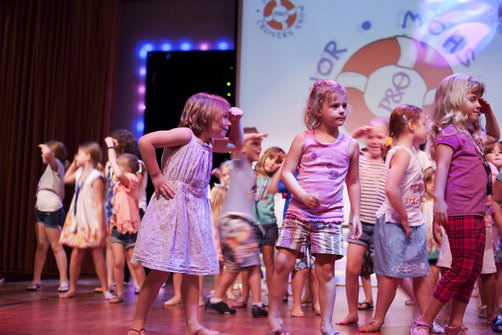 The four kids clubs are separated into four age groups, from 3-17 years. They two younger kids clubs have a turtle and shark as a mascot.  These mascots were singing and dancing with the teachers from kids club in a one hour performance. Periodically all the children also sang and danced on stage.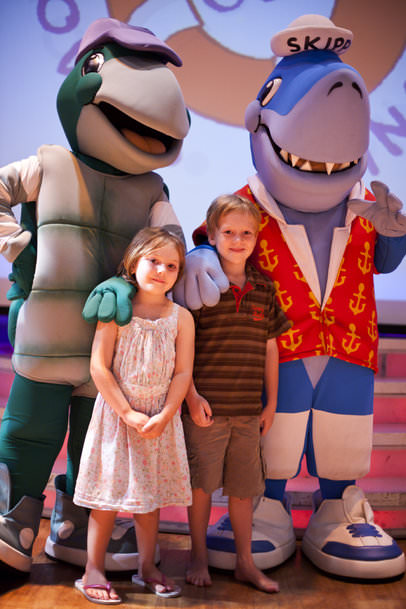 Every child was in awe during the performance. Believe it or not it is time to eat again. Once again we go for the easy option at "the trough" aka Sol de Cafe. We return the children to their friends and find a comfortable spot at the Oasis Bar where we can watch the islands of New Caledonia appearing before us.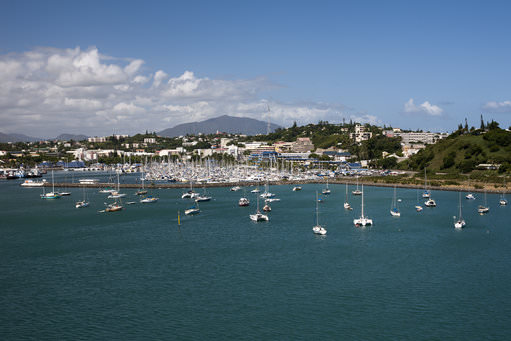 It is around 4.00pm when we arrive in Noumea.  The teenagers are booked on a catamaran tour of the bays. We went through the disembarking procedures as a group and Mr GG and I saw the big boys to their bus.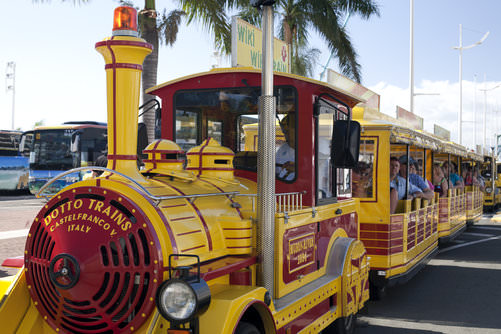 Our tour wasn't due to leave for another hour so we decided to go adventuring on our own. Armed with a map and some high school French we wandered through the streets of Noumea.  I have been to France twice and I absolutely love the French language and food! I was determined to explore both! Something I have noticed is that when you see a sign in French, it looks like it is an invitation to eat. Hubby would say, "look, there's a bakery of there!" When we would get closer, it would be something as mundane as a laundry mat.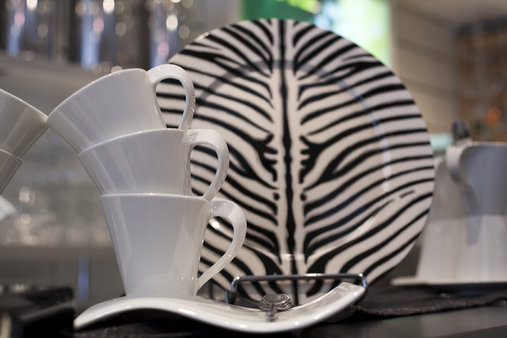 We went into a few stores but being that we were still very close to the port I couldn't find anything to excite my tastebuds. I did find a huge home wares store but the owners was very distrusting and after I snapped this quick picture I was told to put away my camera.
Pictured above is one of the oldest surviving buildings in Noumea. It is a wooden rotunda which is positioned in the village square.  There are also quite a lot of statues which naturally remind me of the European heritage of the city. Even with such a short glimpse of this country, I find that it is so unlike other Pacific Island that I have visited. Mr GG and I make our way back to the meeting point for our tour, on the dock beneath the boat.  We are surprised to find the cafe by the port has fairly quick free Wifi. I make a bunch of quick facebook and twitter updates as hubby purchases a No 1 Beer, the local's choice.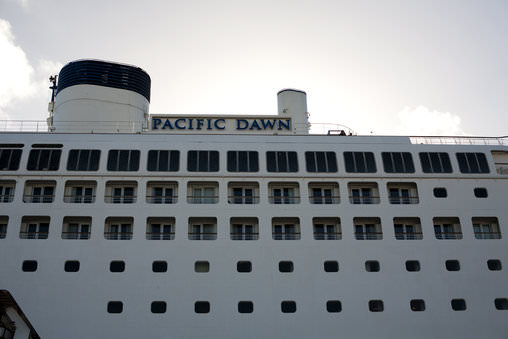 The beer gets the better of me, and I have to sample a mouthful. I think it's a must when visiting a new country to try the local brew. No 1 is a pale ale, and I find it is very much to my liking. It is 5.30pm and still about 30 degrees so the last of hubbys beer goes down quite quickly. I note that Heineken are behind the brew and I am suddenly not surprised that I like beer. I have always had a soft spot for Heineken, perhaps it has something to do with one of my first independent holidays to Amsterdam. 😉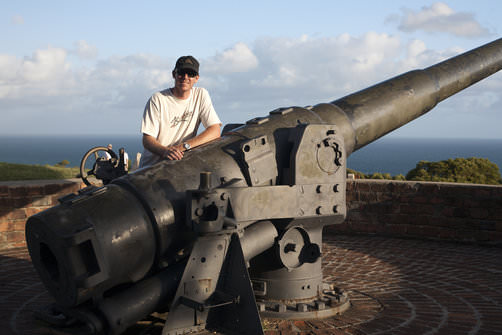 We board the bus and begin our tour of the cities historical landmarks and look outs. I never realised that New Caledonia played such an important part in the Second World War. We received a commentary along the way which was both interesting and surprising. The only city in New Caledonia is Noumea, most of the remaining land is natural habitat or very small villages.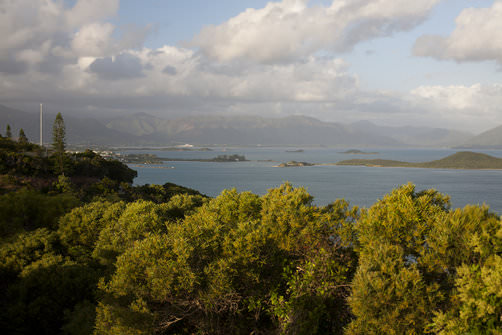 From our vantage points at Notre Dame de Pacific we are afforded an amazing view of the city and port area. It is a beautiful day with blue skies for as far as the eye can see. We move onto the Ouen Toro Lookout which has another spectacular view, this time over the various island which form New Caledonia. It is moving onto dusk when we arrive at La Coupole in Anse Vata Bay for the Wine and Cheese tasting.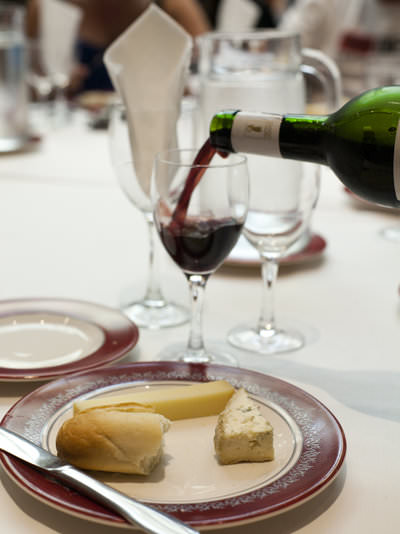 Pacific Dawn Cruise – Day 3 – New Caledonia Wine & Cheese Tasting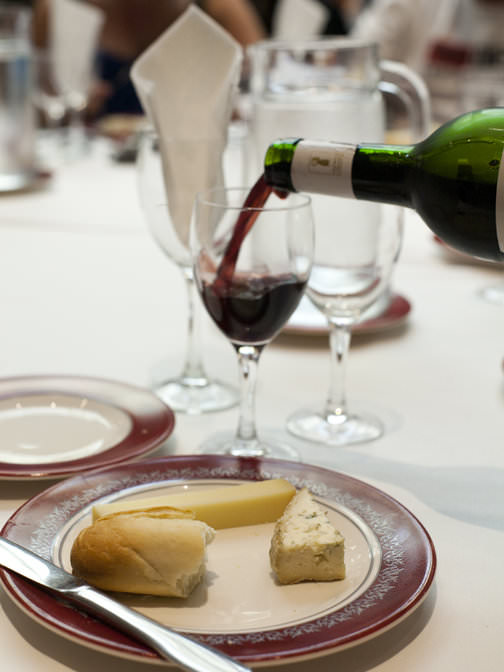 Noumea is known as the Paris of the Pacific. It has been occupied by the French since 1843 and was declared a French territory in 1957. I have always wanted to visited New Caledonia. I pictured it as a more sophisticated Pacific Island, with upmarket hotels, restaurants and shopping, my image has proven to be correct. We completed the scenic drive around the city and found that it is indeed very beautiful, and it certainly has some of the polish you would expect from the French. Mr GG & I are taking part in the Noumea Scenic Drive with a Wine & Cheese Tour. The tour was offered by the tour desk on board the Pacific Dawn. I don't know about you dear readers, but when I have visited France in the past, my main aim is to try as much cheese and wine as I can, and visit all the delicious looking patisseries. Given that I am in the "Paris of the Pacific" naturally, this was once again my mission. I had also been hoping for the opportunity to brush up on my high school French. The residents are French-speaking but Noumea is a tourist town, and the shop keepers were all happy to use their English… I tried to convince Mr GG that another trip to France would be in order if I am to retain any understanding of the language of love, I don't know if I have swayed him…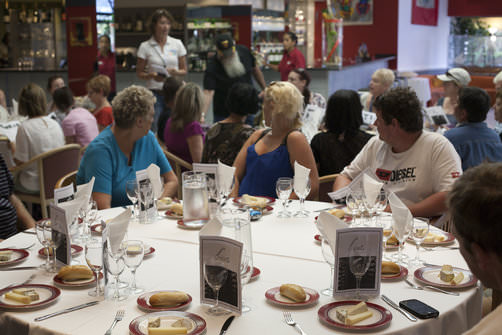 We arrived at the restaurant La Coupole, which is to play host to the event. The tables are set with un pain et trois verres à vin, (a bread roll and three wine glass), so we all take a seat. Sorry! I just had to break out and use un peu de français.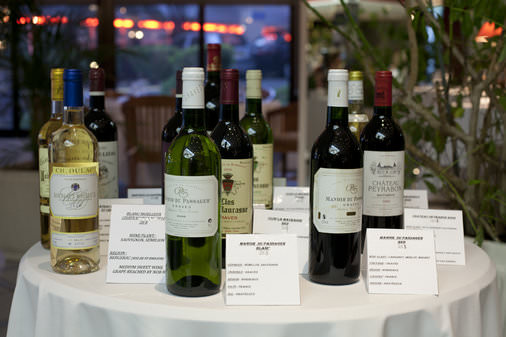 There is a lovely wine display, and I am pleased to see that all the wines we will taste, do in fact come from France. Our guide explains that because New Caledonia does not have the right temperature for cheese or wine making, the locals import both of these necessitates from the motherland. The first cheese we sample is Emmental Francais. Our cheese originates from the Savoie region in France. It is made from unpasteurized cows milk and takes  1-2 years to fully mature. The flavour is mild but still has that slightly pungent nutty flavour I associate with unpasteurised cheeses. It is a firm cheese not unlike a gruyere cheese.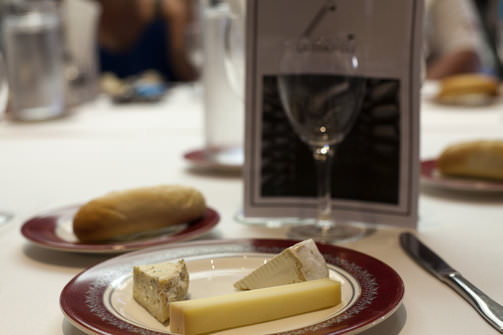 We sample the cheese with the bread and a glass of Manoir du passage Blanc 2009. This wine comes from the Graves area in Bordeaux. It is a dry an aromatic wine made from the Semillon and Sauvignon grape. It is a well balanced when with delicious fruit and citrus flavours. This glass is very much to my liking, and I notice that it has been enjoyed by all at our table. Next, we are given a talk about the Brie we are to sample. This cheese originates from Ile de France and is again made from unpasteurized cows milk. I love my creamy, stinky French Brie, with the delicious crust and liquid centre. Unfortunately, this cheese has absolutely none of those qualities.  I could easily liken the firm textured tasteless cheese to a Coles home brand variety.  It was very disappointing, to say the least. I also noted that it seemed to have been served straight out of a refrigerator. This is not something I would have expected from a French cheese tour operator.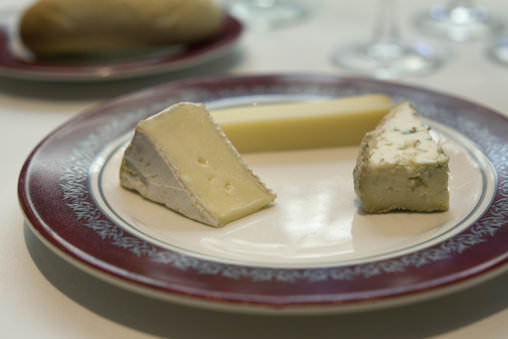 The wine that was to accompany this cheese was a Manoir du passage Rouge. This was a red wine from the Graves region in Bordelais. The wine is a blend of Cabernet Sauvignon and Merlot. I thoroughly enjoyed the full-bodied character of the wine and found the fruity black current taste very much to my liking. Seemed that all at our table were agreeable to this wine and we were permitted a small refill. The final cheese was the Bleu a Auvergne, or Blue cheese originating in the region of Auvergne. Again the cheese is produced using unpasteurised cows milk; it is then treated with a bacterium to give the distinctive flavour and appearance of the blue veins. The cheese is a semi-soft, cream cheese with a powerful aroma and the gorgeous pungent, salty flavour you expect from a blue cheese. The wine we are given to sample with the blue is a sweet dessert wine. While I am not a sweet wine drinker I do like a nice botrytis or white port. I feel that either of those styles would have been particularly nice with the blue cheese we were served. Unfortunately, we were given a Bordeaux Chateau Bergerac 2009. Made from the Semillon grape, it was a sweet wine without the tart finish that I look for in a dessert wine. It was not a popular wine at our table.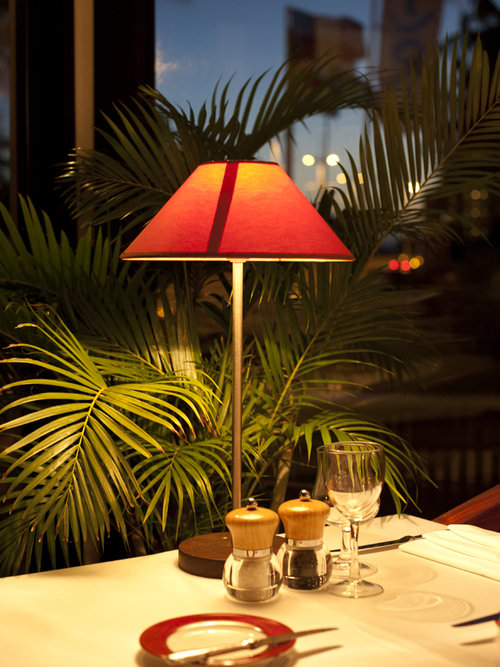 There was a mixed reaction from the group about the value in the tour. For me, I simply could not imagine doing anything else in Noumea then sample fine wine and cheese and then discussing the merits of each amongst our group. I would have loved to have visited a second establishment and tried a different selection of wine and cheese, perhaps even forsaking the sightseeing. Mr GG and I would also have like to have more time in Anse Vata Bay or Baie De Citron to experience more of the dining in these areas. We both agree that we will have to come back for a short stay and explore a little more.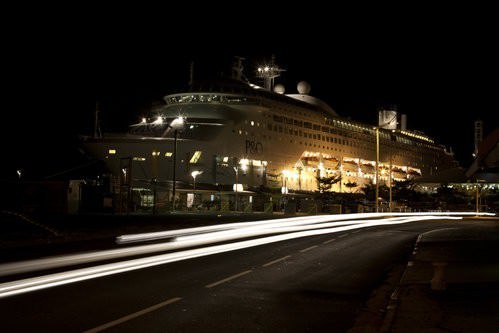 After feeling that we had experienced only the briefest smidgen of French New Caledonia, it was time to board the boat ready for our 10.30pm departure. We waved goodbye to the marina and set sail for the island of Lifou. We are due to arrive in Lifou at 8.45am.
Pacific Dawn Cruise – Day 4 Lifou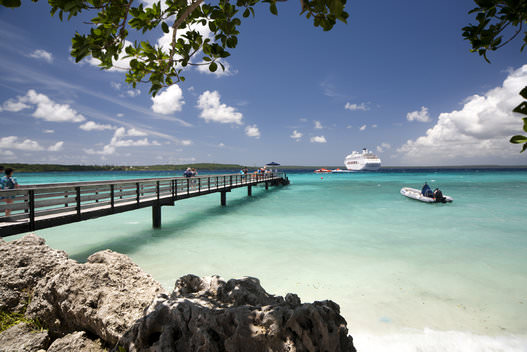 We are to disembark the ship via a tendering process today at Lifou. Lifou is part of the Loyalty Island group, and another over sea's territory of France. It is known for the limestone caves and coral reefs. It is a tiny coral island with a population of approximately 10,200 people. The seas have become relatively calm, and for the first time during this journey, I am completely comfortable with the level of movement we are experiencing. The kids are begging to be allowed to go to turtle cove, but we have other plans for the day. We are taking a tender (lifeboat) to the island of Lifou.  We are told there is a swimming spot with coral straight off the beach, and I know the water will be beautiful and warm.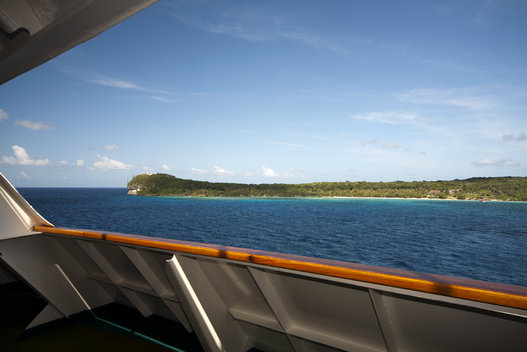 Everyone on board the Pacific Dawn seems to be in a huge hurry to get off the boat. I am in no such rush. I continue my daily ritual of a quite coffee in the Lido Cafe before heading to the sunrise stretch class. I note that there is also a half hour of "Fab Abs" after stretching, so I mentally commit to an hour of exercise before collecting the family for breakfast.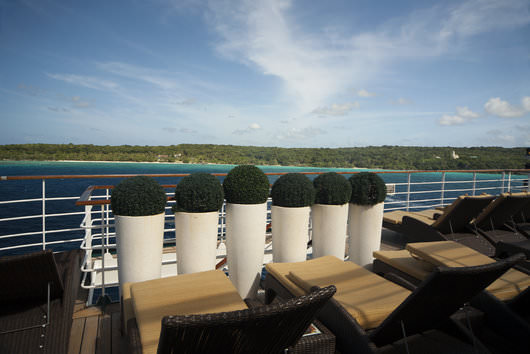 Above is the view from the "Oasis Bar" to the island of Lifou. We eventually decide to board the tender vessel. I am astounded at the gorgeous colour of the water. It is so inviting, and I am anxious to swim. The day is a perfect 27 degrees, a light breeze means we are completely comfortable walking to Jenkin Beach, a popular spot for snorkelling.  As we round the corner and catch a glimpse of the protected bay dotted with snorkelers I am instantly pleased with our choice of activities for today.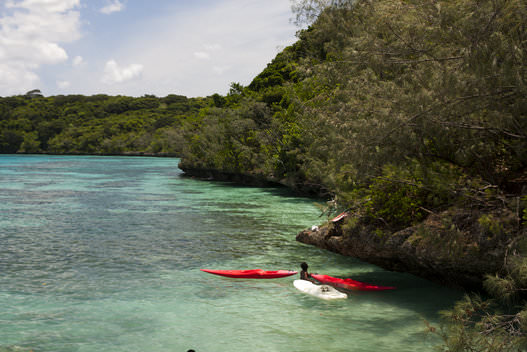 Little Locky gears up and is in the water in seconds. Another second later he is chasing after some poor unsuspecting fish. Miss A takes a little more coaxing as she needs to jump off a rocky out crop to the water about 1 metre below. It is only a matte of moments before she too is enjoying the warm waters of the Pacific. By the time I jump in Locky is about 100metres away and not even coming up for a breath.  We spent some time snorkelling the Great Barrier Reef two years ago when he was just four, and he obviously hasn't forgotten a trick.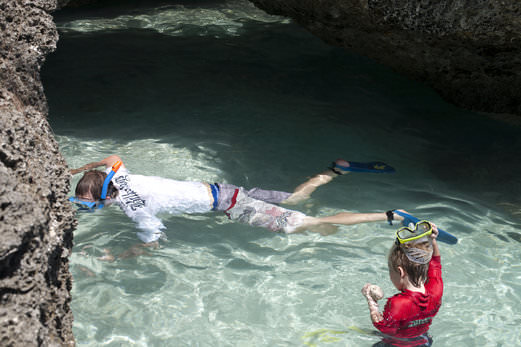 The abundance of fish and coral was surprising given we were so close to shore and not on a tour. The coral was quite diverse, and there were purples and blues to be seen. Lachlan was more interested in noting the various species of fish. When he finally came to shore he had seen, a Nemo fish, garfish, trumpet fish, parrot fish, stripey fish a dory and so many sea cucumbers. He told me he wanted to go to Turtle Cove to draw them for show and tell at school.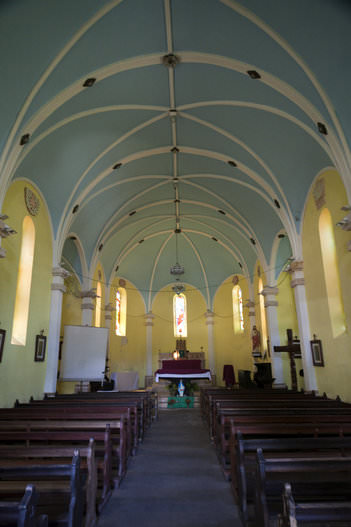 After our snorkelling, Anais and I decided to take a walk to the island church. The church was visible from the ship, so I was a little curious. Missionaries discovered the island in 1843, so naturally, a church was established soon after. The island is now "devout christian."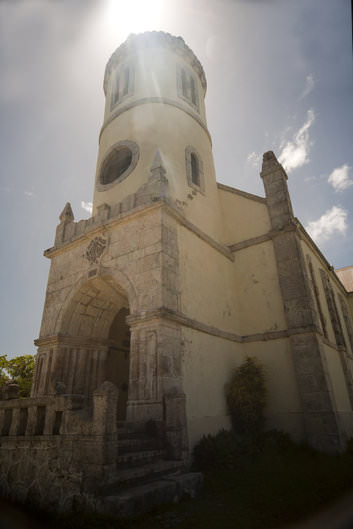 We go back for a final swim and then rejoin the boat. The children are still adamant that Turtle Cove is the place to be, so after a shower, they are returned to the lovely ladies who have become their foster parents. I wonder if we can take one or two home with us? My sweetheart and I spend a few hours reading, enjoying some champagne and watching the sunset on the departing islands.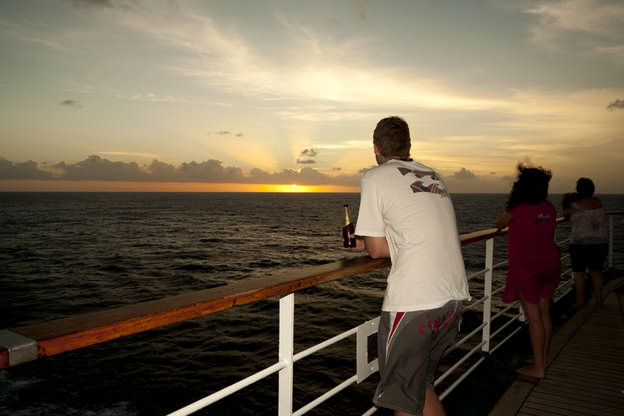 Pacific Dawn Cruise – Day 5 Vanuatu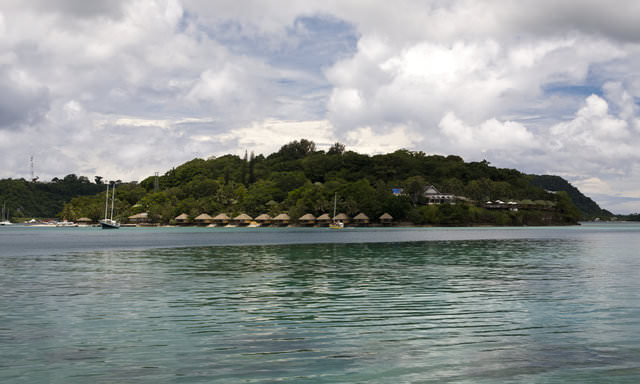 6.30am We are day 5 of our seven day Pacific Island cruise on board the Pacific Dawn. I am writing this update while sitting in the Lido Cafe on deck twelve overlooking the still blue seas near Vanuatu. It has taken me a good five minutes to establish what day of the week it is, as I sip on my morning coffee. This is a sure sign that I have completely relaxed into this holiday. I am starting to find it difficult to even imagine life after the cruise. I am now in love with the gentle rocking of the sea, and I spend hours just watching the water mesmerised.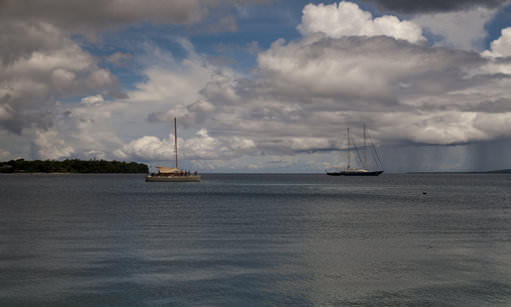 At 6.50am when I go for my morning coffee there is not a s sole about, so I have my own private cafe not more than 50 metres from my bedroom door. I soak up the early morning atmosphere for a few minutes before contemplating my exercise class. Although I can see Port Vila, I know I will still have time for my gruelling Body Conditioning Class and the half hour stretch class.  These classes have become one of my favourite activities on board the ship. For the first time in my life I actually have time to enjoy a class every day. 7.30pm Today has been a typically huge day!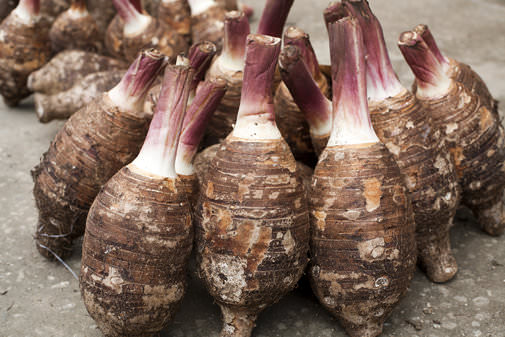 After breakfast, we took the children for some sightseeing through Port Vila. Mr GG, the eldest teen and I have holidayed here before, so we decided to get a $10 cab into town for some quick shopping before our tour.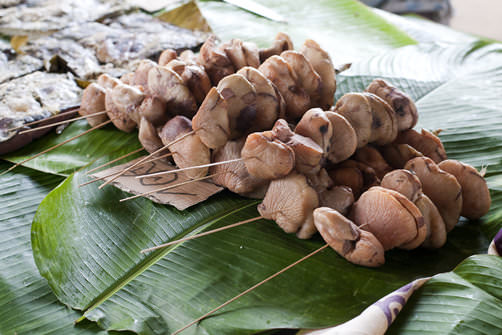 Last visit Hubby feel in love with the local bread. It tasted almost like sliced donut, but was in the form of a loaf. Mr GG was on a mission to locate and devour a loaf of this bread. We made a beeline for the markets but could not locate any bread.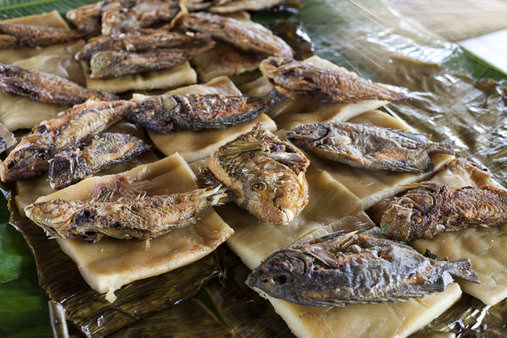 Given that we had just finished breakfast we were not really tempted by some of the other foods on offer. I have to say that seafood sitting in the sun at 40-degree heat has never really been a favourite with me. Even with this fact, I do always enjoy a trip to the markets, poking around the produce and noting unusual foods. We noted that most of fruit and vegetables looked completely foreign!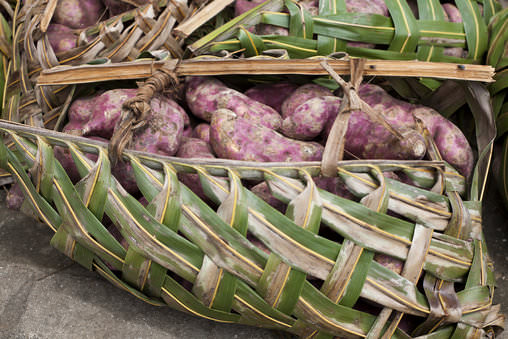 We bought the children a coconut each to drink and took them to a shady spot before continuing to our tour meeting place.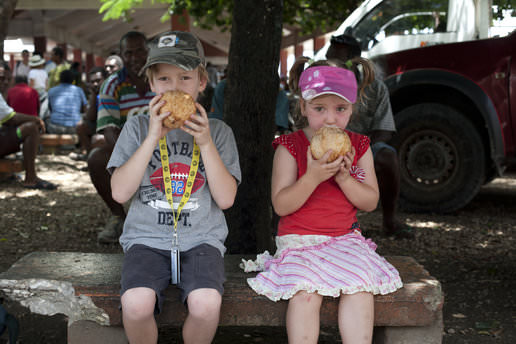 The teenagers were booked on the Cascade Waterfall tour which took the group inland 20 minutes to the base of a waterfall. They then hiked another 20 minutes to the top and swam in the cool water. The boys were able to slide down some of the smaller falls into the quite pools below.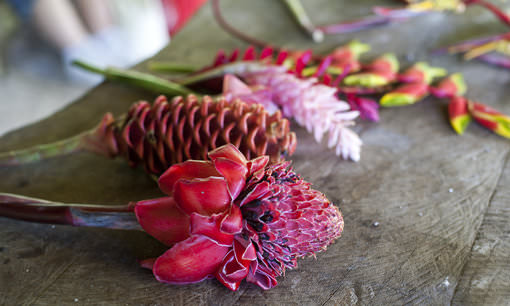 Mr GG and I like small groups, so we had booked the Waterfall Eco-Tour. This tour was conducted on a private estate called "Eden on the River". We were guided through the tropical gardens and were shown local fruits and flowers which are cultivated on the property.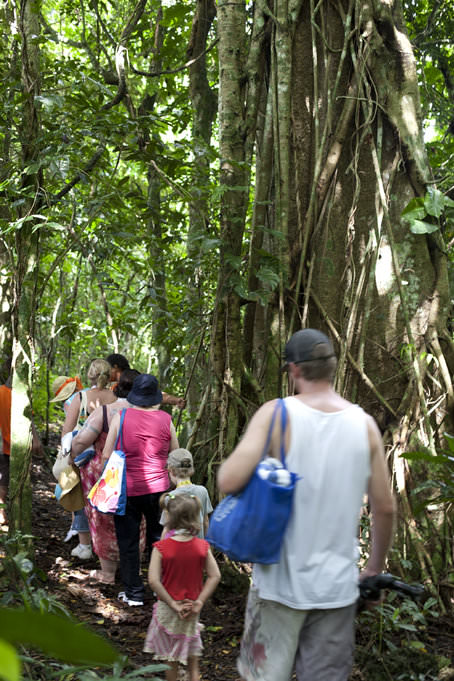 We followed the guide into the cool, lush rainforest. Periodically the girls would stop and explain the native uses of various trees, pods, seeds and flowers. As we descended further into the rainforest, we could hear the sound of rushing water.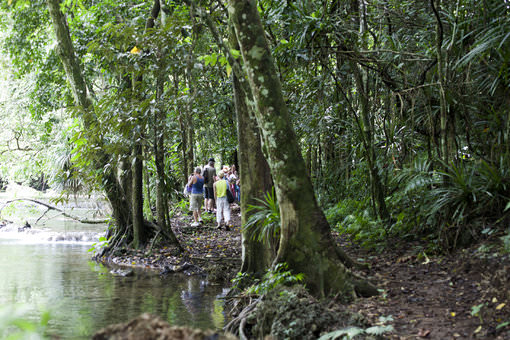 Once we reached the gully, the track opened up and we could see the water below. Each of us chose a private spot behind a tree to slip out of our hot clothing.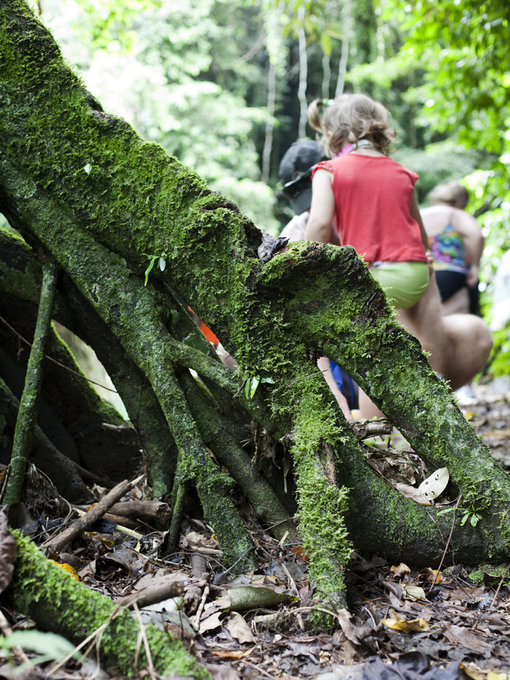 The children were quick to grab a tyre and float about in the water.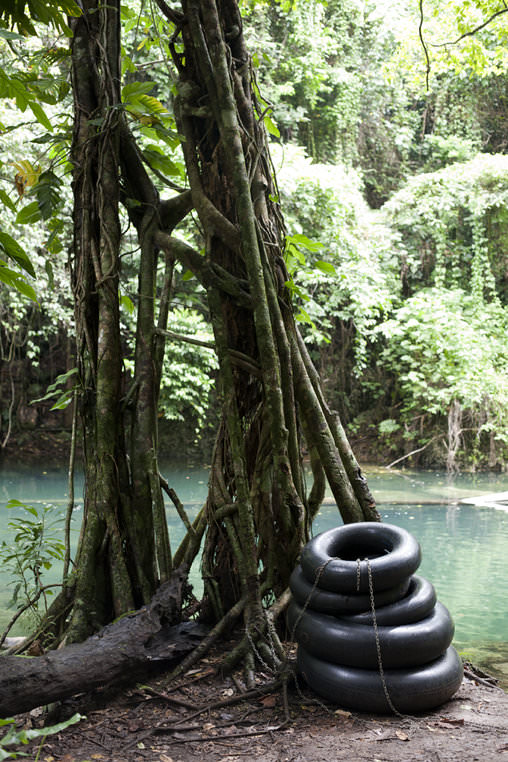 I find swimming in fresh mountain water so refreshing. Mr GG & I swam up to the water and stood on the ledge behind it.  We watched thousands of litres of water curtain our view and then we dived through the waterfall and swum with the current. It was such an invigorating experience.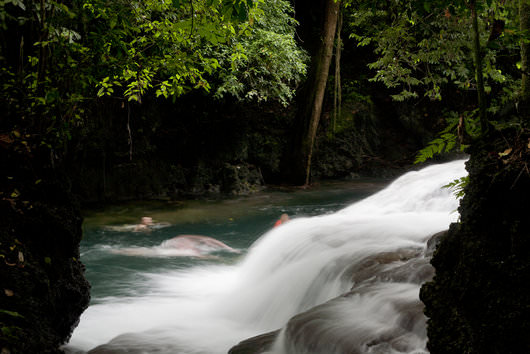 I could have happily stayed and swum all day. The children were happy and the rainforest provided shade from the hot sun. It was a sublime feeling. Having only a small group of only ten in such a large space was ideal.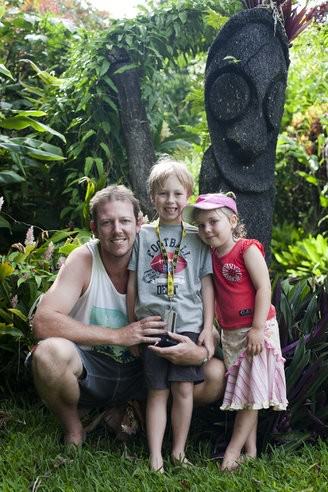 By 4.00pm we had been returned to the boat just in time for its' departure. Predictably the children wanted to rejoin their friends in Turtle Cove. Mr GG and I were happy to take up our usual positions on the Oasis Deck. From this vantage point, we could watch the slowly disappearing Islands of Vanuatu, with a glass of champagne in hand.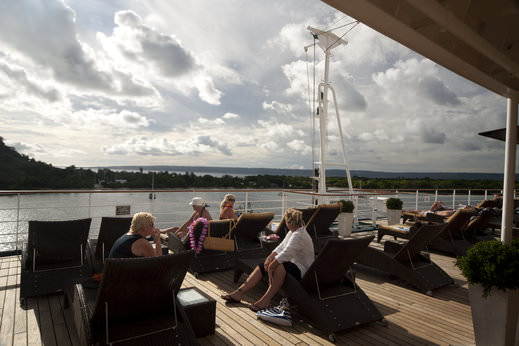 Once the islands had fully disappeared from view, I recommenced the book that I had almost completed "The Vintners Letters"  Who would have thought I could finish a book in just five days with four children on board.  It has been years since I have been allowed to even pick up a book!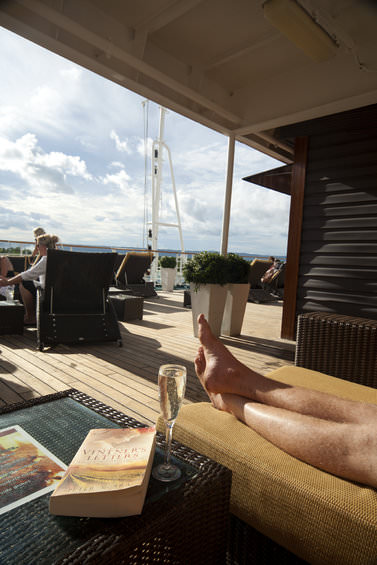 Mr GG and I enjoyed the romantic sunset and then decided to collect the kids from kids club for dinner.  We are booked into the Palm Court Restaurant for dinner tomorrow night, so I will be sure and keep you updated.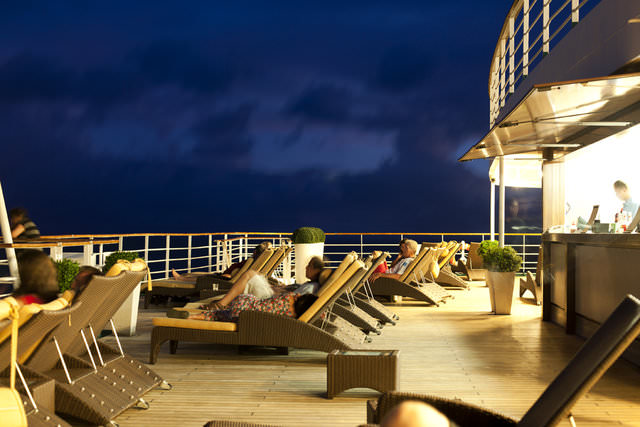 Pacific Dawn Cruise Day 6 – Palm Court Restaurant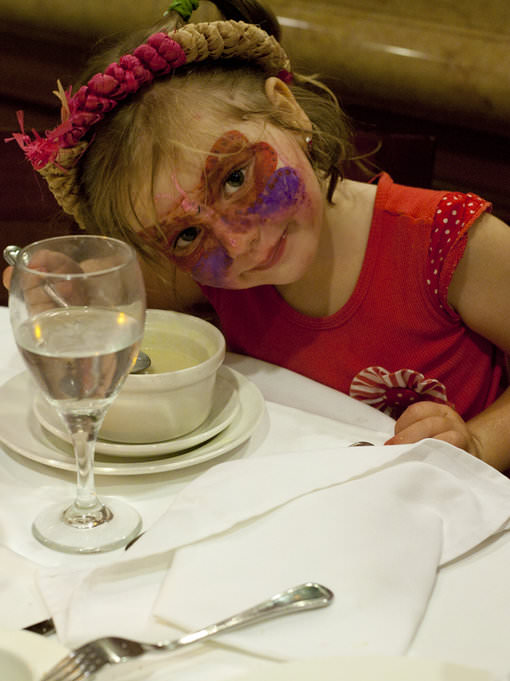 It seems each time we go to Turtle Cove to collect our children we are greeted by a different painted face.  This evening Anais is wearing her "Island Dress" and is painted as a beautiful butterfly.   It is Island night on the ship this evening, so everyone is dressed appropriately. The plans were for a huge party in "the dome" once the children are taken care of but even now we are waning after today's' huge day. The Pacific Dawn has various themed party nights through out the seven-day voyage, despite our best intentions Mr GG and I have not made it to any! This evening we have booked a meal in the Palm Court Restaurant. It is an alternative to "le trough" and is included as one of the free dining alternatives. We sit down and are handed the menus. The waitress explains that ever whatever we wish to eat on the menu can be served to us.  We are permitted to have as many courses as we desire.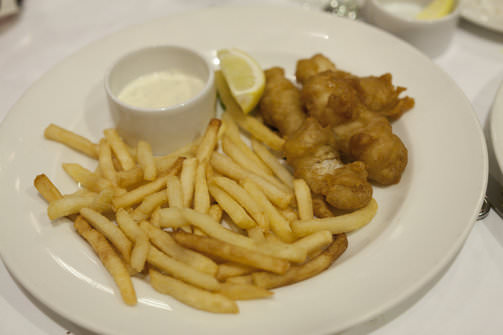 Little Mr Locky has recently learned to read so the minute he spots fish and chip he has made his decision and calls the waitress over.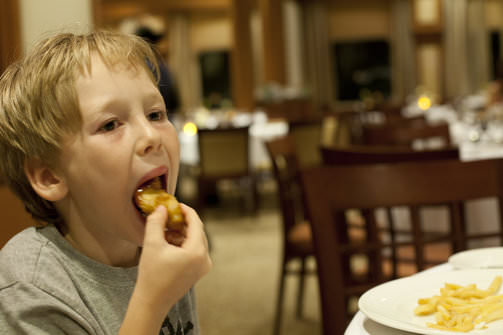 We find that he has ordered his meal and dessert before the rest of the table has even read the starters list.  The staff are so good with the children, playing with them and talking to them while Mr GG and I make our choice.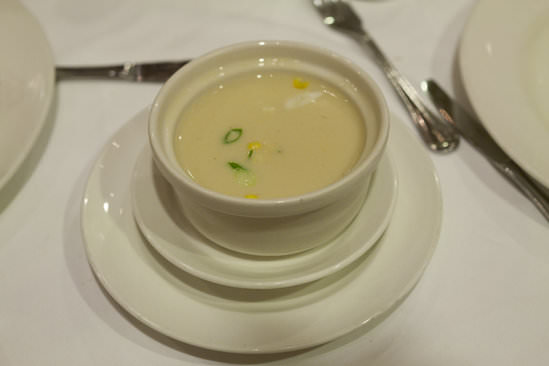 Anais and Mr GG always share Chicken and Sweet Corn Soup. So when Anais is told this is available she immediately puts aside all thoughts of junk food and chooses this option. Mr GG loves starting a meal with warmed breads and their accompaniments, so the option of and a wholemeal dukkah with sezuan pepper grabs his attention.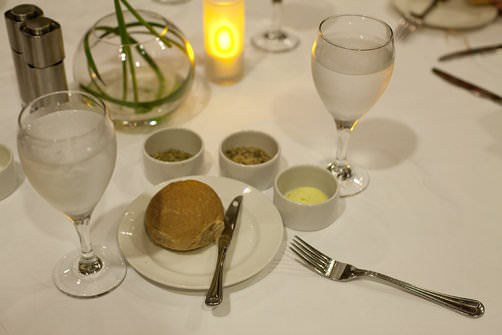 I am feeling like seafood, so I choose a cervice prawn salad as an entree. It was absolutely delicious. Fresh prawns marinated in lime in a crunchy lettuce salad and served in filo pastry.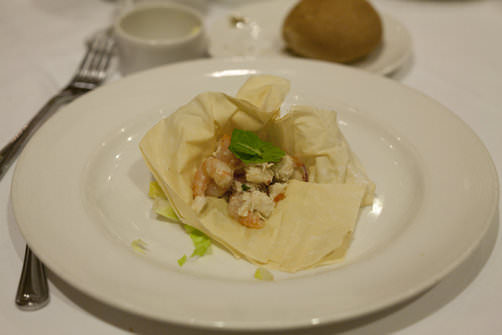 I was pleased when hubby chose the eggplant and goats cheese tart as I had really wanted to sample this entree too.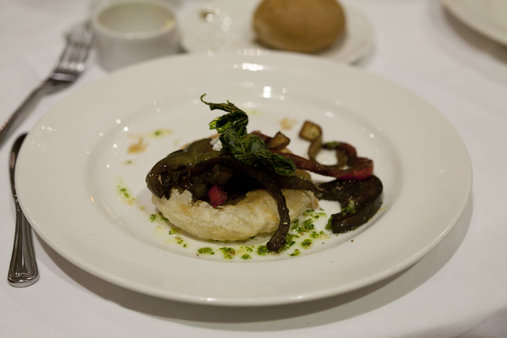 We both continued the seafood theme with fish as a main.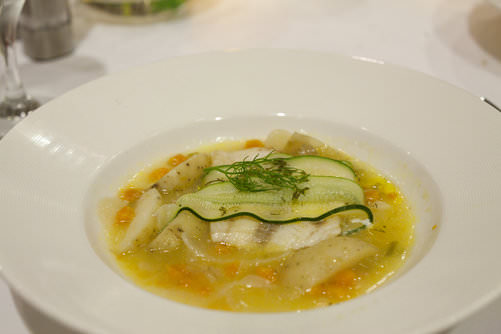 I chose a piece of cod with was wrapped in zucchini and served with , while it was a delicious and light dish I preferred Mr GG's Swordfish with beans. We decided we would swap meals as I was lusting aftersixhis and he of mine.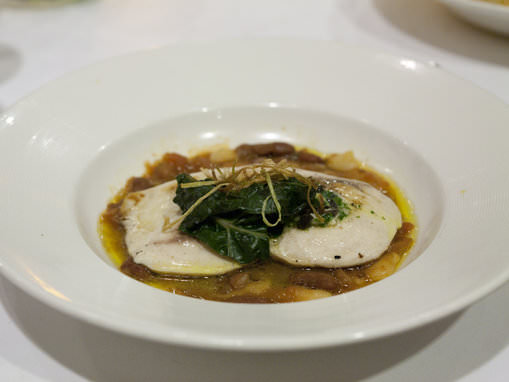 We couldn't choose between desserts, so we ended up ordering three. The first was a passion fruit souffle, it was very cake like, but still very light and tangy.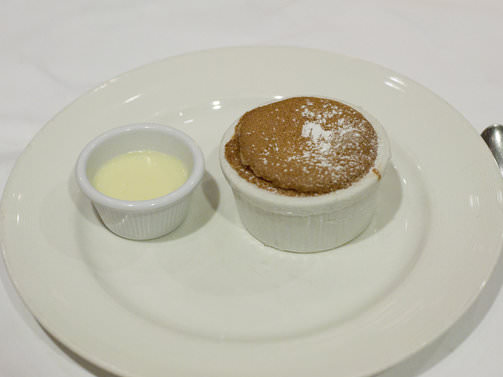 The next dish to appear was a cheese platter, Mr GG thoroughly enjoyed the cheeses, so I was left to devour the Blueberry tart on my own.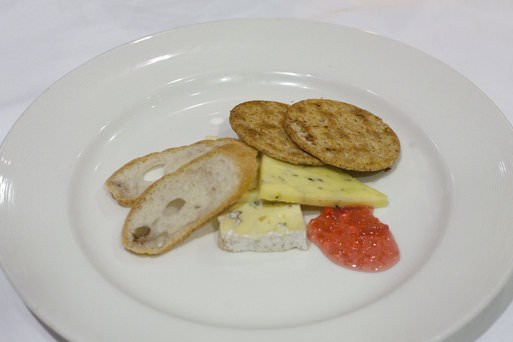 A delicious mixture of sweet and tart with a lovely crunchy base.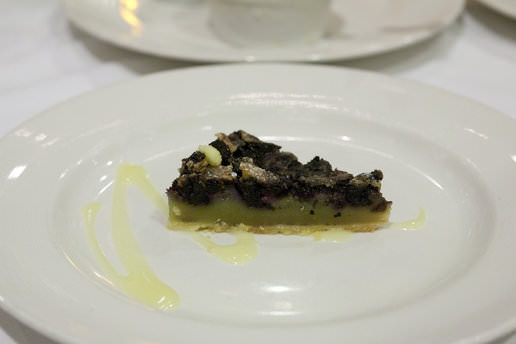 Throughout the meal the waiter and waitress entertained the children, played with them, kissed them and cuddled them, showed them magic tricks and general gave them just so much attention. I cannot imagine anywhere else this would occur, yet we are receiving this type of attention by all staff on the boat. Our room attendants name is Tutu. He goes in and out of our room all day tidying.  I don't know why he needs to be in there so much, but he is always tidying things up, turning out the lights for us, periodically letting me in when I forget my key, and leaving the occasional chocolate surprise for the children.  We have loved that he has made the beds with Anais's teddy sitting up on her pillow, ready and waiting for her to go to bed.  Not to leave little Locky out he has placed Locks transformer on his pillow.He is always in the hall, morning noon and night with his towel trolley and cleaning gear. A chocolate on their bed.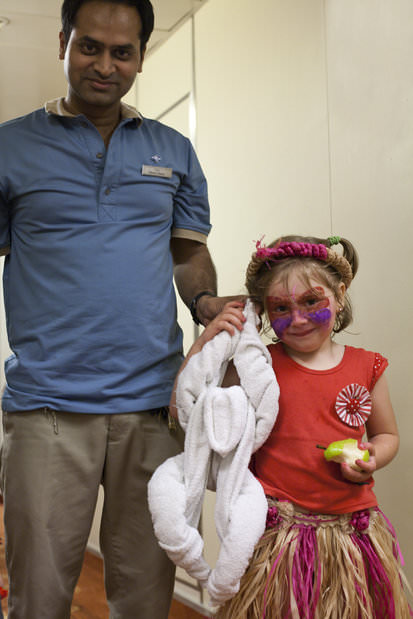 Each day he makes a different animal with the towels, and he sits it somewhere for the children to see.
On a whim, I ask if he has children. He says that he has one daughter who is 18months old. He explains that he returns home every eight months to be with her and his wife. I instantly feel for these people who are so kind to us and our children. He explains that this job is very sort after in India and thousands went for just a handful of positions.
Pacific Dawn Cruise- Day 7 our last day on board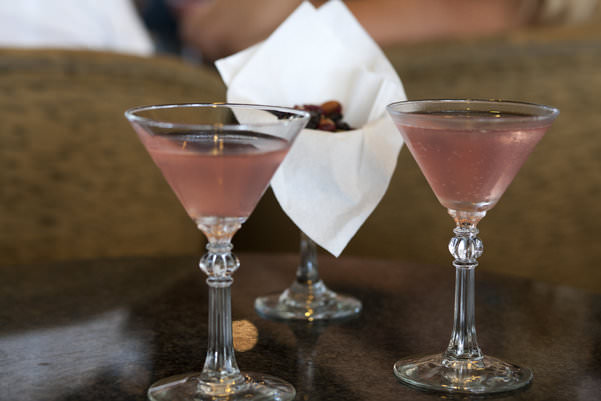 Friday Day 7 Oh…  I am a little sad! It is the final day of our cruise on board the Pacific Dawn, and I don't want to go home. I am really going to miss being on the sea, with the most majestic of views all around. As usual, I crept out of my cabin for an early morning cappuccino in the Lido Cafe.  This has become my new morning ritual, followed by my ½ hour sunrise stretch class and then the exercise class of the day. Today the stretch class was followed by a yoga class.  The stretch class was full, but given the yoga, class charge was $13 for ½ hour session everyone except one other keen yoga enthusiast abandoned me. This meant that I came under way more scrutiny than I would have liked, as a novice yogo participant.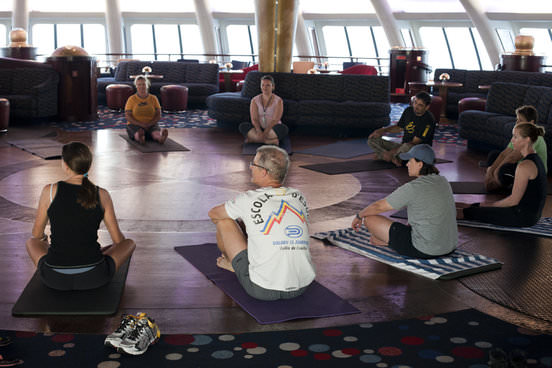 Having said that I thoroughly enjoyed the class. I have only done yoga on one other occasion in Bali.  During this class I was really challenged and found my heart rate racing. In the last week I have completed more push ups than I had previously done in my lifetime! I decided I had earned myself some bacon, eggs and baked beans from the breakfast buffet, (otherwise known as "the trough" by Mr  GG & I) In actual fact I think I have gained about 5kgs this holiday and really shouldn't be eating a bite until we are well into next month. None the less I enjoyed a delicious buffet breakfast with the family in Cafe de Sol. Predictably about half way through breakfast the children were begging to be allowed to return to "Turtle Cove" their home away from home… otherwise known as kids club. It's a hard life on a cruise ship for abandoned parents… but we make do. We checked the kids into Turtle Cove and find they have a performance in the main show lounge at 10.15am.  I suspect that Locky is going to be on stage juggling, so I tell Mr GG we will go and watch. In the meantime, I found a copy of the days program and highlighted some of the things we were yet to try.  We have a few activities to cram in, but I am confident we can make it.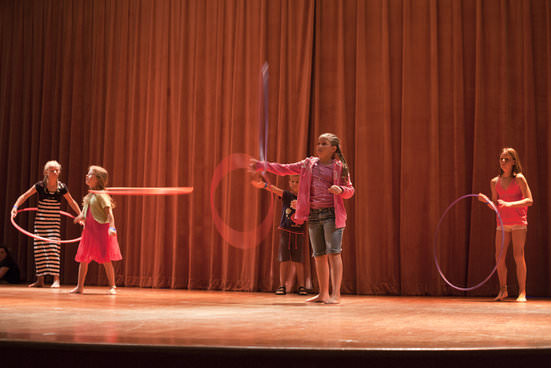 At 10.15am we are front and centre to watch all the kids from the various aged kid's clubs perform. Our little Turtle Cove group are first, and Lachlan does his juggling act with a little bit of shuffling mixed in.  He is such a shy boy and has never even tried juggling previous, so I am amazed at his performance.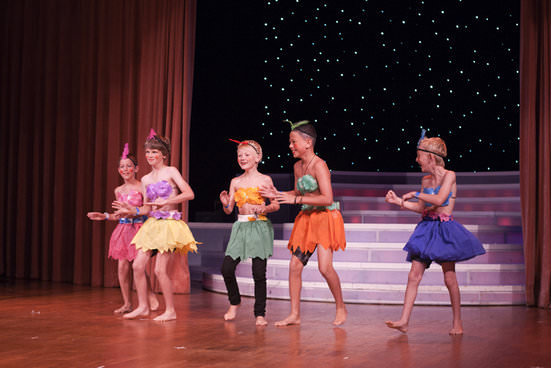 Anais participated in a short play with some other children. There was singing, dancing and skits for the next hour.  All the children were amazing and I am shocked that the staff and children have been able to produce such an entertaining performance in just 6 days.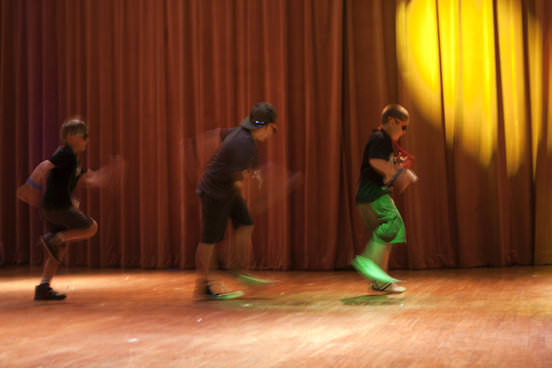 Next on my list of things to try was a session of Bingo. I really haven't played this game before, but I was determined to win my fortune.  The prize pool is up to $4700 for the morning session, and if I won I think I might just have book another cruise!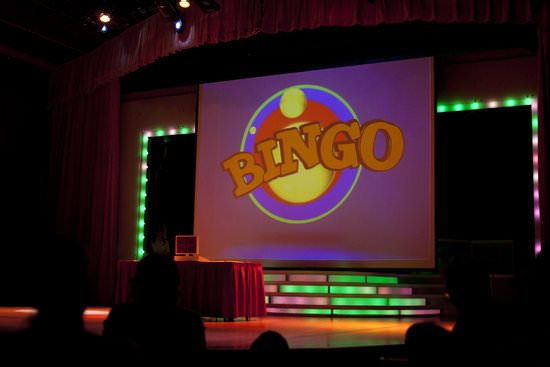 Unfortunately, it wasn't to be. I was very close to the full house for the big money, with just two numbers remaining, when the call of "bingo" was made. So no big prize for me, I think my stint as a gambler has now passed.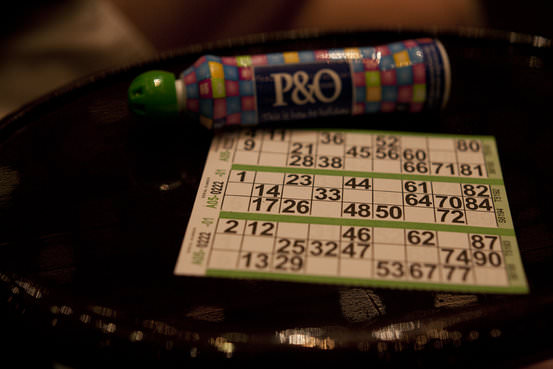 Like I said, we needed to cram a lot into the last day.  We collected the children from Turtle Cove and took them to juggling class.  There two teachers instructed on the finer points of learning to juggle.  Lachlan, Anais and Mr GG watched and completed each of the exercises until SUCCESS! Mr GG is now and accomplished juggler! After a one hour session, he can juggle two balls in one hand, or three balls in two hands.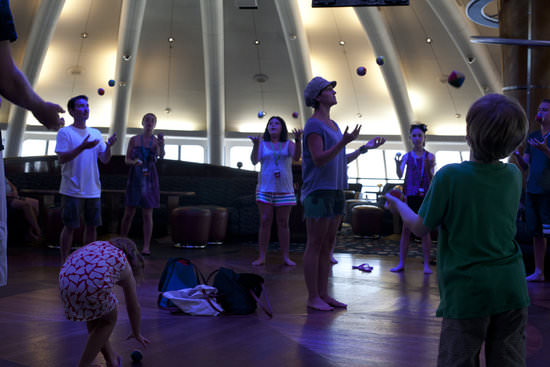 We took the kids back for a quick lunch at "le trough" and found it was absolutely clogged with people.  The queues were horrible and barely moving, this was the worst meal line up we had experienced, and we were in a hurry! The kids wanted to get back to kids club for their "Ice-cream Party", and I wanted to get Mr GG to the "Martini Making Class".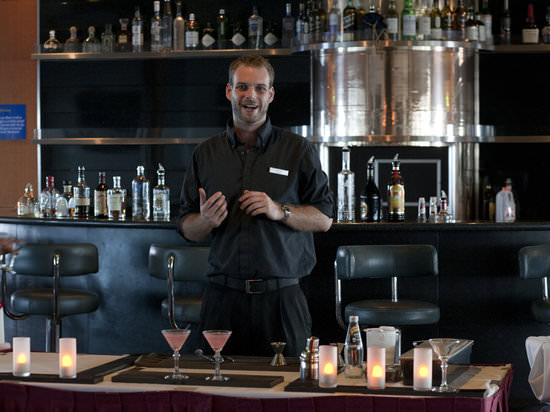 We succeeded on both counts, although Mr GG and I did walk in a little late. When we arrived Jonathon, our friendly Kiwi bartender was busy demonstrating the finer points of making a Cosmopolitan and explaining the importance of balancing flavours in a cocktail.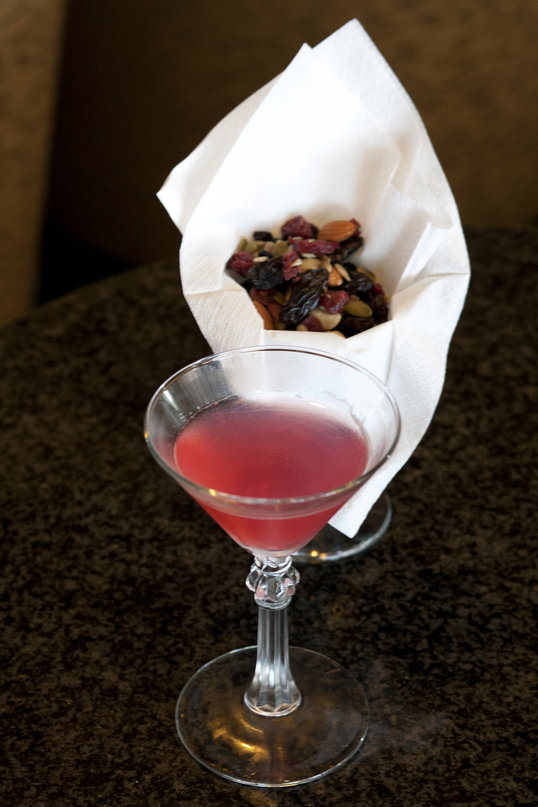 Each of the class participants was given a glass of cosmopolitan to sample. It was quite delicious, although it's not my favourite cocktail, I was finished in only a mouthful or two.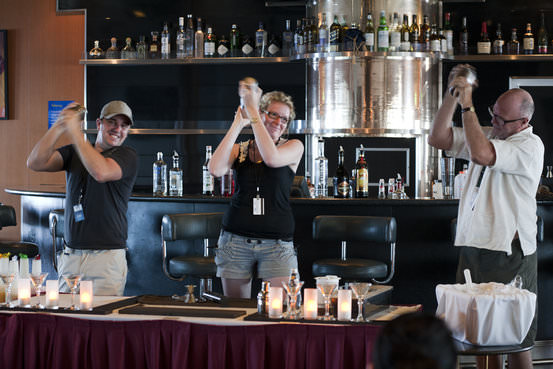 An assistant was then chosen from the class to help prepare a Poinsettia.  This cocktail is made with a vodka and cranberry base and then topped up with sparkling wine. The flavour was like a glass of sparkling pink champagne, again not my favourite flavour but a very entertaining demonstration.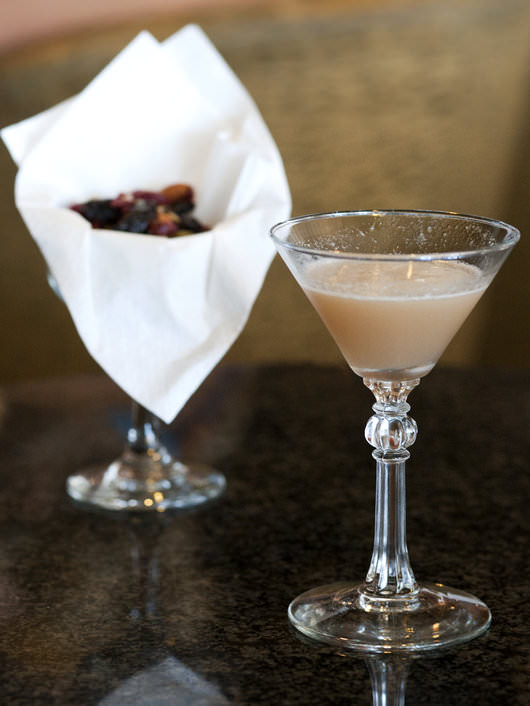 My interest was piqued when the waiters placed martini glasses drizzled in chocolate syrup in front of each guest. The cocktail we were learning to make was called the milky way, although looking at the recipe it isn't made with milk, just liqueurs and spirits.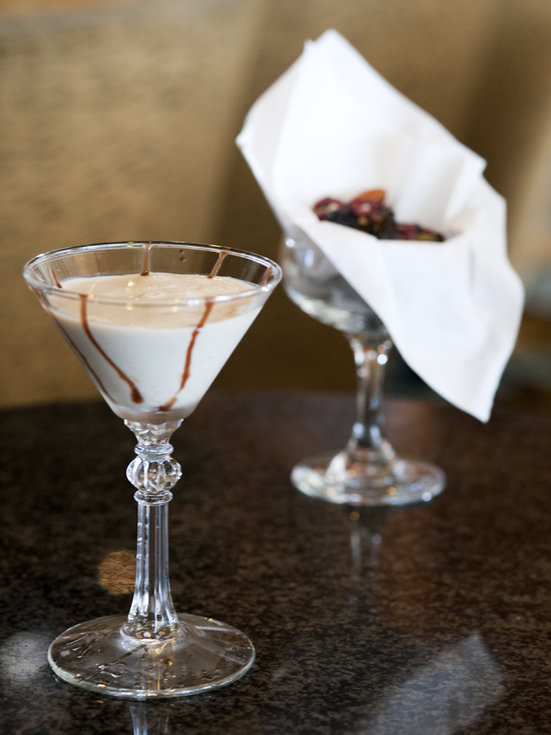 It was absolutely delicious, again it disappeared in two mouthfuls, and I was left wanting more!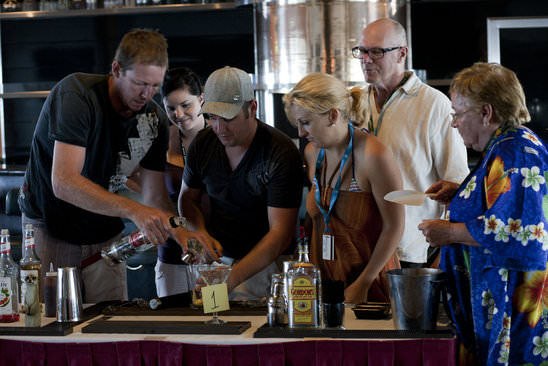 The final exercise of the class was to break into groups and design and name our cocktail. We then had 45 seconds to create the drink for tasting and judging.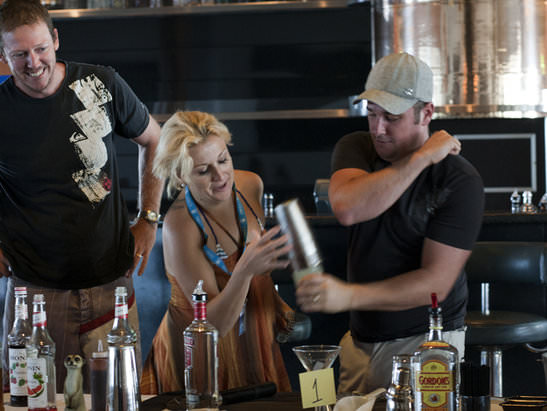 Although this sounds like a recipe for disaster, armed with what we had been taught about the necessary quantities of juice, spirit and liquor we all managed to be quite successful.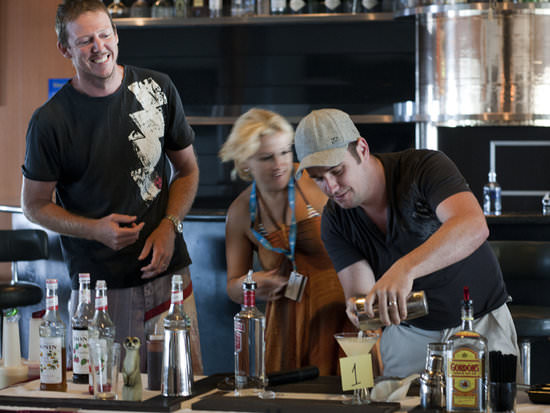 Here are the results of our concoctions:
Group 1(Mr GG's Team)
Double Dragon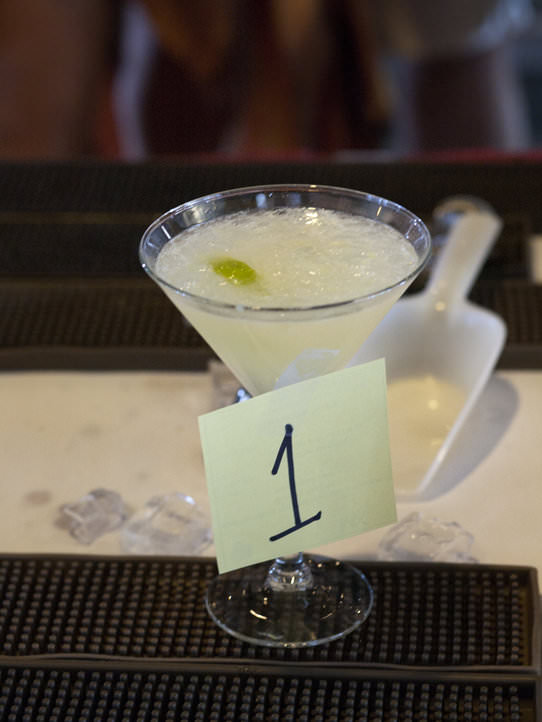 Group 2
Jonathon Shuffle
Group 3
Pacific Pine Lime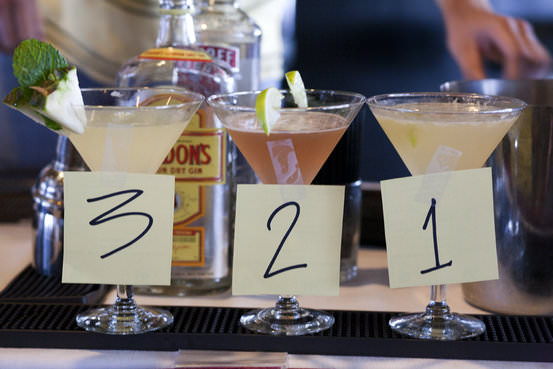 Group 4
Nana Nap
Group 5
Meer Cat Magic
Group 6
Smiggle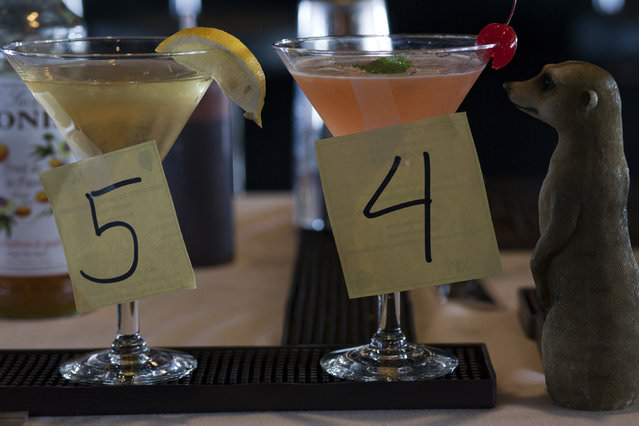 After the judging, we had the opportunity to try the other teams creations.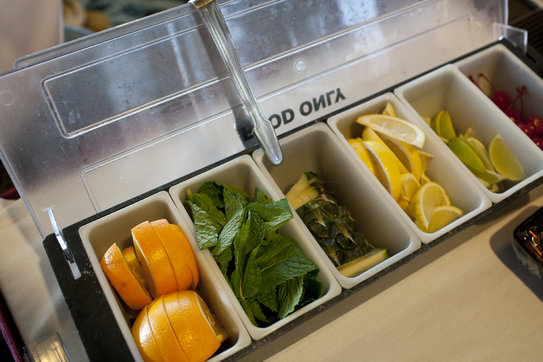 As an interesting note, I learned that it is bad luck to garnish a martini glass with two olives.  It must be an odd number, preferably three. Pictured above are some of the garnishes we had to chose from. We left our Martini making class in high spirits only to be reminded that it was time for the sad task of packing our bags. The end of our holiday is fast becoming a reality. Once the bags were packed we left them at our front door, ready for Tutu to collect and put into the hold for our departure tomorrow. We had a little bit of time left for relaxing, so Mr GG and I retired to the Oasis Bar and took up our lounge chairs on the deck.  I managed to finish the book I had been reading and watched a final sunset prior to collecting the kids.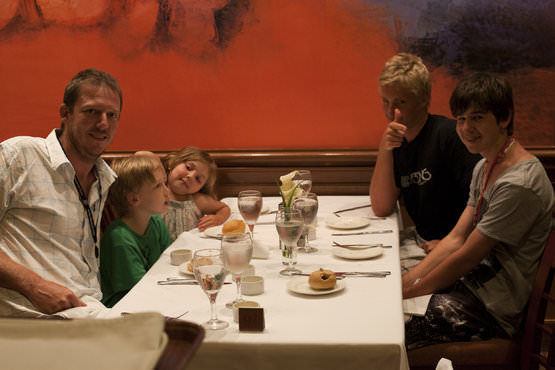 Earlier in the day, I had made one final request of the teenagers.  The request was that we all eat our final meal on board the ship together.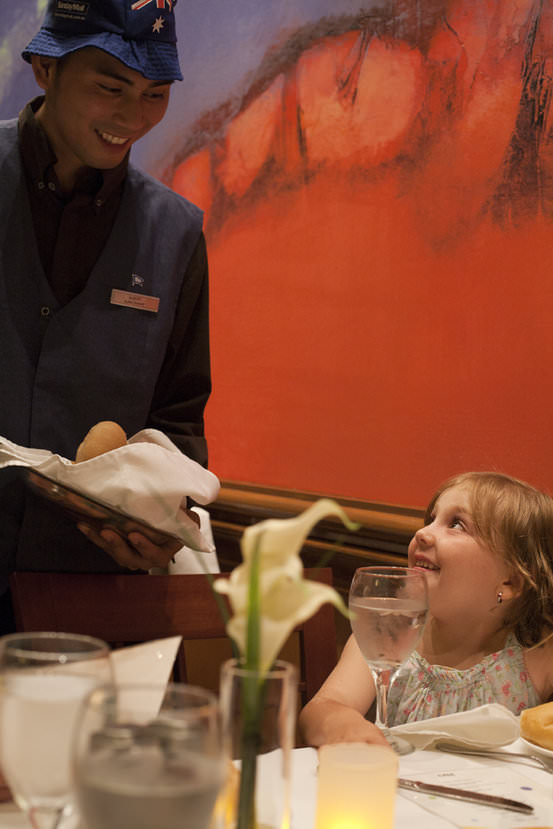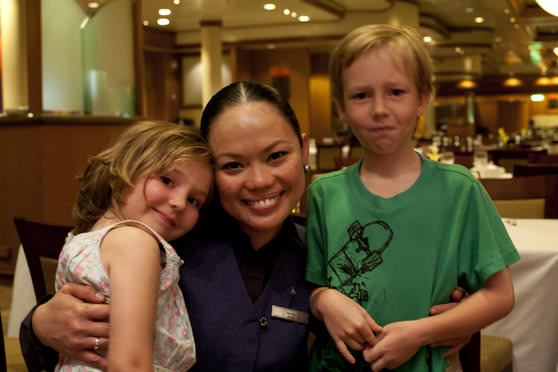 Encore Review: Salt Grill – Luke Mangan Onboard The Pacific Dawn Cruise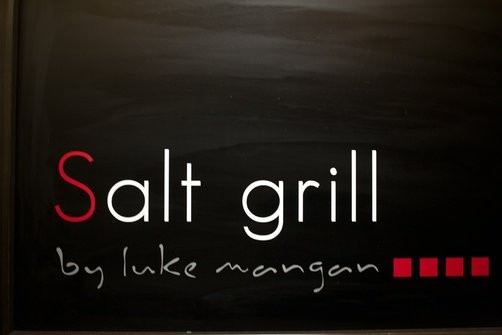 I have been looking forward to this evening since I first booked our cruise onboard the Pacific Dawn. The images on the P & O website were mouthwatering, and I knew husband, and I would be taking advantage of the opportunity for a romantic meal.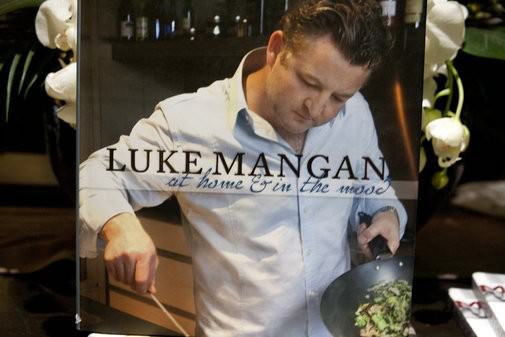 Salt Grill is both intimate and welcoming.  Like everywhere else on the ship the service is impeccable. The restaurant guests are all dressed in a casual elegance befitting the stylish surrounds.  I can't help but feel immediately relaxed and indulged.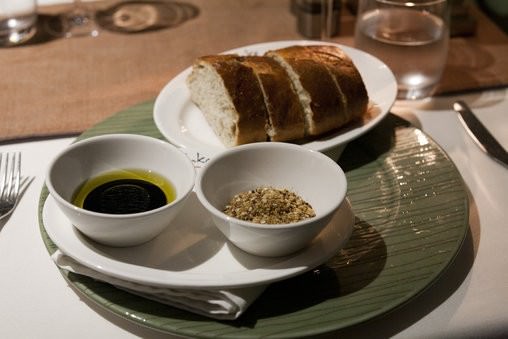 We order the house baked plain & zartar breads which are served with the "Luke Mangan brand olive oil & dukkah.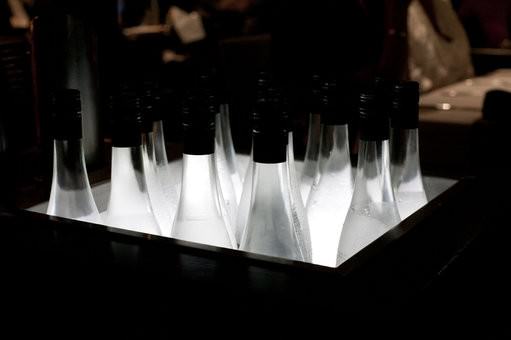 Everywhere we look the "Luke" insignia is displayed proudly. The attention to detail is meticulous. Luke Mangan brand water is served while we decide on a wine.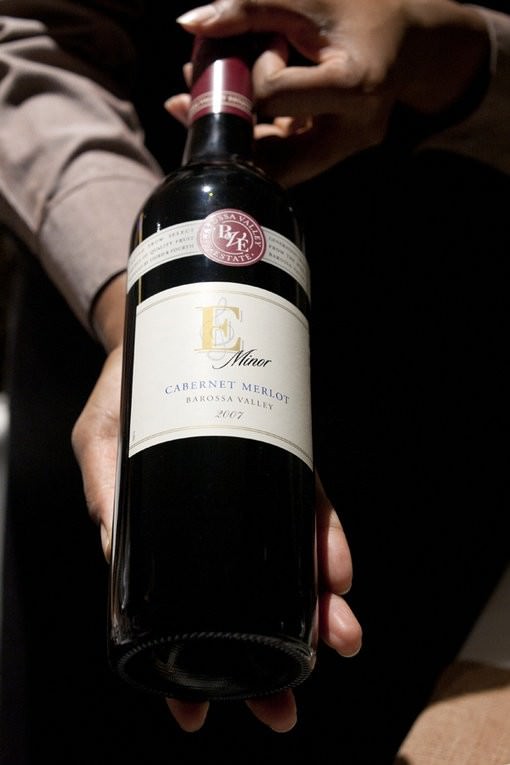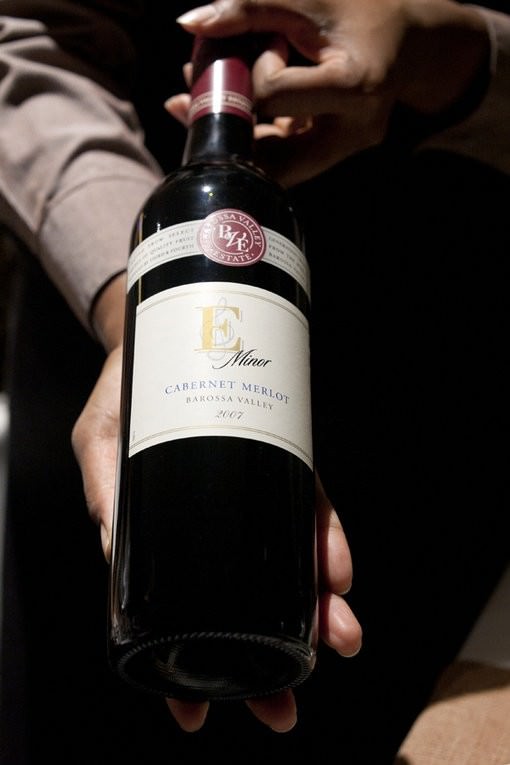 We settle on a 2007 red from the Barossa Valley.  It is a gorgeously mellow Cabernet Merlot, with the body of the Cabernet grape and the gentleness of the Merlot. I congratulate Mr GG on his choice of wines and we settle down to the serious task of ordering our entrees.
There are number of Luke Mangan signature dishes on the menu, but I just can't go past the seared scallops. I am craving the sweet fat flesh of the scallops, and it is to be served with a blue cheese polenta and truffle oil.  The dish does not disappoint I am moaning and groaning in delight to Mr GG after the first mouthful.
Generously I share with Mr GG, and he is in agreement, it is a simple dish, but the flavours are divine.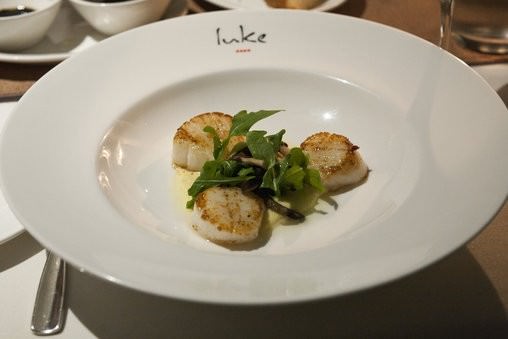 Mr GG is in love with anchovies so he can't pass up the opportunity to try the bruschetta of roast capsicum, sultana served with white anchovy. It is another fresh dish which burst with flavour and texture.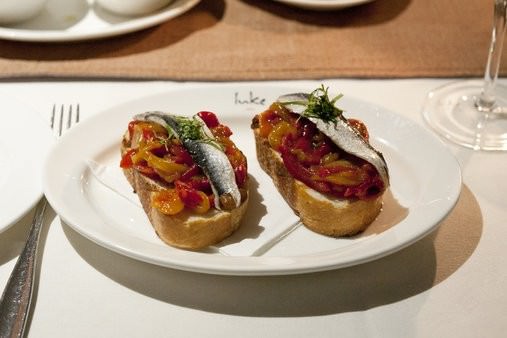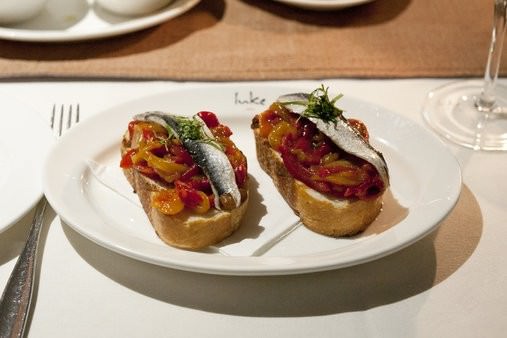 By this stage in the meal, we are chatting to the two neighbouring tables. Dining on a ship is a little different than a regular restaurant. It almost feels like dining with your neighbours. After watching me take a series of food images, the neighbouring couples curiosity got the better of them, and they asked for an explanation..
We soon discovered that we had both attended the same Cheese and Wine Tour in Noumea. Our table of two became a table of six as we chatted throughout the meal o each other. Our neighbours recommended the Scotch fillet wagyu, cross-angus. We had secretly noticed the dish being served to our new friends, and Mr, GG was very keen to give it a try.
I am a bit of a steak snob, and I don't like the idea of my wagyu being crossed with another breed.  If it doesn't have a marble score of 9 and come from Raging River Wagyu at Wauchope, I struggle to be impressed. The menu states that it is grain fed for 300 days and hubby chooses a chimichurri sauce to have on the side.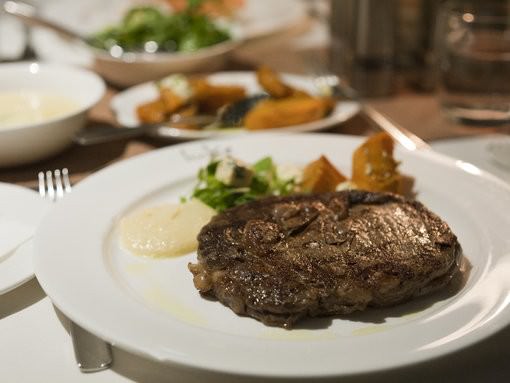 We also select three side dishes to have with our mains.  After the truffle oil in my entree I need another hit so I chose the truffle mashed potatoes.  Mr GG can't get enough of the blue cheese so he chooses a salad of rocket, blue cheese, pear & walnuts.  For the final dish we decide on a roasted curried pumpkin, served with feta & coriander.
I can never go past grilled Atlantic salmon, so it is an easy choice for me too.  I am pleased that the salmon is still moist and pink in the middle with a gorgeous smokey flavour on the outside from the grill. I chose a chipotle aioli to accompany the fish and sat in raptures whilst slowly devoured the dish. From the moment I noticed the "Luke's liquorice parfait" on the dessert menu I knew it had to be mine! I had no idea what it would taste like, but a creamy liquorice desert had my mind racing. I was right in my decision making. It was a deliciously cream smooth pannacotta styled dish with the overwhelmingly delicious flavour of licorice. It was served with a crispy tuille and lime syrup. Even our neighbours sampled this dish and agreed that it was both gorgeous and unique!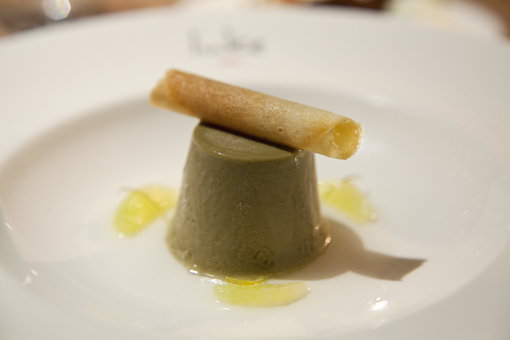 The chocolate tasting plate was the dessert I just had to choose. In my world, it is a given that a lovely meal needs to be finished with a chocolate dessert. I would like not to be so predictable, but my chocolate cravings get the better of me everytime. The plate included a gorgeous chocolate fondant that was filled with a rich liquid lava chocolate centre; it was also served with a decadent dark chocolate truffle and a mini fondue of grilled marshmallow and chocolate ganache sauce for dipping. Thankfully I love by the moto that "Too much Chocolate is probably almost enough!"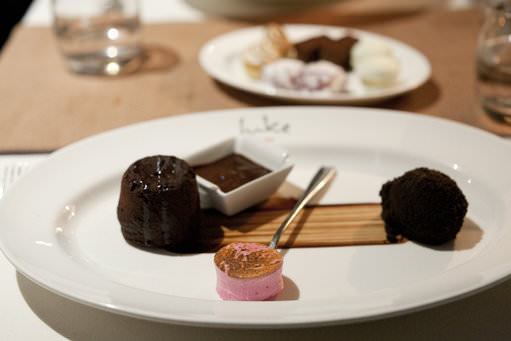 Despite our generous servings and our rich desserts, Mr GG and I decided we would finish our delightfully indulgent meal with a serve of petit fours.  Throughout the evening we had noticed these delectable bites being delivered to couples enjoying their own romantic evening. My favourite was the Turkish delight! I love the sweet stickiness of this light but floral dessert.  Mr GG is a fan of Lemon Meringue Pie, and the mini version was his favourite item on the Petit Fours plate.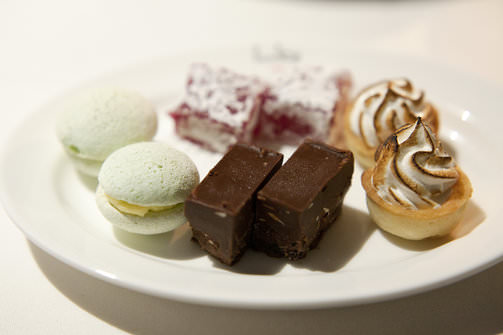 We shared our Petit Fours with the neighbouring tables and chatted about how disappointing it was to be nearing the end of the cruise. I have a real soft spot for luxury, and our experience at Salt Grill has again reinforced that it is the finer things in life that I crave.  Salt Grill was another great highlight of our holiday on board the Pacific Dawn.