I have only recently reviewed this restaurant after spending a lovely lunch soaking up the sun on the deck and watching the waves breaking on the reef. Today we were meeting friends for breakfast, and Ocean Noir was one of the suggested venues.
I had looked at the breakfast menu previously and noticed a few tasty inclusions that I was interested in sampling. We settled on Ocean Noir for a late breakfast.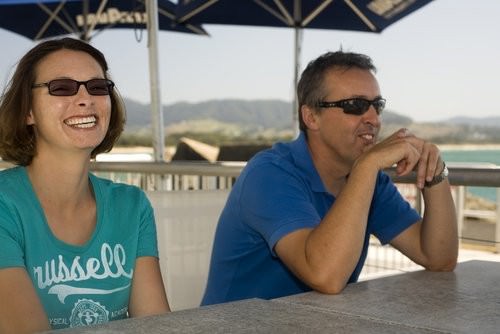 Even though the meeting time was 9.30am hubby and I still managed to be late. Luckily we weren't riding our push bikes down to the beach, as was first suggested or it may have been a lunchtime date!
When we arrived, Rach and Scott had a table on the deck overlooking the break wall and were settled in with a coffee. We caught up on gossip and perused the menu. I don't tend to have a large breakfast so I was looking for something tasty and light.
I order the Breakfast at the Harbour, Rachael and Scott both chose the Traditional Large Breakfast and Mr GG ordered the Spanish Omelette. Hubby would have preferred a huge serve of bacon and eggs but because he knew I would want to photograph a few different dishes he went with my suggestion of Spanish Omelette.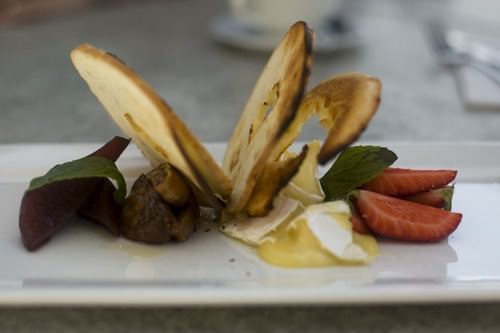 My Harbour Breakfast looked gorgeous when it arrived and it was exactly what I wanted. Fresh fig, spiced pear, mint leaves, camembert and strawberries served with sliced toasted bagel which was cut wafer thin and presented in an elegant fan over the camembert.  I would have loved a little more pear and fig to go with the camembert as the flavour combination was beautiful on the crispy bagel, but it was a breakfast I absolutely enjoyed.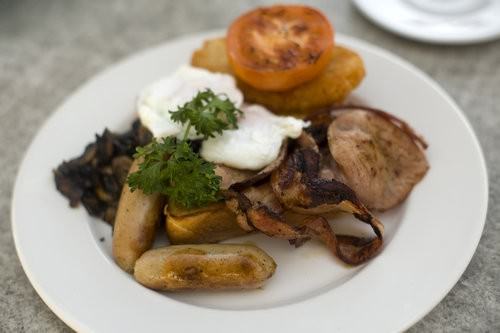 The Traditional Large Breakfast was very large. Rachael and Scott had chosen the poached eggs, there was a very generous serving of grilled bacon, sausages, hash browns, semi dried roasted tomato, mushroom and thick sliced toast. Rachel commented on how perfect her eggs were cooked and how she had been hoping for some really chunky toast which is exactly what she received.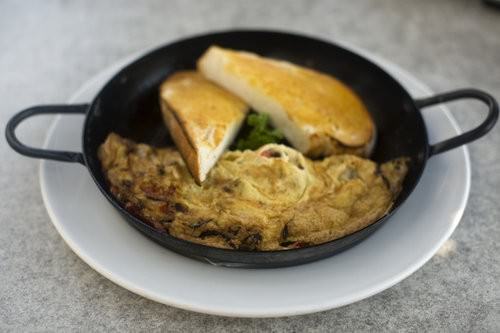 The Spanish Omelette was served in a cast iron frying pan with some more thick slabs of toast. The Omelette included spicy chorizo sausage, gooey, stringy melted cheese and red peppers. I watched a hubby's cheese stretched 30cm from the pan to his mouth in that mouthwatering cheesy way. I would have happily stolen this dish from him as the mouthful I tried was really good.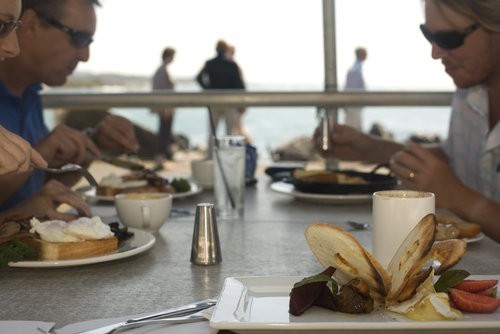 Once again we have been really happy Ocean Noir, the ambience, menu and service. I noted that they also have a very interesting evening menu. We are looking forward to the warmer weather when we can get a group together to sit out on the deck and watch the sea and sunset with a bottle of wine. Yes, there will be another review in a couple of months.
The restaurant is open daily but bookings are advisable.