It was a beautiful sunny day with a hint of Spring in the air so Mr GG and I decided to take advantage of the lovely weather and have lunch at the overlooking the ocean. We had recently gone for a walk along the break wall at Coffs Harbour Jetty and noticed Ocean Noir.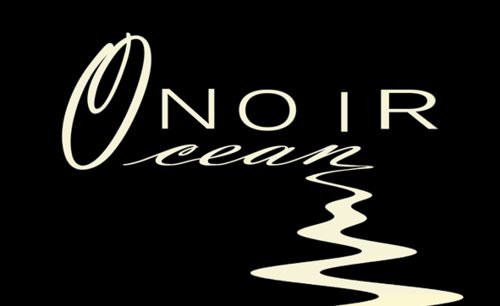 Naturally, I had to take a look at the menu. I was pleasantly surprised to find it was refreshingly different, and my curiosity was aroused by starters such as The Brioche. A Sweet French bread with poached pear, goats cheese and duck liver pate.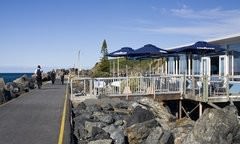 After viewing the breakfast, lunch and dinner menu I decided that although the dinner menu looked amazing, we would save that experience for a hot summer night. Mr GG and I could have a romantic meal on the deck.
I have already decided we will try the Seafood Platter. It includes a whole lobster, seared scallop a la parmessana, smoked salmon canapes and tom kha talay seafood. Wow!
For lunch today, however, we settled in to enjoy the view and a beverage while we perused the menu properly. There were so many dishes I would have like to have sampled but alas I had to make a choice. I decided I would try two entrées. Eventually, I settled on the Crab Cakes with Pebre Salsa and Crackers, and Prawn & Scallop a la Parmessana.  Hubby chose Chicken Breast stuffed with onion and fig jam seared in wasabi butter and served with sauté vegetables.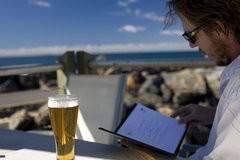 We relaxed on the deck and watched the water as our meal was prepared. I love that there are so many unique dishes on the menu. Lots of lovely fresh flavours and thankfully the standard accompaniment is not fried chips.
When our meals arrive we are both impressed. My seared Scallop and Prawn is huge for a starter and served in the scallop shell with a delicious white wine sauce and melted pungent parmesan. Served with the dish is a fresh parsley salsa that finishes this delicious dish beautifully.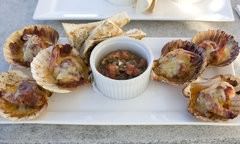 With a little help from Mr GG I get through the first starter and I am excited to move onto the second. The Crab Cakes are served in a ramekin with garlic butter and cognac and a rich cream parmesan reduction. There are homemade crackers for dipping in this luscious cheesy seafood dish. The flavour is out of this world. The cognac and crab are just magic together! Our table is silent except for the odd blissful sigh.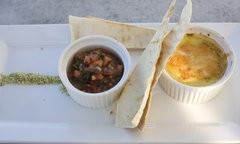 Brett had a main of Chicken Breast, his meal equalled mine in sublime taste. The accompaniment Mr GG's chicken was crispy greens and mushrooms.
The dish had an amazing smokey flavour with a rich jus that matched the chicken beautifully. The chicken skin was crispy seared, and the breast was beautifully moist and flavoursome. The onion and fig jam hit another taste level, being beautiful and caramel and finishing the meal perfectly.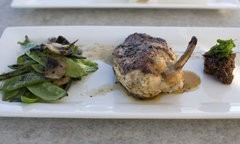 We thoroughly enjoyed our meal and regret that we were too full to try anything off the dessert menu.
Lunch starters are from $12 – $16, lunch mains are from $17 – $26
The restaurant is open daily but bookings are advisable 6651 6888