North Restaurant, food & wine is Cairns Shangri-La's gorgeous fine dining restaurant. Located on the waters edge at the Marina it affords guests a romantic waterfront dining experience.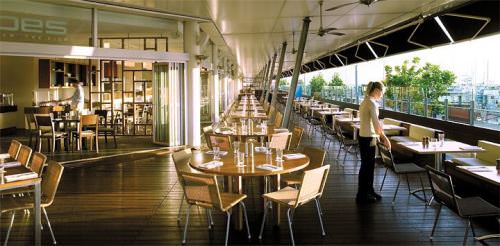 Cairns weather is just perfect for al-fresco dining, and North Restaurant takes full advantage of this with plenty of outside tables. The waitress directed us to a candlelit table for two with a view of the Marina and Trinity Inlet.
It's hard not to be in a romantic mood in such an elegant setting.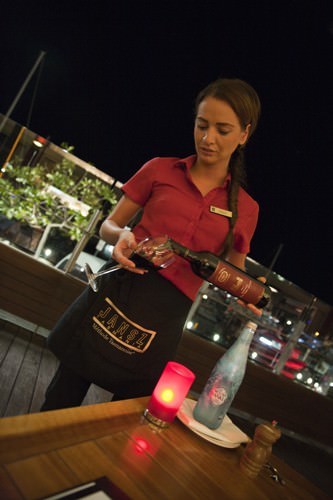 North has an amazing wine list! So many of my absolute favourites were represented in the selection. Looking down the list the Vasse Felix Dry White is a favourite, as is the Hugo Shiraz, the Wirra Wirra "Church Block" and the Cloudy Bay Sauvignon Blanc. I decided the only solution to my ordering dilemma was to leave the choice in hubby's capable hands.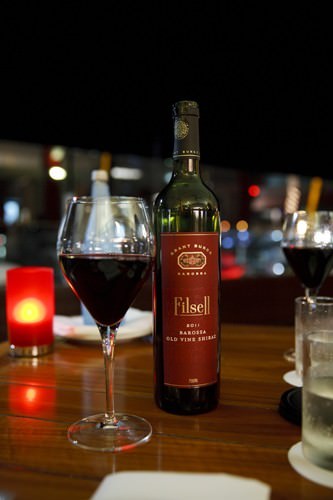 Mr GG ordered a bottle of the Grant Burge Filsell 2011 Old Vine Shiraz. Every time I have this wine I feel the need to sing the praises of the winemaker. The Shiraz uses fruit from century old vines, it's hand picked and produced in small batches before benefiting from maturation in oak. The result is an exceptional red wine with beautiful berry and chocolate flavours, spicy notes and a silky buttery finish.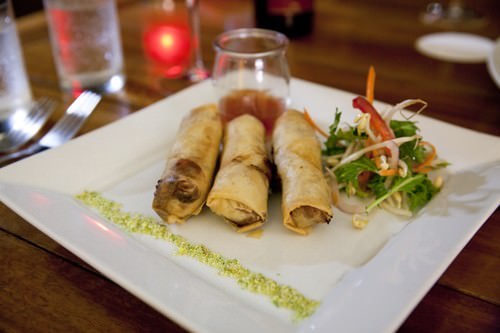 Deciding on entrees was nearly as difficult as choosing a wine.  Everything looked so good, I noticed there were quite a few vegetarian and gluten free options also. It was the Crocodile Spring Rolls which caught my attention. The crocodile had been braised in a master stock and combined with char sui pork, a favourite flavour of mine. The rolls were so deliciously crispy on the outside with a lush flavoursome filling completing the experience. The rolls were served with an Asian style side salad and a sweet chilli dipping sauce. Dipping the spring roll into the sauce and then into the spicy Dukkah made the dish a taste sensation.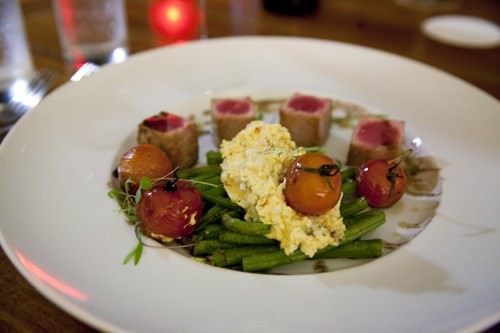 Hubby finds it difficult to go past seared tuna when it's featured on a menu. When I noticed the entree of Seared tuna with sautéed green beans, roasted tomatoes, salted egg mayonnaise and black olive oil I knew he would be all over it!
Perfectly cubed tuna was plated on a rich black olive oil tapanade. The flavour and texture of the tuna was exquisite, it had been sprinkled with the softest salt flakes which heightened the flavours. The beans were also deliciously seasoned, fresh and crisp. The egg mash was something that I would not usually have thought to put with tuna, but is was great with the beans and roasted tomato.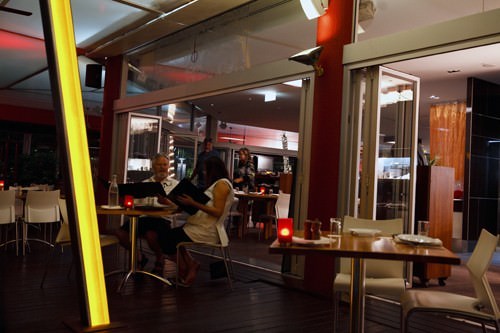 It's so nice to meander over a meal when you are in a lovely setting with great wait staff.  We were thoroughly enjoying the atmosphere by the water and the attentiveness of staff.
Moving onto mains we noticed that North Restaurant has three signature dishes;
"Salt cured pork belly with roasted potatoes, cabbage salsa and rhubarb sauce"
"Twice cooked rump with carrots, sautéed  kale and pan juices"
"The Seafood Tower for 2"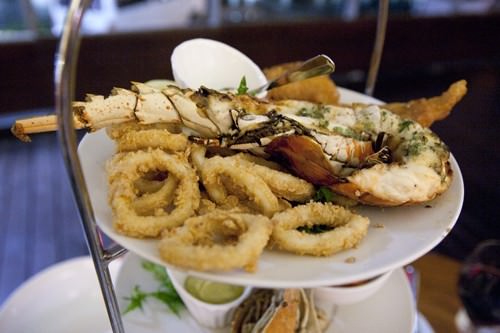 Obviously the Seafood Tower for two is the Pièce de résistance.  The Tower includes three levels of deliciously cooked and presented seafood with dipping sauces. It is the perfect couples share meal.
On the top level we were treated to light, crispy coated calamari which was so tender it melted in my mouth. Also on this level a lobster had been split and served in the shell. The fresh lobster meat was so sweet and tender,  it had been dressed with an incredibly lush garlic butter sauce.  Alongside the lobster were generous fillets of reef fish served in a crisp beer batter with garlic aioli dipping sauce.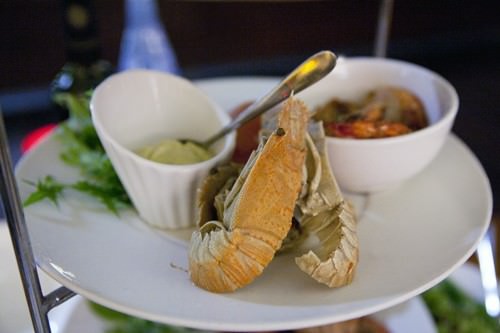 The second level of seafood included Moreton Bay Bugs, a generous serving of smoked salmon, garlic prawns and a smooth gribiche dipping sauce. A gribiche sauce is a french style mayonnaise with fresh herbs, capers and picked cucumber, it's a zingy sauce which matches fresh seafood beautifully.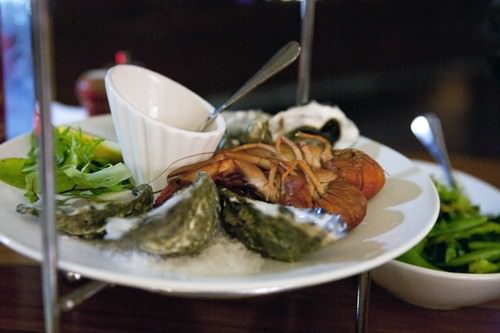 We had slowed a little by the time we reached the final level of the Seafood Tower.  This tier contained delicious, fat, natural oysters which tasted sweet like the sea. Grilled coral trout which was moist and slightly rare, just the way we like it, and some nice sized yabbies. We had been served a seafood sauce for these items but the flavour was perfect a la natural.
I do like to have vegetables with a meal so I ordered a side dish of braised greens. Even after I was full I found myself drawn back to the crisp, green vegetables. The bowl of broccoli, sweet peas, beans and asparagus was so addictive. It was perfectly seasoned and full of goodness.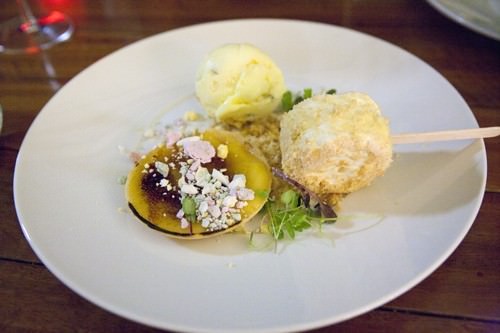 It would have been impossible to leave North Restaurant without sampling dessert. I had noticed a few dessert appearing on the tables around us and they all looked positively devourable!
Husband chose a dish which was described as a lemon tart with Meringue Paddle Pop, Passionfruit Ice-cream and salty streusel.  This was the chefs creative nod to a traditional lemon meringue pie. Albeit with much more intense flavours and refined presentation. The tangy lemon curd was positioned in a light, incredibly wafer thin pastry shell. It defied its eggshell appearance by holding the curd and staying balanced alongside the pillowy, fluffy homemade marshmallow. The lemon curd had been dusted with coloured meringue and a delicious, salty crumb added another flavour to the dessert. Tying the plate together was a tangy, slightly floral, passionfruit ice-cream.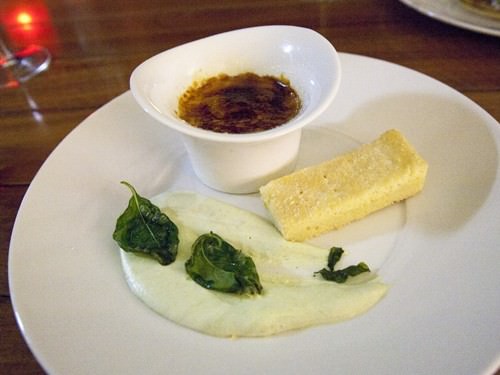 I was intrigued by the description of the Blood Orange Crème Brulee with sweet basil cream and Shortbread. When my dessert arrived it was not what I was expecting. My eyes went straight to the crisp fried basil leaves which adorned the sweet creamy basil foam . The basil cream was light and fluffy but I couldn't get my head and my palate on the same page, this componant was not my favourite. The creme brulee on the other hand was magnificent! The lively citrus flavours of the blood orange shone through the rich, creamy custard beautiful. The brûlée had a real caramelised, crunchy brûlée topping. It was almost too good to share. I couldn't help but use the buttery shortbread finger to dip into the orange custard as these two items tasted amazing together.
We finished our meal with a short black coffee, and with heavy, happy bellies we made our way back to our room.  It's such a joy staying at the Shangri-La hotel. The hotel has the best location in Cairns.  Situated on the waterfront at the Marina it's walking distance to restaurants, tour operators and the Esplanade.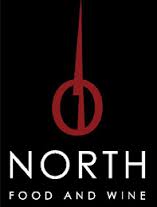 NORTH Restaurant
Food & Wine Shangri-La Hotel, Cairns Marina Pier Rd, Cairns QLD  Ph: 07 4052 7670
Website
Gourmet Getaways is enjoying Tropical Far North Queensland and will be bringing readers a feature series on the area. Thank you to our FNQ Sponsors Shangri-la Hotel, The Marina Cairns and Tigerair. As always the opinions contained in this review are written without bias and in accordance with my disclosure policy.