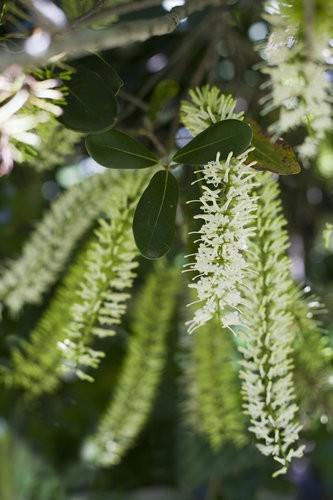 Day 1 of my road trip with Lorraine Elliott, better known as "Not Quite Nigella."
So what is my brief, I am to drive NQN around various places of interest from Port Macquarie, Comboyne and Nambucca Heads through to the Coffs Coast and finishing at Emerald Beach.  We will be sampling produce from various regional growers, dining in gorgeous restaurants, Lorraine will be judging the 4th Annual Mid North Coast "Signature Dish Cook Off" at Port Macquarie Tafe.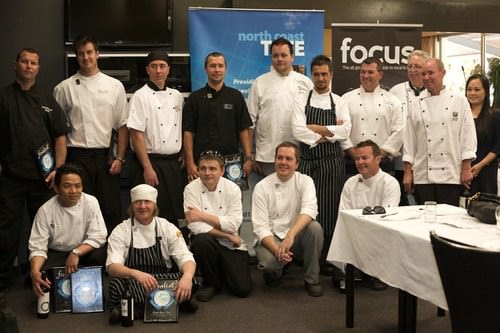 I will be joining a panel of twenty, tasting the finalists dishes for the people's choice awards. We will be staying in two beachfront properties, the first being The Observatory Hotel in Port Macquarie and the second Saltwater in Emerald Beach.  The journey will take us three nights and four days and has been organised by the lovely people at Destination NSW and Mid North Coast Tourism.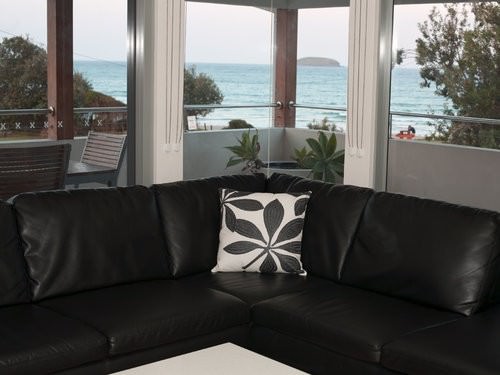 Lucky me, I have the opportunity to show off an area I love to my FAVOURITE Food and travel blogger. On that note I also have to thank Lorraine Elliott for allowing me to be a part of her Mid North Coast Food and Wine Itinerary.  It has been an amazing opportunity to work beside someone I consider to be a great writer, photographer and leader of our industry.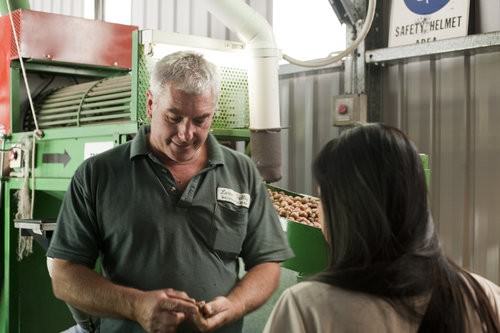 The itinerary for the four days is rather full, and day one see us launch straight into visiting some local producers in the Port Macquarie area. The first stop is Lorne Macadamia Nut Farm.  The farm was established 15 years ago as a family business and produces 10 -12 tonnes of macadamia nuts each season.  We are given a tour by the property owner Ray Scott.  He explained the growing and harvesting process of the macadamia nuts.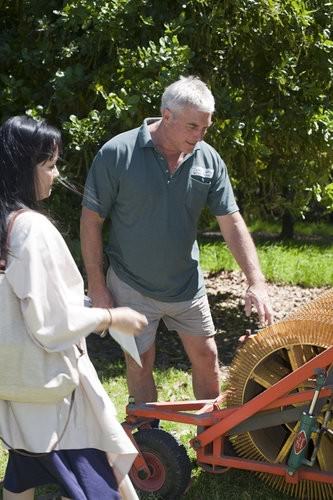 The farming at Lorne Macadamia is based on organic principals. There are no fertilisers or pesticides used on the property. Instead they rely on environmentally friendly farming practises such as mulching with the residual macadamia husks, rainfall irrigation and chook manure to produce a more natural and sustainable product.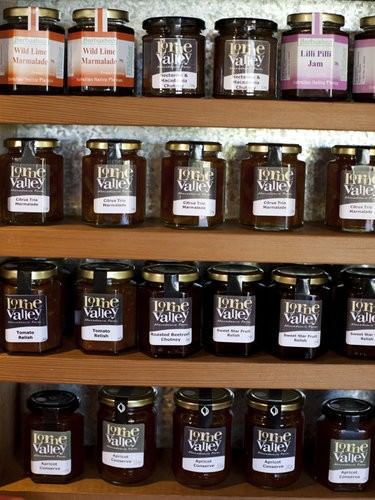 Ten different Macadamia nut varieties are produced on the farm, and we were given two varieties to sample.  I was surprised at the difference in flavour and texture between the nut varieties as they initially appeared identical.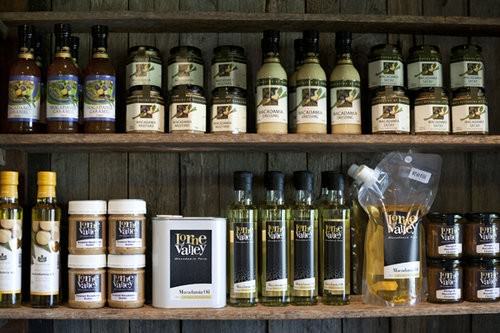 Also located on the property is a citrus orchard and we are given a lovely bag of blood oranges to take home with us. At this point Ray directed us to the cafe where we were to sample a meal from the cafe run by his wife Jo.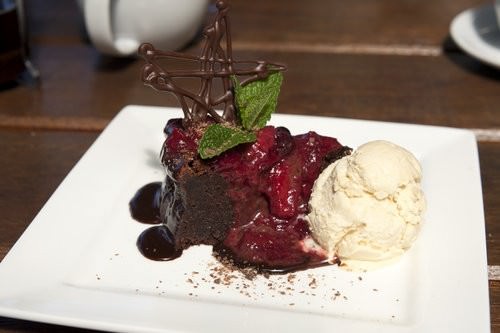 Jo explained that she uses predominately local and seasonal produce, with an emphasis on creating fresh, healthy dishes.  When establishing the menu Jo wanted to create a point of difference between the farm cafe and what was commonly available in Port Macquarie. She had noticed that a lot of cafes serve the same commercially produced cakes and decided that it was important that she gave customers an alternative and thus a reason to continue visiting the farm.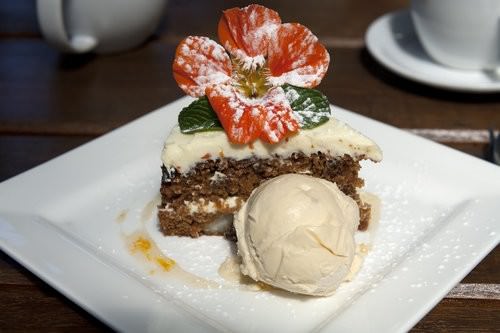 All the cakes and desserts are made on the premises and served with delicious accompaniments and lovely garnishes.  After sampling both the famous Carrot & Macadamia Cake with delicious plump sultana in a citrus syrup and served with Macadamia nut Ice-cream and the Decadent Flourless Chocolate Cake using ground Macadamia Nut served  with a lovely liquor berry sauce and warm chocolate ganache, I can assure readers that I would drive a long way for another piece of cake.
Meals are made fresh to order so dietary requirements are easily catered for with notice. We are served two delicious salads, the first a "Harvest Salad" featuring char grilled vegetables, roasted macadamia nuts on mesculin lettuce with a homemade macadamia pesto dressing.  I loved this dish and would order is again, the herby pesto had a lovely tang and went so well with the creamy pumpkin and smoky vegetables.
The second was a "Warm Chicken Salad" seared chicken in chilli, ginger and macadamia satay on a caramelised onion and char grill vegetable salad.  Both meals showcased the fresh produced beautifully.  It was lovely to sit and enjoy the tranquil cafe setting and I will be sharing the experience with my family next time we are in the area.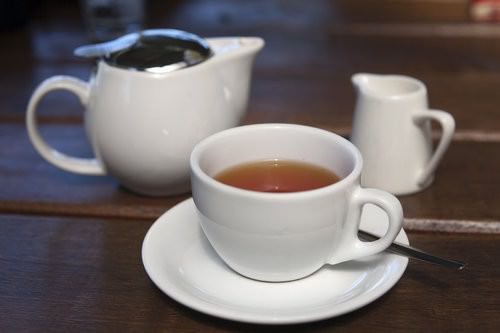 I finished up my meal with a Macadamia Plunger coffee and Lorraine with a Macadamia Tea. Both had a gorgeous macadamia aroma.  My coffee was the perfect end to a very relaxed meal.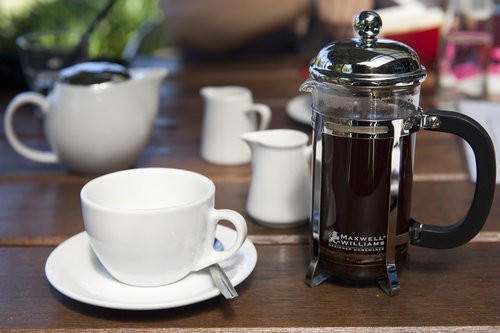 As we were leaving we also tried the oven roasted Macadamia nuts.  Eight different flavours are roasted on the premises and naturally we felt we should try each flavour in turn.  My favourite sweet flavour was the caramel, although the honey was also delicious. The smoked macadamia nut was amazing and I should have bought a bag for the family (sorry everyone, next time).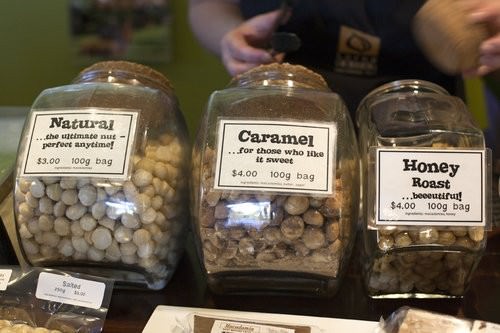 While I am admitting things I should have purchased for my family and didn't, how cute are these gorgeous little biscuits!  There were so many cute shapes decorated with lollies and icing. I love the platypus with the snake lolly on his back.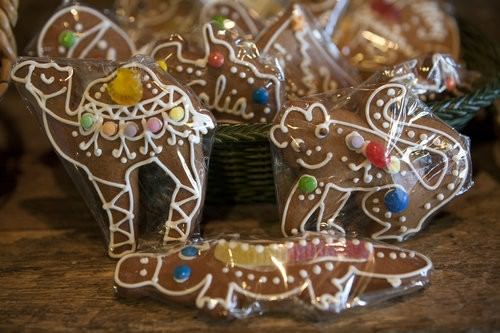 With a busy day still ahead we set off for our next producer Ticoba Blueberries & Avocado, but not before receiving this kind parting gift which was left on top of the car by Ray.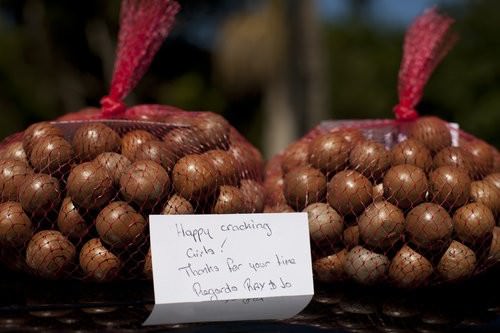 Ticoba produces 12 tonnes of Blueberries per year which then make their way into local retailers and the Sydney markets.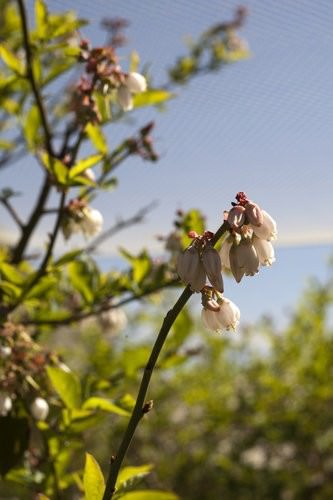 Being a small producer the farm's focus is on producing the best berries, and quality control is most important. We were shown the blueberry bushes and the tiny blueberries which are the start of this season's fruit.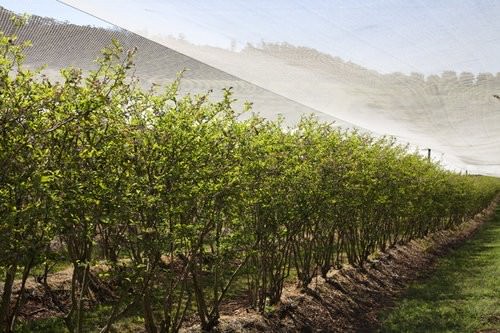 Comboyne Culture is a local cheese factory which backs onto the Thone River in Comboyne.  This boutique business has been owned and operated by Ron Lindsay for the past five years.  Ron's passion for cheese is the driving force behind the success of the business. His cheeses are available throughout the mid north coast, Newcastle and Sydney.  I have been served Comboyne Cheese on many occasions in the past so I was pleased to have the opportunity to visit the factory.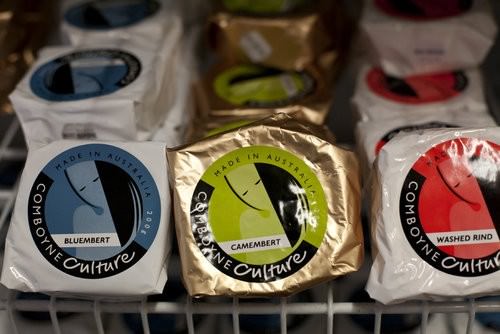 Ron explained the cheese making process and showed us through his well stocked cool room. We were given a "sneak peak" at his work in progress, a Thone River White Mould cheese which is currently under development.  The maturation process of this cheese is expected to take six months.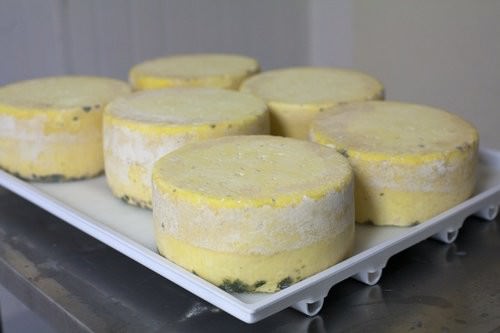 Hopefully at the end of that period there will be added to the Comboyne Culture range.  Comboyne Culture currently produces 600 cheeses per year and five different varieties. The most popular cheese in the range is still the Camembert, but Ron is finding that older gentlemen tend to be partial to the Bluebert Cheese.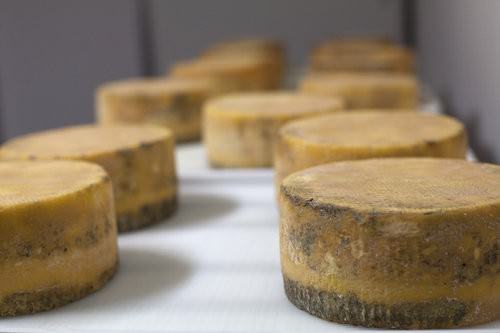 Ron has a theory on why the Bluebert is popular with this demographic. Once men get to a certain age their wives or doctors put them on a low sodium diet.  The Bluebert is deliciously salty and creamy, without an overwhelming "blue" flavour.  Naturally it becomes an instant hit with these salt restricted gentleman, so much so that Ron has unofficially renamed the Bluebert  "Old Man's Cheese".
Once our tour was complete we were able to sample the various cheeses in production.
Camembert
Washed Rind Camembert
Bluebert
Lindsay Blue
Thone River Blue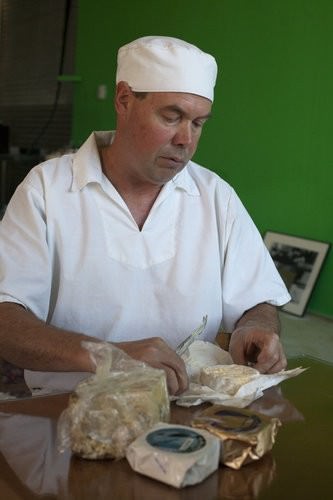 My favourite was probably the washed rind Camembert as it was a more pungent flavourful cheese, although I loved them all!  Lorraine and I both felt that our husbands would appreciate the Thone River Blue which was a crumbly full flavoured blue.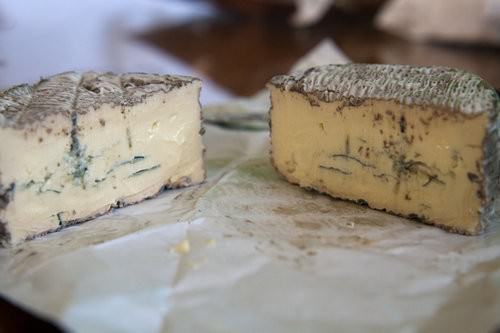 Now what food tour would be complete without sampling a little bit of chocolate to finish.  Located just two doors down from Comboyne Culture is Baba Lila Chocolate.  These beautiful handmade chocolates are made following the traditional Russian method of hand mixing the centres, and then dipping the centres in chocolate.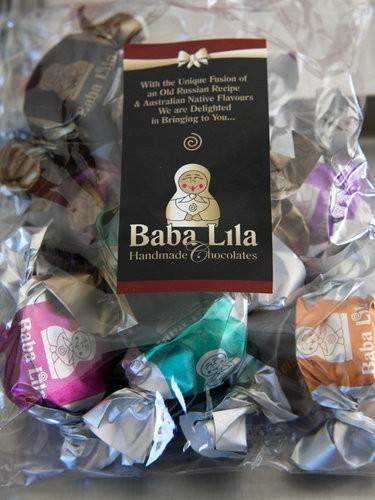 Chocolate making is a tradition in Natasha's family, the recipe she uses for her Baba Lila chocolate is the same one she used as a child when she would help her mother make chocolates for the family. It seems only natural than that the business would be named after her mother.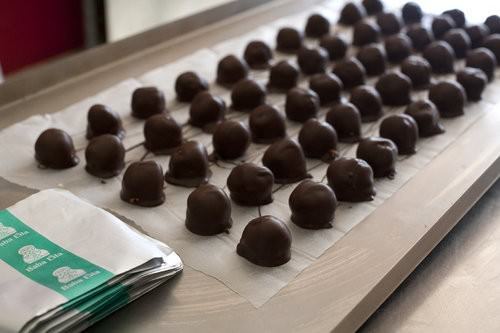 When we arrived Natasha is busy making two different varieties of chocolate, a traditional hazelnut and a native lime.  Baba Lila carries a range of six traditional flavours and six innovated native flavours.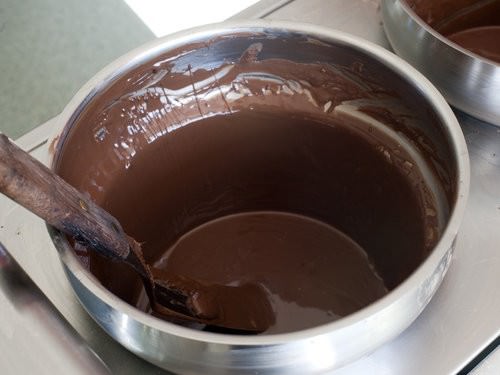 These beautifully handmade chocolates are available at Port Macquarie, Wauchope and Bellingen Markets.  They retail for $15 per packet which includes one of each flavour.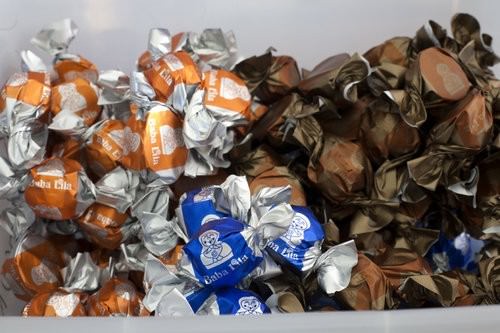 I have to admit I actually tried one of each flavour! After all, I was writing a story, and I knew my readers would want to know what flavours to try. My favourites in the Native range were the Aniseed Myrtle, Lemon Myrtle and Pepper Berry.  In the traditional range I could go past the Rosewater and Hazelnut.
I am sure I am making readers very hungry with details of such a gourmet itinerary.  All of these delicious regional products can be found at the Port Macquarie and Wauchope farmers markets.  So I would encourage you to consider booking a little Gourmet Getaway and explore the area for yourself.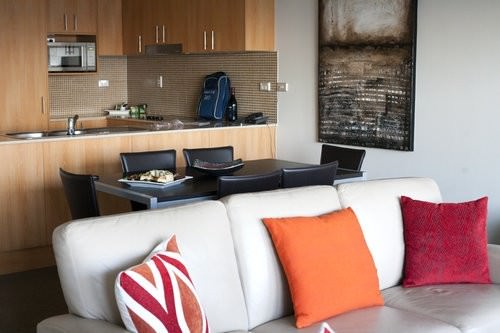 Lorraine and I are staying at the Observatory Hotel opposite Town Beach in Port Macquarie.  The sun is shining and I have a gorgeous view of the surf from my balcony.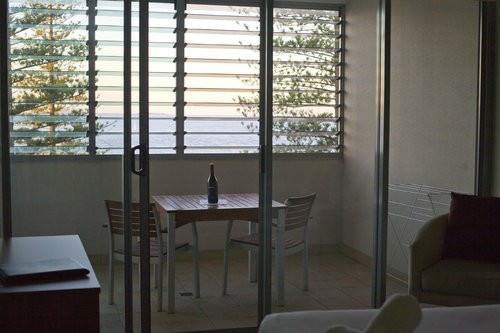 The observatory hotel is a 4.5 star hotel; it has won numerous regional and national awards which attest to the standard of the accommodation.
We have been given interconnecting rooms which are fully self contained and would be ideal for a family.  In our room we find a picnic backpack and a letter of introduction which informs us that guests are invited to make use of the hotels bicycles and helmets, should we wish to explore and picnic along the Port Macquarie coastline.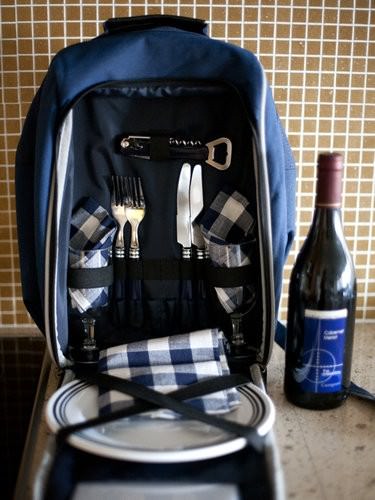 Although this is a tempting offer which I would usually be ready to accept, I am feeling rather full at this point and I am ready to make use of a comfortable bed.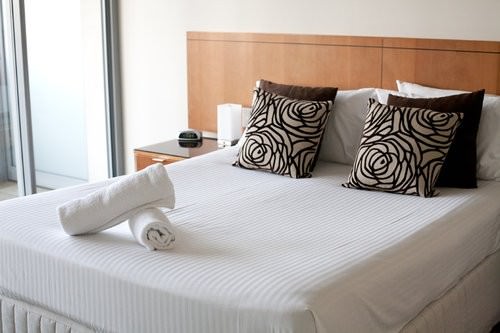 As they say "there is no rest for the wicked" and before too long it's time to wander out for dinner.  Given that is such a lovely evening we decide to walk to our restaurant.  We are booked to dine at "The Stunned Mullet" which is a popular restaurant opposite Port Macquarie's Town Beach.
Review to follow…
But I will leave you with a delicious dessert image.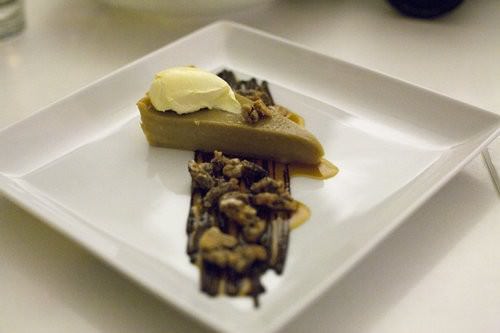 Lorraine from Not Quite Nigella & Julie from Gourmet Getaways traveled to Port Macquarie as guests of Destination NSW & Mid North Coast Tourism.