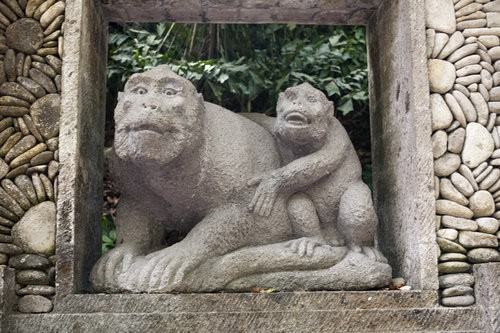 What is there to do in Bali when you have eaten your fill of delicious Balinese food and you need to fill in a few hours while you regain your appetite for the next feast?
Mr GG and I decided to hop on some vespers and head off to "Monkey Forest". If vespers aren't your thing, there is any number of drivers ready to show you around for the same price as a bin tang or two.
Monkey Forest is located in Padangtegal a little village which is very close to Ubud, at the end of Monkey Forest Rd. It is quiet and tranquil and very different from the busy streets we had just come from in Ubud. The sanctuary is home to in excess of 500 monkeys commonly known as long-tailed macaques.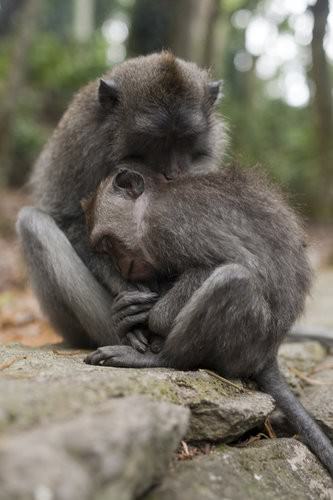 The Monkey Forest of Padangtegal is a sacred Balinese Hindu site, and as such makes for a nice peaceful stroll.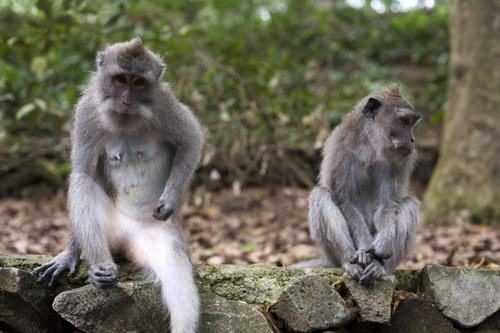 Each of the monkeys had very distinct personality, there were show offs and bossy ones, gentle ones. I had a monkey climb up my leg and try to pick my pocket!! Their traits were all so human like it was uncanny.
We were warned that the monkeys whilst gorgeously cute can get quite aggressive when it comes to matters of food. Although you are permitted to feed the monkeys we decided not to take in any bananas as I had visions of being chased by a troop of angry monkeys. As it was I managed to make a few a little cranky , by taking their photo!
I did love the gorgeous family groups with little newborn monkeys and toddlers all clinging together. This is such an adorable scene… although mummy monkey looks tired 🙁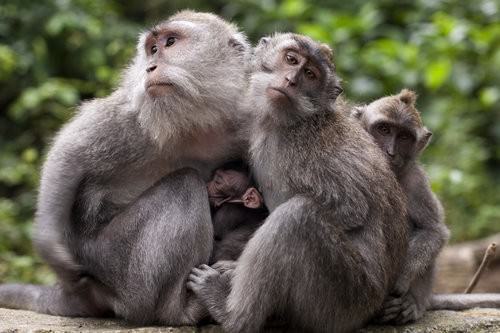 During this stay in Bali we have learnt a lot more about the culture and beliefs of the Balinese people. Balinese Hinduism is unique in that they combine aspects of Animism, Ancestor Worship, (or Bali Aga meaning original Balinese belief) Buddhism, and Hinduism to form a very distinct belief structure.
The Balinese believe that prosperity is associated with the relationship that exists between the living and the dead (prosperity is something that can only be achieved through intense worship and obtainment of blessings from ancestors). Animism represents the belief that inanimate objects and other elements of the natural landscape can possess souls which can help as well as hinder human efforts on Earth.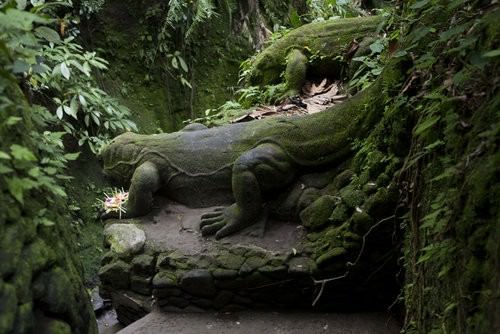 Many Balinese believe that ravines and forested areas are particularly notorious for harbouring human and animal spirits. Monkey forest has a beautiful lush forest, deep ravine and stream which is why the site is considered to be sacred.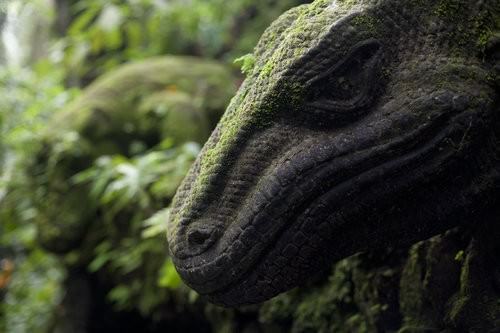 The structures in Monkey forest which appear to be very old, are sometimes in reality only several years old. The original structures may be quite old, but renovations are needed constantly because the soft volcanic rock, which has historically been utilized in temple construction, tends to rapidly deteriorate in Bali's tropical climate.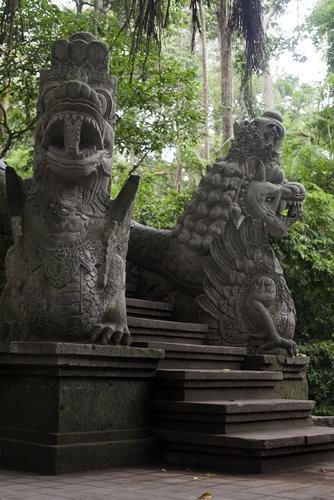 The bathing temple and main temples are both maintained and utilized for important religious ceremonies in the Balinese calendar.
The monkey forest was a great experience, the monkeys were so cute! Our Gourmet Getaways April Food Safari includes children over five years so this will be one of the places on our itinerary.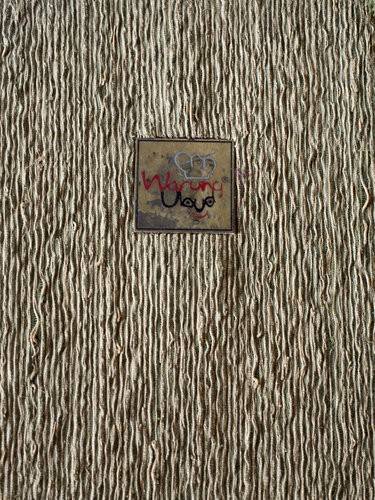 After our tranquil stroll we were ready to get back on the vespers and find some more delicious food. It still wasn't really a meal time so we decided to just chose a few snack items at the Warung Ubud (translates to Ubud Kitchen)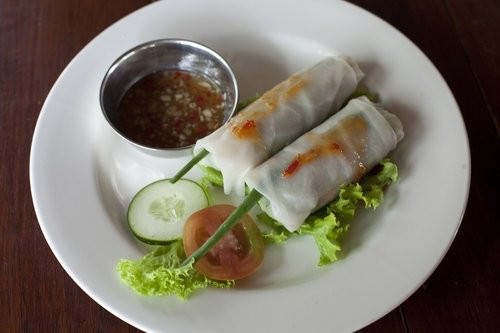 I chose a light snack of Vietnamese Rice Paper Rolls with dipping sauce whilst husband found he couldn't go past a double hit of deep fried goodness. Mr GG ordered Spring Rolls with a dessert of Chocolate Banana Spring Rolls. Both were deliciously crispy.
The winner naturally was the deep fried spring roll encased banana with delicious chocolate sauce.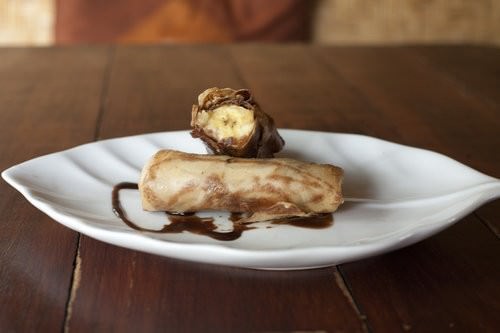 We relaxed some more, sitting on the bamboo covered floor with cushions and watching the traffic pass by the verandah. If you look really carefully at the start of the video you can see a cow being walked down the street.
Everyone will be pleased to know that despite the rice paper roll being soaked in water and full of uncooked salad items, neither of us were any worse for the experience.  Proving again what I have noticed in recent years, the hygiene and food handling in Bali has made huge improvements. We have eaten food from various styles of food vendors without any hint of Bali Belly!