Milkbar Town Beach 
2/38 William St,
Port Macquarie NSW 2444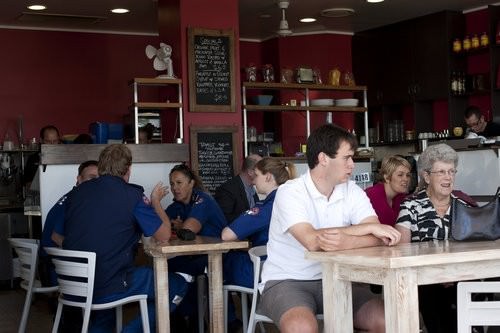 It's day 3 of my road trip with Lorraine from Not Quite Nigella. We have been on a really tight schedule with early starts, late nights and very little time for writing. I now have a backlog of about five stories from our Port Macquarie trip so far and my head is spinning trying to keep facts straight, (even with copious notes and memory cards full of photos). I am really impressed by how methodical and professional Lorraine is at handling the stories at hand.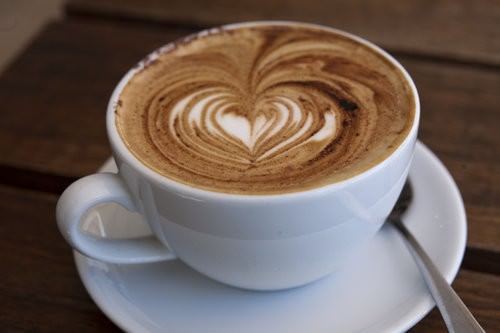 Yesterday I didn't finish writing and editing photos until about 1.00am, and I had only just managed to finish day 1 of our adventure!  I was fairly confident Lorraine would be up to date and sure enough, when we met for breakfast at the Milkbar, she announced that she had a clean slate and was ready for a new day of eating, meeting producers and restaurateurs.
The Milkbar is located on the ground floor of The Observatory Hotel Port Macquarie and has a strong local following. When we arrive it is already quite busy, so we quickly grab a table outside in the sun and peruse the blackboard menu.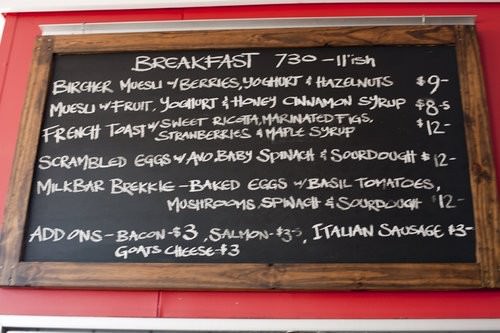 The menu is simple with just a few choices, but there are quite a number of dishes which take my fancy.
Naturally, after such a late night I needed to start my day with a good strong coffee. I am pleased to say they make a fantastic cappuccino and before too long my eyes are opening as required.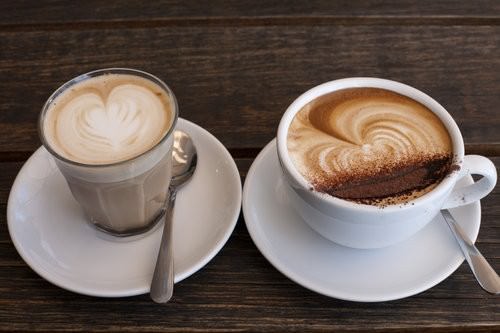 Lorraine gave up her usual tea to try the cafes chai, and then we were then ready to make our breakfast selections.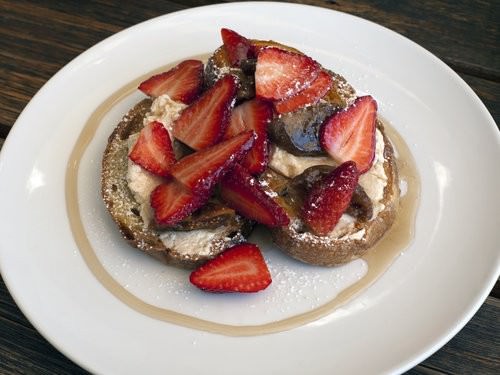 For me, I couldn't go past the French Toast w sweet ricotta, marinated figs, strawberries and maple syrup.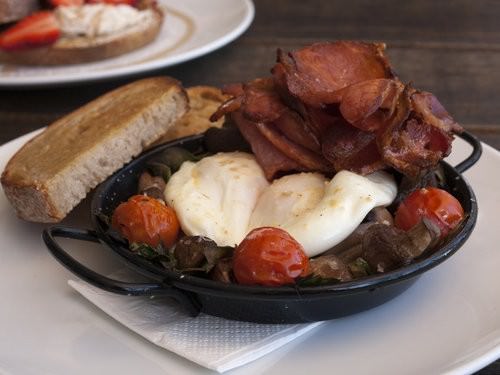 Lorraine chose the Milkbar Breakie which is baked eggs, served with basil tomatoes, mushroom, spinach and toasted sourdough, we added a serve of bacon to the dish for good measure.  After all, we had another big day ahead of us and we wouldn't want to get hungry.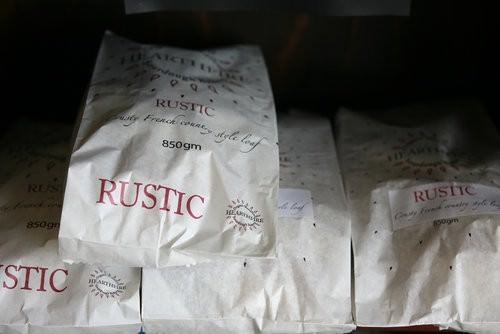 We noticed that the Milkbar keeps a lovely range of organic wood-fired sourdoughs, including a delicious fruit and nut loaf which I have tried previously and loved.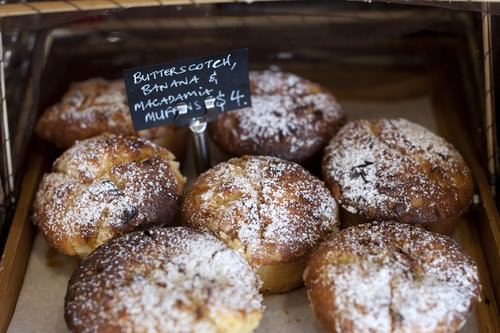 The emphasis here seems to be on fresh, local food with homemade treats.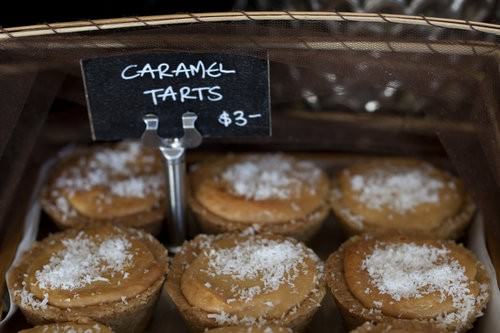 We had a wander around the lovely fresh food items whilst breakfast was being prepared and found that the Fruit loaf Lorraine had been eyeing loving was available at the cafe as a breakfast item.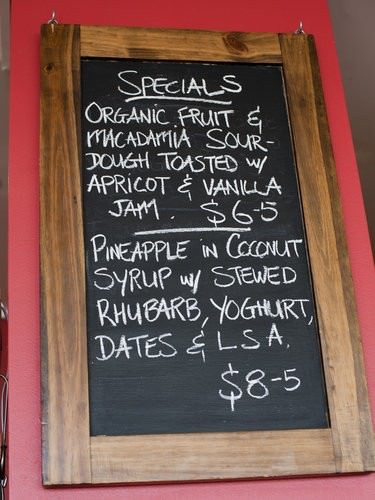 We decided it may be easier to try the sourdough at the cafe rather than try and take a loaf home for later. So we added a serve of the Organic Fruit and Macadamia Sourdough toasted with Apricot & Vanilla Jam to our breakfast order.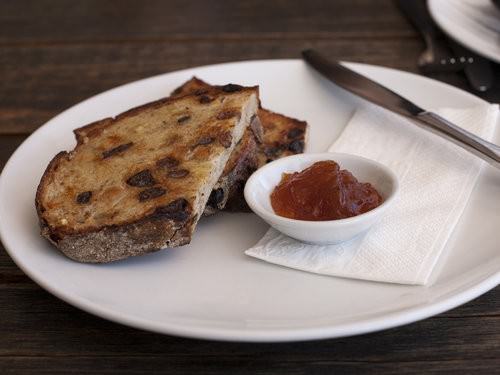 Whilst at the counter the caramel tart which we had both already photographed was also calling out for attention, that too was ordered and we sat down as the first of our breakfast items arrived.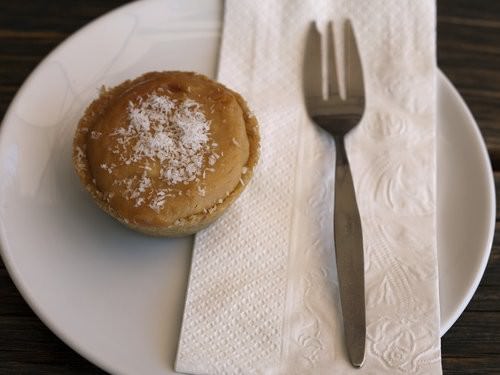 It was all so delicious! For two petite girls, I am proud to say we demolished the breakfast like we had never eat before. I loved the fat little pan-fried button mushrooms and the basil cherry tomatoes. The French toast was covered in copious quantities of sweet strawberries and I could have happily drunk the maple syrup.  Best of all, the caramel tart tasted exactly like my mother version… and my mum makes the best caramel tarts.
After a gorgeous hearty breakfast, I was ready to go back upstairs to our room at the Observatory Hotel and nap!
…but alas, as we all know there is no rest for the wicked and we had a Mid North Coast Food Tour to continue…. stay tuned there is more to come!
Opening hours are:
Mon-Fri 7.30am – 3pm (breakfast till 11, lunch 12noon – 2.30pm)
Sat-Sun 7.30am – 12noon
Make sure to reserve a table as this is a very popular place during the rush hours Ph: (02) 6583 2700
Gourmet Getaways was a guest of the Observatory Hotel and Destination NSW.
For more on Port Macquarie read our guide here