Good morning readers and welcome to the glorious view from our suite at the Mercure Harbourside Cairns.
It is another beautiful day in tropical North Queensland.
The Mercure has now been rebranded as The Holiday Inn Cairns
You can book and check out The Holiday Inn Cairns here.
From our balcony we can see jogger making use of the Cairns Esplanade for their early morning exercise regime, couples walking the dog, and cyclists riding by.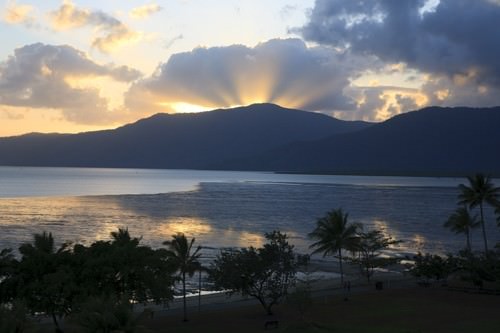 The Mercure Harbourside Cairns (Holiday Inn Cairns) has just completed a 3 million dollar refurbishment which included a new pool area, lobby and an upgrade of all harbourside rooms.
An Update and now Rebranded as the Holiday Inn Cairns
The hotel has been given a new lease on life and is certainly a jewel in the ACCOR Hotel chain's crown.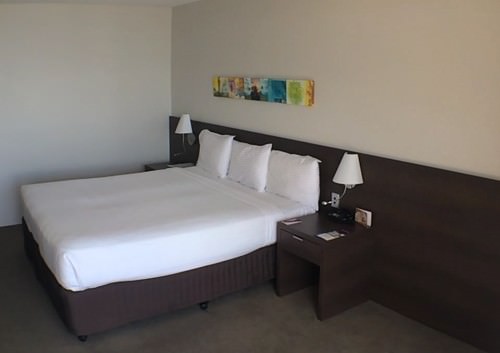 We are staying in a Superior Ocean View King Room. The room has the most expansive views over Trinity Bay.
I'm sure you can tell by the crisp white linen that I was in "bed heaven." Is it strange that a comfy bed, puffy pillows and white linen can have me in raptures? "I never want to leave," I tell hubby solemnly. He knows I mean it, but he also knows I am easily bribed with food.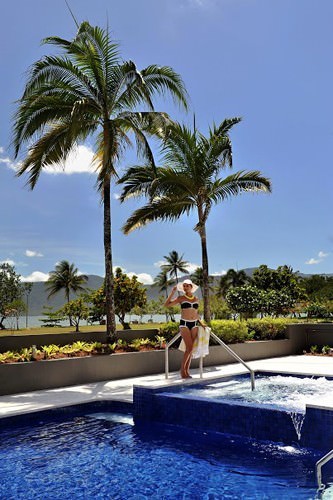 The pool area is a focal point for the bar and restaurant and is located on the Harbourside of the hotel.
The hotel has been designed with plenty of full-length windows which make the most of the beautiful views.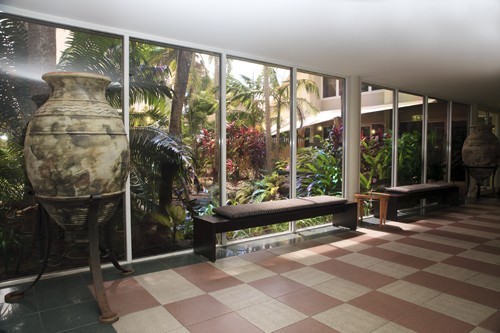 We have a busy day planned with Executive Chef Markus Strieby. Markus with be taking us on a tour of Rusty's Markets.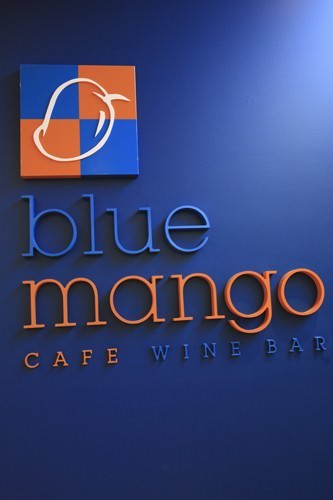 First things first, there is time to enjoy a buffet breakfast downstairs.
After my Paleo experience, I loaded up on a healthy tropical fruit platter and added a collection of seeds and nuts and coconut.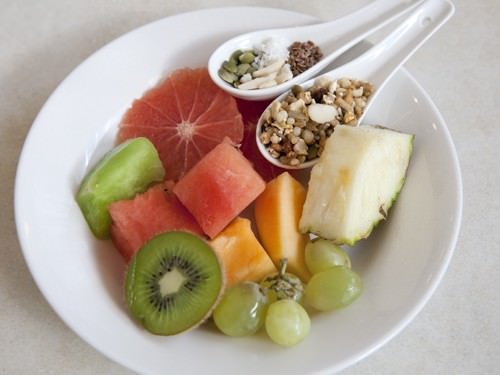 I have been absolutely loving the sweet tropical Queensland fruits and the variety on the buffet was fantastic.
Also on the buffet was a sign advising guests that there were gluten free cereals, bread and organic spreads available.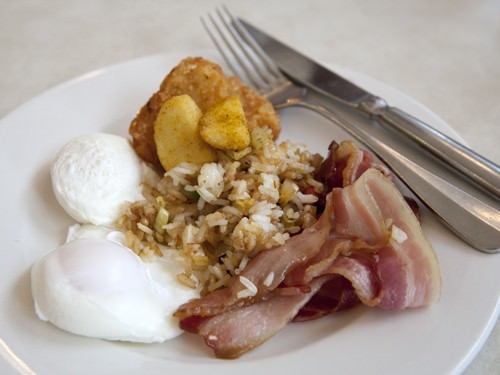 Mr GG loves a good buffet breakfast and there were loads of items on the menu that he couldn't wait to pile onto a plate.
The eggs were perfectly poached and he enjoyed the gooey yolk with crispy hash browns, roasted spiced potato, fried rice and lashings of bacon.
Each time I partake in a buffet breakfast with my husband I regret the lack of breakfast space my stomach affords, compared with his.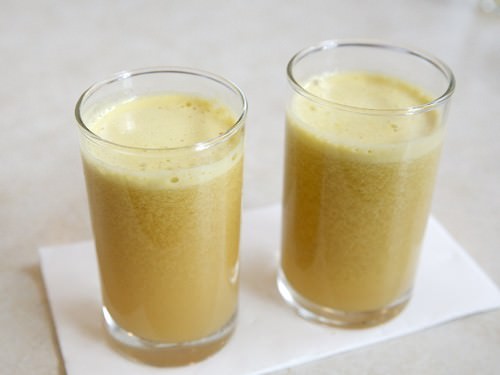 I noticed hubby struggling to juice an orange at the juicing station and offered a hand. He had been attempting to remove the peel by first quartering the orange.
I took over the juicing duties and asked for his fruit selection. In the mix, we had oranges, pineapple, apple, celery and a decent amount of chilli and fresh ginger. It was going to be hot, but it looked like a great vitamin hit.


Hubby downed his juice and announced. "I am going to be so healthy after this!"
I just looked at him confused.
"What do you mean?" I asked. "Do you mean, you feel we should try to be more healthy when we get home?"
"No!" he answered.  "This juice is so healthy, I'm going to be so healthy when I finish the glass."
"Really!" I said. "Have you forgotten about the plate loads of bacon and eggs, hash browns, rice and potatoes you just consumed?"
He looked at me and said, "I think you underestimate the power of the juice." as he calmly smothered the second croissant in butter.
Holiday Inn Cairns Harbourside
209 – 217 The Esplanade (entry via Lake street)
Cairns, Queensland 4870
Bookings
  We look forward to at some stage revisiting and reviewing
the Holiday Inn Cairns
.