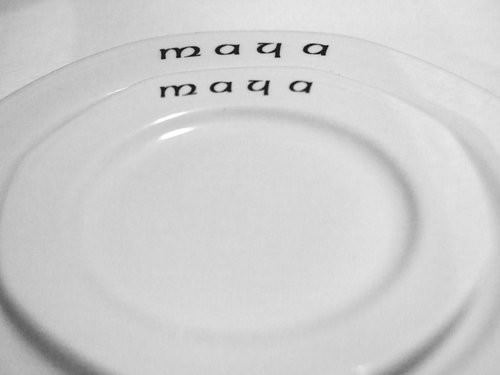 431 Cleveland Street
Surry Hills
How much food do two hungry girls really consume when they go out to dinner?
This may seem like a strange question but I have been pondering it since I had a delicious dinner with my SIL whilst in Sydney recently.
You see I usually eat out with Mr GG who has rather a good appetite.  When he isn't available it has usually been a stand in male who sits opposite me at dinner.  On this particular night SIL and I were out on our own. We were having trouble deciding on which dishes to order so we took the waiters recommendation and went with the "Maharaja Banquet" which he promised would take us on a "food journey!"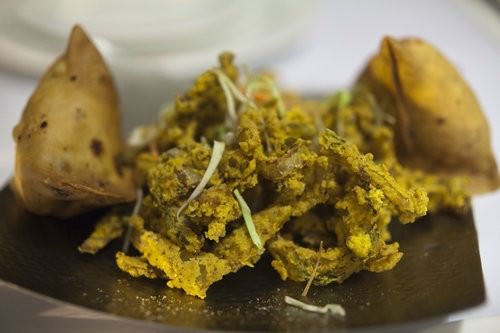 The Maharaja's banquet includes two entree's each which are served with accompaniments such as Raita, mango chutney and pappadams.  We chose the Onion Bahji, Vegetable Samosa, Chicken Tikka and Seekh Kebab for our entrees.
Perhaps we were being a little optimistic, but we were only expecting a small serve of each item.
First out were the Vegetable Samosa, a spicy potato and pea mixture wrapped in a crispy pastry and deep fried to a golden deliciousness. SIL and I had no trouble at all demolishing a samosa each, and dipped and then double dipped in large amounts of tasty raita. The Onion Bahji was a bit of a different story. Instead of a few entree pieces we were served almost a whole plate of these tasty morsels. Onion Bahji is one of my favourite entrees and this one was no exception. Usually I feel I never get quite enough on the plate, but after munching for a while I started to have concerns about just how much food SIL and I would be able to put away without the "menfolk".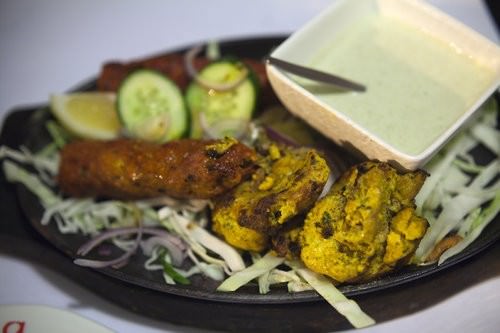 While I was contemplating this dilemma the next two entrees arrived. We turned our attention to the Seekh Kebab, a minced lamb dish with chopped chillies, ginger, garlic coriander, skewered and cooked in the tandoori oven. The dish was moist and delicious, full of gorgeous fragrant Indian spices
The chicken tikka was equally flavoursome and moist. We consumed our portions and turned our attention back to the still rather large serve of Onion Bhaji. I think we both knew we were nearly beaten and we didn't even consider recommencing on the dish.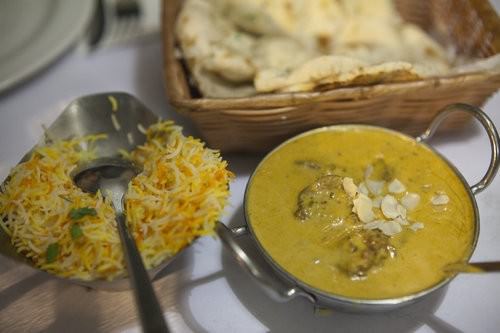 As part of the Maharaja Banquet we had each selected a curry. I couldn't go past the Zaafrani Lamb Korma, a creamy silky cashew nut curry with only a little warmth. SIL chose the Murgh Makhani or Butter Chicken which is made with chicken tikka and cooked in a creamy tomato based sauce.
We had also ordered a cheese naan and a garlic naan and the dishes were served with a saffron basmati rice.
The aroma from the two curry dishes was absolutely gorgeous. We each put a tablespoon of rice on our plate, and a tablespoon of curry on the rice.  We savoured the deliciousness of the dish… and looked longingly at the abundant food laid out before us. We each sadly declared that we would not be able to manage another bite.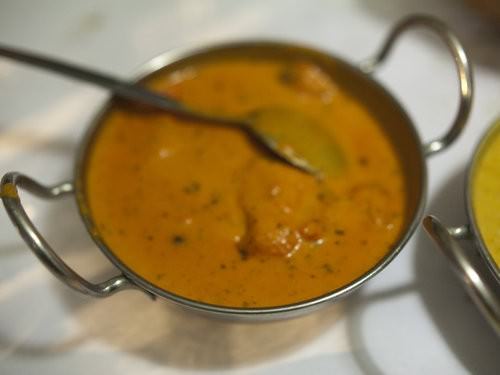 The staff had been very friendly and attentive.  Our meal remained on the table uneaten and after a while of our waiter approach us to confirm that everything was satisfactorily. Embarrassed we confessed that we usually eat out with our respective partners and we had ordered way too much food!
The dishes did not appear to have been touched be we had put in a mighty effort. The waiter offered to pack them up in takeaway containers for us. Although I was feeling a little sheepish it seemed a shame to waste two whole meals, rice and naans!
Whilst the waiter looked after our dishes the platter of desserts arrived. Oh dear! Why did we ever think we could manage a banquet?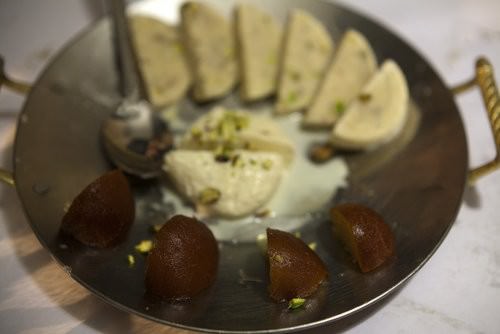 We were presented with a gorgeous and large platter containing three desserts. SIL and I decided that we were enjoying the night so we would stay and have a glass of wine and let our meal settle. That way we could at least sample the desserts. I think it was a great decision as they were so delicious, and I have never made it to dessert at an Indian Restaurant before.
The first dessert I tried was the Gulab Jamun , deep fried dumplings which are then soaked in a sweet rose syrup, I was pleased I had made the space as they were truly delicious. I managed a piece of the Ras Malai, which are slices of Indian cheese simmered in creamy sauce with pistachios & almonds. I also really enjoyed the homemade ice-cream with pistachio and almond.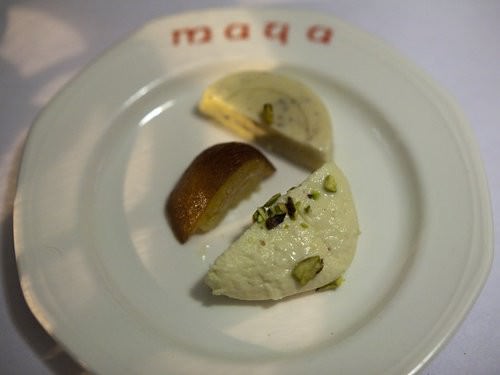 It had been a very indulgent meal and we had defiantly been taken on a delicious "food journey" as the waiter had promised. But the evening did make me wonder, how much of "my" serves has hubby has been consuming!
For a reservation at Maya da Dhaba call 8399 3785 and if you are intending on ordering a banquet bring a male friend or a huge appetite.