Today, I want to take you to a simple but magical indulgence I had at Magnum Manila Ice Cream Cafe. About two or three years ago, the Magnum ice cream bar invaded Manila and was an instant success.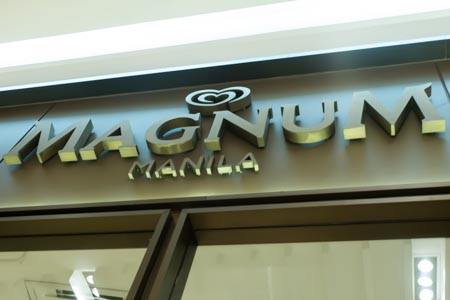 I have to admit I was a sceptic-turned-avid-patron, especially after months of a love affair with the heavenly Almond variant. I could still recall burying my head in supermarket freezers, rummaging through the piles of bars until I found my Almond bar.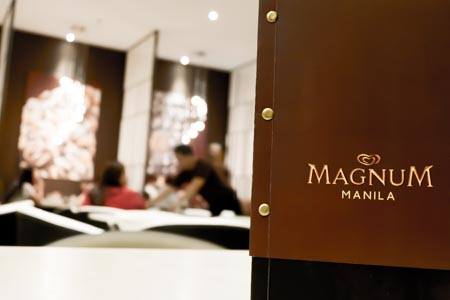 Finally this year, from Paris, Istanbul, Hamburg, Sydney, London, among others, Manila opened their own Magnum Pleasure Store – Magnum Manila. It bears the concept of a do-it-yourself or make-your-own Magnum. It was launch in April, but this was my first time to rekindle my affair with the ice cream bar.  It was now far more upmarket than our previous supermarket rendezvous.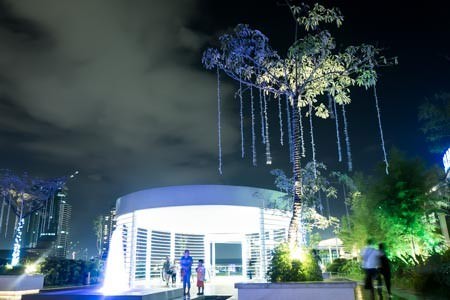 Magnum Manila is situated on Level 5 of SM Aura. Regular readers will remember the Conti's Bakeshop story. These two are located in the same area, just a few walking minutes apart. There is even a nearby park where one could sit for fresh air just outside the cafe.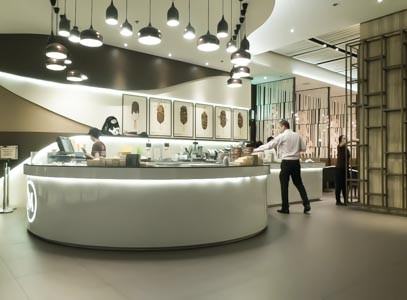 I walked in at about 9:00 PM, two hours before closing. There was a designated area for dessert only. You will only be seated if you are ordering their plated dishes. Fair enough. My eyes lit up with joy as I walked past the dessert bar. "I'll deal with you later!", I muttered with a grin.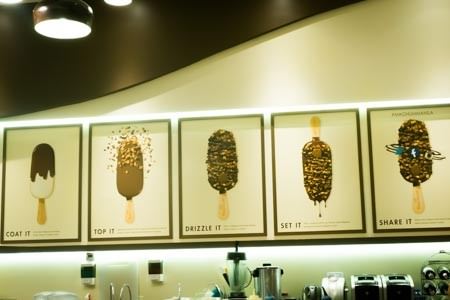 I loved the interior of the cafe – it was so "chocolatey" and "ice creamy" yet smartly sticking to the Magnum colours. I had not had dinner so I flicked through the menu in a breeze.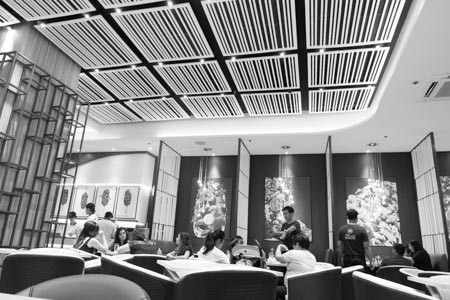 After ordering I had a glimpse of a wall decor that I could not decipher. A close inspection would reveal Magnum sticks stuck on the wall in parallel patterns. How creative!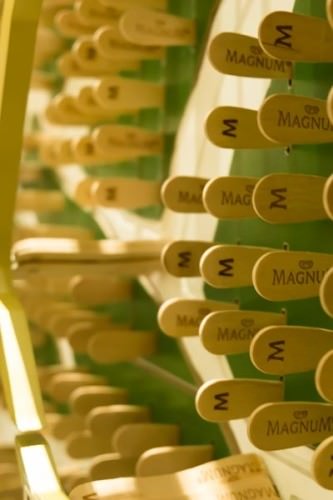 Fifteen minutes later, the Beer Battered Fish and Chips arrived. It came with two dips – tartar sauce and vinegar. Both fish and fries were crisp. They blended pretty well with either dip, at least for me.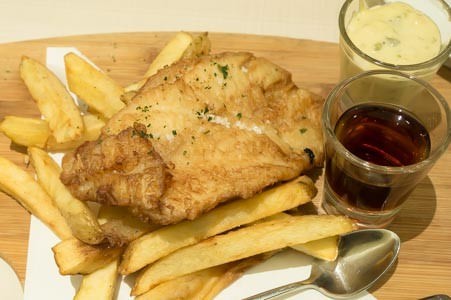 Following immediately was the Bangers Mash which had jalapeño sausage on caramelised onions and mashed potato. This was one of the times I was not particularly craving for sausage but I still finished the whole plate. I owe it to the fresh french beans and creamy melt-in-your-mouth buttered mash.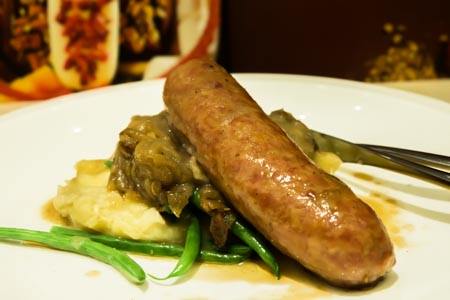 I would have skipped dinner so I could sample more ice cream. But then I thought I must have reasons to keep coming back. And so after a few minutes of tummy rest, I stood up for a tryst with my Magnum.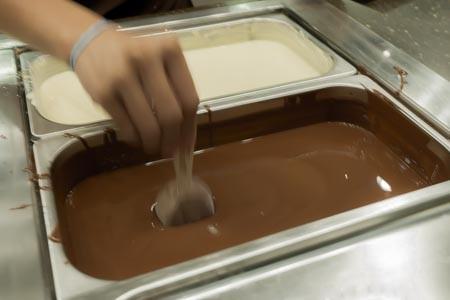 For some reason, I just felt hypnotised when I was in front of the "Pleasure Maker" staff. I felt like a child amazed and amused by the chocolate pool winking at me. And the dozens of toppings all waving and calling my name.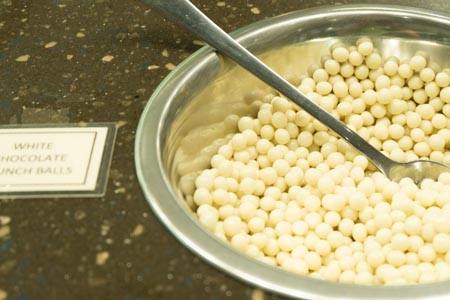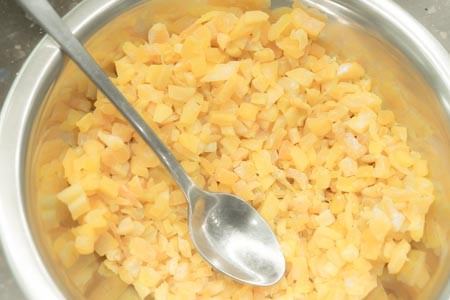 I had to compose myself. The staff acted fast in my every reply to her questions. Boy, she's got fast hands or I was still under the spell. Before I knew it I was already bringing the goodies back to our seat.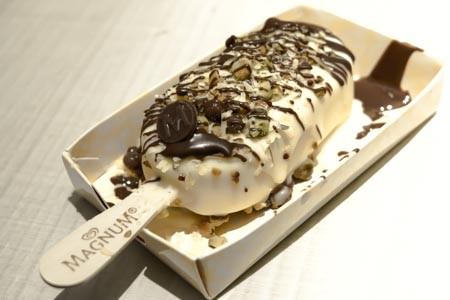 The bars in supermarkets are sold at PhP 55 or AU$1.40 as of this writing. The DIY bar in this cafe almost doubles at AU$2.55. There were also pre-defined flavours on the menu, such as the Rainbow Dream. But for this visit, I just wanted to be in control.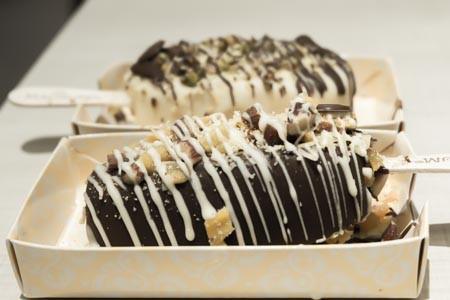 My pleasure was chocolate hypnosis with the crunch of an assortment of nuts. Add some cheesy element for smoothness. The kick of chilli. The natural sweetness of chewy dried mangoes. Mmmm…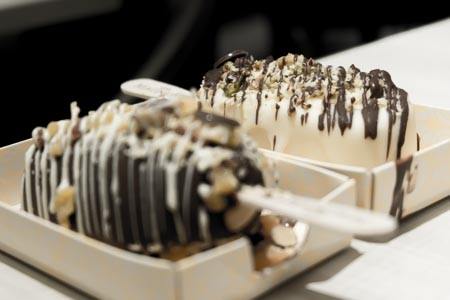 It was a fierce battle of dark versus white. The white was sprinkled with chopped pistachios, dark chocolate ball crunch, shaved quezo de bola. Quezo de bola is a Filipino Christmas ball of cheese as influenced by the Spanish.
Your 100 pesos gives you a bar and dip of your choice plus three toppings of your liking.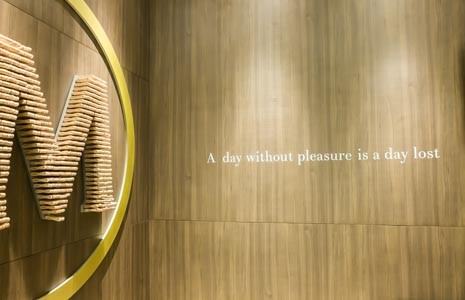 So whenever you are in the country drop by at BGC (Bonifacio Global City) where SM Aura is. Magnum Manila is set to run for 500 days only from April 2014.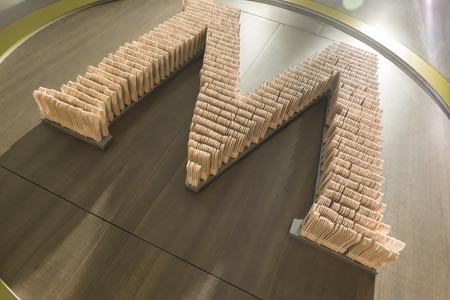 Like I did, submit yourself to the simple indulgence. I call it "MmMm…" My magical Magnum moment.