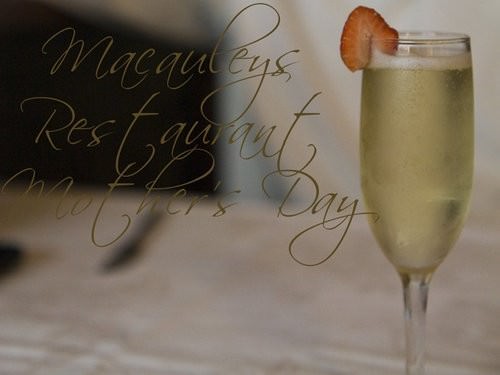 Nothing says Happy Mother's Day quite like hot chocolate pudding and a glass or two of bubbly WITHOUT THE KIDDIES!
I hope you don't think I am a terrible mum, I adore my little lovelies, but after 20 years of daily motherhood, the nicest gift my husband can give me is some time alone with him.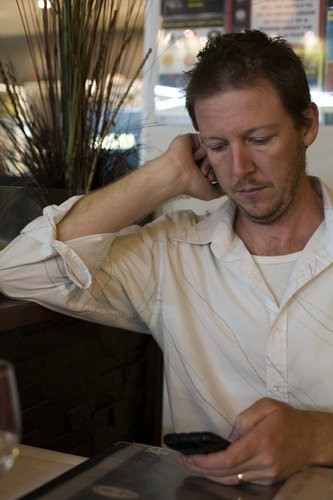 … and that is exactly what Mr GG organized. His Mother's Day surprise to me was children fed and in bed, a sitter on the lounge, and us out the door for some relaxing "alone time" in one of my favourite local restaurant.
We are dining at Macauleys Restaurant and are welcomed by the owner Renee with a glass of Yellowglen Sparkling Chardonnay.
Now I have a confession to make, Renee is a friend of mine, and I absolutely love her restaurant, so in the interests of full disclosure I thought I should mention this little fact. I have dined at Macauleys so many times and I have always thoroughly enjoyed the food, wine and ambiance, so this time I wanted to share the experience with readers.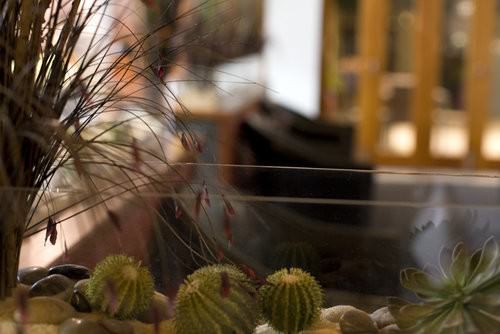 I have never written a review on Macauleys as I haven't quite known how to go about writing it without seeming biased. The simple fact is I am biased, and for a good reason, Macualeys Restaurant is one of the nicest Restaurants in Coffs Harbour.  It is perfect for a romantic meal for two or a larger get together of friends. The service is attentive and fine dining standard, the menu changes seasonal and is always fresh, modern and delicious. The prices are really reasonable and the wine list is extensive, what more could you ask for.
Tonight we are being treated to a Mothers Day set menu for $50 per person.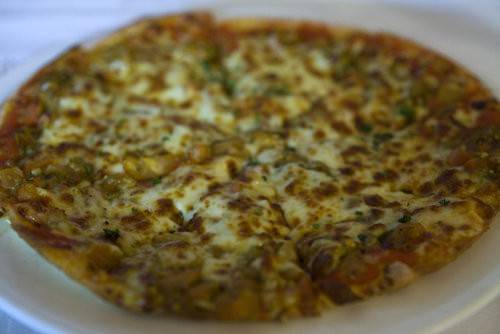 There is a choice of two starters, the first is an entree Pizza reminiscent of the classic Tomato Onion and Basil Bruschetta and the second a Garlic and Parmesan Foccacia. Naturally we choose one of each option.
When the starters arrived I had to admit I liked the pizza styled entrée far better than the traditional Bruschetta. It was gorgeously cheesey with enough basil to really flavour the tomato beautifully. It was completely lush, and reminded me of the scene in "Eat, Pray Love" where Julie Roberts is falling in love with her Margherita Pizza in Italy. I've never quite understood how delicious a tomato, cheese and basil pizza could be until this one was put in front of me.
I may have mentioned before that I have a dining rule which is "never sample the bread."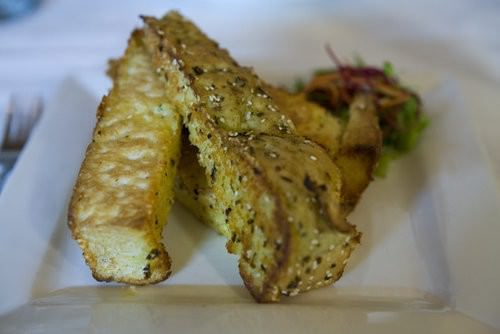 I simply do not have room for three courses and bread is usually out for that reason. Tonight I broke my own rule. The garlic and Parmesan Foccacia was looking so scrumptious I had to try it. I had intended to just take a bite but before I knew it I had wolfed down the whole piece and was eyeing off a second.
The foccacia itself was so light and fluffy and had been fried in garlic butter and parmesan cheese, it was a divine mix of buttery, cheesey salty heaven.
The three choices for mains were Rack of Lamb, Fillet of Salmon or Chicken Wrapped in Proscuitto. I can never go past Salmon so Mr GG took the Rack of Lamb which would have been my second choice.  This is a definite win for me as I get to sample both dishes.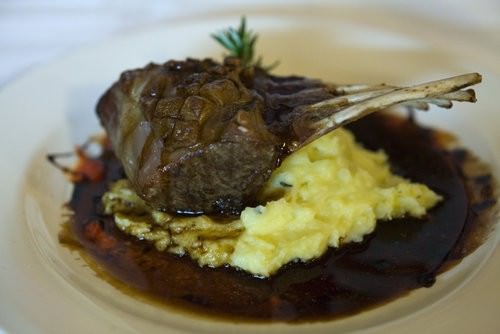 The rack of lamb is served on a creamy rosemary and garlic mash with a red wine and brandy reduction. The four cutlets are deliciously moist and tender, I would have been very happy to have chosen this dish but Mr GG was quick to slide it over to his side of the table.
My Fillet of Salmon was served topped with four garlic prawns, and sitting on some roasted new potatoes in a creamy chardonnay and dill sauce.  I absolutely love the crispy skin on Salmon and this was cooked to perfection. Gorgeous crispy skin on the outside and melt in the mouth succulent salmon flesh.  Salmon is a guilty pleasure of mine, I love it pan fried and rationalize that the lovely fats are all wonderful Omega 3 oil and naturally very good for me. From the first bite of the crispy skinned salmon I was totally taken with my dish.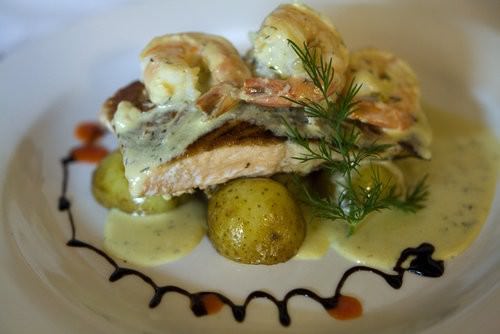 We were also bought a serving of crispy greens in hollandaise sauce but my eyes barely strayed from the Salmon. I was already running short on tummy space and still had the best course yet to come.
Alas I didn't make it through my dish as my tummy was truly groaning. I knew I shouldn't have been tempted by the bread but it was irresistible.  Mr GG was very pleased to finish my dish, he also put a good effort in on the greens dish.  I decided I would need a champagne break before I attempted dessert.
It seems there really is a "dessert space." My children always try to convince me that even though they couldn't finish their dinner there is a dessert space left. I found my dessert space!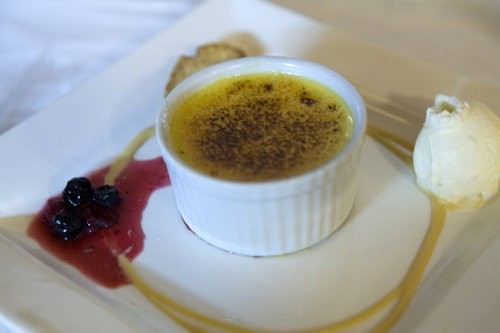 Mr GG made the mistake of leaving the table briefly as the desserts arrived. Naturally I photographed both dishes and began to sample the White Chocolate Brulee.  Oh my God, it was sublime! A lovely, cool creamy white chocolate custard with crispy sweet macadamia biscotti. Before I knew it I had already finished my half of the brulee and hubby was no where to be seen. I scraped a little more out on the dish, it would be so easy to polish off the whole dessert without leaving so much as a smear for him, oh the dilemma!
I started making eyes at Mr GG's warm Chocolate Cherry Pudding served with a rich Chocolate Ganache sauce. Hubby made it back to the table just in time to claim his portion of the Brulee and witness me making a serious dent in the pudding. There was a little complaining by the boy that I had gone a bit beyond my half of the brulee, to which I informed him that "you snooze you lose."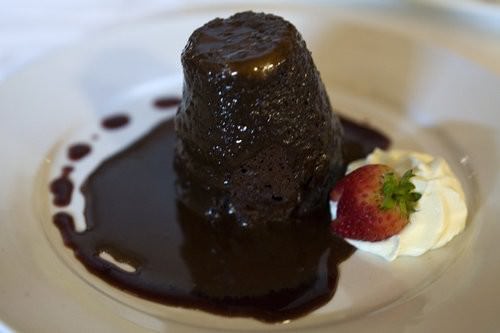 The Cherry Chocolate pudding was equally as good.  We have been experiencing the beginnings of winter here and a rich moist chocolate pudding was the perfect way to end the meal. It reminded me that we are in "pudding season." The desserts were both magic and I vowed to hubby to try and make a few new puddings this year.
After not being able to quite get through my main I consumed more than my fair share of dessert.  I share a secret confession with Mr GG, "I always think I am a savoury person, (because I don't often get tempted by dessert) but when there is a good dessert on offer, it desserts all the way for me"
So dear readers, is it sweet or savoury for you? Do desserts make you weak at the knees or is it a delicious savoury that tickles you fancy? Also share with me your favourite restaurant dish at the moment.