"Bonjour, mes amis
Aujourd'hui, je vais avoir un dessert pour le petit-déjeuner!"
My rough translation from high school French to English.
"Good Morning my friends,
Today we are having dessert for breakfast"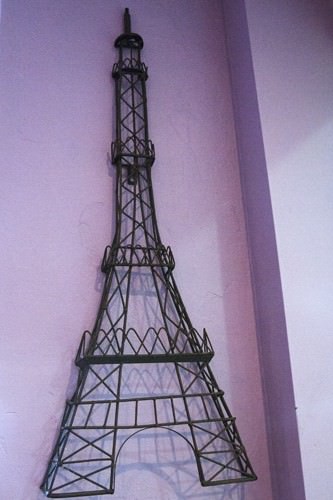 No I'm not in Paris, although that is a WISH!! We are visiting the French Macaron Cafe in Cairns. This is the reason I needed to introduce the story in French, I'm adding atmosphere!
I'm not a big breakfast eater normally. On most days I am content for just a good coffee.
Yesterday we treated our bodies to a caveman breakfast at the Paleo Cafe. Today it's time to rebel! I'm having caffeine and sugar in the form of French Macarons for petit-dejeuner.
Today we are visiting the French patisserie which is next door to the Paleo Cafe on Grafton Street in Cairns. I kind of feel a little like I should "slink" inside before the healthy crowd next door has a chance to see what a traitor I am.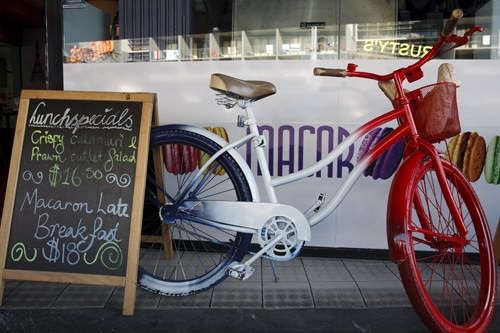 Yesterday I noticed this sign out the front of the Macaron Cafe stating they offered a macaron breakfast. It's safe to say you don't have to invite me twice! Coffee and macarons for breaky, I say "hell yeah".
Even as I was tucking into the health giving, nutrient rich breakfast yesterday, I was telling Mr GG we would be getting our sugar fix tomorrow.
The atmosphere in the cafe is very pretty, very purple and very French. There are pictures of french icons and the owners and staff speak French behind the counter. I wish Anais was with us, she would be in love with this place.
I just wanted macarons and coffee, so placed my order at the counter whilst hubby looked over the items in the display.
There were so many different types of macrons in every colour of the rainbow. I chose my flavours very carefully.
The skinny cappuccino arrived in a mug that stated, "Coffee is my life!" Obviously they know me well already.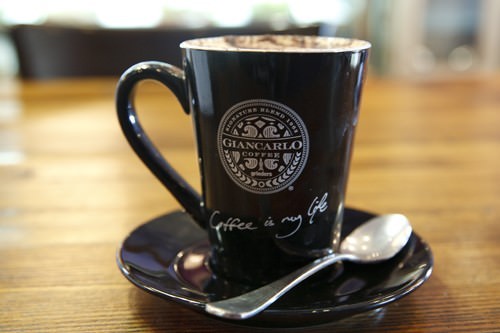 It was a great coffee, but with the Paleo Cafe next door I couldn't help compare it to yesterdays "Bulletproof Coffee." The bulletproof still remains the best coffee EVER.
Moving onto my macarons I started with the very decadent Peanut Butter Macaron, it was awesome! Just like peanut butter with a super crunchy, salty shell and a sweet liquid nutty centre. YUM!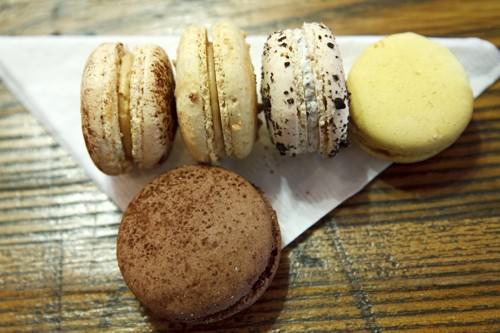 The lemon macaron was sticky and sweet like a lemon curd tart, it was softer and denser than the crisp peanut macaron. It's so hard to go past a good lemon macaron.
Next up was the Nutella Macaron, this was so good! So nutty and chocolatey with a soft chewy centre and crisp shell.
The speckled cookies and cream macaron had a deliciously strong vanilla cream centre and crisp sweet macaron shell.
My favourite was the salted caramel macaron, the delicious chewy centre tasted like  jersey caramel style and the outside was a light crisp shell with a salty finish.
I was very pleased with my selection. Even though Mr GG told me macarons are too sweet for breakfast he managed to eat half of each one.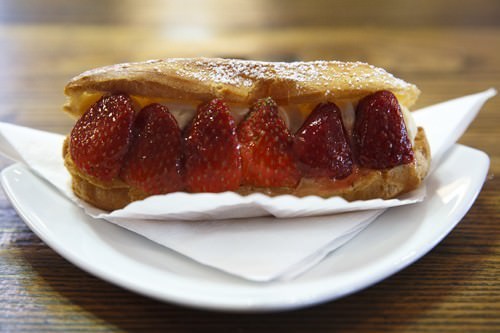 Even though there were plenty of savoury items on the menu hubby had chosen to start his decadent french breakfast with a strawberry eclair. The light delicate choux pastry was stuffed with a fluffy chantilly cream and dotted with sugar glazed strawberries to finish. It was delicious!
A breakfast of French pastries would not be authentic without a chocolate croissant. Although hubby tells me all the time he doesn't like sweets he chose this pastry without any prompting from me. Two creamy chocolate tunnels were wrapped in crispy pastry and brushed with a sweet glaze. The croissant may have spent a moment or two longer in the oven, but it was still a flaky chocolates indulgence.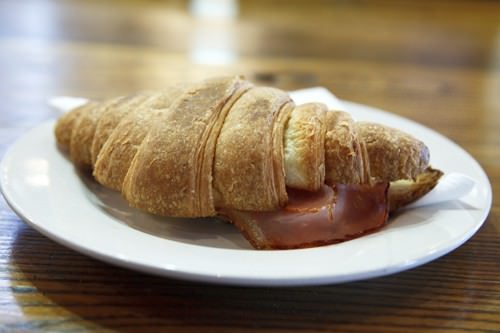 The Ham & Cheese croissant is always one of Mr GG's favourite standby items. This one had beautifully soft cheese stuffed with smoky ham in a crisp croissant.
Once again it has been shown that my husbands ability to consume pastries should never be underestimated.
All hyped up on sugar, we would ready to start the day!
Macaron Cafe
19/62 Grafton St, Queensland 4870
Phone:(07) 4028 3414