Choosing accommodation when your traveling can be hit and miss. It's difficult to know exactly what you will find when you arrive until you're there. On our last trip to India we decided to take a leap of faith and spend two days living with an Indian family in a Jaipur homestay.
I have to admit, I was nervous about this part of our Indian adventure. We really had no idea what to expect. We had been in India for five days already and I wasn't sure if I had made the correct accommodation choice for the family.
As our driver weaved his way through the tiny Jaipur laneways I started to doubt my good sense even more. I even asked my husband if I should check the accommodation before we got the kids out of the car!
I needn't have worried at all. We arrived at a typical concrete family home and were greeted by young children playing out the front. There was a gorgeous large golden retriever puppy that was ready to jump all over the kids, and we felt instantly relaxed.
We were welcomed inside and even Lachlan was impressed. He said "Mum, this is beautiful!"
I had found and booked our accommodation through a website which specialises in homestay. On this site I was able to choose a destination and then read through a description of all the available properties in the area. Once I narrowed down my selection I went back to my favourites and read the reviews from past guests.
I chose to communicate with Kalpana (the host mother) about our travel plans. The description of their family lifestyle seemed quite similar to our own. Kalpana said she enjoys cooking… and we all know how much I enjoy eating… and cooking. She is also a yoga instructor with a small daily class, I too am a yoga teacher. I felt that choosing a host that shares a love of food and upholds yoga practice and principals we mean we'd be entering a warm and friendly household.
My assumptions were completely correct. Kalpana's warmth and kindness was immediately obvious. Unfortunately I  arrived into the home with a dose of Delhi Belly.  I was please to enjoy a cup of masala chia. The tea went a little way to settle my stomach and it made me feel very much at home.
Once we were settled I took the opportunity to rest in my room while the children played. The kids had a separate room with a television but happily they chose to play in the street with the local kids.  All Lachlan needs is a ball and one child and a game of cricket will ensue. It was Aussie's V's India for the next two days! When they weren't playing with other kids Locky & Anais were playing with Zara the oversized puppy dog.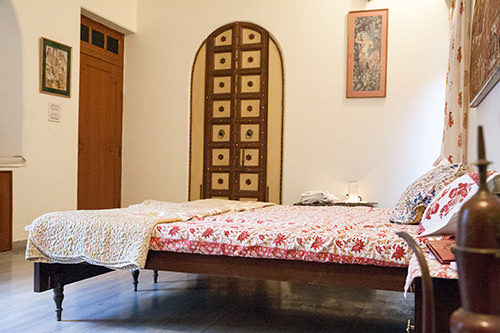 Even Kalpana said, "Children need a house." I couldn't agree more! At the homestay our family had the opportunity to stretch out a little and get out from under each others feet. On the first night Kalpana encouraged us to take dinner with the family. Unfortunately I was unable to eat but hubby and the kids thoroughly enjoyed the meal she and the cook prepared for us.
Kalpana was very sympathetic to my queasiness and prepared an Ayurveda tea to settle my stomach. The tea consisted of a cooking herb and black salt with warm water. I felt better from the first sip. I had been feeling really weak.
Kalpana sat and talked with us throughout the meal. It was fabulous to have another mother reminding my children to eat when I was feeling unwell. Despite the fact the kids were tired they actually ate really well. Meet our host mother, and take a look at the live video I added to FB while the family was eating.
In the morning I was feeling much better so we all sat down for breakfast. At our previous hotel we had been enjoying a flattened rice breakfast dish.  Kalpana also served this meal for breakfast, so I was very quick to ask the name of the dish and question her about the ingredients. The dish we were all enjoying is called Poha.
Kalpana explained that Poha is made from flattened rice.  This dish was the ultimate tasty comfort food for my belly. Happily, it wasn't at all spicy but it still tasted amazing. Even Lachlan said to me, "Mum, I didn't think I liked Indian food but this is good." Having said that, I had to force him to take the first bite! After tasting the dish he sheepishly asked for seconds.
The rooms were modest but lovely, it was the food and the hospitality that was exceptional.  Staying in five star resorts mean you know exactly what you're getting. It will be a sterilised view of a country through a chain hotel. By taking a leap of faith and living with an Indian family for two days in a Jaipur homestay, we got so much more. We were able to get a glimpse into everyday life in India. We all took turns in asking questions about the country, local area and culture. The family enjoy delicious, healthy, authentic home cooked meals. Most importantly the kids got a chance to have fun with other children.
I would thoroughly recommend trying this style of travel when the opportunity arises. I have to admit, I love my creature comforts, and I like to be confident with my accommodation choices, however, I feel by exploring all the options we've had a well rounded travel experience.
Our trip to India included the following forms of accommodation;
Independent Delhi Hotel "The Park"
Jaipur Homestay
5 Star Hotel – The Raddison Blu – Agra
In my opinion the inclusion of all these accommodation options gave us an authentic feel of India, and the best possible holiday experience.
If you want to read more about India take a look at this Walking Food Tour of Delhi.