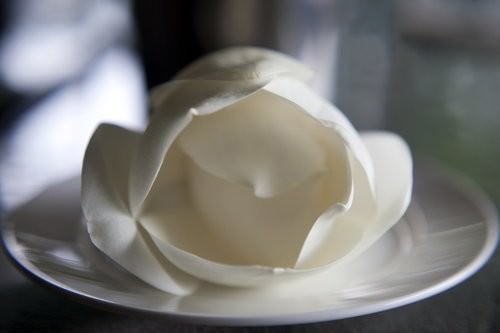 Restaurant and Vineyard Cellar Door
Innes Lake Vineyards
Port Macquarie
One of the most common questions I am asked as a food and travel writer is "Don't you run out of things to write about?" My answer is a most emphatic "NO!" It is quite the opposite, I am fortunate to have so many great food, wine and travel experiences that I struggle at times to get the stories written, and photo's uploaded onto my site. I also must admit that on some rare occasions I have completely overlooked sharing a beautiful day with my readers because I have been overwhelmed by a subsequent story.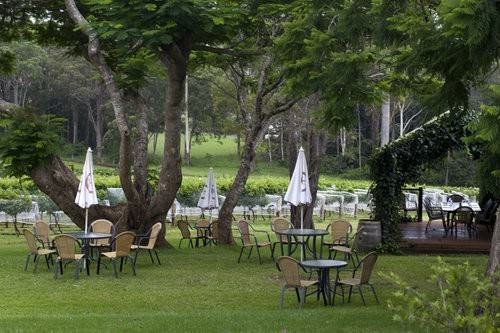 My extended lunch at "Little Fish Café" was one of these beautiful days which until now had remained unshared.  I initially met the owner of Little Fish at the "6 Degrees of Degustation Dinner" during Port Macquarie's "Tastings of the Hasting festival 2010". Gino and his wife Maria were such a lot of fun and by the end of the evening had extended an invitation for us to sample some of the restaurants delicious food the next time we were in Port Macquarie.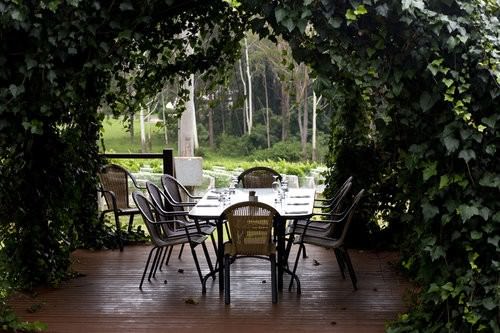 A few months later fellow food enthusiast Cate, from "Cate Can Cook" were arranging a get together. It was the Christmas school holidays and with the December festivities out of the way we had arranged to meet for a weekend in Port Macquarie.  We were booked in to "Cooking With Company" for a Tapas class, and we would be meeting for a meal at "Little Fish Café".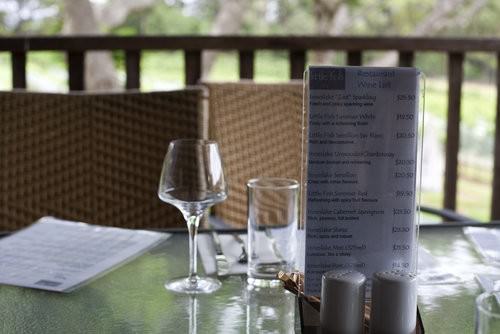 I decided that "Little Fish Café" with its gorgeous tables on the grass, vine cover gazebo and large open spaces of rolling hills would be the perfect location for our lunch. Between Cate and I we had six children to accommodate! The only way the adults would be able to have a lovely leisurely lunch is if the children had room to run around.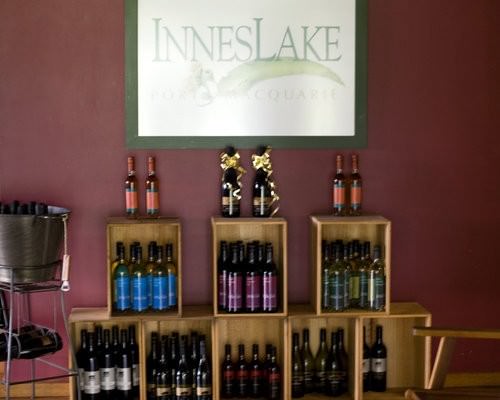 Mr GG and I arrived twenty minutes early as I wanted to sample the Lake Innes Wines. We had tried the Cabernet Sauvignon at the Degustation dinner. I had thoroughly enjoyed the wine that evening and I was looking forward to sampling some more of the Lake Innes range. After the tasting I had come to the conclusion that all of the wine was to my palate.  This may sounds strange but I like many variety of grapes and these were all excellent wines. I had particularly enjoyed the 2007 Shiraz, it had just crept ahead of my previous favourite, the Cabernet Sauvignon.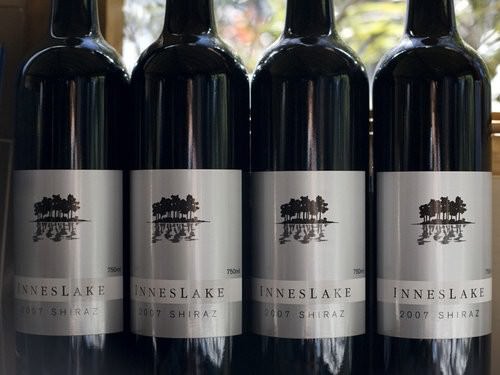 Being that is was a beautiful Summers day, at the end of the sampling I chose a Little Fish Summer White 2009 to accompany our meal.  I then made myself comfortable at our table on the verandah, overlooking the vines.  The children went running through the vineyard and I reflected on what a beautiful relaxing day I was having.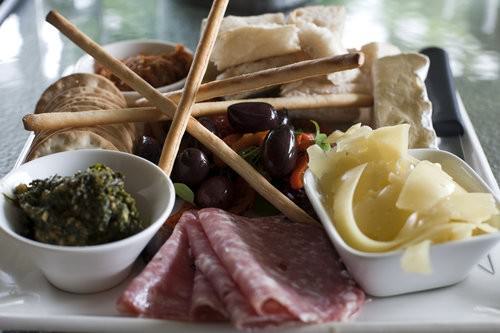 Cate and the family arrived shortly after and we ordered an Antipasto platter while we caught up with each other, and perused the menu in earnest. After all, there is only so much wine a girl should drink prior to lunching.
The platter was incredibly generous, and full of the most delicious produce. We snacked on brie and pecorino cheese with lashings of salami and chorizo, various homemade pesto and tapenades and were given a choice of Turkish bread, crackers or grissini to mop up the remnants.
The children were called briefly to the table to order their dishes and then quickly disappeared again. The order of the day for the little ones was the Whiting fillets with roasted chat potatoes. We did have one child who chose the Nachos, but when they were slow to eat the dish we soon discovered it had a bit of a kick to it. Albeit a delicious kick J Nachos will never go to waste with Mr GG around and he was very happy to polish that dish off also.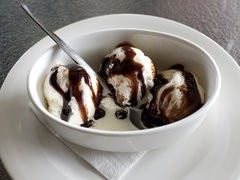 Next up the kiddies were given a bowl of ice-cream each which they naturally ate in total silence. With the children fed and content the adult meals arrived.
I had difficulty choosing a meal as there were so many tempting options on the menu. The waitress gave us the special of the day which only made our choice more difficult.
I finally decided on the twice cooked local organic duck with crispy skin and topped with a syrupy cherry sauce. It was served with roasted sweet potato and a fresh summer salad which included radish.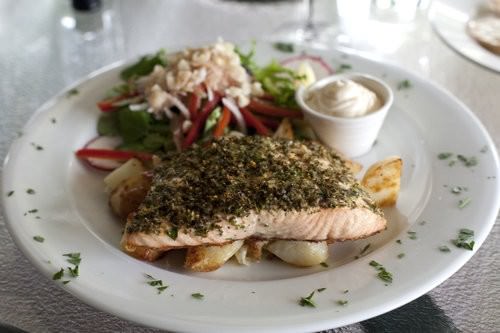 The fish of the day was a gorgeous piece of Tasmanian Salmon, it was crusted in crushed macadamia and herbs and served with lemon parsley butter and a beautiful spicy Diakon salad. Mr GG had ordered this dish so I was able to sample the crisp delicious skin of the salmon and the soft moist flesh.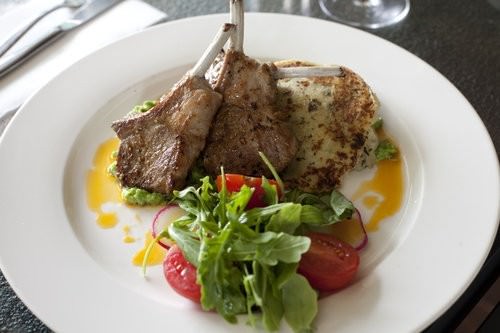 The Mr CCC had ordered the Cumin Spiced Lamb Cutlet on crushed avocado. On the side was a crispy garlic potato cake which I noticed was very quick to disappear. I had intend to try a mouthful but missed my opportunity.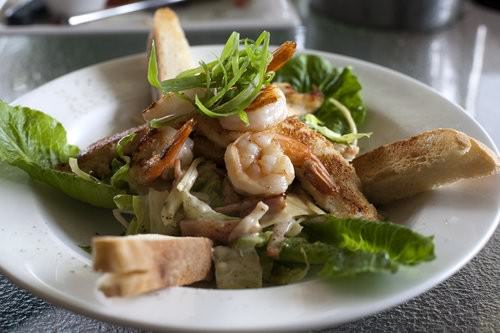 The lovely Cate decided on a dish intriguing titled Roman and Atlantis Caesar Salad.
It was a Caesar salad which included semolina crusted chicken breast and grilled garlic prawns. It was a fabulous dish with all the usual Caesar ingredients such as crisp Cos lettuce and bacon pieces, but also included some local produce in the shaved Hastings Valley pecorino cheese and the chefs own Caesar dressing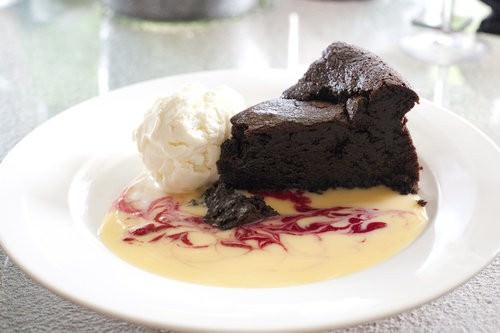 Even though we were all completely full I couldn't resist trying the Warmed Flourless Chocolate Fudge Cake. Really, how could I have resisted, even now it makes me salivate. This was a deliciously chocolatey cake which is light and moist, served with a magic sweet raspberry sauce, crème Anglaise and ice-cream.
This was easily one of the nicest lunches I have experienced. The Little Fish location is so tranquil and the food is divine. Having a vineyard on the doorstep just finishes the experience beautifully.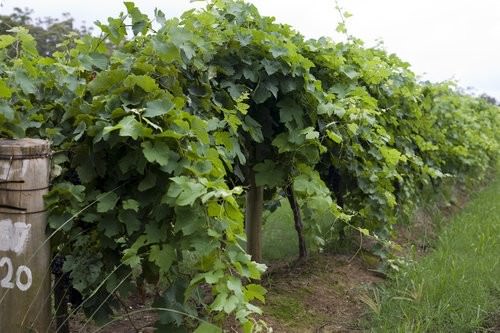 While we were relaxing and looking out over vines the owner Gino suggested Cate and I might like to accompany him on a walk around the vineyard.  Gino explained some of the grape varieties grown on the property and the processes involved in turning the fruit to wine.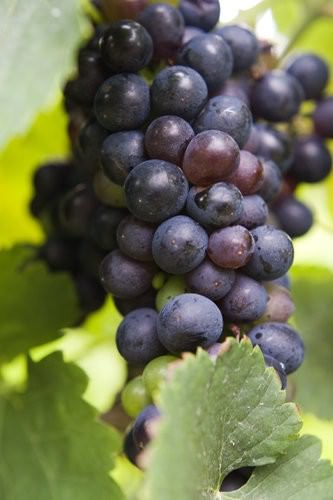 I will definitely look forward to returning to "Little Fish Café" next time I am in Port Macquarie.
For bookings please contact Little Fish Café on (02) 65 811 332
To view the latest menu
Little Fish Café
Restaurant and Vineyard Cellar Door
Innes Lake Vineyards
Port Macquarie