I have always had a "thing" for Mexican food. Whenever I'm in a new area with a restaurant strip, I know I will have to try the local Mexican restaurant. There are always so many crowd favourites on the menu. So when I was in Coffs Harbour to visit Julie, we didn't have to think twice. We booked a Saturday dinner at Lime Mexican Sawtell.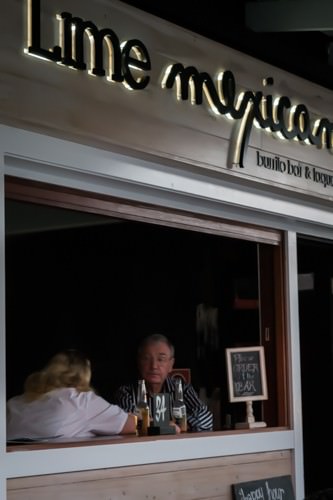 Regular readers would recall that Julie has previously reviewed Lime Mecican Coffs Harbour.  Sawtell is just 10 minutes drive from Coffs Harbour, but due to the popularity of the Coffs restaurant it became necessary for Lime to open an alternative venue for this beach village.
It was easy to spot Lime Mexican as we drove into Sawtell, it was the restaurant with the biggest crowd out the front!   An illuminated sign confirmed we were in the right spot.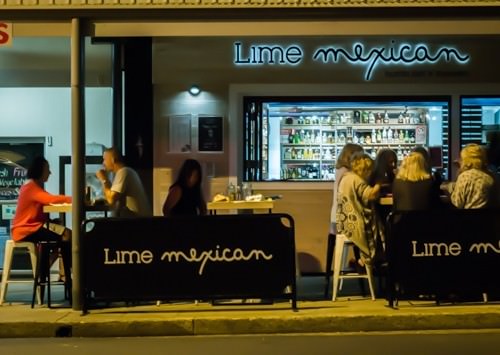 Lime Mexican has a casual, laid-back feel with an upbeat vibe. Music emanated from inside and there were people seated both inside and outside.
Near the bar was a huge pink mural of an Aztec goddess, perhaps a reference to "Day of the Dead" on the wall which gave the space a distinct modern Mexican touch.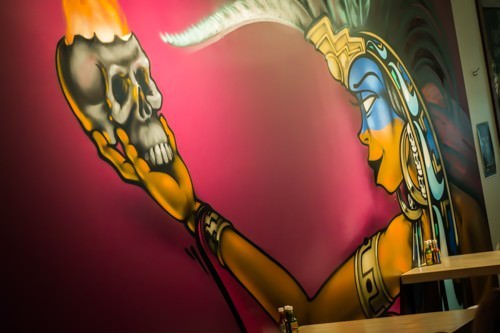 We chose to sit outside but I took the opportunity to have a walk around whilst I gave my order at the bar.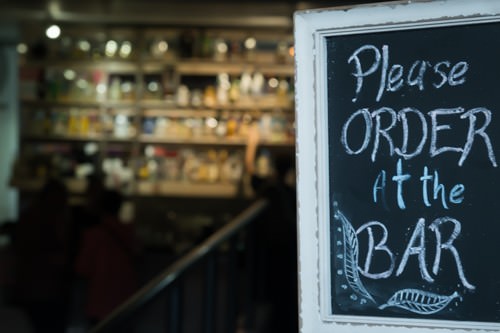 As I ordered even more customers came flocking in. The place was now packed and the bar began to fire!!! Gorgeous looking cocktails were being shaken and stirred, then whisked away to the waiting tables, the atmosphere was vibrant!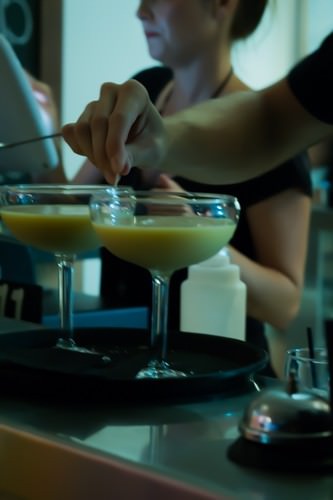 Lovers of Lime Mexican Coffs Harbour will be pleased to know the main menu at Sawtell is similar to the flagship restaurant. I wanted to review some dishes that Julie hadn't already tried so I asked for some guidance from staff.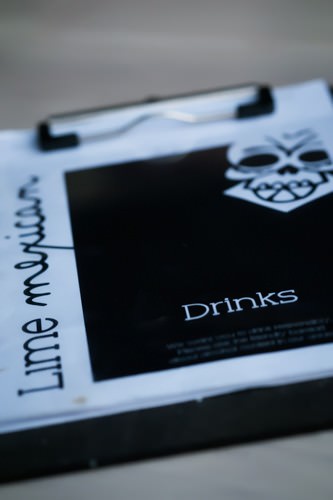 With the staffs help I ordered a steak torta.  The tender rump steak was slid in between two soft home made buns. The steak was juicy and was accompanied by a fresh cabbage salad and smoky chipotle mayonnaise. It was a huge serve, enough to feed our little table of girls!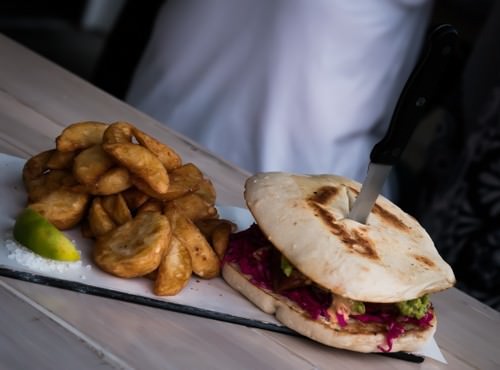 Julie hadn't been able to make it to dinner tonight, but I decided to order the pulled Pork Burrito because I knew she would ask about it.  What arrived at the table was a tightly stuffed burrito full of the most tender, moist pork.  It had sounded tasty and it most certainly was delicious! Also included in the burrito was Mexican rice, beans and the crunchy red cabbage.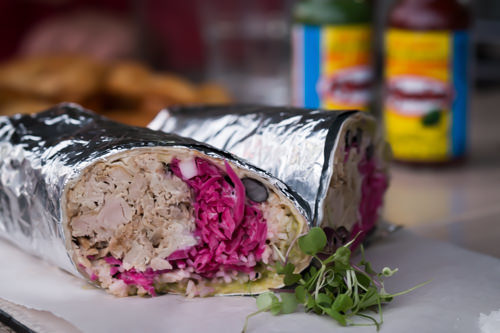 We may have over ordered a little… there were so many delicious items on the menu and we weren't expecting such large serving sizes.  The Chicken Enchiladas had caught my attention and I couldn't go past the description of soft chunks of chicken in a spicy taco sauce with sour cream and melted cheese.  There is nothing better than a warm soft enchilada and melted cheese! Mmm, the two plump tortillas that were placed on our table vanished too quickly! This was one delicious dish! It had just the right amount of heat to spice up the enchilada and was paired with a creamy aioli.  The Chicken Enchilada was a real winner!!!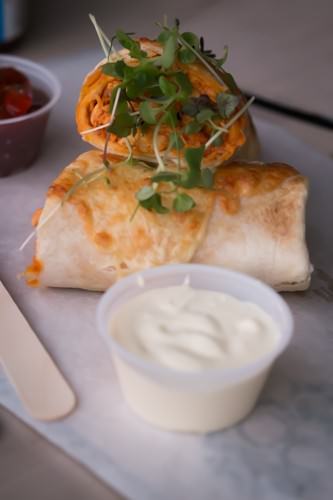 Anais had joined us for dinner so we wanted to treat the sweet girl to a sweet dessert. I knew she would love the Churros but we also wanted to try a cocktail. We decided to order one of the specials.  We had noticed the Peppermint Patty cocktail came with two large churros sticks. It was the perfect choice, a cocktail for Bhing and I, and dessert for the mini food connoisseur.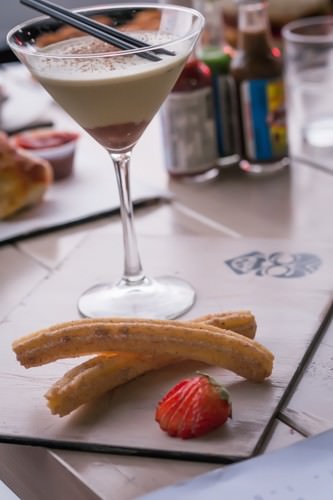 As I took my first sip I mused at how perfectly concocted the cocktail tasted. It had the ideal balance of creme de menthe and chocolate. I will probably describe it as "sweet and creamy, with a kick". If I come here again I would absolutely order it again… and again!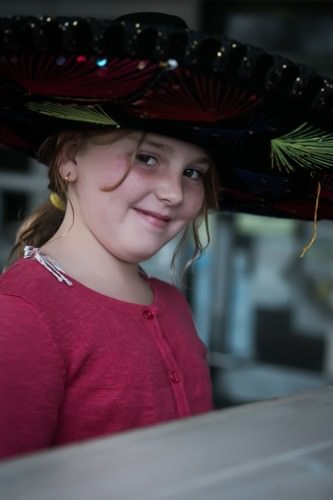 The churros had found a very satisfied customer in Anais. It was light and crisp with a sprinkling of sugary cinnamon. Bhing and I were allowed a nibble each. Then our dear Anais took over as we enviously watched her gleefully munch away. If you are bringing kids to Lime Mexican you have to order the Churros, it will absolutely delight them. Anais gave this Mexican dessert the big thumbs up!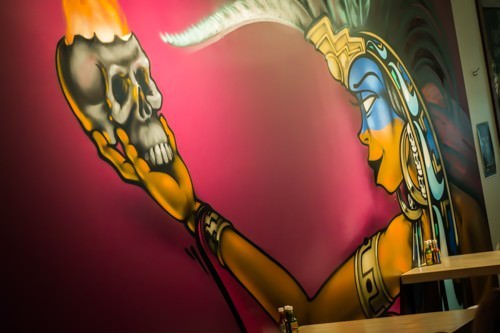 During the meal our waitstaff checked on us regularly and were friendly and helpful. We loved the attentiveness of staff at Lime Mexican. I think it's something that really makes diners feel valued.
If you would like to see what's on the menu today check out the Lime Mexican Sawtell Menu.
Happy hour is at 5 to 6 P.M. daily. Cocktails are at $10 and beers at $5.
Lime Mexican – Sawtell
3/57 First Ave
Sawtell NSW 2452
Ph: 0432 355 473
Gourmet Getaways would like to thank Lime Mexican – Sawtell for the opportunity to experience the restaurant. The opinions contained in this review are written without bias and in accordance with Gourmet Getaways' disclosure policy.