I have a great love of Mexican food.  I adore the Mexican flavours and I could go into raptures over the perfect guacamole or corn tortilla.  Regular readers may even remember my Corn Tortilla recipe.
I tend to take my food cravings quite seriously so we are off to Mexico in a few weeks to allow me to have my fill of authentic taco's and burrito's. In the meantime I thought we should pay another visit to Lime Mexican in Coffs Harbour.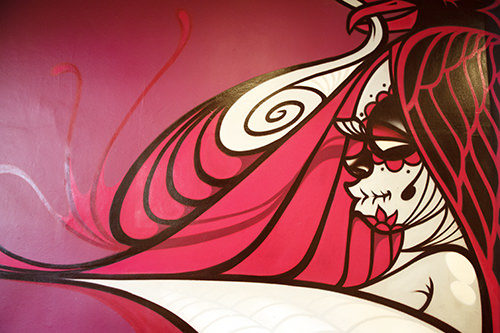 When Lime Mexican first opened in Coffs Harbour it promised to be something a little different.  Mexican, with a modern twist. I was instantly looking forward to sampling the menu. My dining companions for that delicious date were my good friends Danah & Cedar. The couple are from America and have holidayed and lived in Mexico.  I was looking forward to their "foodie reaction" to the restaurant.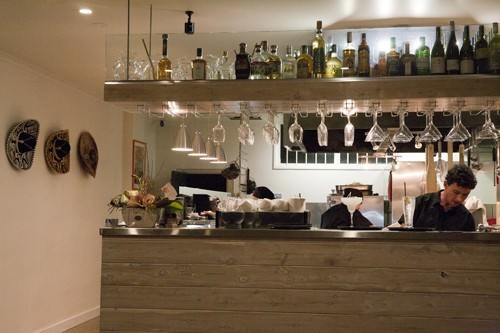 Tonights Mexican meal was just Mr GG and myself. As I haven't yet reviewed Lime Mexican I thought I would share both experiences.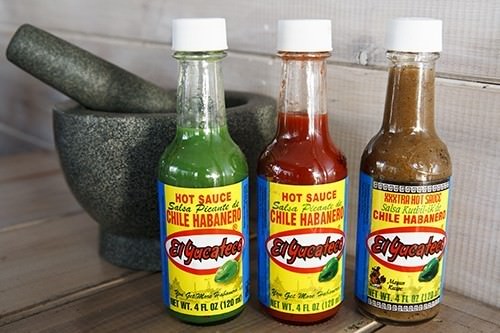 Danah, Cedar and I arrived to a very busy restaurant which was buzzing with activity.  The crowd was young and vibrant. We were seated at a large communal table inside which displayed Mexican Hot Chilli sauces in varying degrees of BURN!  Sombrero's decorated the walls, and were passed around from table to table as diners got into the Mexican spirit.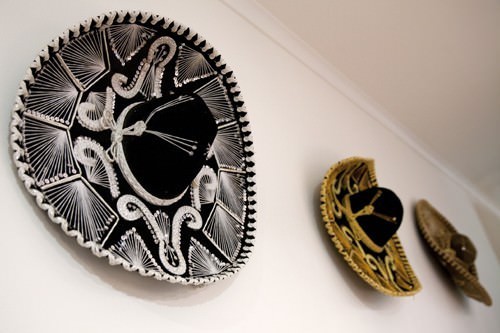 Once our trio was settled it was time to place our drinks order. I took my lead from Danah who decided we should start the evening with a Margarita. Having spent time in Mexico Danah is the Margarita and Tequila Queen.  Both Danah and Cedar have even participated in Tequila tastings in Mexico.  Just the thought of doing that gives me an instant headache!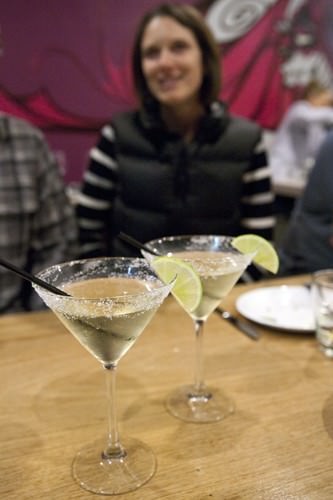 As you can see the glasses were well salted and a little messy. The Margarita was delicious! Despite me being somewhat wary of Tequila, the cocktail went down rather quickly. It seems I'm a margarita convert. I was back to the drinks menu and looking for a jug of Sangria.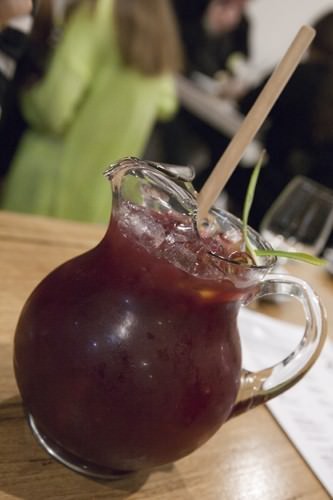 I judge my Mexican restaurants, in part by the quality of the Sangria they serve, so it was a foregone conclusion that we would need to order a jug. Lime Mexican makes the sangria with red wine and adds triple sec, dry ginger ale, lime, mint and seasonal fruits. It was a delicious combination! The dry ginger ale gave the drink an extra dimension and added a welcome spiciness.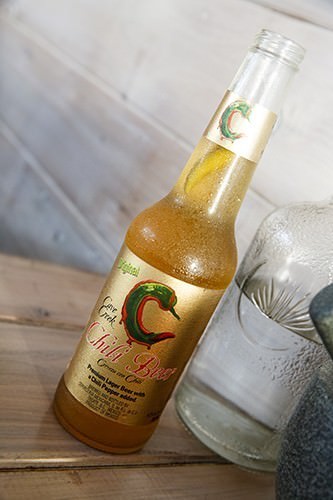 Mr GG always choses to select a beer local to the cuisine we're eating. He was pleased to find a novelty Mexican Chilli Beer on the menu. I was skeptical but it was good! Cave Creek Mexican Chilli Lager was a light lager which is bottled with a green chilli.  The chilli flavour permeates the beer perfectly, and there is a distinct heat to the drink which mostly effects the throat more than the tongue. Even the herbacious flavour of the chilli goes through to the beer nicely. It was a great choice of beer to have with Mexican food, but I'm not sure it's something you would drink socially.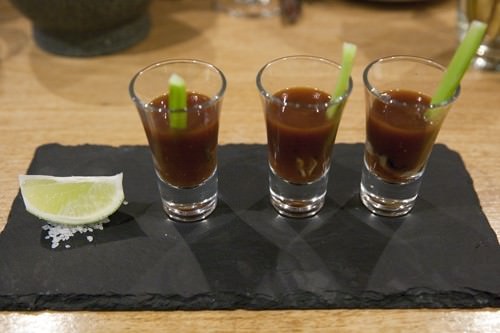 Lime's menu is designed to be shared amongst friends tapas style. Most of the share plates come with either 3 or 4 serves per order, but these can be amended to suit your table size. The first dish to arrive at our table of 3 were the Bloody Mary Oysters shooters. These were a spicy mixture of tomato juice, Worcestershire and tabasco sauce. We also opted to included a dash of Tequila in the shooters for an additional cost. I loved the spicy, richness of the shooters and the hit of Tequila added even more warm and flavour.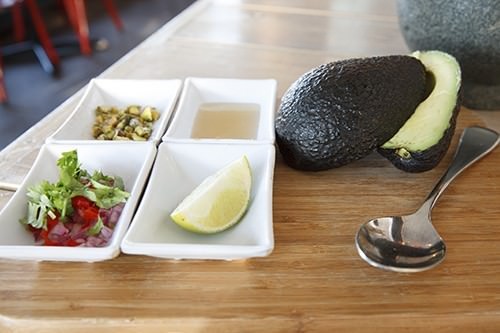 While we were ordering I noticed the guacamole was being made at the tables.  Guacamole is something I cannot live without when I am enjoying Mexican. The fact that it's made to order at the table was even more special. The guacamole could be ordered with house made corn chips or plantain chips.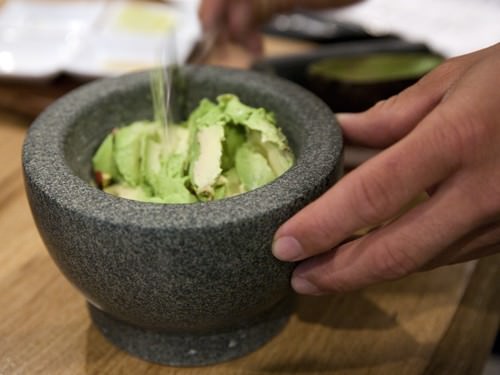 The waitress brought out a plate which included a full avocado, and dishes containing lime, sugar syrup, salted cashews and a chilli, onion and coriander mixture. The contents were then combined in a mortar and pestle.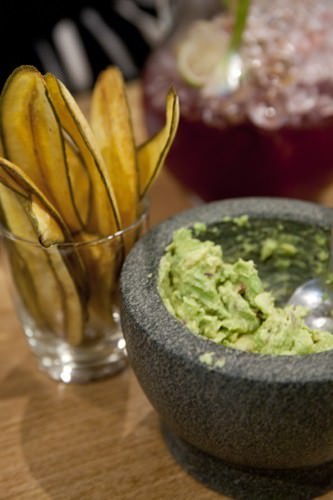 The guacamole had just the right combination of lime and crunch.  We used it on all the dishes we had ordered, in addition to snacking on it with the plantain chips.
The Jalepeno Poppers were a share plate I ordered with Mr GG.  These crumbed beauties were crunchy on the outside and filled with delicious melty cheese on the inside. The heat from the jalepenos was quite mild, but SO tasty!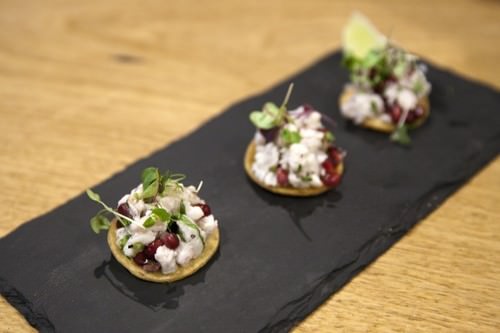 In Mexico Tostadas are toasted or fried soft taco's.  Lime Mexican makes these crunchy morsels and tops them with a variety of options. We ordered our tostadas with the ceviche. Ceviche is fresh fish which has been allowed to marinade in lime juice.  This process effectively cooks the seafood. Our Ceviche Tostadas were served with pomegranate, lime and coriander. We enjoyed the fresh, delicious flavour combination. A non traditional twist to a Mexican favourite.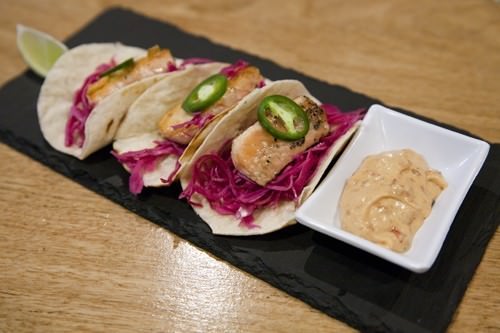 Fish Taco's are commonplace in Mexico so naturally this was a must when we ordered. We chose a grilled ocean trout taco which was served with a creamy, house made chipotle mayonnaise. The ocean trout was positioned on pickled red cabbage and a jalapeño garnished the top.  Whilst the ingredients were non conventional, the flavour was great and the presentation, beautiful. The combination worked really well together.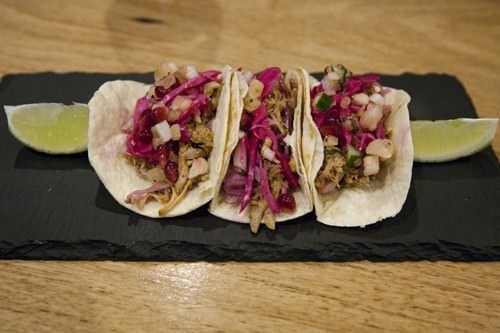 I find it difficult to go passed pulled pork when I see it on a menu, so I ordered a share plate of the pulled pork tacos. The pulled pork is served with a red cabbage coleslaw and pineapple salsa. Again the flavour was fresh and inspiring.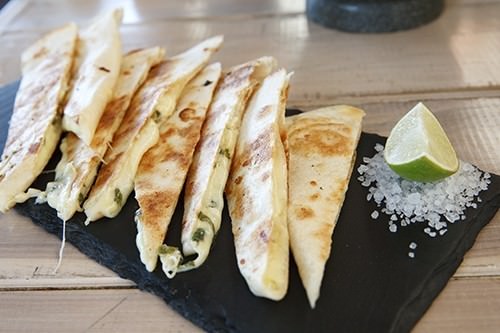 Cheese Quesadilla is a traditional Mexican favourite of mine! Quesadilla is a tortilla's which is filled and folded. It's then grilled and served hot. Lime Mexican does a triple cheese quesadilla, the only thing better than a cheese quesadilla is a triple cheese quesadilla!  The Lime Mexican version includes coriander, pickled jalapeño, farm cheese, queso fresco and cheddar.  The filling forms a delicious, flavoursome, stringy, melted runny mass between the toasted bread. Just a squeeze of lime and the Quesadilla was sublime.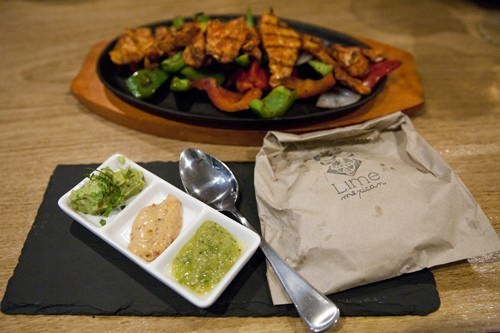 Whilst the taco's were delicious they weren't very filling. Danah, Cedar and myself were looking for a more filling meal.  The Fajita's are one of the larger share meals.  They include a side plate which contains tortillas, guacamole, a tomatillo salsa and chipolte mayonnaise.  Danah and Cedar chose the Chicken Achiote Fajita which was presented on a sizzling cast iron plate. The chicken was smokey and flavoured by the achiote, (annatto) Spanish onion and a variety of coloured peppers. The components are then combined in the tortilla for devouring.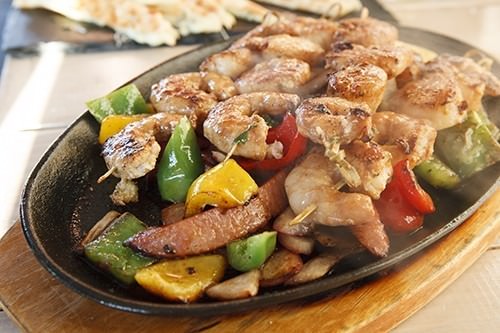 Mr GG and I noticed the Prawn & Scallop Fajita on the specials menu and decided to try this variation of the dish. The prawn and scallop skewers were served on a bed of roasted vegetables peppers, onion and spicy chorizo sausage. The seafood was delicate, sweet and smokey with a lovely grilled flavour.  Once again the sizzling platter was served with additional plate of accompaniments. Both fajita's options were fantastic.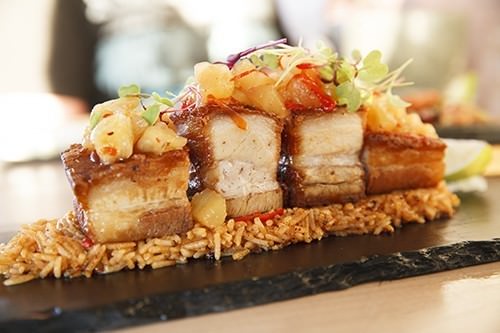 I can't go passed pulled pork, and I also can't go past pork belly on a menu. Mr GG and I ordered this dish, it's usually served with three pieces of pork but at the waiters suggestion we added an extra piece so hubby and I could have two each. What a lovely waiter!
The caramelised pork belly was served on a Mexican rice and topped with pineapple and chilli relish. Prior to the arrival of this dish at the table I was ready to announce the Prawn & Scallop Fajita as the winning dish. Once I had the first bite of the pork all bets were off! The pork belly was out of this world!
Crispy edged pork with a layer of crackle yielded to my bite and revealed the melt in the mouth dripping layers of light coloured soft meat and fat. It was a revelation, sweet gelatinous meat, salted crackle combined with sweet, syrupy, sour, hot pineapple chilli relish. WOW! The Mexican rice had a lovely fried, smokey flavour.  The Mexican/Spanish spice annatto (achiote) gave it a distinct traditional flavour.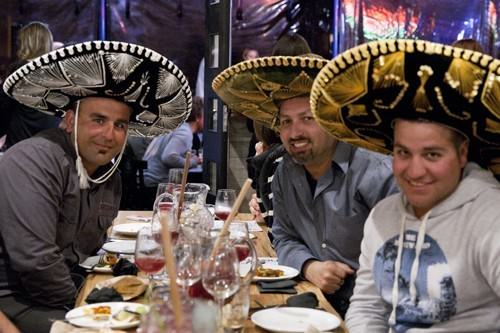 Mr GG and I didn't have dessert as we could eat another bite. When I dined with Danah and Cedar we had selected smaller dishes and had plenty of dessert space left.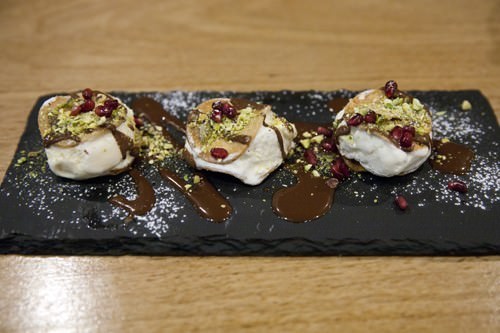 The Buñuelos caught our attention first.  These fried tostadas are sandwiched together between a scoop of ice-cream and covered in chocolate syrup and sprinkled with pistachio crumb. Although a little awkward to eat that were delicious.  The crunchy tostadas were perfect with the creamy ice-cream and sweet chocolate.
A Mexican meal is not complete without a serve of Churros. The freshly cooked churros were served hot and covered in sugar. Two bowls of sweet syrupy chocolate sauce were provided for dipping. Danah loves churros so she was my barometer on this dessert.  She declared them to be amazing.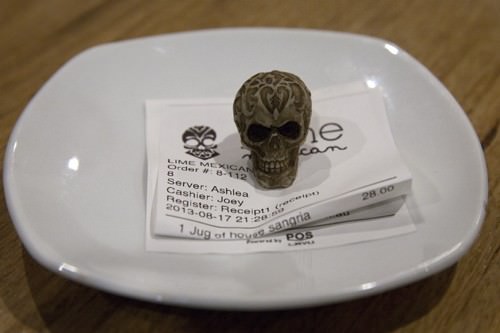 Lime Mexican finesses the menu brilliantly.  Whilst traditional ingredients and fillings are not always used in the dishes, and the flavours were unexpected, it was an amazing meal which I thoroughly enjoyed. I also noticed a distinct increase in portion sizing since my first visit which was a welcome surprise.
A testament to the quality of the food is the popularity of the restaurant. Lime Mexican is always busy and reservations are a must.
Lime Mexican Coffs Harbour
366 Harbour DriveCoffs Harbour, NSW 2450Ph: 0421 573 570