I've always said that I choose my travel destinations by the type of food I want to eat. So it's no surprise that on day one of our Indian getaway I booked a walking food tour of Delhi.  Although, I wasn't just thinking of my tastebuds. We're travelling with two children so a tour seemed like a good way to ease the family into the Delhi mayhem.
A car was sent to collect us from The Park Delhi Hotel. Thank God it was air conditioned! Although it was only 11.00am the heat and crowds were already stifling. The first stop on our itinerary was Chandani Chowka.
Chandani Chowk is a popular shopping area in Old Delhi. It's located near the Red Fort and is home to spice markets, shops, historic restaurants and street vendors.  As we walked our guide explained that Old Delhi was actually a walled city. Residents lived within the city walls which were secured by 14 gates.  The gates were locked of a night for protection.  This explains the tiny lanes and narrow shopfronts. With a wall around Old Delhi there would have been no room to expand, so it was high density living.
Our guide for the day was Jaidev who took us to our first food stop. It was at an unassuming restaurant that we were told had been operating for more than 100 years. They were breakfast and most people were enjoy puri with various curries. Puri is a deep fried bread which puffs up whilst been cooked. The puffy shell is crisp and hollow leaving the centre free for a sweet or savoury filling.
The picture above shows our mini banquet. It consisted of a potato curry, vegetable stuffed pastries which were a lot like a samosa, tamarind sauce and a sweet nagori halwa inside a mini puri. Everything tasted fabulous! Even the children ate well. Lachlan doesn't like hot curries and although the potato curry had a little warmth he enjoyed the taste. We were enjoying all the dishes when our guide warned us that we would need to pace ourselves.
We had only walked a few metres but with the heat of the day we drank nearly a litre of water before we moved on to the next vendor.  Here we found potato heaven! To the right you can see some potato tikka being fried.  These were amazing, so crisp and delicious. The fried potato cubes were served with a chaat masala which is a spice mixed used for snacks.
Needless to say the kids demolished these dishes. We also managed to empty another litre bottle of water!
We took a chance on life and limb as we weaved our way across the street to an old man with a cart. The man was "baking" cookies using charcoal and a heavy based dutch oven style dish. He opened the lid to reveal hot Indian style shortbread cookies.  We each ate one straight from the oven. These were impossibly buttery and sweet.
Old Delhi was once filled with beautiful, ornate mansions, the picture above shows one of the historic buildings. Although the buildings are now in desperate need of attention it's easy to imagine how they once would have looked.
The shop front might not look like much but we were told this shop makes the best ice-cream in Delhi. The business has been operated by the same family for 130 years! Even the process for making this ice-cream is unique. The "intact" mango is deseeded and mango ice-cream is poured inside and then frozen. When it comes time to serve the treat the mango is peeled and the stuffed mango is sliced revealing an ice-cream centre.
We also tried a pomegranate ice treat which was delicious but not surprisingly mango was a clear winner.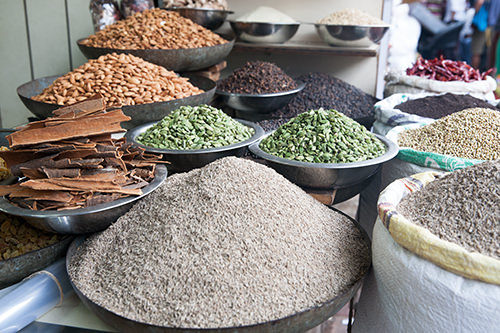 The spice market was our next stop. It was so good to see the aromatic spices piled up on display. Since I've been writing my Indian Cookbook my spice repitoire has grown. I was pleased to see there were no unfamiliar spices.
A short drive in a rickshaw took us to our next food vender, Paranthe Waali Gali. Paranthe are a stuffed fried Indian flatbread. They're usually filled with a potato filling. We were told that Paranthe Waali Gali makes the paranthe with many more flavour varieties.
We tried 5 different flavours but my favourite was the green chilli. Not surprisingly the kids liked the condensed milk Paranthe!
The Paranthe was served with an assortment of vegetable curries and condiments. By now we had consumed 4 litres of water, plus our body weight in delicious food.
It was time to move on from Old Delhi to New Delhi. Once again we had a lovely air-conditioned car so by the time we reached our destination I was reluctant to get out.
One of my favourite dishes of the day was this rather plain looking potato dish. The dish is called Dahi Bhalla Chaat and it's a refreshingly cold, potato and chickpea snack which is smothered in tamarind sauce, coriander chutney and a yoghurt dressing. All these components were placed on top of some crispy papadam style wafers.
My tummy was groaning but I still wanted to keep eating! We were warned again that there was still so much more food left to try. For a moment I had serious doubts about whether I would be able to eat any more. But with all the lovely flavours I knew I would find a way to manage.
We stopped at a modern patisserie, the kids had an eclair which had a cream filling the kids described as bubblegum. When I tasted the cream I thought it was more like a pineapple flavour but it was definitely different from anything we had tried.  Brett had a chicken stuffed puff pastry and one other.  I could only try the tiniest nibble, I knew I needed to save room for our lunch!
Our next scheduled stop was at a nearby a Sikh Temple. I'm sure you can imagine that by now we were all quite full. Visiting the temple was a welcome reprieve from eating, especially know that once the temple visit was completed we would finish the tour with another meal! In my next story I will share details about this temple which operates a free temple kitchen. The kitchen feeds 1,ooo's of visitors, worshippers and homeless every day.
Needless to say we were not one of the people lined up for a meal!
We enjoyed our final meal in a restaurant in New Delhi that I honestly would have walk right past. It was busy and not at all flash, had we not been on a food tour, I would have expected a heavy dose of Delhi Belly! There were large pots of curry bubbling away at the entrance and the contents were spilling down the side. We climbed the narrow stairs to a second level and took at seat.
We had some of the most amazing curries and breads in this modest restaurant. My favourite dish at this venue was the goat meatballs in a rich curry sauces. The sauce was fabulous but the soft, moist kofta balls had a lovely cardamon flavour which made the meatballs magic! Here we also had some freshly baked naan bread, roti and a different style of mint paranthe.
It shocked me that the kids were still eating! Locky particularly enjoyed the Saag Chicken. This dish was made by pureeing the spinach into the curry sauce. It was a mild curry but full of flavour.
The dish I was a little apprehensive about was the beef and liver curry. I am really not an offal eater, but in the spirit of trying something new I spooned some of the dish over my naan. I have to admit I avoided the pieces of liver. The curry gravy was the best of the day. It was a tomato based sauce with peas and loads of fragrant spices.
All day our Jaidev was asking us if we wanted more dishes or more breads or water. He made sure the children had dishes and sweet treats they would enjoy. We ended up drinking 7 litres of water between the four of us!
Our food tour was 6 hours and covered some of the best food vendors and restaurants in New and Old Delhi. We had a fabulous day. I can honestly say we would not have been able to experience this side of the Delhi food scene by ourselves.
Having a guide to help us negotiate the tiny laneways and take us to hidden gems meant we found amazing food venders that we would have otherwise missed. I would recommend anyone travelling to Delhi to book this tour as the first itinerary item. The experience helped us get our bearings and gave us a sense of the city.  Plus, our guide was great at steering us away from foods that may have made us ill.
Food Tour In Delhi
Tour Guide – Jaidev Jamwal