My day with Lorraine from "Not Quite Nigella" and Mr NQN is drawing to a close… but thankfully not before we share a meal at Latitude 30. Latitude 30 is ideally located on Marina Drive at the Jetty. It has picturesque view over the beach on one side, and the Marina on the other.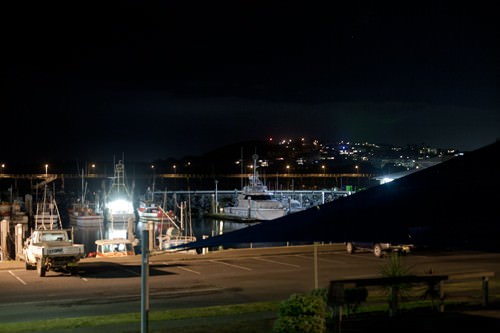 It is early evening when we arrive at the restaurant. We can smell the salty sea air, and hear the waves breaking on the sand. The beach is bare, surfers and bathers have long since returned home. As we are being seated Lorraine comments that the deck would be beautiful during the day, and I quickly agree that it is. Mr GG and I have often taken a long lunch on the deck, but this will be our first evening meal here. Although the weather has been lovely today, it is still not quite warm enough to dine outside of an evening, but it is something I am looking forward too.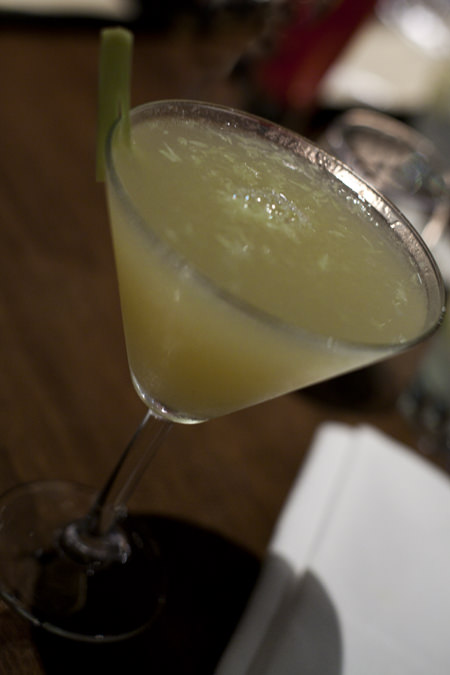 Once we are seated we're asked if we would like anything from the cocktail bar. It has been a rather balmy Coffs Coast day so I am in the mood for something a little tropical. A glance at the cocktail list has me deciding between the merits of a Mandarin Oriental compared to Lychee Lemongrass Martini. I have been loving the fresh lemon flavours lately so I choose the martini. Lorraine orders a gorgeous berry cocktail called a Jimmy Chew. It is described as a "sexy little number" and when it arrives it really does have the wow factor! Bright red and lethal looking, it is a vibrant mix of raspberries, lychee, Bombay Sapphire gin, pink grapefruit juice and rose syrup. I love a cocktail and this one is so deliciously sweet and refreshing but with just a little kick.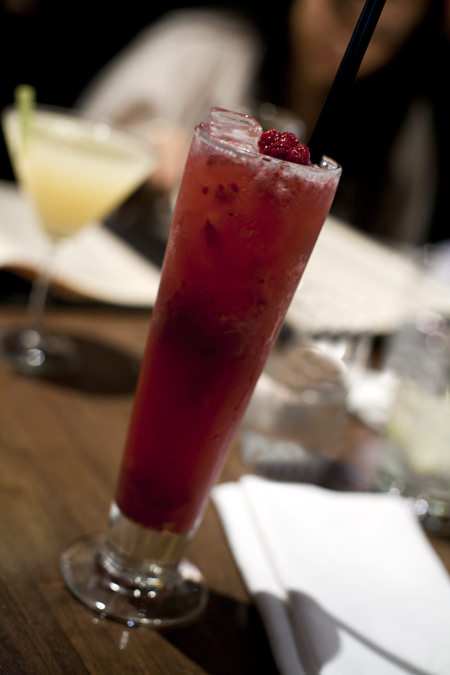 Martini is served in a martini glass (naturally) which is a slight challenge for a girl who can be all thumbs at times. I decide my best course of action is to reduce the quantity of liquid which is residing precariously close to the lip of the glass. With two large slurps I am transported to a tropical island and I am no longer in any danger of spilling my drink! My cocktail is a gorgeous mix of sweet and sour, full of fruit flavours and something that I will be trying hard to recreate at home in the near future.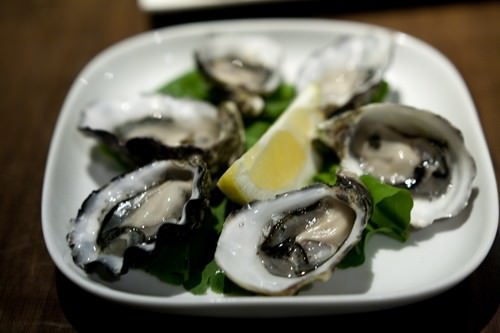 Deciding on our meal is equally as difficult as choosing a cocktail. There are so many delicious sounding entrees and mains, plus a selection of tapas dishes. Eventually we decide that we will choose some share plates for starters and then select our own mains. I am happy to leave the decision making up to Lorraine as I have been known to take hours over menu choices and I still have to decide on my main!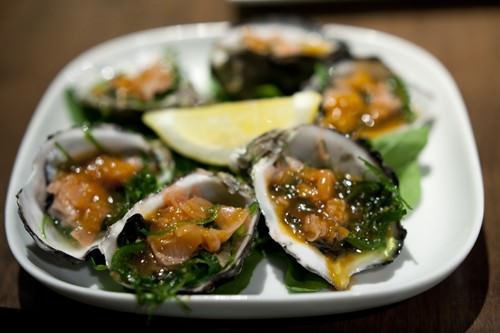 With an abundance of fresh seafood we started with a plate of 6 natural oysters and another plate of oysters with pickled ginger and wakame. The oysters were all deliciously fresh, but once I tasted the pickled ginger ones I was in love, the little hit of Tabasco was the perfect finish for these little babies, I needed more. I immediately offered Mr GG both of my natural oysters for one of his wakame ones. Thankfully he was a sweetheart and let me have an extra one of his. DELICIOUS!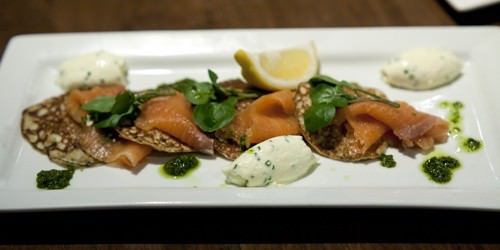 The next share dish that I absolutely did not want share was the smoked salmon blini. Four thin, light potato blini's served with generous amounts of melt in the mouth smoked salmon and quenelles of chive flavoured cream cheese and garnished with watercress and pesto oil. The taste was fresh and indulgent but still light enough for a starter.
Looking at all the food on the table I had concerns about how we would make it through the meal. Although thankfully we did have two strapping lads to help… and the food had been so good!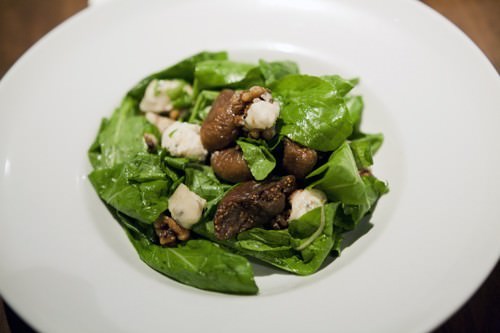 I have a huge weak spot for Gorgonzola and figs so when Lorraine suggested the rocket salad which is served with Gorgonzola cheese, sweet caramelised walnuts and delicious plump dried fig I was in total agreement. The flavours were perfect and it is another dish I would highly recommend.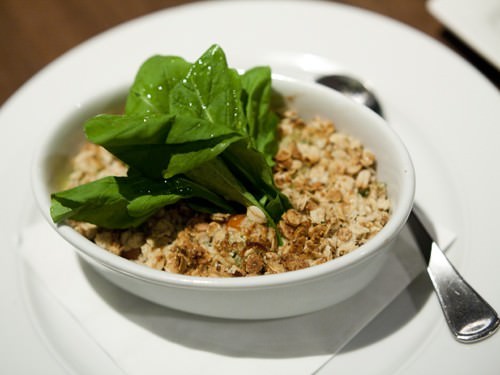 The next dish I sampled was the Brie Cheese & Almond Crumble, although the dish sounded lovely and I adore cheese, the idea of a savoury crumble didn't exactly grab me but the topping was a clever combination of cheese, almond and oatmeal, I would have liked it a little cheesier to satisfy my desire for brie but under the crumble was a layer of creamy potato which was the ultimate in comfort food. With all the other delicious food on the table I was quickly devising a way of cheating Mr GG out of his serve of blini and completely forgot to try the confit garlic and tomato layer.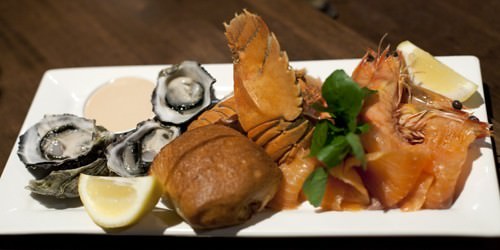 The final starter was a seafood mezze plate, we were spoiled with a generous selection of king prawns, smoked salmon, natural oysters and Morton Bay Bugs. The plater was served with a thousand island dressing, lemon wedges and some cute little homemade mini loaves. There is nothing as nice as sitting by the sea and enjoying a platter of fresh natural seafood. Mr GG was very happy that I relinquished my designated crusty roll to him. He was thoroughly enjoying the combination of seafood, dressing and lemon on fresh bread. See I can be a good wife 😉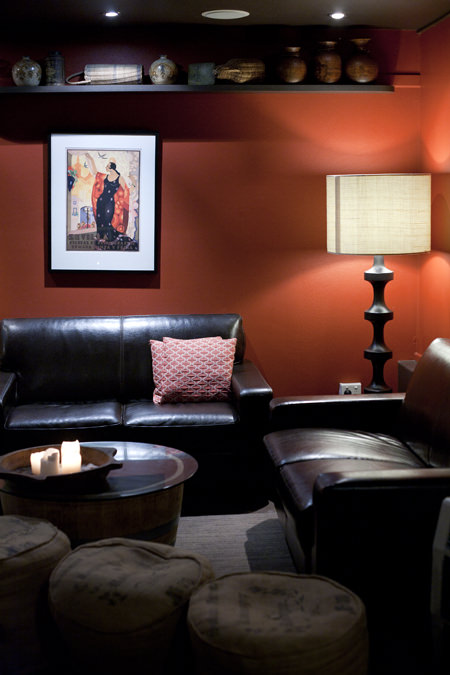 Thankfully we had a little time between courses which I used to take a few photos and speak to the restaurant owners. They were quick to tell me about their new venture just downstairs from Latitude 30 called Attitude Burgers. A fun new food spote aimed at holiday makers, locals enjoying the beach and the marina, and the surfy crowd. A casual laid back younger sibling to the more sophisticated Lattitude 30.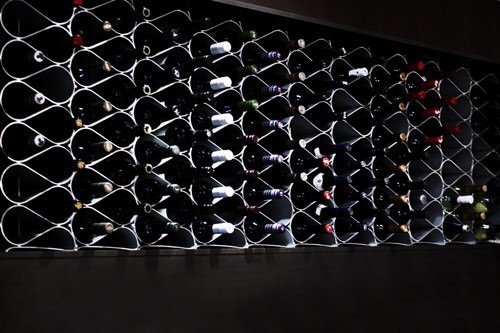 I returned to the table just as the mains were being served. After considerable deliberation I had decided on the Royal Thai Yellow Curry with Morton Bay bug tail, local prawns, scallops, bok choy and served with steamed jasmine rice.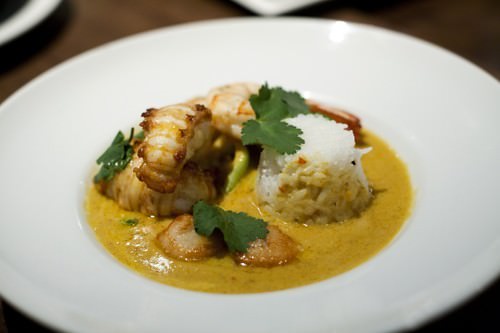 When it arrived at the table I was pleased to see two whole bug tails and delicious plump seafood sitting in the rich aromatic yellow sauce. All the seafood was so delicate and cooked to perfection.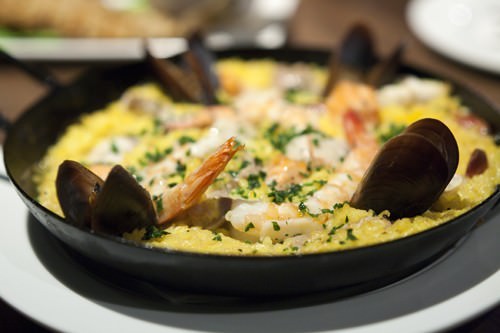 Hubby had ordered the seafood Paella with chicken and chorizo. It was absolutely huge and could have easily served two people, but Mr GG was guarding it well. He metered out a few sample bites to us eager diners and then he was keeping the creamy deliciousness all to himself. The mouthful I had was delicately saffron flavoured and buttery but the try hero was the creamy seafood, fat scallops, prawns and mussels as well as chicken and discs of chorizo.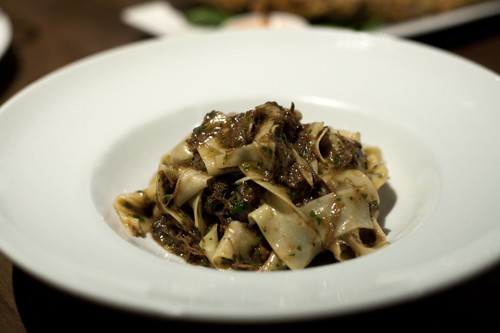 I feel like I am gushing a little over the meals, but at the risk of boring readers I will have to continue. Lorraine had ordered the Lamb Papardelle which was a delicate thin, but thick stranded housemade pasta, perfectly cooked and served with a ragu of slow cooked lamb. The lamb was then pulled into strands and presented in a rich creamy sauce which clung lusciously to the pasta.
The final dish on the table belonged to Mr NQN, he had ordered a dish that we had tried before and loved. I would have happily had the dish again but as both Mr GG and I had raved about the dish already I was pleased when Mr NQN decided to give it a try.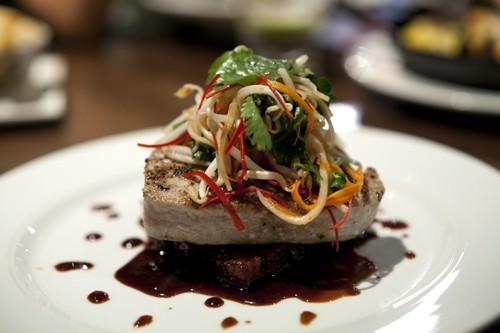 The dish was Tuna with Pork Belly served in the most glorious sweet and sticky black pepper sauce. It was a layer dish where the perfectly cooked tuna steak was sat on a bed of melt in your mouth delicious pork belly, swimming in the delicious black pepper sauce and then topped by a crisp Asian salad.
Amazing, but very rich!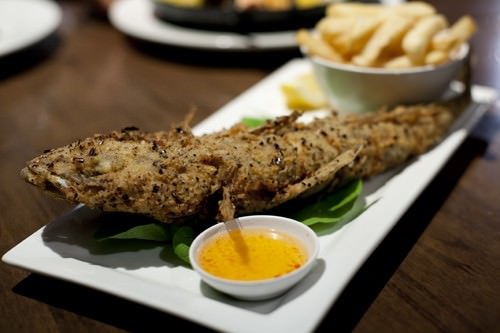 We had started on our mains and passed a few of the dishes around when we were brought an additional main from the kitchen. The chef had sent out a salt and pepper crust flathead as a complimentary main. The whole flathead had been crusted and then deep fried. The result was a lovely crisp skinned fish with delicious flavour. We are told that this is the restaurants signature dish. The fish was served with a bowl of chips.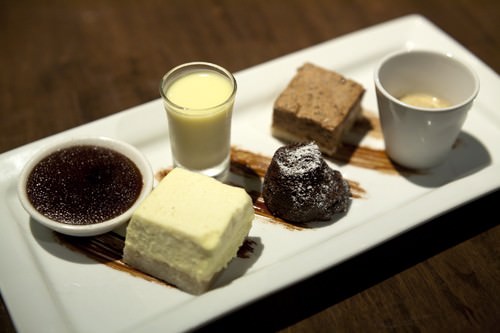 You may think that we would be completely full after this amazing display of fine food, but with the guys to help we had managed to demolish dinner and I was already sneaking a peak at desserts as they passed by. I had seen a few of the Chocolate assiette as they left the kitchen and I knew I absolutely had to try this tasting plate.
It included a chocolate pudding, a rich and creamy chocolate creme brulee with a crisp chocolate crunch top which was divine, a lovely white chocolate cheesecake, a creamy white chocolate pannacotta, a chocolate fondant which tasted amazingly similar to the one I make which is on my website. Then I tasted the piece de resistance, the white chocolate spiced pot. I tasted bite after bite and it was so much like my own that I asked the waiter what exactly was in it. The waiter said it was the chefs White Chocolate and Chia Pannacotta. When I told him it was exactly like mine he challenged me to name even one or two of the spices in the dessert. I named them all to his amazement. It was a delicious dessert… but I think he is may be using my recipe 😉
The next dessert I tried was the bread and butter pudding made with a brioche and served with a homemade vanilla bean ice cream and blueberries. I have never tasted such a light and airy pudding of this style. The ice-cream was also so delicious; I could have eaten a whole bowl!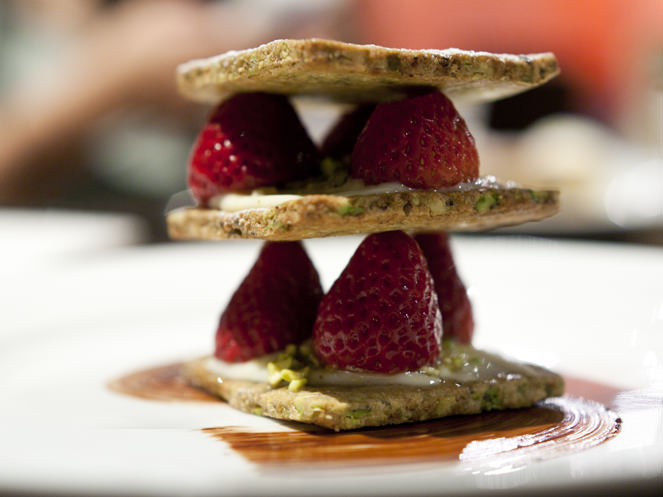 The moment this dessert was placed before our table there were oo's and ah's, it looked so gorgeous. It was such a delicious construction of marinated strawberries, buttery pistachio biscuit with a rich creamy filling. Mr GG challenge Lorraine to take the first bite but her lady like nature meant she gracefully deconstructed the tower and placed a serving on everyone's plate.
Our final dessert was Prune and fragipane tart. I do love prunes in food, they provide a richness that is hard to achieve using other fruits. I also love a delicious moist buttery frangipane tart. This tart consisted of two deliciously moist layers of pastry filled with a generous sweet prune filling.
Our tabled continued to chat and graze on the remains of our desserts long after the desire to eat had passed. Sometime with delicious food you want to stop, but the desire to continue the flavour experience keeps you taking just one more mouthful after another. Eventually we realised we were the last diners in the restaurant and that it was time to say our good byes.
Thank you to Lorraine and Mr NQN for such a great day and wonderful company!
Gourmet Getaways and Mr GG would also like to thank Coffs Coast Marketing for making the day possible.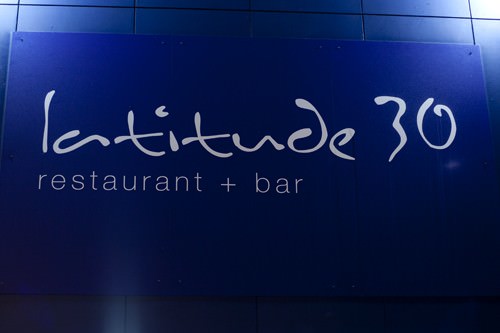 Unit 8/1 Marina Drive, Coffs Harbour NSW 2450
Tel: +61 (02) 6651 6888