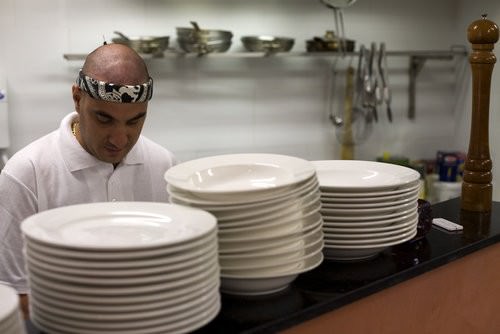 Let's give a big cheer! We have finally made it to Friday!!
Is it just me, or does the weekend seem to take forever to come around some weeks?
If you are planning to curl up on the lounge with a glass of wine or a beer this weekend, why not add a delicious gourmet pizza to the plan and call it the perfect night in.
I had been hearing some great reviews about the new local pizza place.  So last night I organized a group of 14 (including quite a large group of hungry kids) and we descended on the Pizzeria.  LaKiss Jetty Pizzeria opened in January this year and serves a range of tradition and gourmet pizza's, pasta's and breads.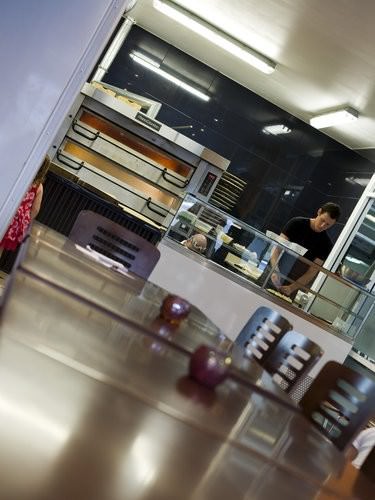 Our initial plans had been to order the pizza and eat it on the beach, but after a game of beach cricket we found the weather was turning a little cool.  We decided we would take advantage of the "dine in" option at LaKiss and dragged the troops up from the beach.
Jac & I were the first through the doors and we both just melted with the delicious homemade pizza aroma.  The smell took me right back to 20 years ago in Crown Street, Surry Hills when I used to get my Pizza's from an Italian family business.
This is another family pizzeria owned by Paul & Katie a young husband and wife team.  Paulie is a big Lebanese guy who we watched spinning the dough like a pro in the newly opened business, Katie is a local girl who has been working in the hospitality industry in the Coffs Area.
The story goes that right after their wedding Paul announced that 2010 was going to be the year of the pizza! Paul grew up in Sydney and had over a decade experience in Pizzeria and had always wanted to own his own shop.
After moving to Coffs Harbour in 2005, he realized there was a place here for some new tastes in Pizza, and he decided that one day he would be the man to deliver it to the locals.
Paul's experience resulted in the imaginative menu, and was mainly influenced by his own taste. He told me the nachos pizza came to him in a dream. He hates the mess of nachos and dreamed about the solution, he put his nachos on a pizza base.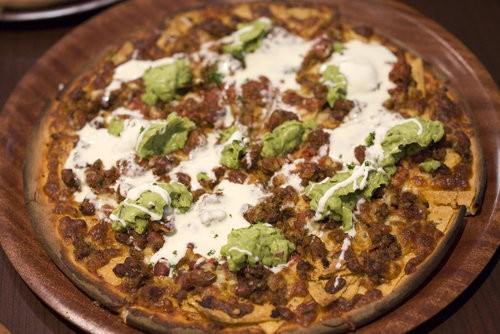 I am certainly pleased he did.  The Nachos Pizza was one of the many delicious pizza's I tried, and thoroughly enjoyed. It included corn chips smothered in a tasty chili con carne and served with sour cream and guacamole.
Perhaps I am getting ahead of myself; I should mention that the Pizzeria also has a selection of tempting "starter" pizza's.  We ordered a Garlic Pizza Bread, Garlic and Cheese Pizza and I had to try the Olive & Feta Bread.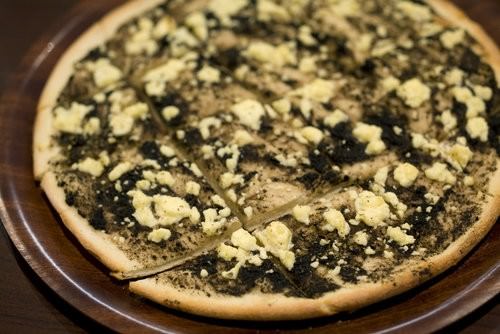 I was so impressed as I watched my bread being made, I love olive tapenade and lots of delicious tapenade was being spread liberally over the pizza base.  Ooh I was so in love with my pizza by this stage.  I turned my head as the olive oil was being liberally splash over the feta.  I figured that it won't affect my waistline if I don't see it going on.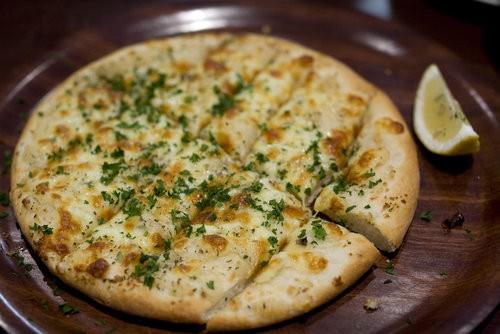 When the starters arrived they were just as delicious as they looked.  I also tried the cheesey garlic bread and I was in heaven, the cheese was so deliciously garlicky and lush. Oh my god, I could have just eaten these, never mind the pizza! But with all the great smells it wasn't going to be long before I was tempted away from my pizza bread.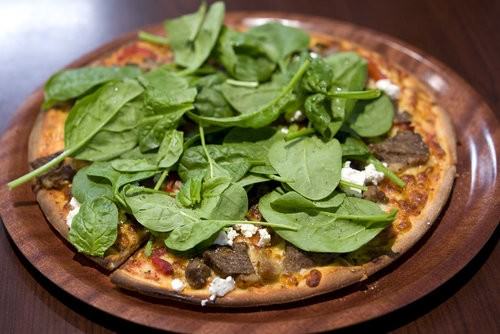 The next pizza up was the Moroccan Lamb Pizza. Being Lebanese, Paul has always known labneh is the perfect accompaniment to lamb, so naturally the Moroccan lamb pizza is served with a delicious, creamy tangy labneh, roasted capsicum and baby spinach leaves. Marinating the lamb prior to cooking meant that the lamb was lusciously moist and full of flavour.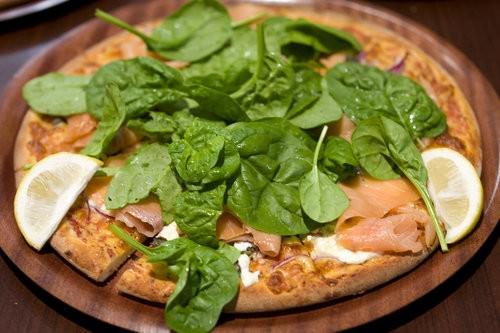 The LaKiss menu reflects Paul's belief that pizza isn't bad for you. Using good quality healthy ingredients pizza can be a healthy family meal.  I ordered the Smoked Salmon pizza and I have to agree with Paul.  It was a gorgeous pizza with ricotta cheese, Spanish onion, lemon, capers and baby spinach. I would consider this a perfectly healthy dish, and soo good!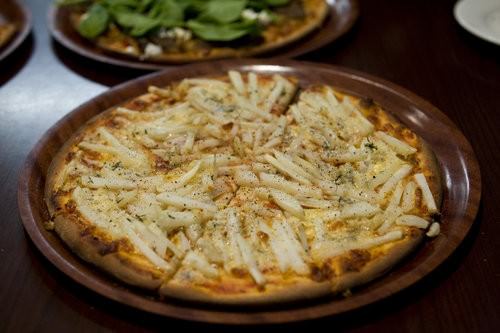 Now as you all probably know I can't go past blue cheese, I adore the creamy tang and I just crave it. I spotted a Pizza called the Blue Spud which includes potato chopped into matchstick, blue vein cheese, cracked pepper and fresh thyme. I just had to give that one a go as well.  My tummy space was running a little low by this stage but it was mouthwateringly delicious.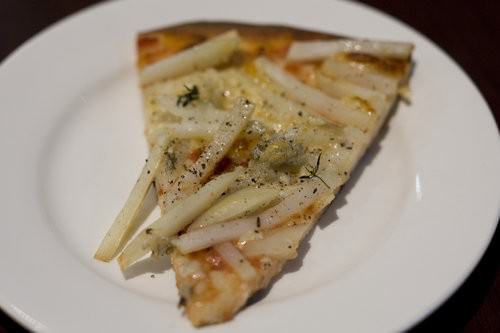 I hadn't quite eaten my body weight in pizza yet and everyone was raving over Jacqui Mexican pizza so I sat up a little straighter to make room for another slice and took the plunge.  Jacs pizza had more spice and kick than most Mexican pizza's I've had which is why our table was enjoying it so much, it was just so tasty!
Paul & Katie said that so far the local favourites are the Moroccan Lamb, Nacho, the Jetty Super Special and Gourmet Vegetarian.  I a little embarrassed to say that I also had a few bites of hubby's Jetty Super Special and it was exactly as the name suggests "Super Special".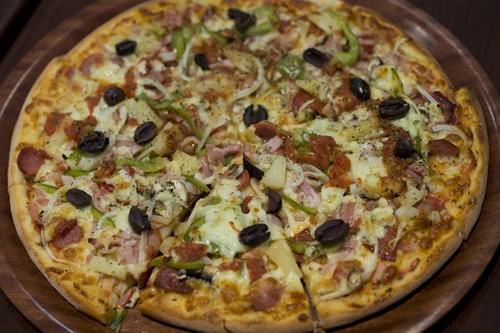 I watched the Gourmet Vegetarian being made for another order and it will be high on my list of pizza to order next time.  This pizza includes eggplant, artichoke, sun dried tomato and feta cheese, YUMMY! You just can't go wrong with this combination.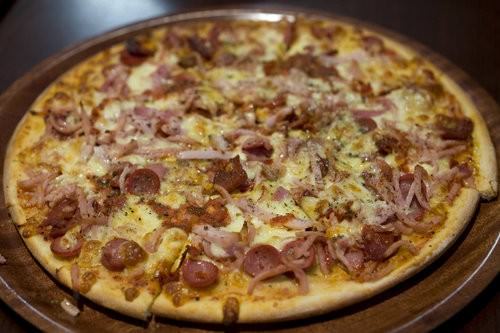 We did also order a Papa Joe which is basically a meat lover's pizza but I think it may have been demolished before I had a chance to grab a bite.  I have the photo as evidence that it was received but its stay with us was short lived.
LaKiss is BYO and has a great friendly atmosphere. Children are very much welcome, our six little monkeys were given colouring in to keep them amused while the pizza cooked, and the waitress was great bring jugs of water when the kids needed more.
I tried to get a general consensus on the two favourite pizza's for the night. Most of the votes seemed to be for the Mexicana and the Nachos Pizza, but my favourites were the Smoked Salmon and the Moroccan Lamb.  The children polished off three Hawaiian pizzas between them, a fair effort given that the age range is 3 to 6 years.  So I think it is safe to say there is something on the menu for everyone.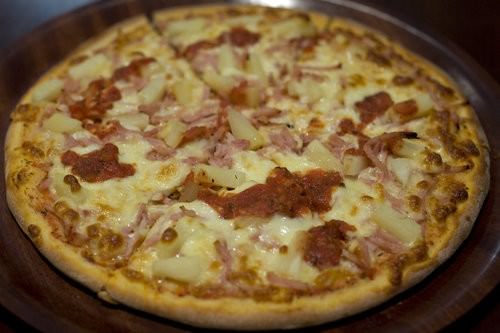 Katie tells me that diners are welcome to customize pizzas to their own tastes but I think we will be working our way though the menu before we start mixing things up.  There are so many great flavour combinations already.
LaKiss Pizzeria offers dine in, takeaway and home delivery, Tuesday though to Sunday. For orders or reservations Ph: 6652 1939.
Katie also mentioned a "stalkers special." From time to time LaKiss will offer a special to their Facebook followers.  So follow the link and "Like" LaKiss Jetty Pizzeria.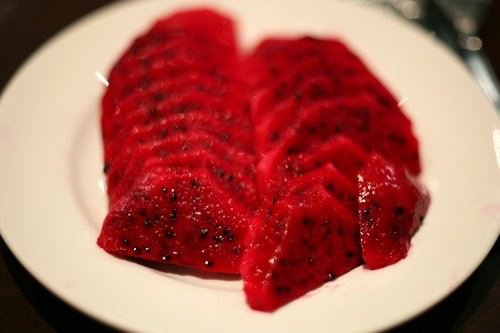 At the end of the meal Paul brough out a delicious plate of Dragonfruit for the adults… maybe it was for the kids too but we weren't sharing too many peices.  (The kids were given their own little treat 😉  )