Open just 9 weeks, Kiyomi Restaurant is set to be another resounding success for executive Chef Chase Kojima. Chase is revered for his innovative, modern approach to Japanese cuisine. The talented chef made a name for himself as Executive Chef with Nobu Group, and then continued to shine at Sokyo Restaurant in Sydney's Star Casino.
In December 2014 as part of a $345 million refurbishment, Jupiter's Casino launched Kiyomi Restaurant, a new Japanese dining experience with Chef Chase Kojima heading the team.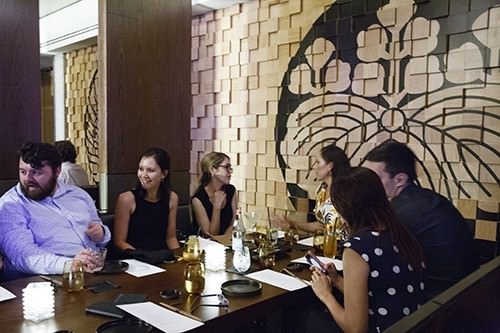 Kiyomi Restaurant exudes a welcoming warmth. The atmospheric lighting, glazed pottery and textural decor such as the wooden cubes with black motifs give a traditional Japanese feel to the space. In contrast the rear wall features a piece of uniquely modern art. A custom-created fluorescent UV installation by Tokyo-based Houxo Que. The piece reminds me we are here to experience a fusion of modern and traditional Japanese cuisine.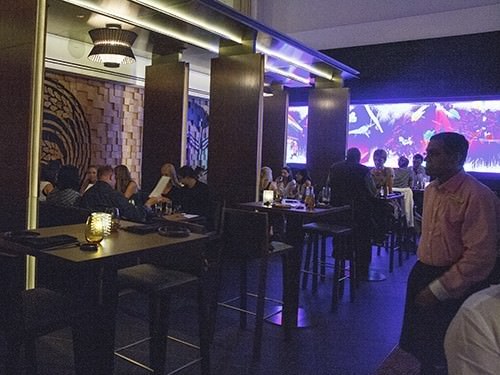 We took a seat in one of the private booths with our fellow diners. A very attentive waiter suggested that I might like to try a cocktail. It sounded like a lovely idea and looking around the table I noticed that my dining comrades had chosen some delicious looking drinks.  With too many enticing choices I left the selection to our waiter, my only instruction was I wanted something pretty.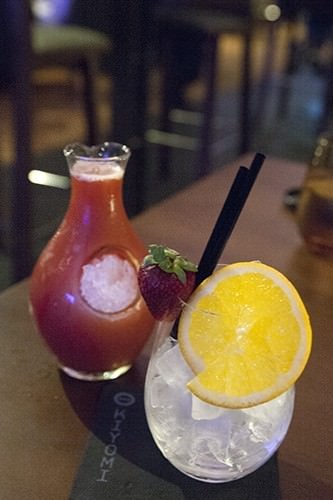 The waiter returned with a cocktail called the Japanese Teapot. Instead of a teapot, the drink was served in a glass sake Tokkuri.  The centre of the Tokkuri had been filled with ice to keep the cocktail cool.  It was most certainly a pretty drink and absolutely delicious!  The cocktail contained strawberry puree, cranberry juice and Midori so the fruity floral flavours were immediately obvious. It was sweet and light but benefited by a little kick of vodka.  The Japanese Teapot reminded me of a strawberry shortcake dessert.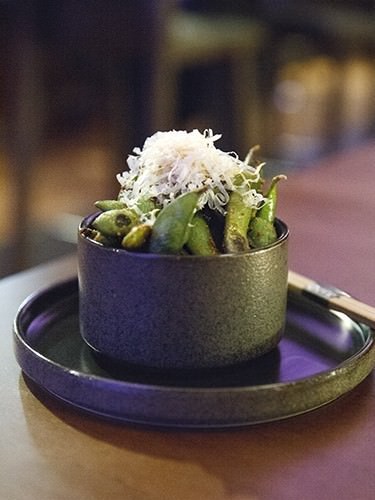 As our drinks arrived at the table, so did bowls of Edamame.  Starting a Japanese meal with Edamame feels comfortable.  Taking one of the beans from the bowl I anticipated the homely soft bean popping from the salty exterior casing. To my surprise the Edamame had an additional spicy flavor.  I guessed these Edamame had been seasoned with Togarashi.  It was a surprising and pleasing addition to the dish. Bonito flakes added another delicious flavour to the soy beans and I enjoyed the more complex flavour of what is usual a fairly standard Japanese bar snack.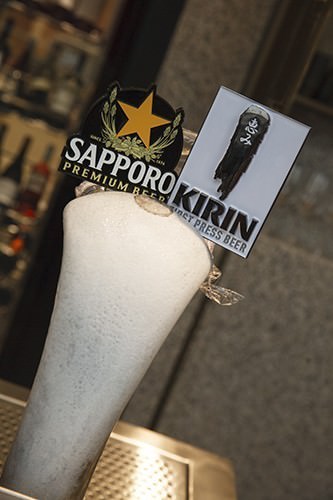 It was no surprise to me that Mr GG ordered a Japanese beer to start the meal.  During our past visits to Japan he developed a soft spot for the local brew.  He decided to begin the evening with a Kirin, and was particularly pleased with the glass!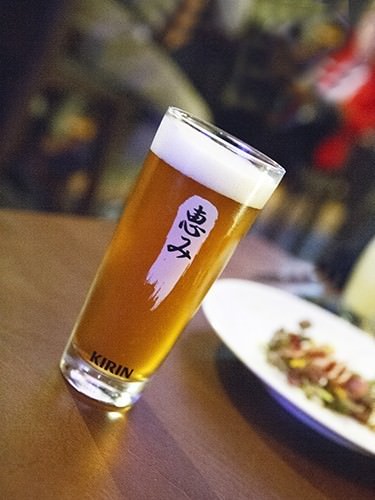 The first dish was a surprise and hadn't been listed on the evening menu. We were presented with a wooden board which featured cubes of watermelon sitting on a spicy mayonnaise.  The little bites were naturally sweet with a burst of citrus.  The spicy mayonnaise was a surprise, I would never have thought to put a creamy mayonnaise with melon but the flavours worked. My palate was alive and ready for the upcoming meal.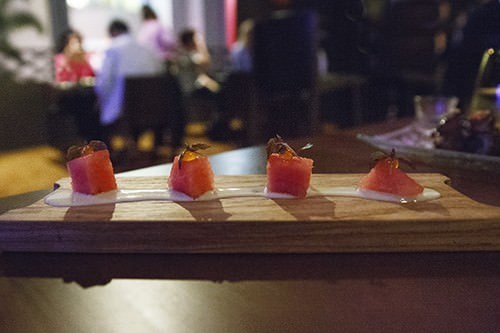 Next we were treated to a modern take on Hanaji Maki. These beautiful sushi rolls were filled with a familiar Japanese flavour, a lovely sweet teriyaki wagyu. They were then topped with seared Foie Gras. This gave the dish an added richness.  The searing had produced a delicate, smokey flavour but inside the foie gras was soft, luscious and creamy.  Finishing the dish was a burst of citrus that I feel may have been bubbles of finger lime exploding in my mouth. It was a very special dish and I would have loved to steal another roll from my fellow diners.  Although I feared reprisal!
The menu announced Sashima & Raw dishes would follow, I was excited.  The dish placed before us was an absolute showstopper. Sashimi Scampi was spectacular! The scampi was served on a bed of ice and a blanket of green bamboo leaves.  These components gave a pleasing contrast to the orange crustaceans. The shells was simply for show so there was no need for a finger bowl. Chef had removed the scampi flesh and combined it with green apple, mizuna and delicate flowers.  The result was the most elegant salad. The adage that you eat with your eyes is certainly true.  I visually devoured this dish and my expectations were completely fulfilled.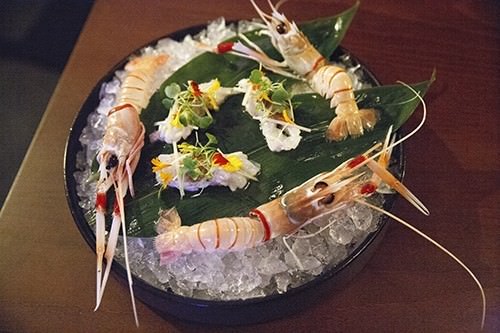 Ceviche is another favourite of mine and the Kingfisher was truly special. Flavoured with miso the delicate fish simply melted in my mouth, so sweet and moist. Next I took a bite of the topping! I tried not to squeal.  The golden crispy topping which looked like vermicelli were actually the thinnest strands of potato.  They had been deepfried to form the tiniest french fries EVER!
I laughed and said to hubby, "Look, fish and chips."
He didn't quite know what to make of my announcement, he may have even wondered if the cocktail had gone to my head.  I gave him my explanation, he understood but I don't think he interpreted the dish the same way I did. Regardless, I loved the dish!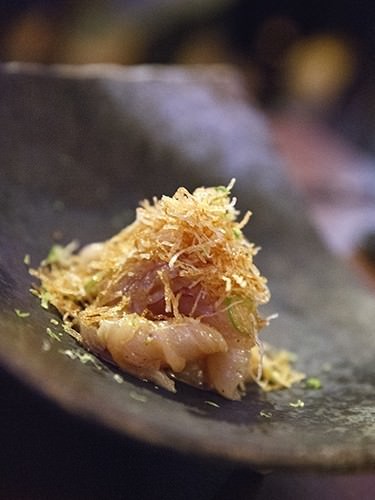 Tuna Tataki arrived with a seared smokey edge and a lovely delicate sashimi centre.  It rested on a salad which included fresh greens and flower with crunchy enoki mushroom. A leek sauce finished the flavours perfectly.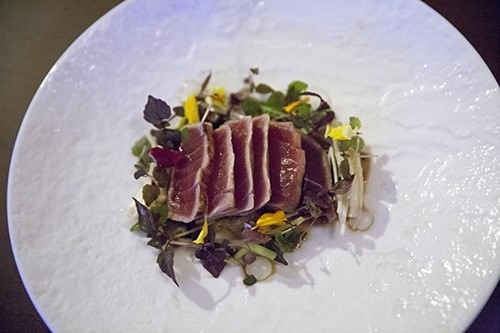 Sake has never been a favourite drink of mine.  I think there is an element of fear on my part. The clear liquid looks like fire water and seems to promise a burning throat, followed by a pounding morning headache.  So when a glass of sake was poured for everyone I eyed the glass with suspicion. I took a very tentative sip of the liquor.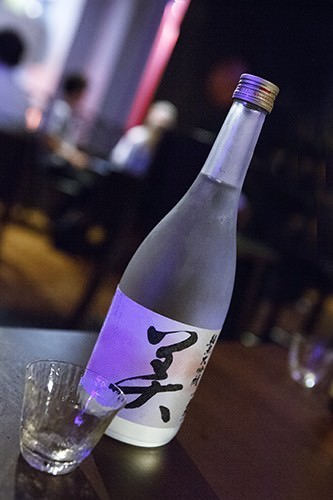 To my surprise it was delicate, smooth and  fragrant. The perfectly clear liquid coated my palate and tasted almost creamy. It was surprisingly mellow. I couldn't believe how wrong I had been about this traditional Japanese drink.  Although I wasn't prepared to risk the morning headache and just sipped on the one glass.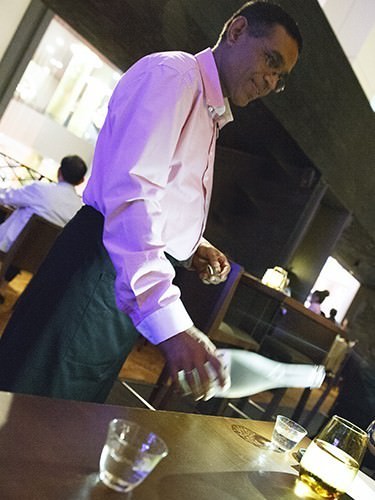 I'm not sure if a Japanese meal is complete without a little tempura.  Served with two dipping sauces was tempura extravagance, a plate of lightly battered Moreton Bay Bug. I bit into the crisp light tempura batter and found it held the sweetest seafood. I wanted to pop one after another into my mouth but I had to remember I was dining with friends.  The sambal mayonnaise was my favourite dipping sauce and when all the components, including the salad were eaten together the dish was even more amazing.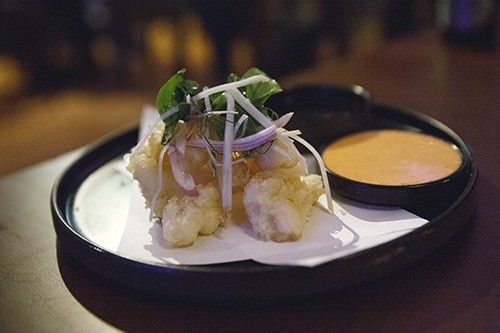 Just when I thought the meal could not get any better my favourite flavour of the evening was set before us. Dengakuman Toothfish with a cucumber pickle was a sentimental winner for me.  This was the dish that brought back the most Japanese food memories for me. The toothfish had a lovely caramelised miso flavour.  It had been cooked over charcoal and was sweet and smokey. The cucumber pickles tasted of ginger and salt so the combination of the two component was a perfect balance of sweet and salty. The firm white flesh of the fish was cooked perfectly.  The flavours were traditional and homely but the presentation was a modern interpretation.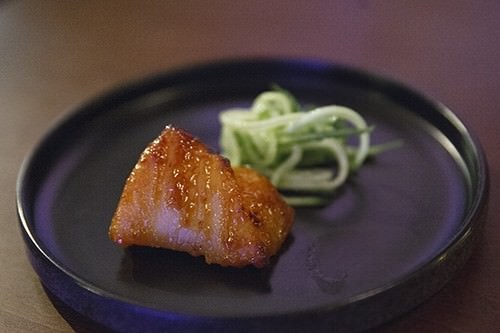 Another flavour I haven't seen in Japanese cuisine is truffle.  Our dish was King Brown Mushroom & Truffle Poke.  If you're wondering what is meant by poke, I will fill you in. "Poke" is a Hawaiian verb meaning to slice. So we sampled the sliced mushroom with truffle.  There is nothing better than doubling your fungi, it was an earthy dish with big meaty mushroom slices and a finish of lime and truffle.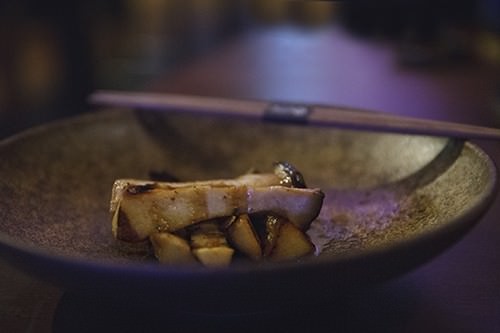 It's been a little while since I have enjoyed good quality wagyu.   Not to sound like a snob, but a high marble score and expertly cooked is the only way to enjoy wagyu. I knew this was a golden opportunity to satisfy my need for the ultimate beast. Marbling is important because it fans the meat fibres giving the meat its flavour and melt in the mouth texture.
We were presented with a teriyaki Wagyu striploin served with eschallots and sticky teriyaki sauce. The meat was rich and tender with a lovely pink centre and charred edge.  The wagyu did simply melt in my mouth but there wasn't the marbling present I expected. The Wagyu was coupled with a crisp deep fried taro garnish and a mouthful of soft caramelised eschallot. It was a great combination.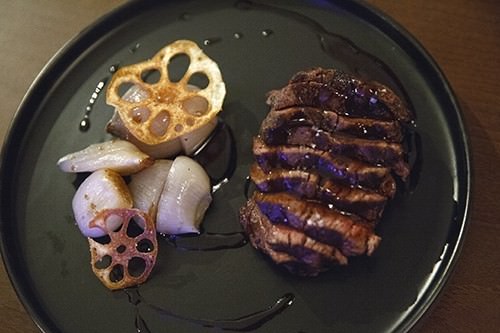 The sushi platter again displayed a more modern take on a traditional Japanese food. Each of the three pieces showed beautiful artistry and non traditional components or technique. The first was Tai Nori Shio Konbu Salsa. It's a little difficult to see in the image but this is a Nigiri style dish. The Nigiri was draped with sashimi snapper (white fish with black pepper dots).  It was then present on a crispy thick nori – the Tai Nori which had been shaped like a taco shell.  As expected the snapper was delicate and sweet and made the perfect partner for the more substantial crisp nori.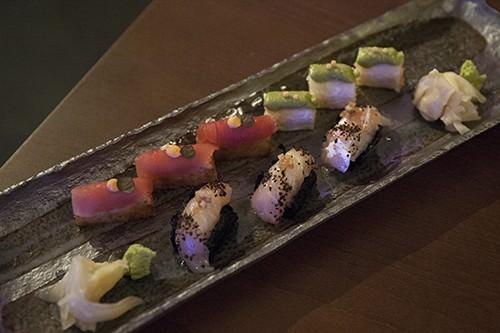 Tuna Nigiri is a favourite of Brett's.  The surprise with this piece was the sushi rice. The rice had been shaped per normal and then fried until crispy on each side which added a lovely toasted flavour. A thin slice of soft sashimi tuna was then draped over the nigiri and finished with a spiced mayonnaise. Throughout the meal Chase has been liberal with the spice and heat in a number of the dishes.  This has served to awaken my senses and add to my enjoyment of the meal. This dish was no exception.  Although just the tiniest dollop of creamy, spiced Togarashi mayonnaise was used, it lifted the flavour profile and added considerably Nigiri.
Perhaps the most interesting sushi on the platter was the Queensland roll.  You may notice what looks to be a long strip of wasabi across the top of a cylinder shaped roll.  Thankfully the topping was actually a creamy topping of seasoned avocado.  The roll had been formed using thin soy paper and stuffed with sweet spanner crab meat.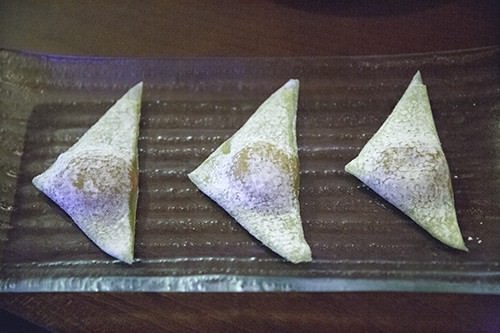 Mochi is a very traditional style of Japanese treat.  Glutinous rice is pounded into a paste over a long period. It can be sweetened and flavoured or dipped in .  The treat is usually molded into a shape but in this instance chef had stretched and flattened the Green Tea Mochi to form a chewy sweet casing. Encased in the Mochi was a sweet strawberry ice cream.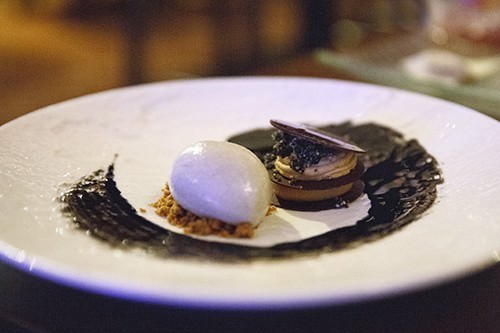 The finale to this magnificent meal was the Goma Street Dessert.  Images can be seen throughout Jupiter's Casino enticing guest to try this decadent sweet construction. Readers who've dined at Syoko may recognise the components in this dish although they have been redesigned for Kiyomi.
In this version of the plating a thick smear of earthy black sesame, which is sticky and sweet, circles the dessert. A quenelle of creamy smooth black sesame ice cream rests on a bed of crispy crunchy biscuit.
The Pièce de résistance however, is a three layered construction of tempered dark chocolate. The perfectly crisp chocolate disc are used to define layers of caramelised white chocolate mousse. A black sesame toffee crumb finished the dessert.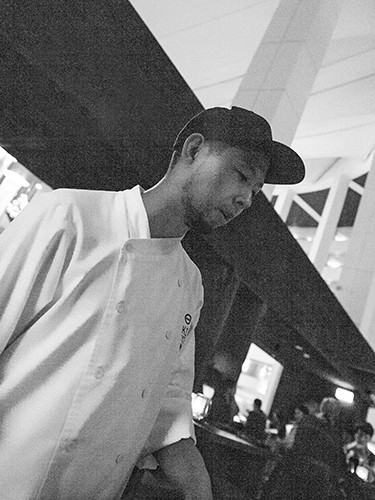 The attention to detail and excellence experienced whilst dining at Kiyomi stretched well beyond the menu design, execution of dishes or the artistry of presentation on the plate. Staff were attentive, gracious and professional. Wait staff had complete understanding of the food being served and the suitability of drink options.
Kiyomi Restaurant
Jupiters Hotel & Casino
Broadbeach Island Broadbeach, QLD 4218 Ph: 07 5592 8100
Gourmet Getaways would like to thank Jupiters Casino & Kiyomi Restaurant for their hospitality.  This review has been written in accordance with our disclosure policy.  The opinions stated in the article are a true and honest reflection my experience.