IPPUDO has been on my "must visit" list for a while now.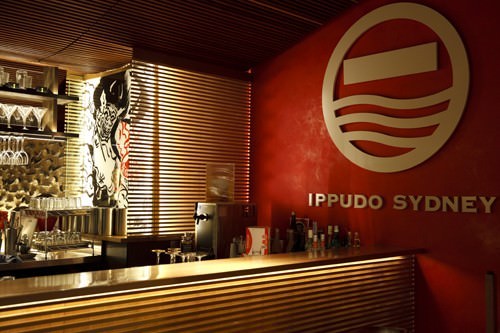 Located on the 5th floor of  Pitt Street's Westfield, the atmosphere is the lively, loud and very happening.  There is just such a buzz!  High energy staff yell greetings of moishi  moishi as people come and go, all adding to the vibrant,  funky atmosphere.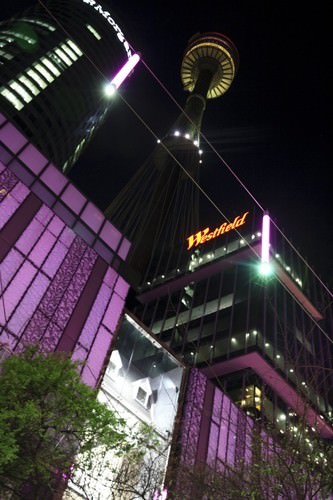 IPPUDO is a modern Japanese ramen house which has been a proven favourite in at least 10 different countries. Japan has more than 80 IPPUDO restaurants and Sydney is set to host another restaurant in late October 2014 at Central Park.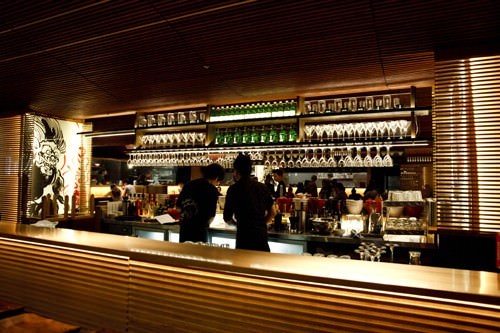 So when Mr GG and I recently found ourselves in Sydney for the evening the IPPUDO pork buns and ramen were calling our name.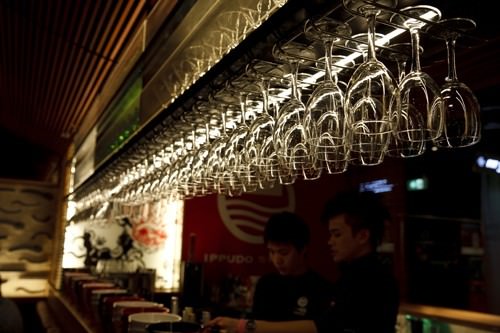 We took our seats and Mr GG ordered a Japanese Beer he hadn't seen before.  It was the Koshihikari Echigo Beer which came in a really unique bottle.  Hubby always makes a point of ordering a local beer to match the cuisine. He was not disappointed, it was a typically floral Japanese beer and very much to his liking.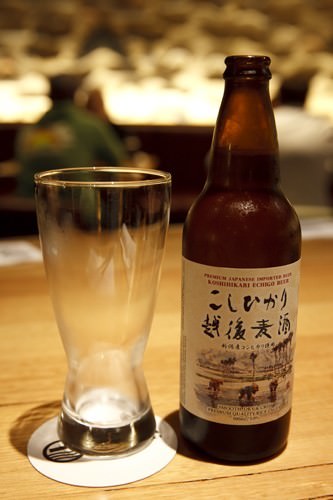 I decided a simple, light Tamar Valley Pinot Gris would suit my mood for the evening and ordered the Holm Oak.
I had been craving IPPUDO's pork buns all day so we were quick to place our order.
The steamed pork bun landed on the table and I was so ready to dive right in!  I could see the lush sauce and the big slice of braised pork belly, but nothing could have prepared me for the flavour.   The bun was impossibly soft and light!  The flavour of the delicious sweet, succulent pork was just mouthwateringly good! I'm sure my eyes rolled back in my head as I tasted the mixture of Japanese mayonnaise and the IPPUDO sauce that was dripping from the pork bun.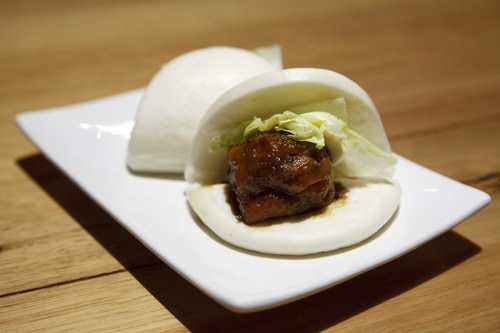 Before I was allowed to completely demolish the pork bun Mr GG made our customary swap. He had ordered the braised Terriyaki chicken steamed bun. This was another taste sensation! The chicken was a large cube which was saucy and cooked to perfection. Again, the meat was moist and soft, it seemed to just melt in my mouth. I think I could honestly live off these steamed buns.
It was a sad moment when they were gone. But there was more to come!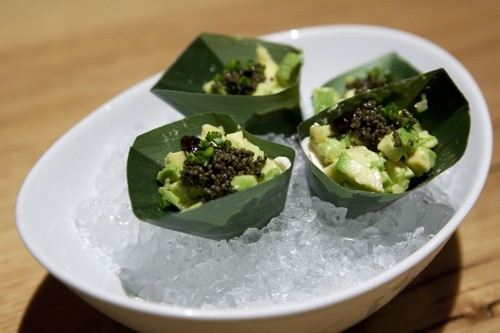 The Avocado & Tofu Tartar had caught my eye. It looked so healthy and I have never seen anything like it on a Japanese menu before. When the dish arrived it was presented on a bed of crushed ice! The cold silken tofu was served in a leaf which had been formed into a cone. Finely diced avocado and a small amount of soy sauce jelly had been added to the tofu. On top was a splattering of kelp beads which added a delicious earthy flavour. The little cones were served with a creamy sauce made with sesame oil, crushed sesame seeds and mirim. The flavour was sublime! It matched the creamy avocado and earthy flavours of the tofu and kelp perfectly.  Such a delicate and flavoursome entree.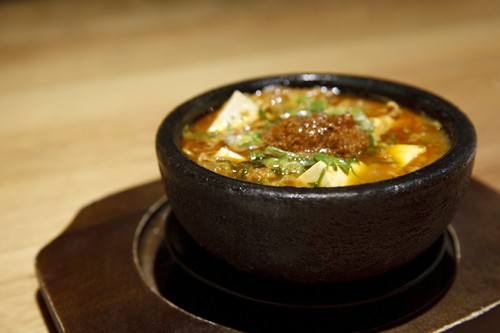 Our waiter had suggested we try the Bakuretsu Tofu.  This dish is served in an earthenware pot and arrives furiously bubbling to the table.  The steam has a delicious porky aroma and both Mr GG and I are dying to dig in. We try our best to be patient but the dish gets the better of us. After, burning ourselves and blowing like crazy we try the first silky piece of soft tofu.  It's covered in the delicious spicy sauce and it's SO GOOD! The broth is so rich, sweet, salty and porky with just the right amount of heat.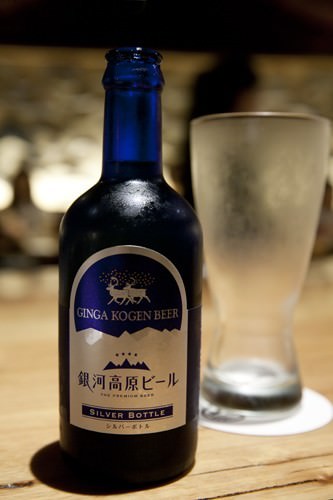 Mr GG was ready to try the second Japanese beer. He ordered the Ginga Kogen Japanese beer and I waited for the verdict. All I got was "God Damn!! That is Good!"
I said, "Really, better than the last?"
He answer, "Oh honey, you've got to smell this." I had the poured beer thrust under my nose!
He said" it's so floral and sweet, it's like beer bubble gum!" LOL, that's probably the closest Mr GG has ever come to describing a food or beverage, so that will be my description of Japanese Ginga beer.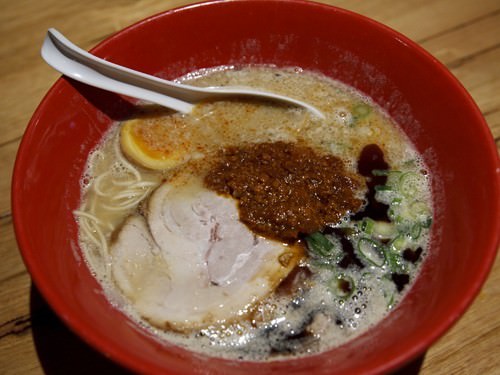 After advising the waiter I felt like something spicy with pork he suggested I order the Spicy Miso Tonkotsu which was on the specials list. My bowl arrived and the slices of pork belly glistened enticingly in the rich porky miso broth. There was a lovely dollop of spicy sauce floating on a raft of delicious springy noodles.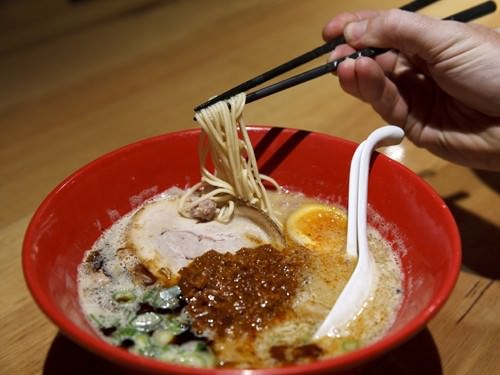 As I slurped the noodles and lovingly drank the lusciously spicy, oily broth I uncovered more deliciousness. A perfectly gooey soft boiled egg lay beneath the noodles.  Bamboo shoots and beans sprouts gave the broth a fresh, healthy crunch that I loved.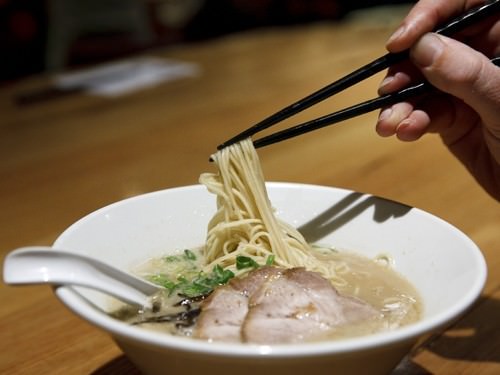 Never one to do things by halves Mr GG ordered the Shiromaru Special with all the extra toppings.
Shiromaru is IPPUDO's original Tonkotsu broth. It's served with the same thin springy noodles I was loving in my ramen. Brett's broth was the ultimate in comfort food, the flavour was so homely. It was mild, sweet and salty. Eating it was like sinking down deep into a comfy chair.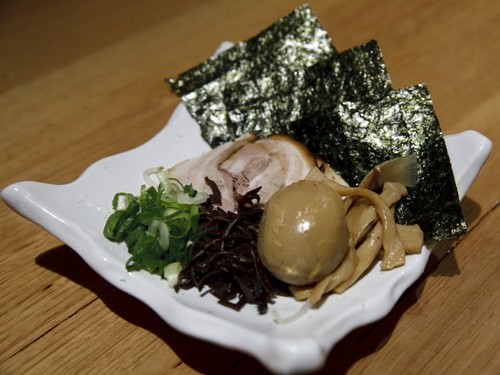 Mr GG piled in all the extra toppings.  After that all I heard from him were comments like. "Aww, that's so good," or "look at the yolk running over the noodles."
Since IPPUDO Sydney opened I have heard nothing but glowing reviews. Obviously this is for good reason, the atmosphere is fun and friendly, the waiters are helpful, the food is delicious and the prices is really reasonable.  It's a winning combination.
It came as no surprise when I heard there is to be another IPPUDO opening in Sydney at the end of October 2014. IPPUDO SYDNEY – Central Park will be located on Level 1, 28 Broadway, Chippendale NSW.  I will be looking forward to trying the new restaurant.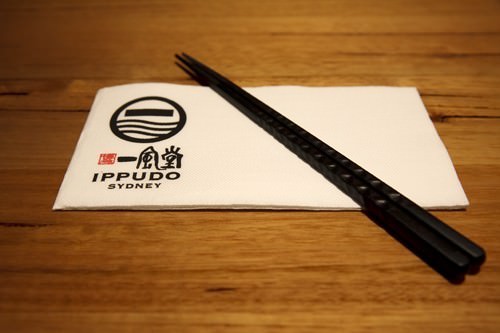 In the meantime take a look at this youtube teaser.
IPPUDO Sydney
Westfield Sydney, Level 5 (Shop 5021) 188 Pitt Street, SYDNEY NSW 2000
Phone: +61 2 8078 7020
Gourmet Getaways would like to thank Twine Restaurant for their hospitality. As always the opinions contained in this review are written without bias, and in accordance with my disclosure policy.