Where to eat in Santa Monica California?
Santa Monica is renowned for its beautiful beaches, boutique shopping and the healthy lifestyle of residents. You can read our review of our visit to Santa Monica here. But where should we eat? There are so many restaurants, pubs and cafes to chose from, and they all looked very inviting.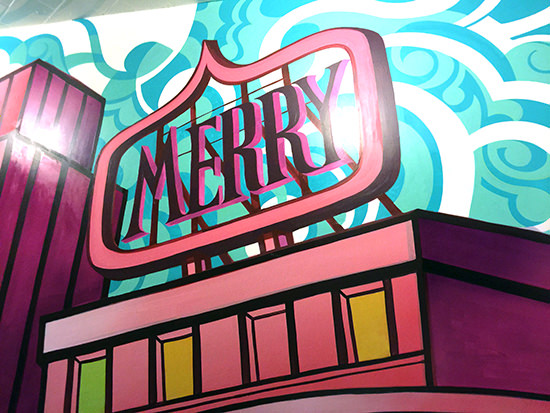 Looking for places to eat around Santa Monica we found The Independence Tavern
We stumbled across The Independence Tavern in Santa Monica and were immediately drawn in by the sophisticated, yet modern/funky decor. The Independence describes itself as a Tavern but looks more like a modern wine bar or restaurant.
At the entrance, there's an incredibly long bar with bartenders serving cocktails and beers to the very hip "suited up"" after work" crowd.
My descriptions may seem a little contradictory but the polished concrete floors and urban graffiti walls were in contrast to the sophisticated decor and polished looking staff.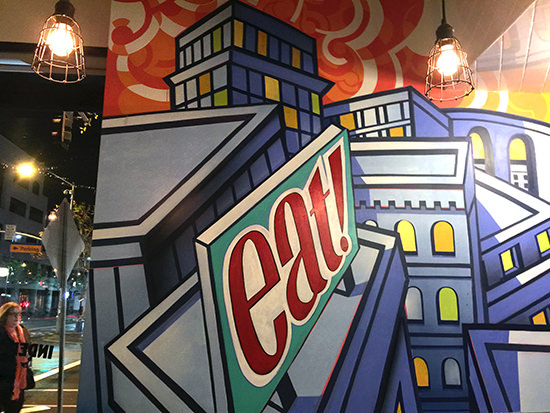 Taking a seat against the wall we watched as the place filled and the conversation volume rose.  After more than a week in the United States, we were in need of something incredibly healthy and tasty.
As I scanned the menu I was more than just a little impressed. I found the menu really exciting and innovative. As you would expect from a restaurant in a trendy area most dietary needs were catered for on the menu.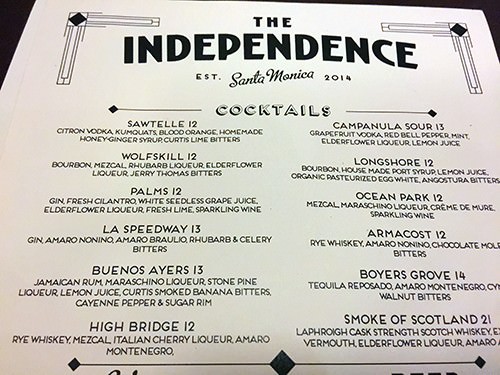 Before getting too serious about ordering food I wanted to order a drink.  I have been a little indecisive lately when it comes to my booze.
Usually, I know exactly what style of wine I feel like, so it's simple to choose from a region that I know produces that style of Australian or New Zealand wine.
In America, I have felt completely out of my depth. The grape varieties are different and the styles of wine vary too. It has been surprisingly difficult for me to order wine or even cocktails here confidently.
Bring on the cocktails and beers
I noticed a cocktail on the menu called Sawtelle. Since Sawtell is the next beach on from ours in Australia I asked the waiter what the drink was like.
Even ordering cocktails hasn't been easy as some of the spirits and ingredients are completely unknown to me.  The only thing I knew was that I wanted something fruity and the Sawtelle looked fruity.
Sure enough, this was the cocktail for me, fruity and refreshing with just the right level of punch.
Brett has no such trouble ordering beer.  He loves any opportunity to try the local brews and The Independence had a good range. He ordered the Santa Monica Beer Works Wit Beer which is actually brewed in Santa Monica.
The beer was just the thing after a warm spring day sightseeing, crisp and refreshing.
Time to select from the menu
Taking a look through the menu we noticed it was all the vegetarian dishes that were appealing to us. I'm guessing this is because we've had a serious lack of vegetables whilst traveling. We decided to order four share plates.
Scanning the menu we decided the Arancini balls were a must! After all who can go past crispy deep fried balls of joy.  It was a good call, they were amazing! Inside the crunchy crumb was the creamiest, pumpkin risotto filling.
Two sauces were generously swirled around the plate for dipping. The first was a creamy, smooth, cheesy taleggio fondue sauce and the other a sweet, red, honey glaze.
Again it was the thought of crispy fresh roasted cauliflower that had me ordering the Melody of Cauliflower. The dish that was presented tasted more delicious than I had imagined.
The white, green and purple cauliflower had been roasted with Thai spices and had a lovely subtle charred flavour.  A dressing of anchovies preserved lemon and olive oil gave the dish real depth of flavour and had me wanting more.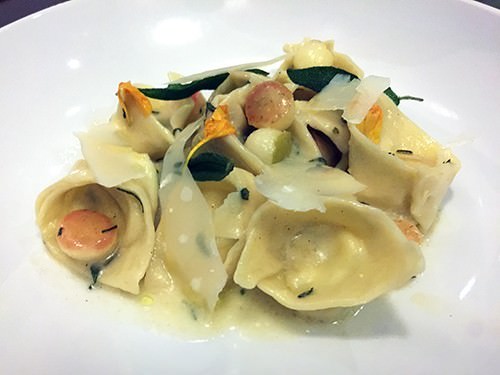 Homemade tortellini is another item I find difficult to go past on a menu.
The tortellini was so large and delicate. The soft folds of pasta were stuffed with tangy goat's cheese and five spice.
I'm sure you could almost have heard me moan when I took the first bite. The pasta was covered in a nutty burnt sage butter sauce and served with the most gorgeous roasted little apple balls.
The flavours in the dish were so different yet perfectly delicate and delicious.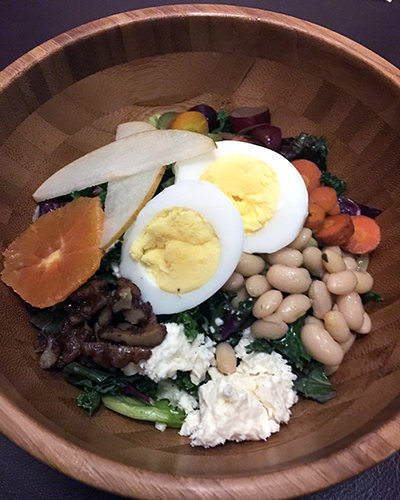 Brett surprised me by ordering the Kale Salad.  This is not usually his type of dish, but again it was delicious and just what we needed! It felt like the salad gave us an instant hit of vitamins and minerals, whilst satisfying my foodie desires.
There were so many ingredients in the salad, purple cabbage, white beans, carrot, fruit, creamy feta cheese and all served with a tangy dressing.
A Dessert from Heaven but naughty as Hell
Given the children had eaten a good healthy meal with such a variety of fresh vegetables we decided to take a look at the dessert menu. Naturally, they chose the most decadent dessert possible!
This gooey, rich, hot chocolate fudge brownie was the dessert of choice. To save the children from a sugar coma I took hold of a spoon a had an adult sized scoop of the brownie with the sweet, salted caramel and vanilla bean ice-cream.
OMG, So good! There was a loud protest from the children and I was banned from the plate, but I'd had my moment of bliss.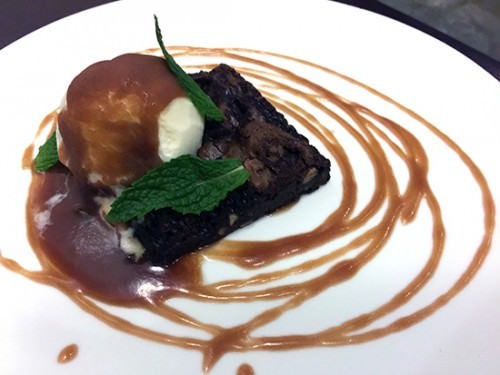 Each dish was on average just $9 which we felt was very good value for the style and quality of food. The servings also seemed a little bigger than we are used to for share plates at home.
Although we had only ordered four dishes and one dessert, we couldn't have eaten another bite.
How does tipping work in American restaurants?
One thing we are struggling with in America is the tipping. I know it shouldn't be that hard to work out but man oh man it is!
As you can see on this bill the tipping at The Independence Tavern is "seemingly" made straight forward by an "expected tipping schedule" at the bottom of the bill. The only thing I needed to do is decide how happy I was with the service.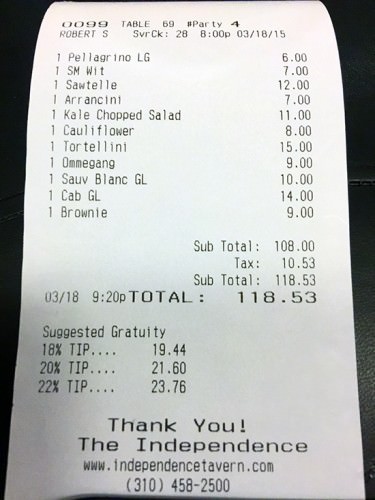 But… just when I thought I had the tipping all worked an American friend advised me that the bottom tip rate is considered to be an insult for bad service!
Oh, the nuances of tipping! I had thought that bad service meant NO tip and 22% was exceptional service! Seems 22% is just the expected amount if nothing terrible happened and 18% is like saying your hopeless I'm not coming back!
Anyway here's our biggest tip
If you find yourself in Santa Monica I absolutely recommend The Independence.  The meals are delicious, the waiters helpful and attentive, and the atmosphere fantastic.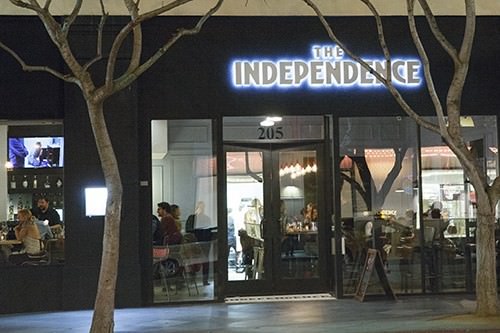 Where is The Independence Tavern?
The Independence tavern is located at:
205 Broadway, Santa Monica
California Website:
The Independence Tavern