Hello my lovely readers, today we are going on a "virtual" Hunter Valley Wine Tour. There will be no hangovers or embarrassing moments on this tour, so strap yourself in and enjoy the ride.  Hopefully when we finish I may have tempted you to take the "virtual" tour, and make it an "actual" Hunter Valley wine tasting tour.
There are many different ways to sample some of the Hunter Valley best wines.  You can take an organised wine tour, drive yourself from vineyard to vineyard, or hire a driver for the day. I like any method which requires no driving by participants! So before I send you on your merry way I thought I'd suggest two different driving services to get you from A to B, or from bubbly to fortifieds as the case may be.
Hunter Valley Wine Tour Operators
A GRAPE X PECTATIONS TOUR
Offers small boutique vineyard tours throughout the Hunter Valley
Phone: (02) 4998 1234
Mobile: 0405 155 456
SIGNATURE LIMOUSINES
Sample the best the Hunter has to offer in the comfort of our superstretch limousine. Choose your own itinerary or they will organise one to suit you.
Phone: 02 4930 5193
Mobile: 0427 010 934
For our Hunter Valley Wine tour I have chosen some of my favourite vineyards to share. In my experience these vineyards give friendly, knowledgeable service to tasters, and produce quality wines. You will find a mix smaller boutique vineyards and more well known names on our wine tour.
Hunter Valley Wine Tour
Petersons – Sparkling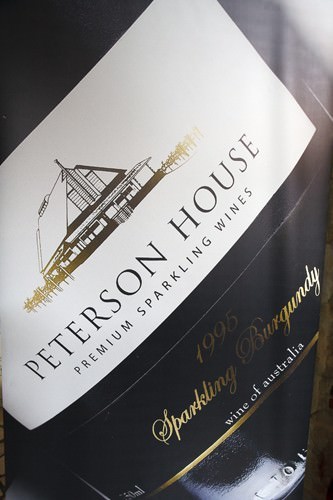 We are starting our tasting at Peterson House, the house of bubbles. As they say "Life is pretty flat without bubbles."I have to agree!What better way to start a day of wine tasting with a selection of sparkling wine.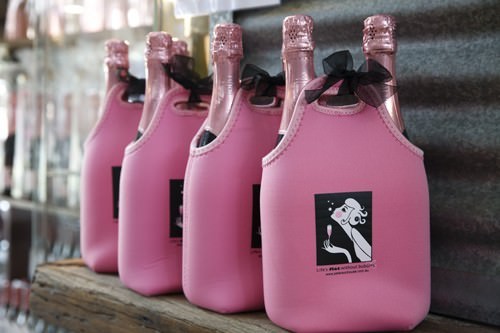 Peterson's use the méthode traditionelle when producing their flagship sparkling wines.  The 2008 Pinot Noir Chardonnay Pinot Meunier  was my favourite and even at $42 it was the sparkling wine which came home with me. The Pinot Noir has spent 3 ½ years on yeast which gives the wine a lovely bottle aged character. The initial flavour is of fresh citrus from the chardonnay, the Pinot contributes some clean berry fruits but the fresh zing  and the great mouthfeel from the yeast is what I loved about this wine.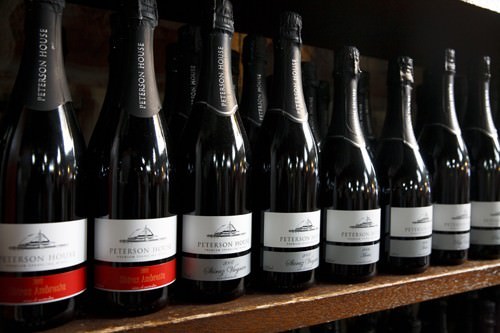 Bimbadgen – Sparkling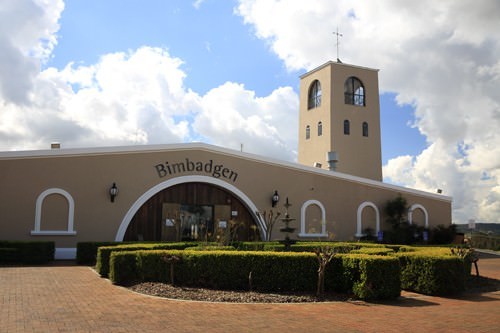 Next I'm taking you to Bimbadgen to compare their sparkling wines with those from Peterson House. You might remember I have taken quite a liking to the Bimbadgen Sparkling Semillon.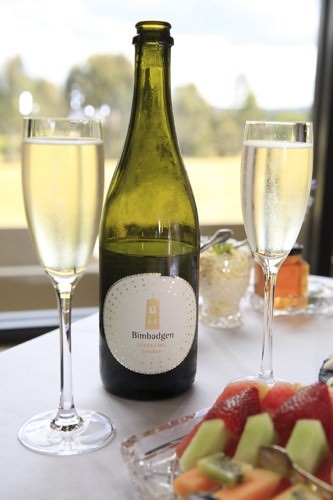 The Sparkling Semillon is served as the "bubbles of choice" at a lot of the local restaurants.  I first tried it at Peppers Convent over lunch in Restaurant Eighty Eight and then during High Tea at Chateau Elan. With delicate soft bubbles and a lovely citrus flavour I will be missing this sparkling wine when I leave the Hunter.
Pepper Tree – White & Red
Located on the estate at Peppers Convent in Pokolbin this cellar door offers a lovely selection of wine. The vineyard produces two red wines which have scored exceptionally well on the Hallidays' point rating.  The 2011 "Coquun" Hunter valley Shiraz scored 97 and the 2010 "14 Shores" Wrattonbury Merlot received 91.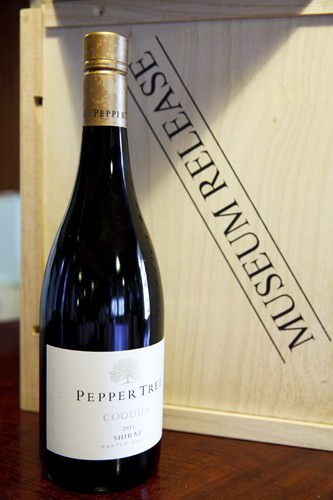 I also enjoyed the "Silenus" 2011 Sparkling Pinot Chardonnay.  Regular readers may remember seeing a bottle of Silenus in my story about Peppers Convent.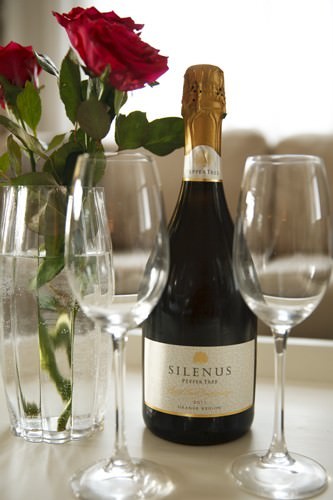 At the risk of sounding like we may appreciate wine a little too much I also have to mention the NV Tipsy Muscat.  This fortified wine is bottled in a spinning top style of bottle which is rather novel. The Muscat itself is like liquid Christmas pudding, sweet, syrupy, rich and fruity. LUSH!
Wynwood – Whites & Reds
Moving along on our tour we are stopping for a bite to eat at Twine and enjoying a wine tasting at the adjoining Wynwood Estate. Wynwood has a modern and inviting cellar door and produces both red and white wines.
My top two for this vineyard was the 2013 Grey Gum Semillon and the 2013 Reserve Shiraz. The Grey Gum Semillon is grown on old vines and is low yielding but each year produces a magnificent white wine.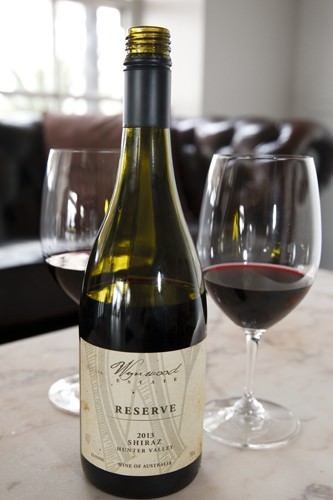 The Reserve Shiraz is also grown on 70 year old Hunter Valley vines.  It is handpicked and the "must" is allowed to "cold" soak for 24 hours before the yeast is added. In producing the wine a traditional "basket press" is used.  This method of producing the wine is more time consuming but a gentler process suitable for Reserve wines. The proof is in the pouring, the wine has a rich berry flavour with lovely depth and intensity.
McGuigan Wines
McGuigan Wines is one of the pioneering Hunter Valley vineyards.  They are also one of the most awarded wineries in the world, having won the title of 'world's best winemaker' three times!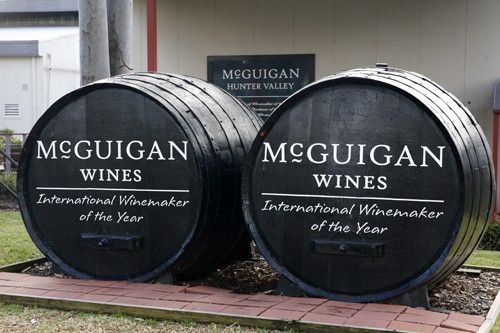 Although originally a small family enterprise McGuigan Wines is one of the larger Hunter Valley vineyards.  The vineyard reliably produces award winning wines from their extensive range.  Expect to spend some time sampling all the wines. McGuigans are known for the popular Black Label but at the cellar door you can also sample more exclusive labels such as Vineyard Select and Personal Reserve.
Draytons – Fortified
Moving onto the fortifieds we have to visit another pioneering Hunter Valley wine family. Drayton Family Wines produces quality wines from 100 year old vines, but its the fortified range that sets them apart.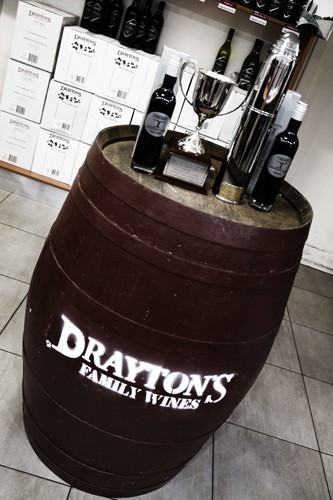 When we visited, the vineyard has just received the 2014 Hunter Valley Wine Shows award for the Premium Vintage Fortified Wine.   Drayton's 1978 Tawny was the recipient of the award, and as Edgar, the chief winemaker mentioned he has the benefit of a long history Drayton family wines behind him.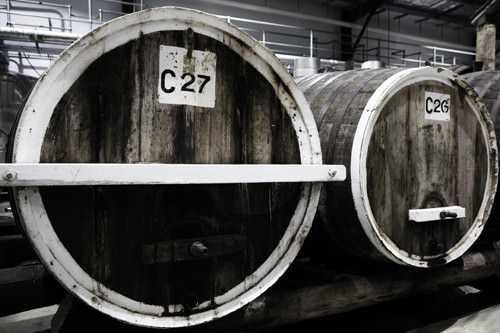 Edgar showed us around the cellar and drew our attention to  a treasure trove of 10, 20, 50 + year old barrels of fortified wine. We were able to taste from the barrels and he explained the different characteristics of each of the wine varieties and how the aging process alters the colour and flavour profile of the wine.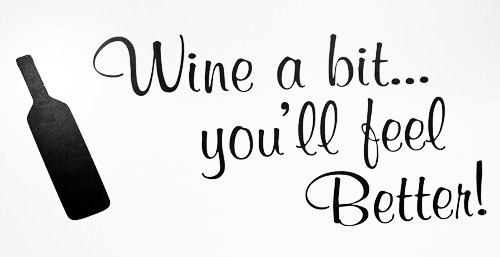 That concludes my virtual Hunter Valley Wine Tour. I hope you have enjoyed the journey.  Please make a time to  enjoy these wonderful vineyards in person.