We arrived at Opal Cove's Horizons Restaurant a little early so we took a seat at the bar.  The restaurant manager greeted us and offered us a glass of the first wine on the menu for the evening. It was a Penfolds 2008 Riesling which was a lovely, light wine to start.  We enjoyed the glass of wine and were then seated for the meal.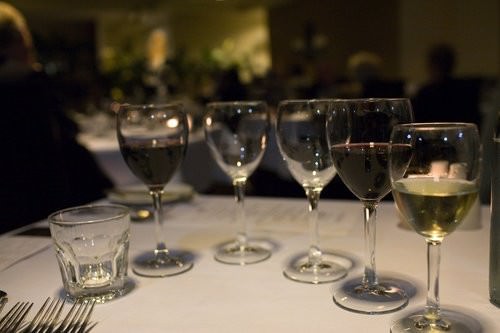 How do you prepare for a seven course Wagyu degustation dining experience? Firstly you bring a large strapping male to help with some of the courses, and my second tip is to have an early lunch and hope for the best.
The evening commenced with the producers of the Wagyu, Bronwyn McCrae and Mark Durham from introducing themselves, and speaking briefly to each of the tables about their product. Our glasses were topped up with more Riesling and Olive and Onion Bread was bought to the table. My brave hubby decided that he would be able to manage both his and my bread with copious amounts of butter. Oh, to have the appetite of a male.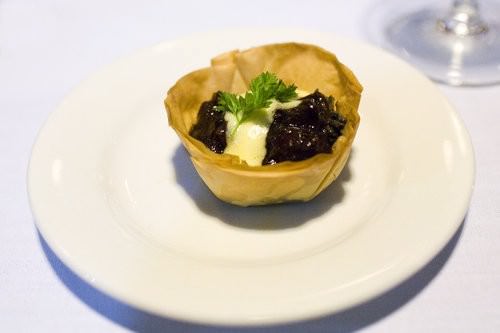 The canapé of Wagyu Beef & Guinness Pie with Hollandaise sauce was the first dish to arrive. We were told chef was a little generous with the size of the pie so it was decided the canapé would be served seated for everyone's convenience.
The dish was amazing! It was melt-in-your-mouth delicious. The Wagyu and Guinness sauce was so rich and meaty with a creamy hollandaise finish. We were informed by the chef that the minced Wagyu had been braised for 12 hours and combine with a reduced Guinness Jus for more depth of flavour.
I have had Wagyu before and each time it has been a real treat, I wasn't sure that the difference in meat would show through in a pie but I was wrong. There was no comparison the delicate texture and the richness of the meat was unmistakable.
Between courses, we learnt that Wagyu has that melt in your mouth texture due to the high level of fat marbling which fans out the meat fibres in the interconnecting muscle tissue. The fat is finer and has an even distribution throughout the meat, giving each cut a delicate texture. This evening's Wagyu has a marbling score of 9, which is only possible in full-blooded Wagyu. The best possible Waygu grading is a 9+ score so tonight we are experiencing some of the most exceptional Wagyu available.
We are served the next wine which is a Yarran Chardonnay and both Mr GG and myself enjoyed it very much which is a little unusual for us as we both have completely different tastes in Chardonnay and hence rarely buy a bottle.
The next course has a few of the tables "tongues waggling" so to speak. The dish we are served is Pickled Tongue with Daikon, Bok Choy & Coriander Salad with a Beef Consommé. I have never had tongue before, I actively avoid eating unusual animal parts, and it seems from the general conversation in the room I am not alone with my queasiness.  The consommé is added to the dish at the table and we are left to sample Wagyu tongue.
I am sure the dish will be beautiful, as it is unlikely we will be served something objectionable by Wagyu producers, promoting their product, and the head chef of Opal Cove, so I try the dish. The taste and texture is totally unexpected. The outside texture reminds me a little of deep fried tofu or a Thai fish but the meat itself is completely different again tasting like a very tender cut of meat.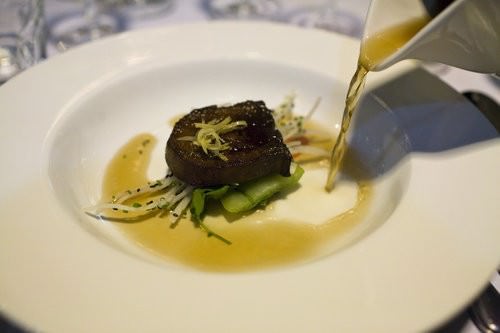 The dish itself has a Japanese feel to it with the Diakon, shredded Ginger and light consommé. It is refreshing, and a real experience. Chris explains that the tongue is usually a very tough piece of meat, so this dish has been slow cooked for 20 hours to give it tenderness. The chef has succeeded in creating a stand out dish, as everyone seems to have been pleasantly surprised by this course. It is always good to have your food boundaries pushed and then to be pleasantly surprised by what you discover.
With a beautiful yellow full moon rising in the background we moved on to the third course. This dish is made from a "random muscle" it sounds a little ominous but it was explained that animals sometimes develops these small muscles in sections that cuts are not usually taken. The chef took advantage of this cut to serve a Wagyu bruschetta with caramelised onion, brie and rocket.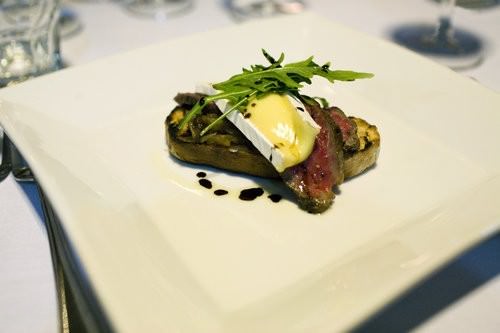 I absolutely loved this dish, for me, it was the best dish of the night. The melt in the mouth beef with the beautifully strong, creamy Brie was the best combination imaginable. The caramelised onion and bruschetta finished the dish nicely but I would have happily sat down to a plate of just Brie and Wagyu, the match was amazing. The meat, like the cheese, just dissolved in your mouth.
It was at that point I noticed that for each of the courses we had only been given butter knives for the dishes. It should not have come as a surprise, however, as I can't imagine ever needing anything more than a butter knife to cut this moist tender meat.
The wine served with this course was an Aerin's Vineyard, Grenache/Shiraz/Mourvedre. It was mellow and smooth, and I would have happily settled in for the night with a bottle of this lovely drop, but for the sake of objectivity (and my license), I am reluctantly limiting myself to just a taste of the wines offered from here on in.
This is such a relaxed and indulgent way to spend the evening, sampling beautiful produce straight from the farm, and lovely wines in a fine dining atmosphere.
Fortunately, between this course and the next, we are given a little time to savour what we have been presented with thus far and prepare for the next dish. I would not usually make it too far through even a three-course meal so I am happy for a chance to speak with the chef and the Wagyu producers.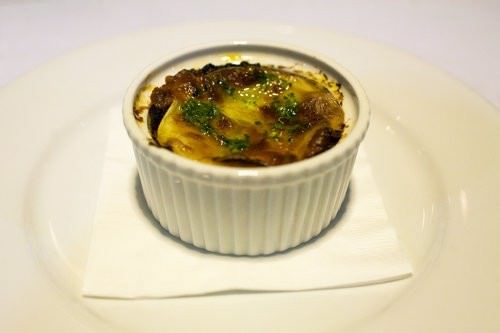 Our next course is a Lasagna. It arrives and I take the necessary photographs, it is always difficult to get a good photo of this type of dish.  I am a little surprised that the chef has chosen Lasagna, especially since he has already showcased the Wagyu mince brilliantly with the amazing Beef and Guinness Pie in the first course.
The Lasagna is, of course, nice, as a Lasagna is. The pasta is obviously freshly made, and the meat has a lovely herb flavour to it, but it is still an unexpected inclusion to the menu for me. I am sure, if my children were at dinner, they would have finished the dish in seconds. It does also strike me as an expensive Lasagna, as we are told the meat retails for between $120 and $150 per kilo. I pass over my dish for Mr GG to finish, as by this stage I am trying to save room for the next two courses.
Accompanying this course was a Wolf Blass Shiraz Viognier. We have visited this vineyard in some of our past travels and I particularly enjoy the Wolf Blass reds. We have been very impressed with all the wines served throughout the meal. They have been well chosen to compliment the dishes and to appeal to all palates. Hubby and I don't usually agree on wines and so far we have both enjoyed everything on offer.
We are all looking forward to what is the final Wagyu course. It is a Sirloin steak with fondant potato, enoki mushrooms, horseradish foam and truffle jus. Before the course is brought to the table the Chef explains to guests that he has chosen a slow cooked method for the Sirloin steak to minimise the moisture loss from the meat which helps keep all the flavour in the cut.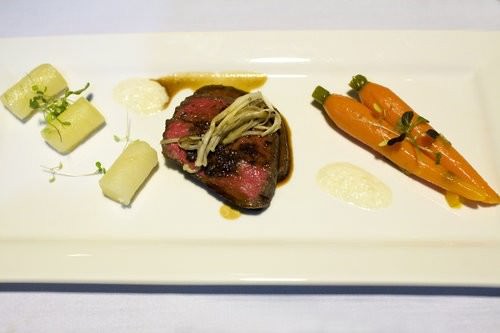 The dish looks amazing and it doesn't disappoint. The meat although slow cooked is still beautiful and rare. The truffle and Wagyu are another perfect combination, the truffle Jus just adds more moisture and flavour to an already lush, succulent piece of meat. I love the delicate enoki mushroom and the whole dish is superb. I am pleased to say I left nothing except a carrot and I loved every bite, the butter knife was all that was needed to cut the meat as expected.
I am sure I am not doing justice to the Wagyu meat in my description. The tenderness and melt in your mouth flavour has to be experienced to be believed. The meat marbling is responsible for the flavour as I previously explained, but it is important to note the fat is not a saturated fat, but an Omega 3 style of fat usually found in fish only. It is actually a healthy alternative to fish for Omega 3 health benefits.
The matching wine for this course is PepperJack Cabernet Sauvignon another beautiful big mellow red that will be on our shopping list in the future.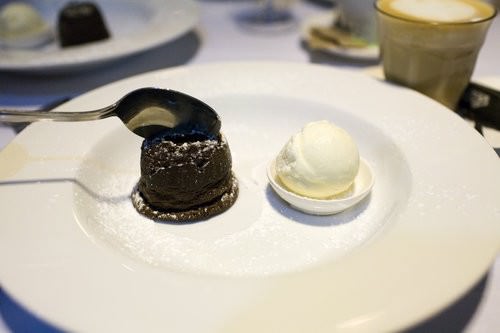 The next course was a Chocolate Fondant with Vanilla Ice Cream. We have been eating a lot of fondants recently. I seem to make them at least twice a week, and they are on every second menu, so I guess we are a little difficult to impress with this dish. My poor hubby didn't have any luscious dripping centre to his pudding so he was a little disappointed. I was too full to have more than a mouthful so I happily passed my dish over to him.
For the final course, we were served coffee and more chocolates. The whole experience has been a real treat. The dishes were amazing, and on the whole, something a little different. My favourite dish was the Wagyu Bruschetta, and I honestly don't know how I am going to go through life, not experience this dish on a weekly basis.
As we are leaving are informed by the Horizons Restaurant manager Janelle, that the next degustation evening will by highlighting a local Truffle. We were told that Australia is producing truffles in Western Australia, Tasmania and Ebor and the evening will be used to showcase our Australian product.
The date for the evening is yet to be scheduled but is likely to be held toward the end of August or beginning of September. I will update when dates are available. Judging from our experience of the lavish degustation dining experience we have just experienced I am sure it will be another indulgent evening worthy of getting a table of friends together.