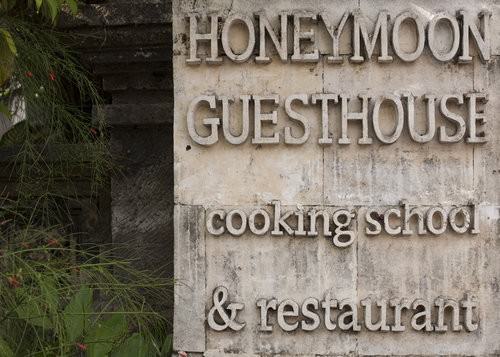 No readers, I am not on my honeymoon… my choice of accommodation was not based on the name but was more about the food.
After a very late night arrival in Ubud we were a little tired, but looking forward to starting our holiday. The cottages offer a breakfast inclusive rate with the accommodation, so we were up bright and early to see what was on offer before we commenced our busy itinerary.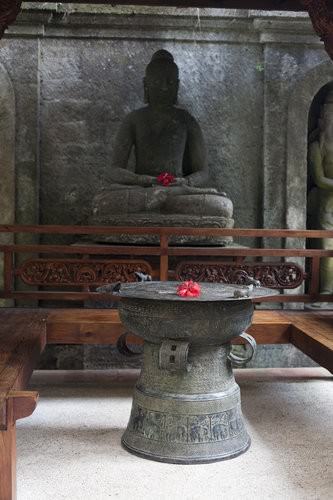 I had a moment panic when I remember that on our last visit to Bali I struggled to find a good strong coffee at times throughout the stay. I was mentally preparing for caffeine withdrawals when I spotted a cappuccino machine in the corner of the restaurant. Whew! I was spared, we were off to a good start already.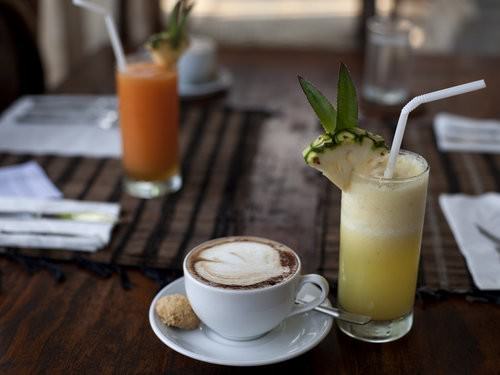 My coffee was made on powdered milk or UHT, but it was such a relief to have a good strong coffee after arriving at 1.00am the previous night that I barely noticed.  Besides, my cappuccino came with a delicious homemade biscuit which tasted like coconut shortbread. I was already sliding into my happy place.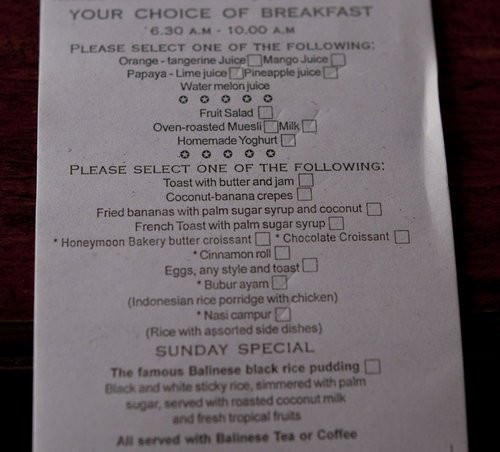 The breakfast menu was supplied to guest in the rooms via a notebook.  The selection is made on the notebook and handed to staff upon arrival in the dining room.  Mr GG decided to start with Papaya & Lime Juice and I chose the Pineapple juice.  Both juices were really refreshing, I felt that I was pouring vitamins into my body and the lime had a real cleansing aspect.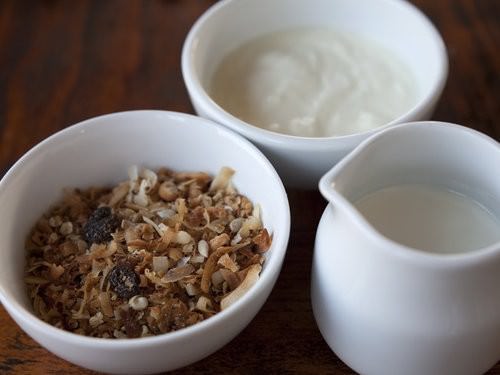 The next dishes to appear were the homemade yoghurt and muesli.  With so much food on offer today I was tempted to skip this course but I am so pleased I didn't.  The yoghurt was deliciously tart and acidic with a real lemon tinge, unlike a commercial yoghurt.  The muesli was simply the best ever! It was full of toasted coconut, nuts and sultana, it was like eating a sweet crumbled biscuit. The combination with the tart yoghurt was an absolute taste sensation.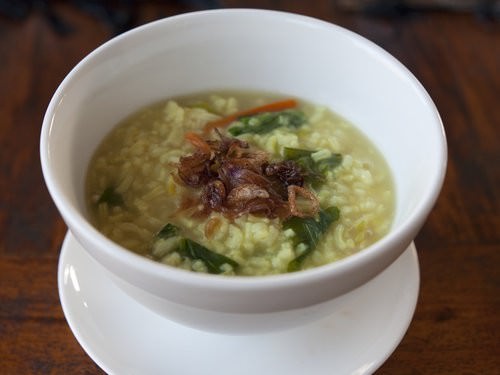 The hot dishes arrived, Bubur Ayam was placed in front of Mr GG. This is an Indonesian rice porridge with chicken.  I can imagine this being a warming comfort food, the rice is cooked in a flavoursome broth with a few vegetables and chicken is added to the top of the porridge.  Mr GG couldn't help adding a hefty serve of my chilli to his dish as he likes hot dishes.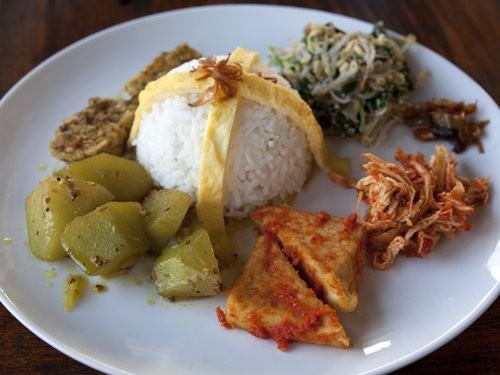 I had chosen the Nasi Campur which is basically rice with assorted accompaniments. My dish was so delicious!  I had chilli tofu triangles in a tomato paste, a warm choko with a curry relish, Tempe, sprouts and spinach in coconut and lime and delicious fried shallot and chilli paste, which I found out later is a chilli sambal. Even the rice in the centre of the plate was light and fragrant, with a hint of cardamom. It was a decorated with fried egg and shallots and I was generous with the chilli sambal I added to the dish.
With a full belly and a smile on our face, it was time to head off to the first activity for the holiday, a cooking school!  I hoped we would learn to cook a meal like the one we had just experienced…
Pt 3 to follow…
Would you like to join me on a Balinese Food Safari in 2012? Brochure