Catching up on family gossip and taking some quiet time for a "nice cup of tea" was the order of the day today. I have invited my mum to spend a few lazy hours on a Saturday afternoon sampling High Tea at Rendezvous Restaurant with me.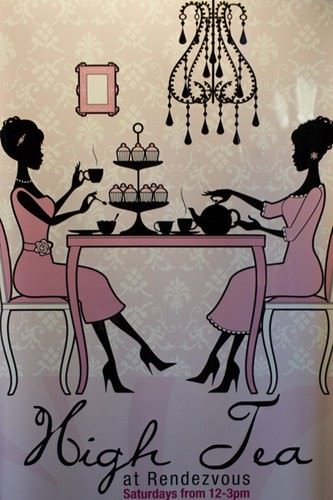 The décor, subdued lighting, and general atmosphere of Rendezvous is ideal for switching off and forgetting about the outside world, while you are waited on by the attentive staff.
We are handed a menu which gives an elaborate description of quite a number of delicious sounding blends of tea. There is also the choice of "high tea with a twist". The "twist" option adds a liqueur to the teapot which compliments your choice of blend. All the lovely morsels which will be served as part of the set menu are listed and they sound perfect for our "ladies outing".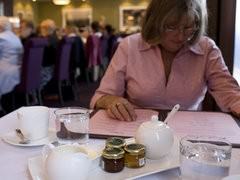 The menu also explains the surprisingly poor origins of the high tea  Apparently, it was not a formal affair of the "well to do" as I had imaged based on the modern day interpretations, but something which has evolved from the poor working class in Britain. The worker could only afford one solid meal per day being lunch. When they returned home hungry of an evening they would have tea and scraps, (leftovers of their lunch). These little bits and pieces served with tea are what we have now adapted to "High Tea."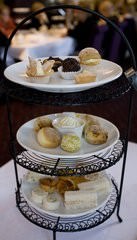 The choice of tea is something quite extraordinary and after quite a lot of agonising I decide on the Madagascan Vanilla Tea, my mother chose the Crème Brulee option and we settled down to a chat while our platters of food were prepared.
When the tea arrives the aroma is quite definitely floral and vanilla as described. I am surprised by how nice it tastes and I am sold on the experience already. I will be searching for the tea online tonight. The beautiful platters of food follow shortly afterwards and the ooh's and ahh's started in earnest.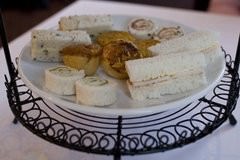 We decided that we would begin with the warm savouries and the mini Salmon Quiche was my first choice, mum started with the amazingly, creamy Pumpkin Frittata. Each of the mini lovelies on this serving tier were provided in multiples of two, so there was no splitting required.  We enjoyed every crumb of our first two dishes and I have to say they were my favourites for the afternoon.
We enjoyed every crumb of our first two dishes and I have to say they were my favourites for the afternoon. Next, we tried the scones, first the savoury parsley and chive scone, which was so light and buttery with a clean fresh herby flavour, absolutely delicious. Then I had the cutest little choc chip scone with raspberry jam.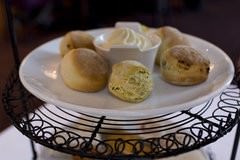 Mum and I had a brief rest from sampling to chat and order more tea. I would have liked the tea to be refilled as part of the experience but regardless I was happy to order a second pot.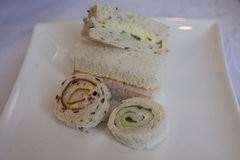 We moved onto the tiny sandwiches served in the traditional elegant manner of pin wheel and mini rectangles. The fillings were also quite traditional, with egg, tomato, chicken and cucumber being the four varieties on offer.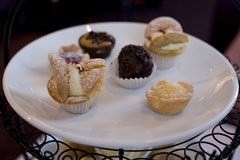 Next, we moved onto the top tier which was the sweet finale to our formal tea experience. These were by far the most delectable looking treats.
We had little Angel Cakes with an amazing Caramel Crème Filling, mini Lemon Curd Tart, Raspberry Tart, Chocolate Rum Pudding Truffle, and a Chocolate Caramel and Almond Meal Tart. I was tempted to marvel over these beautifully presented mini desserts but the thought of tasting them was just too much, they disappeared in a flash.  Our tummies groaned when we finished, we had probably over indulged but we loved every mouthful.
I thoroughly enjoyed my High Tea experience, the setting was ideal, the staff provided the perfect high tea service, the food was divine and plentiful (we didn't make it through the last two scones). The tea was a highlight for me as most of the blends on offer I had not seen elsewhere.
High Tea is held each Saturday, between 12.00 to 3.00pm, bookings are essential. The cost is $25 per person or $35 for "High Tea with a Twist"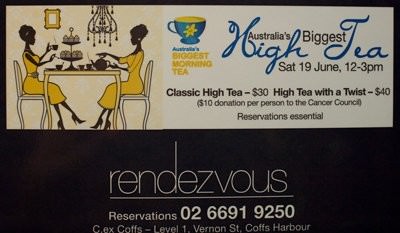 On Saturday 19th June, as part of "Australia's Biggest Morning Tea" Rendezvous will be hosting a special High Tea experience as a Cancer Council Fundraiser. The cost to be part of this special High Tea will be $30 per person or $40 for "High Tea with a Twist" Rendezvous will donate $10 for each customer to the Cancer Council.