Our first day in Georgetown had been quite different from what I had imagined of Malaysia.  Today we are  off to Batu Ferringhi, the beach coast and holiday strip of Penang Island. I am preparing for touristy, but I have heard they have delicious food at night markets and beautiful beaches, so I think it's time to find the beauty.
We hailed a cab for our trip and said goodbye to the Deluxious Hotel. The further from Georgetown we ventured the prettier the scenery became.  If this was a holiday with Mr GG and I alone, we would have hired  motor bikes and toured around looking for all the hidden gems Malaysia has to offer. With the children in tow bikes are a little too difficult, so we made the most of the cab ride and stared out the window.  Even from high up on the cliffs we could look down and see pretty bays with white sand beaches.  It was at least a 30 minute cab ride which saw us winding our way along the Malaysian coastline, seeing glimpses of "the beach" type scenery, deep green jungle meeting beautiful blue clear seas, with rocky outcrop periodically dotting the coastline.  I know its 30 something degrees outside at 10.00am, but the cab is cool and the driver is happy and friendly.  We watch the poorer areas disappear, giving way to tourist developments, and high rises with budgets that don't seem to quite fit their surroundings.
Eventually we arrived at the Hardrock Hotel Penang, our home for the night. I chose this hotel because I felt by this stage in our holiday the children would be in need of another set of water slides, a pool, and other kids to play with. I had hit the nail on the head.
Within moments of our arrival the children were playing and chatting with kids from all different countries and had made a beeline for the pool area. Something that hadn't previously occurred to me when I lamented that this may be touristy is that Malaysia is the play area of many different countries.  I was pleased to see that although there were language barriers, the children were playing with children from so many different countries that I would not be able to name them all.  They were exposed to so many cultural differences, and just took it in there stride, for example at least one quarter of swimmers were wearing a full burka. So although the area is touristy was still an amazing cultural experience.
Whilst the children played I checked us in to our interconnecting rooms. Mr GG and I have the King suite and the children are sharing the adjoining room with single beds.  Little Anais is on a rollaway be for the night.  The rooms are gorgeous! So much attention to detail.
In our bathroom there are just three sliding panels which separated the bathroom from the bedroom. One panel is a mirror and two a frosted glass with etched art images.
From our room I could look over the pool area, to the sea, it was such a lovely view and I felt instantly relaxed.
Through out the hotel there were bit and pieces of rock and roll memorabilia.  It was amazing to find that most of the "stars" displayed on the walls were completely unknown to even my teenager, much less the little children. This Beetles picture was a mystery to all the kids.
On our floor of the hotel there were framed photographs of Fleetwood Mac performing, and images of Stevie Nicks.  Walking back to our room Lachlan asked if one of the Stevie Nicks images was me. Lol! He thought I was a superstar before he was born!
Back downstairs with the family the heat and humidity was indescribable,  Mr GG and I decided to made use of "The Love Shack Bar." Before you get any ideas… The Love Shack is The Hard Rock Hotels swim up bar. It may have only been 11.00am but it was so hot I was already in a swimsuit, in the pool, and totally parched.
I found the heat and the humidity were stifling; unless I was actually submerged in water I could feel myself charring. Lucky for me I had chosen an area of shaded water to cool down in… the fact that it was right next to the swim up bar was merely a coincidence… not excellent planning on my part, shade and refreshments… a definite win.
We literally spent the whole day in the pool.  The children were constantly flying down the water slides and enjoying the set activities provided by the staff at the pool.  Each hour or so a new activity would commence, there were hula hoop competition, water polo and a dance competitions.  Meanwhile in the background paragliders went by in the ocean, jet skiers dropped by and periodically husband would have a quick dip in the sea. It was all very easy, and very civilised.
We met a Canadian couple currently living in Perth who voiced a sentiment which I find very true. When holidaying with children a child friendly destination ensures that parents can actually relax and enjoy the holiday too. The Hard Rock Hotel is definitely child friendly.  There are staff walking around dressed in rock and roll costumes giving out watermelon to guests by the pool, they organise activities for the children, and everyone has a lovely friendly nature.
For those that wanting to party,  there is plenty of entertainment scheduled each evening in the bars.
By the end of the afternoon I had been in the pool all day and I was feeling a little like a prune, husband said to me, "Would you like another Mojito?" I returned," honey, if I have another, I will turn into a Mojito!" So naturally he ordered another drink and we lazed for another hour or so by the pool. Bliss!
Eventually we needed to summon the children so they could dress for dinner.  We wanted to try some of the delicious Penang street food infamous in the region, so we set out on a walk down the main road.  There were so many restaurants along the way to choose from but we wanted to look at the night markets and order from the street stalls.
We walked for about 15 minutes until we reached a large under cover area where tables and chairs were surrounded by carts and food stalls. Each table had a numbers so we began the task of choosing food and quoting the table number to vendors.  One by one our food choices were cooked and brought to us for payment.
Between the five of us we amassed quite a collection of food.
The little ones decided on a pizza, which was surprisingly delicious.  This would not have been my first choice for them, but given they had been trying so many different types of foods lately I decided it wouldn't hurt for them to have something familiar.
Tylor was front and centre at the satay sticks stand, he stood and watched them being cooked over coals and an open flame.  They were served with a generous amount of sate sauce.  For research purposes I consumed two of the sticks while he wasn't paying attention, they were deliciously smoky. I could have happily eaten more but I was sure the boy would protest. 10 sate sticks cost a grand total of RM$5 which is equivalent to $A2.00.
The teenager also ordered a serve of noodles with chicken and fried egg for RM$8 or $A3.20 from the stall next door.
After doing a lap around the food court I decided I really wanted noodles too.  I unwittingly chose the same noodle dish as Tylor.  The picture looked so delicious, and it was described as spicy so I just couldn't resist.  Even though we had a "food duplication" I could not have been happier with my choice.  The noodles were the best of I have ever had, they were so deliciously soft and spicy.  A true taste sensation!
Knowing the noodles alone would not be enough I also ordered Tylor and myself a handmade spring roll each.  After watching them being made I just couldn't resist trying one.  These were delicious as only deep fried food can be, crispy skinned and full of flavoursome crunchy vegetables in the middle.  The spring rolls were served with a spicy sauce and the two spring rolls were RM$6 or $A2.40.
So the hungry teenager had been fed for a grand total of $6.80, and I had my fill for $4.40.
Hubby had helped the children with their pizza and was looking for a little more to finish the meal.  He tried my noodles and agreed that he had never had better and then helped devour my spring roll.  After that it was time for him to brave the stalls and choose his own dish.
As expected Mr GG found some huge steamed buns that he couldn't go past.  We had been seeing these oversize steamed buns everywhere, and I was looking forward to breaking into one and tasting the goodness.  As expected the bun was deliciously sweet and light, it had a tasty savoury meat and boiled egg filling.  We used the bread to mop up the remaining sate and chilli sauces from the other dishes which added another whole level of deliciousness.
Very satisfied our weary family walked back to the hotel.  We weaved our way through the stands of cheap clothing, watches, sunglasses and other brik a brak which lined the street from the food market to our accommodation. The children wanted a ride in the trickshaw but it really wasn't very far and we would have need three to get us home!
Upon return we had to have the obligatory photo in front of the Hard Rock Cafe guitar before retiring for the evening.
Where ever we go breakfast seems to be included in the rate. So we made our way down to the buffet. The children are getting really good at choosing from the foreign foods, so much so that I don't know how they will adjust when we return home and offer cereal!
The buffet breakfast had all the regular breakfast fare with a few interesting additions. I am loving my curry breakfasts, today I had the choice between a beef curry gravy and a vegetable curry. They were accompanied by roti cania which was made on the spot.  I decided to sample a little of both curries.
In a steaming hot box I noticed  three different colored buns.  Not knowing what would be inside I decided to try one of each flavour. The outside was the same deliciously sweet light bread but inside the buns were various sweet fillings. I am still unsure what these fillings were but the green tasted like Kaya so I think it may have been a sweet Pandan filling and the brown filling tasted a lot like palm sugar. The pink is still a mystery. Whilst they were nice I was preferring a savoury flavor for breakfast and was hoping the buns would be filled with curry.
Hubby had been craving a laksa, he found the buffet breakfast included a laksa station.  Mr GG added toppings like fish balls, spices, noodles and broth to a bowl and then sat down to a bowl of piping hot noodle soup.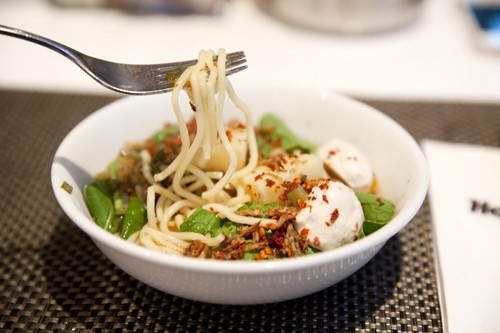 After the first breakfast course the children noticed the live waffle stand and the accompanying toppings. Just as any child would be, my children thought they were in sugar heaven.
They made concoctions from the add ins that would turn any adults stomach. Eventually they fell into a sugar coma and we were able to leave the buffet.
It was only a one night stay at the Hard Rock Cafe Penang before our next adventure.
Today we are off to Thailand.
Hard Rock Hotel
Batu Ferringhi Beach
11100, Penang Malaysia