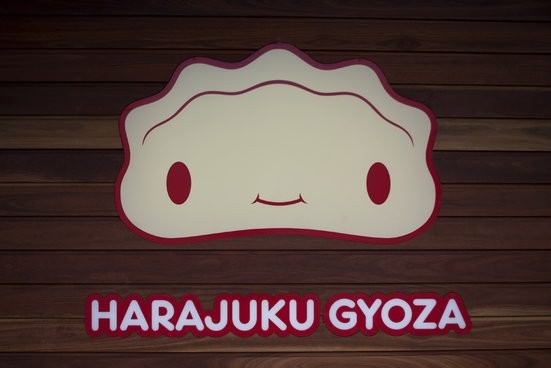 How do you decide where you're going to eat when visiting a new area? Sometimes I wander aimlessly around the streets looking for something that takes my fancy. At times I have researched the area prior to my arrival, and have a list of places chosen well before the intended stay.  Mostly, I consult Urbanspoon.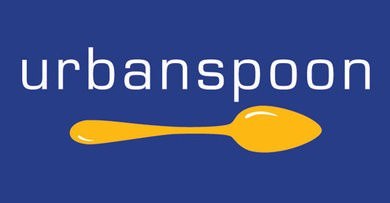 Today I was doing a whirlwind trip to Brisbane, just prior to leaving the hunger pains struck. I decided to access the "talk of the town" function on Urbanspoon. This function shows what's hot in a particular town at the moment. In first position was a Japanese restaurant called Harajuku Gyoza in Fortitude Valley. Mr GG and I enjoy our Japanese food and fortitude Valley was on our way out of the city so we needed no further coaxing.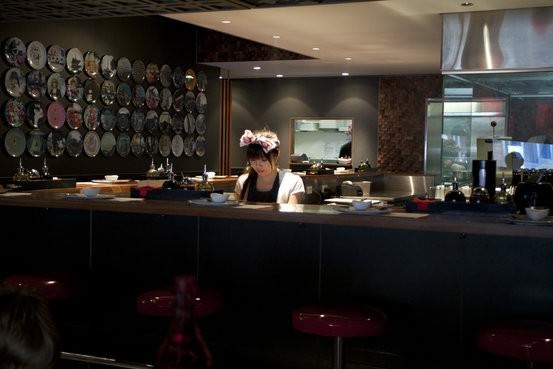 When we arrived I knew we had hit the jackpot. Harajuku Gyoza is recognisable by the cute Japanese style cartoon picture on the outside of a clad wooden paneled building. It could not have had a more Japanese feel.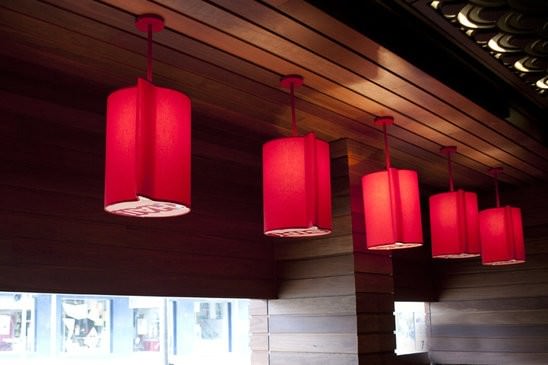 Upon entering, the decor sets the atmosphere perfectly, dimmed lighting from red light shades, a wooden bar area for drinking, eating and knocking back the odd sake or two.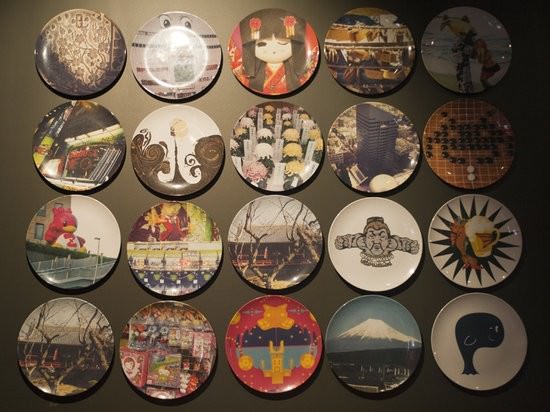 The walls were decorated with feature plates in Japanese designs and animations.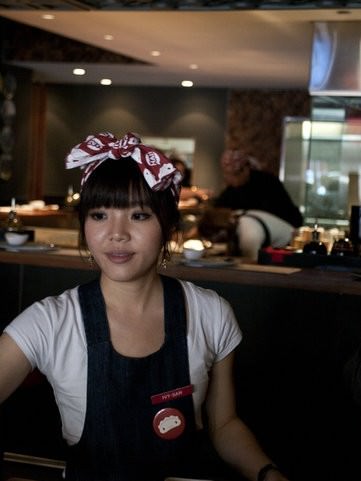 We were given the traditional mooshi mooshi when we arrived by the friendly and attentive staff. The gorgeous Japanese waitresses were dressed in jeans, red headscarves and aprons which completed the look of this "drinking den"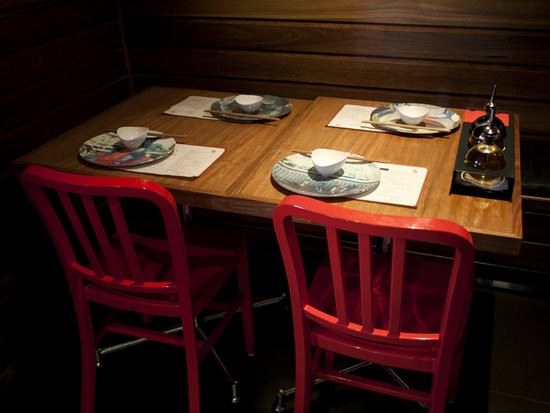 It was only just 12 on a Sunday but the place was already bustling and busy. We were shown to a table by one of the Japanese waitresses. Mr GG immediately took advantage of having Kirin beer on tap and ordered a schooner.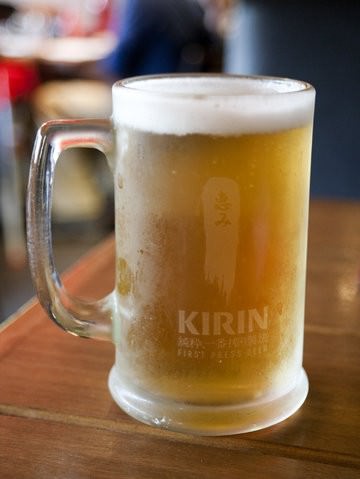 We perused the menu and chose a selection of our favorite dishes.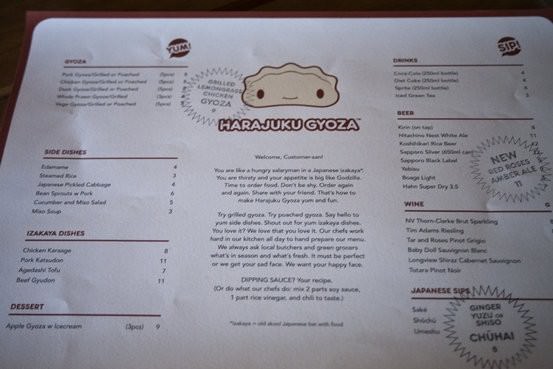 We always enjoyed the Edamame in Japan so we were quick to order these as a starter. The Edamame, or salted and steamed soy beans were delicious, hot and salty. I always love popping them into my mouth and sucking the little green beans out. I am happy to report that these were some of the best Edamame we have had outside of Japan.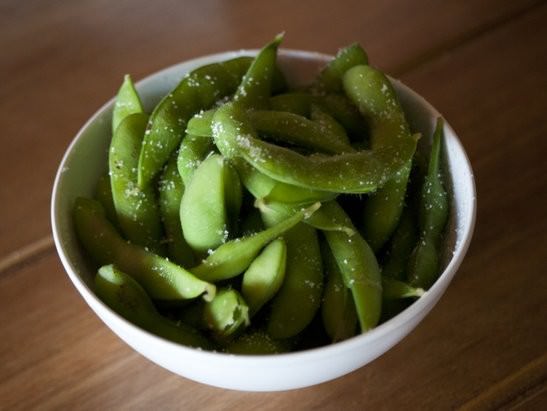 On the menu is a selection of Gyoza or Japanese style dumplings. They can be ordered steamed or grilled and come with a multitude of tempting fillings. In Japan I always chose the grilled pork Gyoza so I decided this try something a little different and selected the Duck albeit still grilled.
As I took my first bite of this slippery soft rice noodle textured dumpling the gyoza squirted out some of the delicious broth. It was amazing, the filling was so tasty, succulent and moist. Somehow out of the serve of five I managed to secure only one of these delicious bites! As my L'Son (he is on L Plates)said to me, "You snooze you lose mum" said.
hmmm…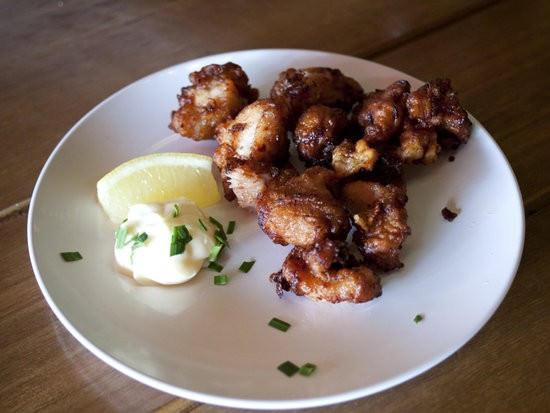 Anyway the little ones ordered steamed rice to go with their serve of Karage Chicken. The Karage was only lightly coated in a crisp deep fried batter and was then served with Japanese mayo an wedges of lemon. It was the perfect combination, moist tasty chicken with a great crunch, lemon to cut through the fat and creamy mayonnaise to finish. I would like to be able to report that the children demolished the dish themselves but as is the norm they had to wait their turn. After Mr GG and I finished "taste testing" the L'Son picked off what he wanted leaving a lot less than they would have liked on the plate.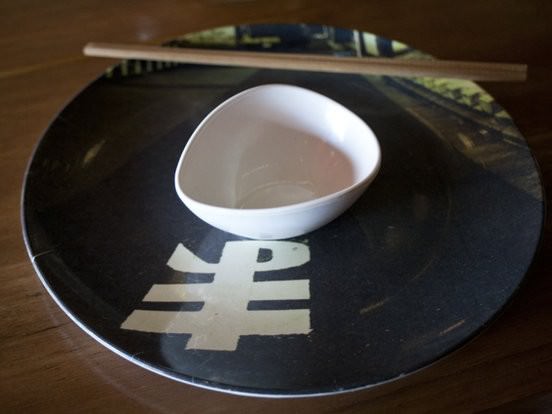 Whilst I love the Gyoza I knew I was going to need something a little more filling so we decided to choose two dishes from the more substantial Izakaya-style dishes.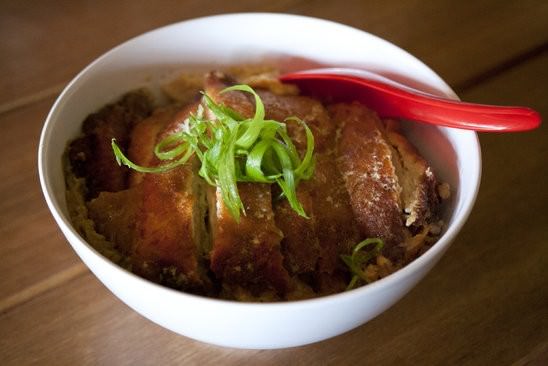 We decided on a Pork Katsudon which was a breaded and deep fried pork schnitzel sitting on a bed of rice with sweet bok choy, beaten egg and onion. The sweet fried egg was so delicious I had to share some with everyone at the table.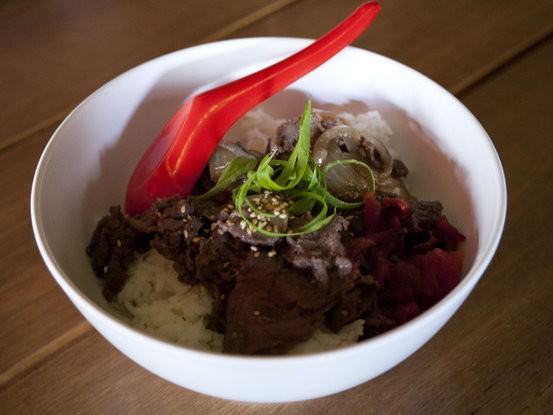 Next dish was the Beef Gyudon. Thinly thin sliced pieces of fragrant seasoned beef rest on a bed of rice, it is dusted in sesame seeds and served with sweet pickled capsicum and ginger. The pickles give the dish a crunch and sweetness which made this another winner.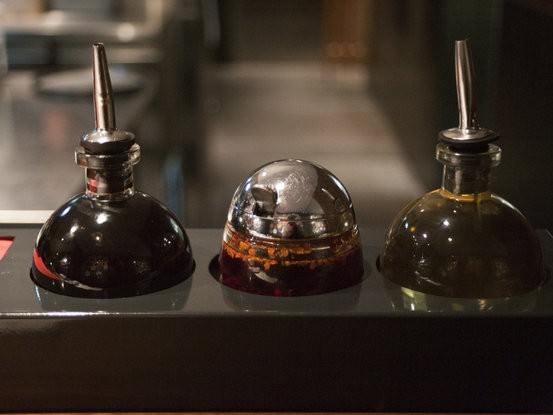 We had quite a lot of rice left over once the main dishes were complete. As per the instructions on the printed "napkin menus" we decided to make our own dipping sauce from the ingredients provided on the table, soy sauce, vinegar and chilli oil.
Mr GG and I then used the dipping sauce to flavour the remaining rice. It was mind blowingly tasty, and not just because I was heavy handed with the chilli!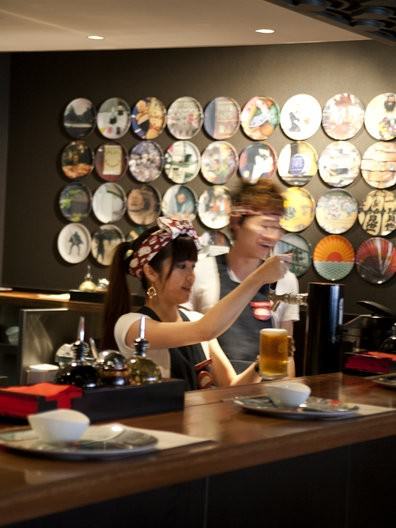 For the brave there are three types of sake available. Those who partake are treated to a loud cheer by staff and as they pour the liquid into shot glasses boxed in timber trays.

In brief the restaurant provides a friendly relaxed atmosphere, fantastic service and a delicious and simple menu. Not to mention all very nicely priced. Oh, and we can't forget they have Kirin on tap! Really, what more could we have asked for?
394 Brunswick Street
Fortitude Valley Qld