The sun is shining and it looks like it is going to be another hot Aussie Day here in Coffs Harbour! So what are your plans for this great day?
I will be beaching it with the kids!
Mr GG is away on a camping "bucks party weekend" at a remote bush campsite on the beach, about 50 kms away, so the kids and I are having a low key affair this year.
…on that point, a quick question if I may? Who goes camping in the middle of no where for their bucks party???  In the boys defense though, they all bought enough booze to sink a battle ship!
Anyway, back to Australia Day. The kids and I are keeping it simple this year.
I have made icy poles to keep us cool!
These are a very simply idea that the children can make with you.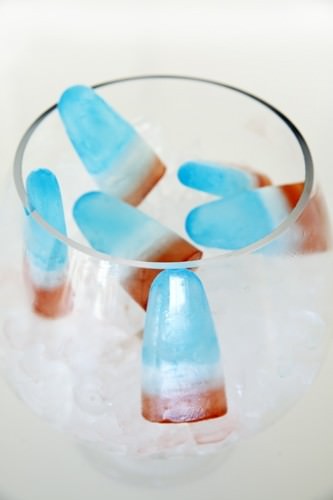 Australia Day Icy Poles
Ingredients:
Red soft drink, or cordial (personal preference)
Lemonade
Blue Gatorade or cordial
Method:
Add the blue liquid to the bottom third of the ice block molds. Refrigerate for at least 2 hours until almost set.
Add the lemonade leaving one third space in the top of the ice block.
Refrigerate for two hours and then add the red liquid. Place the paddle pop stick into the mold and freeze overnight.
There we have it, a simple thirst quenching treat for Australia Day.
Kangaroo Pockets
For our little picnic on the beach we are having Kangaroo pockets, a cute play on words don't you think 🙂  I love kangaroo meat as it is a very high iron, lean protein. It is also a great choice for dish like pies and sausage rolls as the flavour comes through nicely.
Recipe to follow next week as they also make great lunch box food for back to school.
Aussie Cocktail
…and to finish a special Australia Day cocktail just mum…
Ingredients:
30 mls Grenadine
30 mls Blue Curacao
30mls bacardi
Diet lemonade
Ice
Method:
Choose you favourite cocktail glass and fill it 1/3 with ice.
Add the grenadine to the bottle of the glass.
Carefully add the blue curacao and Bacardi to the glass.
Very carefully top with diet lemonade.
So there you have it folks, a simple and delicious Australia Day spent on the beach, and keeping cool.
What did you do this Australia Day?
Did you make something special with an Aussie flavour… why not add a link to your Australia Day using the linky tool in the comments section.