It was a beautiful sunny Cairns morning.  Mr GG and I were sitting in the Shangri-La reception when we heard "Grub" roar into the carpark on his gleaming trike.  He pulled up and sounded the distinctive horn. It was a noise that I will remember forever. The horn and his laugh every time he opened the throttle and took off down the highway.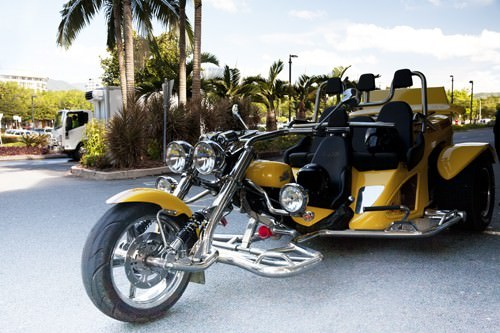 We had booked a Trike Tour with Grub, and something tells me it's an experience I will never forget.
I strapped the helmet on and Grub fixed my microphone. His voice come through the helmet, there was that trade mark laugh, and we were ready to go!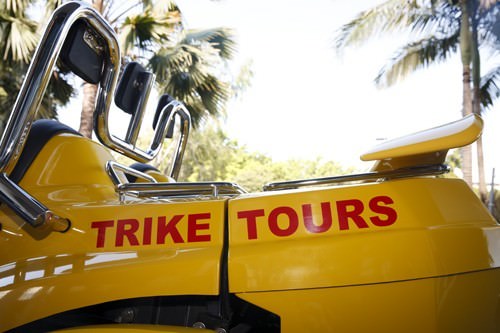 Before I know it we are heading out of the Shangri-la carpark.  All eyes are on us!
Grub gives the call "later!" to Mr GG as he leaves him behind.
He yelled, "I'll have her back in a couple of days!" and gives the horn a blast and a laugh.
We did a lap of the roundabout with an open mouthed Mr GG watching on. I was laughing as we looped back to collect him.  I knew we were in for an adventure!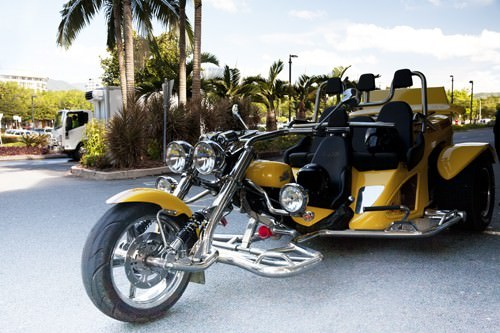 A little further down the road some pedestrians made a mad dash to cross in front of the trike. Again the laugh came through the microphone. Grub had obviously seen the horrified look on my face.
"I only ran over people on the weekends!" he laughed again.
We were already having such an adventure and we hadn't even left Cairns yet. Grub has such a huge personality!
Zipping along the highway through Cairns I'm almost in sensory overload! The wind in my face, traffic all around, the "beep beeps" and waves! I'm fairly sure Grub knows everyone in Cairns and there's a toot and a wave as he goes by.
Today we are heading out of Cairns and along the Captain Cook Highway to Mosman Gorge, and then onto Port Douglas. The trip is almost 100km and takes us along some of the most beautiful coastal roads with sweeping scenic views of the ocean.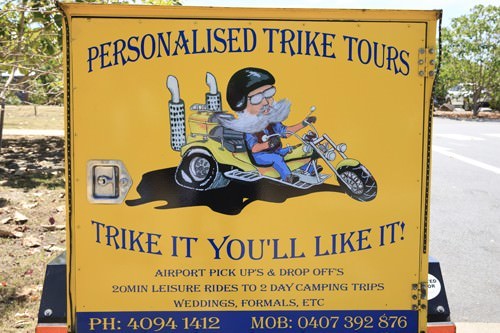 Once on the open road I can't help look at the odometre. Grub doesn't mind giving the trike a bit and I found myself white knuckled and lurching backwards in the seat each time he takes off.
I say "Wow, You don't mind opening it up!"
He answers "Nah, I've only got two points left, got to take it a bit easy"
…I think he thought I wanted him to go faster!!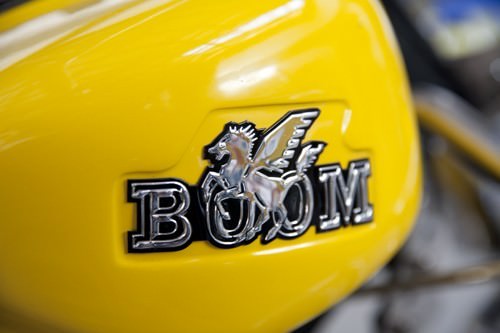 As we went through one of the large roundabouts on the highway I hear my self squeal, we are going so fast. I want to cover my eyes but that would involve letting go of the safety bar, and there's no way I was planning to do that! I heard an evil laugh from the front. "Don't worry I haven't even been able to stack this think, even when I'm drunk!" I know he's mocking me but it's funny and I laugh. Again we swerve and throttle through the next roundabout in the same manner.  My laugh turns into another little scream! It's all I can do to stop my dress from flying up in the air and hang on!
"What if you flip it?" I yell into my microphone.
"You can't stack", he yells back, and zigzags up the highway to prove a point! It's terrifying, exhilarating and mind blowingly awesome all at once. I don't know whether to giggle or shriek, but I know I'm having the time of my life.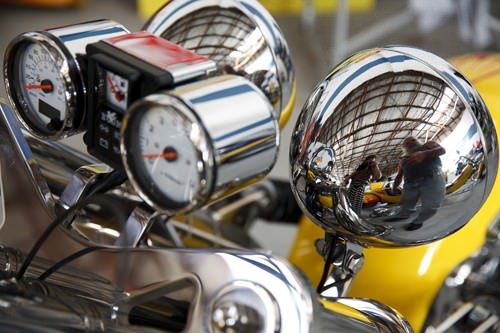 We took the turnoff to Palm Cove, and again there are some serious G-Forces involved as we round the corner. It's 0- 100 in a matter of seconds.
I'm smiling again as we cruise along. I'm loving admiring the scenery from this unique vantage point. On the trike you have all your senses in play. I can smell the sweet aroma of sugar cane, we pass through warm pockets of air, a sea breeze will blow. There is just so much more to enjoy when you are out in the open on the trike.
As we cruise into Palm Cove I immediately wished we had more time in the area.  It's such a beautiful beach side holiday location. There are lots of restaurants, cafes boutique shopping, white sand beaches and netted swimming area's. I tell Mr GG that we have to bring the children back here.
We are going walking pace on the trike through town.  We have the most beautiful view of the ocean. Children wave and Grub beeped his horn, as he said, "there's no hiding on the trike," everyone stops to look.
Palm Cove is small, so before long we are back out on the Cook highway and winding our way toward Port Douglas and Mosman Gorge.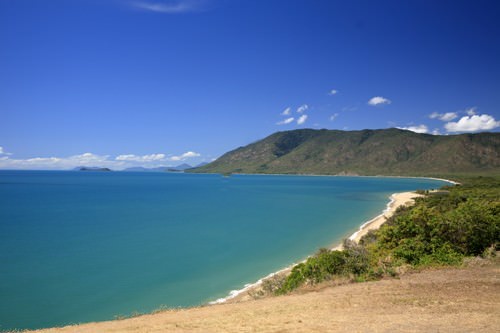 Grub suggests we stop at Rex Lookout for a photo opportunity.  It's a great idea, the outlook is beautiful.  We find ourselves looking over gorgeous deep blue water, lush green foliage and beaches that go forever. Grub points out Scout's Hat island, an island that looks remarkably like a wide brim hat and Snapper Rock. Snapper Rock is an island formation just off the coast that looks exactly like a crocodile with its mouth open.
The Cook highway between Palm Cove and Port Douglas is one of the most scenic roads I have ever travelled. The view as you skim alongside deserted beaches needs to be seen to be believed. We have done the trip a handful of times now, and I always look forward to the view.
"This should be called the Great Ocean Rd," says Grub's voice over the microphone.
I agreed wholeheartedly. It's as if he has read my mind. We have travelled along the Great Ocean Rd previously, and whilst it is beautiful in a dramatic, commanding way this road is different. Along the Cook Highway you skim the sand almost at the waters edge in places. The days are warm and the water is turquoise.  The scene is peaceful, inviting and serene. As you wind your way along the highway you rise up and have a gorgeous view over the next beach.  Then you meander down, and you are driving along the waters edge again.  The water is always in your view, and you remain right on the coast.
The ocean gives way to fields of sugar cane as we make our way inland to the sleepy village of Mosman. I can't help but take a lungful of the sweet smelling aroma. I could not be more relaxed enjoying the scenery.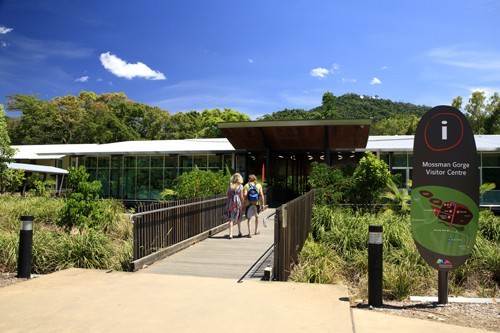 A lot has changed since we last visited Mosman Gorge.  The area is now managed by the local aboriginal community and has a large visitor centre. Access to the gorge is via a bus which ferries tourist to and from Mosman Gorge. We purchased our tickets from the visitor and caught a bus up to the gorge.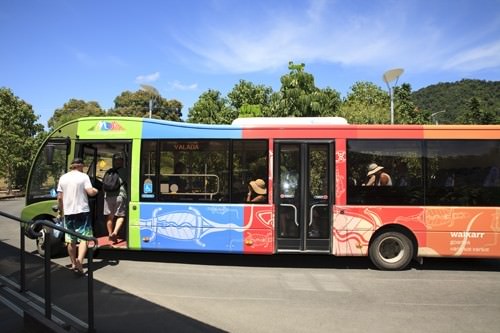 Mosman Gorge is one of my favourite spots, so calm, tranquil and serene. I love the moss covered boulders and old gnarly trees along the walking path. The area has been made more accessible since our last visit with boardwalks and bridges over the little creeks.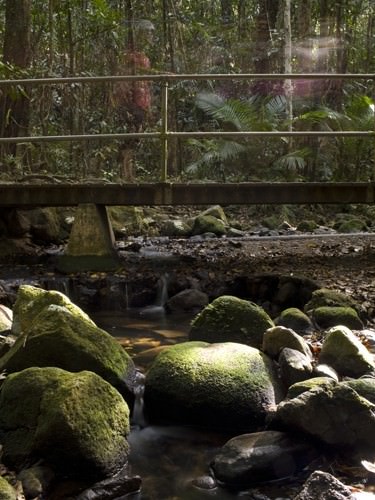 It obviously hadn't rained for a while because the creeks were quite dry. It's amazing how when you walked into a rainforest the temperature drops so dramatically.
The walking paths lead down to the gorge where there is a tiny, course sand "beach".
The water is crystal clear and fresh. It's a popular swimming spot and Mr GG is keen to take a dip.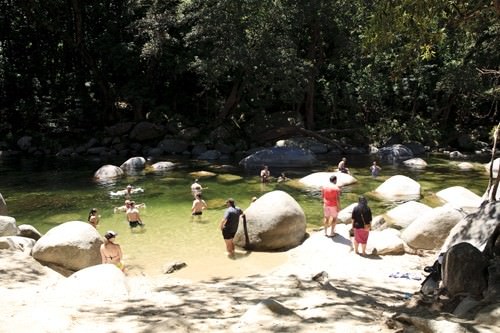 I am not so quick to jump in.  I tested the water with my big toe and as expected it was ICY! I had brought my swimmers but knowing the water comes from the mountains I had my reservations. Hubby tried to coax me in, but there was no way I was going to freeze when the tropical waters of Port Douglas beaches were just 20 kms away.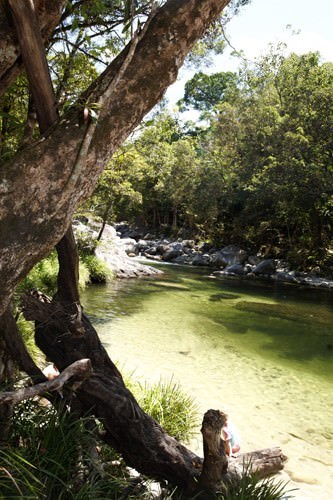 So it's time to get back on the bike, and hit the road again.
We're off to Port Douglas. The cane fields go wizzing by and we're back on the open road. I am loving the feeling of being on the trike. I feel so alive!
The cane fields have now been replaced by coconut trees. We slow to the required 80km speed limit. I hear grubs voice over the microphone.
"How's that for a face lift!!"  He laughs.
"I won't even charge you extra!"
The wind in my face had certainly smoothed out a few wrinkles, and put a smile there permenantly.
We had arrived in port Douglas.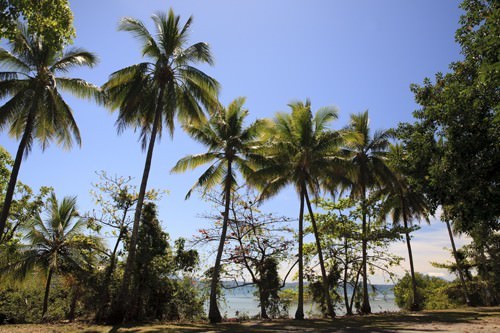 We had a few hours to wander around Port Douglas, do some shopping and have a bite to eat before our transfer back to the Shangri-La in Cairns.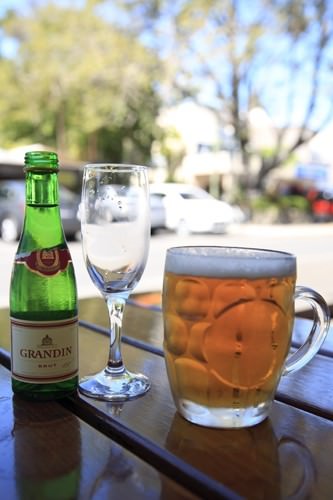 This day has been the ultimate bucket list experience.  It's not just being on the awesome trike, but doing the coast road and having Grubs hilarious commentary along the way.
"Get your motor running, head out on the highway. Born to be wild."
The tune of "Born to be Wild" plays! It's Grubs phone ringing. Such an apt ringtone!  The call is another customer booking a tour. I can guarantee they will have an experience of a lifetime!
There is no better place to do a trike tour!!! …and we had Grub, BEST EVER!!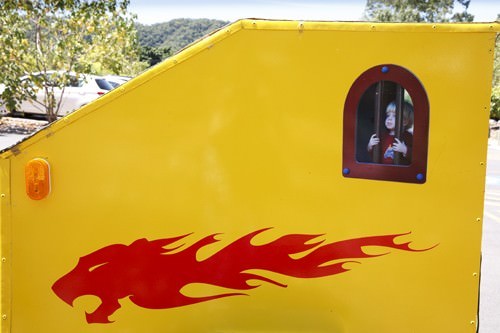 …so no, it's not a real child in the trailer.  Grub say, no ones going to steal the trailer if there is a kid in it, so he had it painted on.
Grubs Trike Tours
Ph: 0407 392 876