As soon as I knew we were traveling to Delhi I booked a lesson at Gourmet Desire Cooking Class. One of my favourite ways to learn about a countries culture is through their food. I love Indian food, but eating and enjoying the local food is fleeting. Booking a cooking class allows me to take the flavours home. By learning to prepare the dishes I've enjoyed I get an amazing souvenir of my holiday. Every time I prepare the dishes at home, the flavours transport me back to our trip.
Gourmet Desire cooking class is operated by Jyoti in her family home. Jyoti greeted us at the door and straight away said. "My niece is getting married and we have the tailor and dressmaker here. You will see what madness an Indian home can be."  We felt immediately welcome.
I booked the class because we wanted to learn how to make authentic homestyle Indian food, I was confident I was in the right place.
Jyoti explained that food in India has three qualities:
it's generational

the flavours are regional

the produce is seasonally
Generational because the newly married wives go to live with their husbands family. It's the mother-in-laws who teaches the daughters to cook. The new daughters want to please the family and learn to cook the recipes to the families taste.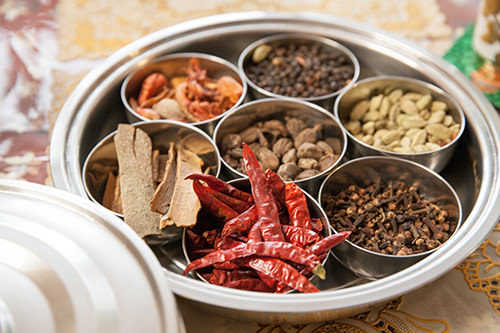 Regionality is important very important in Indian cuisine. The menu changes drastically depending on what area of Indian you visit. North India uses a lot of breads in the meals. The south is more rice based as it's nearer to countries that eat more rice. In the south you will also see coconut milk used in curries. The regionality of flavours was due to people eating foods found in the area.
Even I had noticed the seasonality of food is very pronounced in India. In Australia we can get most vegetables all the time, whereas in Indian there is a surplus of stock when a vegetable is in season, so meals a designed around that vegetable.
We had this discussion as we learned to make Masala Chai. I was surprised at how easy this chai is to make. Ordinarily I wouldn't look twice at Chai in a cafe, the teas are usually over spiced and overly sweet. The masala chai we learned to make was comforting and homely.
Gourmet Desire Cooking Class Menu
Another fabulous aspect of the class is participants are able to request specific meals to cook. The following is our menu;
Masala Chai
Aloo Tikki
Rice Pulao
Paneer Kofta
Roti
Paneer Tikka Masala
Saag Kofta
Daal
Butter Chicken
I think everyones favourite dish was the Aloo Tikka. These were surprisingly easy to make! The little potato burgers were filled with a tasty pea filling and served with a chutney.
After our entree it was time to do some serious prep-work for the upcoming feast. Anais was my mini masterchef, she total enjoyed the whole cooking experience.
We were shown two different techniques for making a tomato based curry.
The meal came together quicker than I imagined with the assistance of our teacher. Before too long we were taking a seat at the dining table, ready to sample the home cooked flavours.
The kids loved the butter chicken as expected but I really enjoyed the saag malai kofta. Everyone throughly enjoy the daal and chapati.
The meal was complete with some home made sweets share by our host.
We left Gourmet Desire Cooking Class with a full belly and a handful of recipes we will be trying again when we return home.
Gourmet Desire Cooking Class Delhi
Contact: Jyoti