If you're the celebrity stalker type, when you're in LA, you need to put aside a day for cruising the streets of Rodeo Drive, Hollywood, Malibu, and Beverly Hills.
I had my day planned out, and it involved getting topless in those famous streets! Ok, so maybe I'm painting the wrong image here.
I had organised a Family Day Pass with Starline Tours that would take us on a huge sightseeing tour of LA in their topless buses.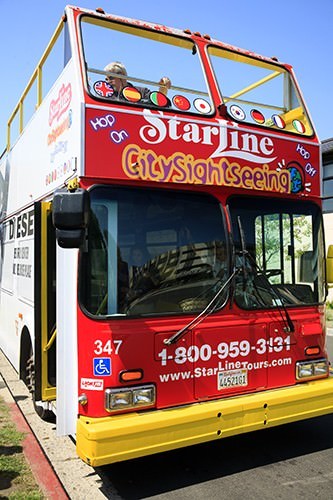 But I may have started the day with a conversation with the husband that went a little like this.
"So honey, if I were to give you a "celebrity free pass…" what three famous people would you put on your list?"
Used to random questioning Mr GG, didn't skip a beat.
"Hmm," he said, "I don't know… no, I don't know, no one, you've fulfilled all my fantasies."
"Aww, how sweet, " I said
"But you know I'm still making a list, after al, we are in LA??"
He laughed and said, "go on."
"Well Brad Pitt is still looking good, so he still makes my list, Dave Grohl has always been on my list… the third placed celebrity has changed a little over the years.
There has been a few come and go, Val Kilmer was there during his Doors Fame, but he has put on some weight and age hasn't been kind to him.
Taylor Hawkins from Food Fighter was "hot as" drumming and singing to "Cold Day in the Sun" so he was number three until his overdose… overdoses aren't cool especially when your guy starts looking like a skeleton.
So my number three has been open for a while. Much to my horror, I couldn't name a third for my list.
Hubby saw my inner turmoil as I ran through the possible celebrities and then discounted them. In the end, he asked. "Why does it matter?"
I stopped thinking for a moment and answered. "We're going celebrity hunting!" I said
"I thought we were doing the Starline Hop-on Hop off Bus Tour today?" he questioned innocently.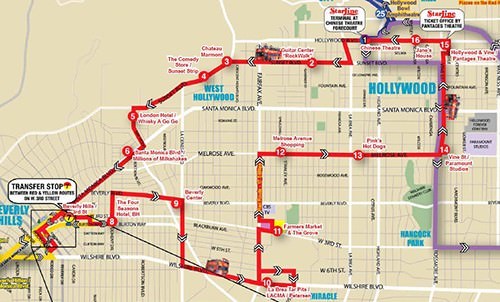 "We are," I agreed "But we are going on the Red Route, the bus will be circling all the usual celebrities haunts," I explained.
"So I've got to lock down my list before we leave."
He laughed… "and if we run into Brad Pitt shopping with Angelina Jolie on Rodeo Drive," he asked.
"That's easy," I said, "you stand aside, take the kids and bye bye baby." "I'm hopping off the bus!"
With that settled it was time to stroll down to Santa Monica Boulevard to "Hop on" our bus.
We were starting the tour on the Yellow Route and then changing at Beverley Hills to the Red Route.
The plan was to complete both routes in their entirety. That is a massive four hours of driving time even without sightseeing stops, but thankfully we weren't driving!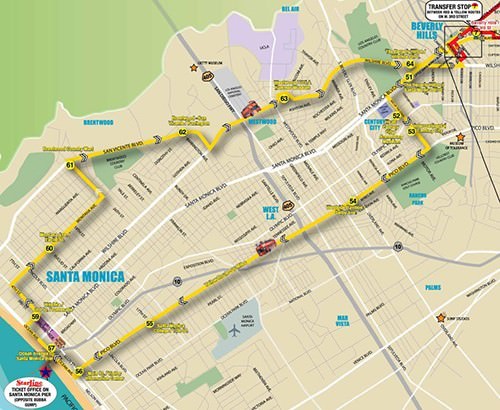 Starline Tours operate six different routes with their double decker buses and some other small group tours in topless vehicles.
We purchased a 24-hour family pass which allowed us to travel any of the six routes in the 24 hour period.
Tickets can be purchased on the bus, so there is no need to plan too much ahead for the bigger bus tours, but I imagine the smaller vehicle trips may need pre-booking.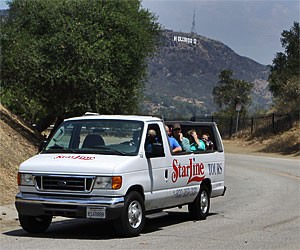 We set out along Willshire Ave to Montana Ave.
The streets widened, and the shops and cafe started looked more chic and expensive.
The guided commentary noted a beer den by the name of Father's Office which is famous for its "Office Burger" and craft beer.
We were told the burger is served without any alteration which reminded me a bit of the "Soup Nazi" on Seinfeld.
I later checked their website and found this note:
"Please be aware of our menu policy. We do not permit any substitutions or modifications to any of our menu items. Outside food and beverages are not permitted. Dessert items including birthday cakes are not permitted."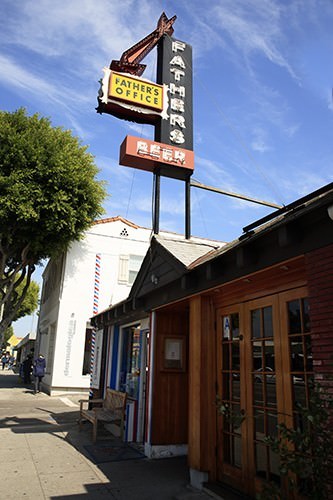 So I guess our guide was correct.  Having said that the burger sounded pretty damn good!
The ingredients include Gruyere cheese, Maytag blue cheese, applewood smoked bacon, caramelised onion and rocket served on a Brioche Baguette with no sauce allowed.
Sweet potato fries are an extra $2.00, and you can choose from 36 craft beers to wash it down.
I would have loved to jump off the bus and sink my teeth into one but the venue doesn't open until 5.00pm, and we were travelling with children.
No one under 21 is allowed inside. So this stop is strictly for a child free itinerary.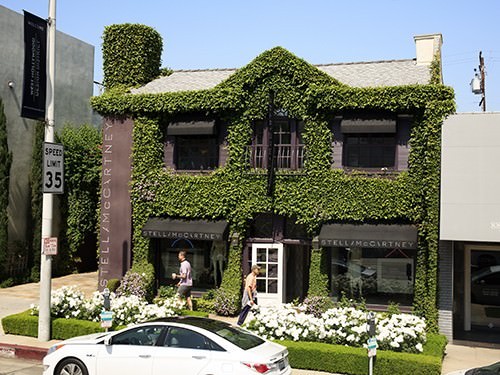 We continued on the beautiful streets, and the guide pointed out Stella McCartney store which is located in Beverley Hills.
I would never have noticed that it was a store without the guide.
I had already admired how gorgeous the building looked when we were told that it was one of her boutiques.
I don't know how she keeps it looking so beautiful.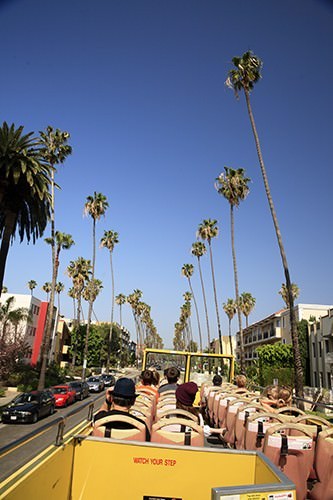 Being upstairs in the open air made it east to take photos of the various points of interest.
Los Angeles has quite a bit of traffic, so the bus was travelling at a speed that allowed for photography.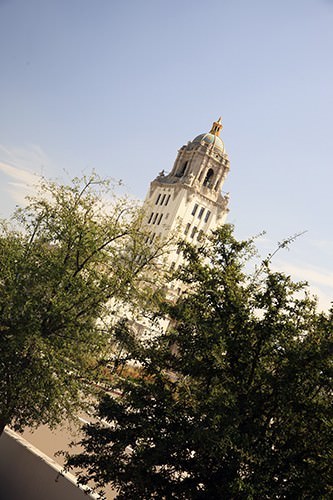 The red route intersects the yellow in Beverley Hills, so we got off the bus and changed to the Hollywood Route.
The Yellow and Red Route both circle Rodeo Drive, so we got an opportunity to look at all the high priced stores and perfectly styled shoppers carrying Gucci bags.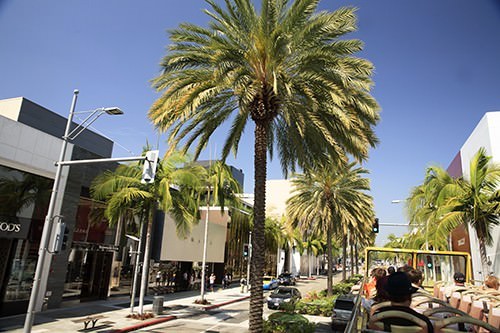 The guided commentary explained that not only is Rodeo Drive all about Prada, upmarket plastic surgeons also choose to locate their clinics here.
So if money is no object and you'd like a little nip and tuck you know where to come.
Outside the Los Angeles County Museum of Art on Wilshire Boulevard stands a collection of 202 restored lamps from more than 17 different municipal councils.
These lights form an installation known as Urban Lights which would be spectacular to see at night.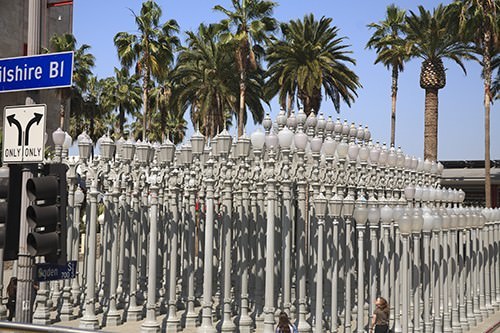 You may think I'm a bit of a nerd, but I love reading Michael Connelly's, Harry Bosch Series of books.
The books are based in Los Angeles and Las Vegas so throughout the trip I have been loving passing landmarks that have been featured in the books.
As we continued on the red route, we came across the La Brea Tar Pits. The Tar Pits were featured in the book "City of Bones."
When I was reading the book, I had no idea what they were talking about.
What is a tar pit?
I now know the La Brae Tar Pits are amazing!
These naturally occurring tar pits have been formed as asphalt seeps through the ground to the surface.
The seepage has continued for tens of thousand of years. Most interestingly many animals have wandered into the tar pits and met their doom.
Interestingly when asphalt hardens, it preserves the bones leaving a perfect fossil.
From 1910-30 the tar pits were heavily excavated and found to be a valuable source of fossils.
Over time fossil from the glacial period including a Columbian Mammoth have been recovered.
The remains of a 10,000-year-old woman and her dog were even recovered.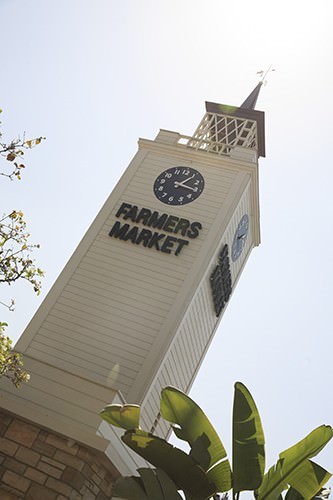 After all that history and methane gas, I was getting hungry.
It takes a lot for me to lose my appetite, especially when I knew the next stop was the Farmers Market & Grove.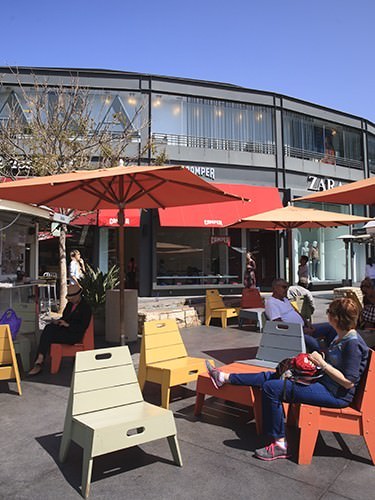 The market has been operating since the 1930's and originally consisted of umbrella covered stalls.
Now the stalls have been converted into permanent shopfronts, but they've maintained the same market charm.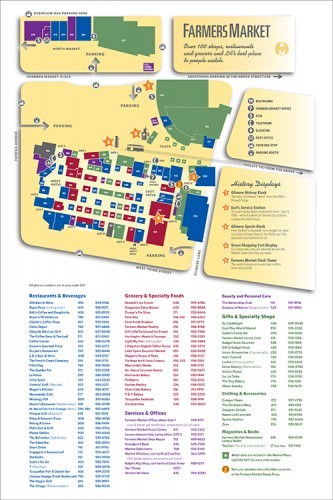 I was like a child in a candy store as we filed past all the fantastic food offerings.
The aroma of each stall was teasing my hungry belly. We entered the market through a lane way which the past store holder 740 – Bryans Pit Barbecue.
I'm sure I went weak at the knees when I saw all the slow cooked BBQ meats.
Be still my beating heart! I wanted to order a chunk of ribs, so I could eat while we walked, but hubby has this policy of looking at everything first.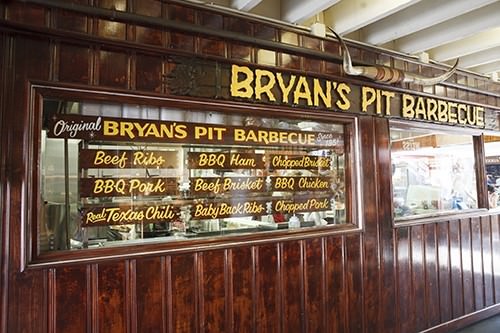 So imagine my sad face as I was lead away from my potential meat coma.
Hubby was right though; there was so much glorious food on offer!
Everything looked so good it was nearly impossible to make a decision.
I eventually settled on the Pampas Grill which was an Argentinian BBQ.
The line for Pampas Grill was out the shop and around the corner, but the skewers of meat look so good.
I took my place in the line and watched as other diners piled their plate high with the various meats and sides, then had them weighed ready for payment.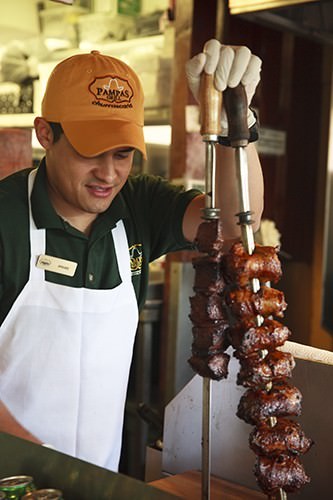 There were lots of tables and chairs in the market, but as it was hot, we decided to go upstairs to the atrium.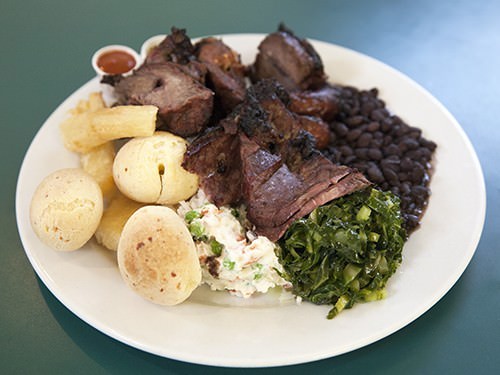 The crowds of people lining up for Pampas Grill were right to wait.
The meat was amazing, the charcoals had imparted a delicious smokey flavour, and all the meat was so moist.
I chose some of the traditional sides such as the cassava chips, cheesy bread and greens.
Everything was so tasty, which is pretty clever given the number of plates of food being served.
We demolished the plate of food in no time and hubby went downstairs to Bryans Pit Barbecue to organise another share plate.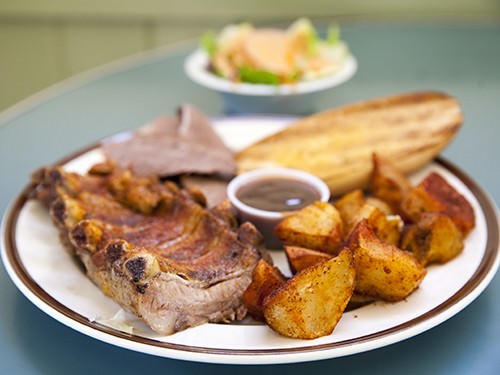 After pining for the slow cooked barbeque meat we had smelled on the way in, the meal was a huge disappointment.
The bbq looked amazing and smelled mouthwatering but was a huge disappointment.
The meat had been boiled and had no charring or "bark."
The meat was grey and dry and had only been painted in BBQ sauce.
The roasted spiced potatoes looked like they would be crispy and spicy but they were dried out, floury and also had no flavour.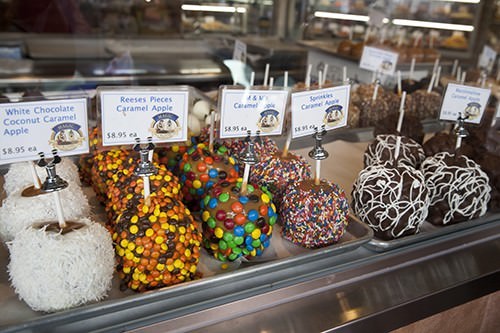 Once again the lesson learned is to stand on the longest line when you're looking for a delicious meal in a new town. The locals know where to go.
Having devoured a small animal each, it was time to join the Starline bus tour again, continuing my search for celebrities.
From the Farmers Market, the tour goes through Melrose and very trendy area with hip and funky, alternative style stores. 
I only knew about Melrose because of the series "Melrose Place," but apparently this is where the cool kid's shop.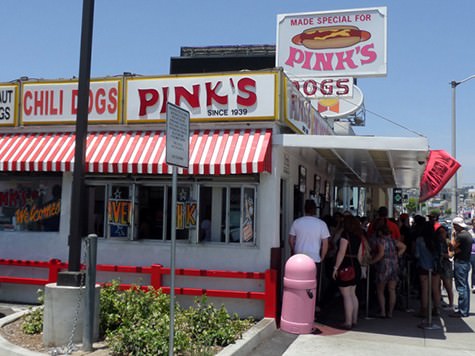 We past the very popular Pink's Hot Dogs which has been serving the stars since 1939.
You know you are famous when you get a hotdog named after you at Pinks.
Pink's has been featured in TV series and movies which are not surprising because Paramount Studios is just around the corner.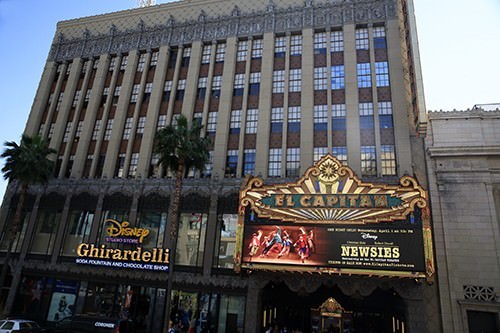 We were in Hollywood and now and ready to hop off the bus and star spot.
We didn't get too far before the children's attention was taken by a busker who gave the children weapons and had a fake battle with them.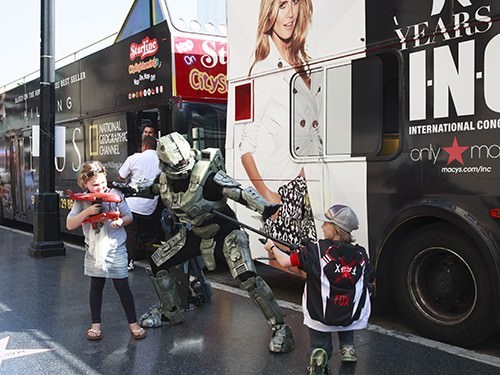 While this was fun at first, we soon realised there were hundreds of these characters in costume, and once you looked at them they grabbed the kids for a two-second play and then had their hand out for a donation.
It's easy for adults to ignore them but the children kept running over to their heroes.  We had our hand in our pocket every two metres.
I finally explained the scam to the children, and we were able to make our way to the Chinese Theatre.
Still being followed by super hero's trying to lure the kids, we managed to make it the 20 metres to the theatre.
The Chinese Theatre opened in 1927 and had played host to some of the most renowned movie premiers.
The forecourt of this iconic theatre is particularly popular for the 200 celebrity handprints, footprints and autographs which have been set in cement here.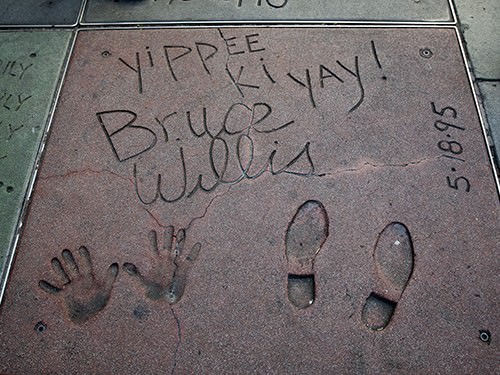 The footprint ceremonies started from the 1927 opening.
It was really fun to check out the hand and foot sizes of the celebrities. We all took turns in finding someone our sizes. Johnny Depp was my closest fit in size.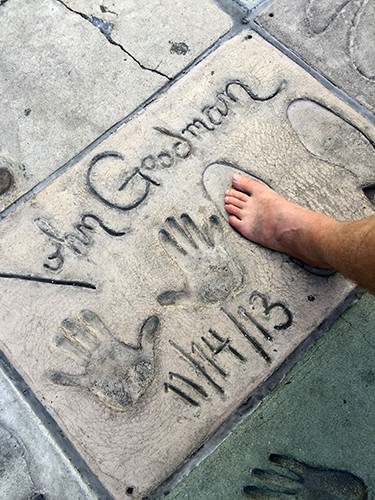 Shockingly we also discovered that John Goodman is a giant!
My husband wears a size 13 shoe and is six ft 6in, and he didn't come close to a match for John Goodman.
Next up it was time for the "Hollywood Walk of Fame."
More than 2,500 stars are embedded in the sidewalks along 15 blocks of Hollywood Boulevard and three blocks of Vine Street in Hollywood.
These stars are monuments to those in the entertainment industry.
Everyone from Micky Mouse, the Beatles Charlie Chaplin and Russel Crowe are honoured by the Hollywood Chambers of Commerce with a star.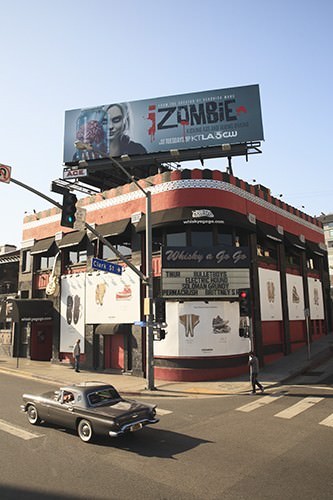 We return to the comfort of our Starline Bus and turn onto Sunset Boulevard.
We pass Chateau Marmot and are entering the nightlife strip with the Comedy Store and the famous Whisky A Go Go club.
As we cruised by I remembered the scenes from The Doors movie with Val Kilmer which were filmed inside the club.
We also caught a glimpse of the Viper Room where River Phoenix had been partying when he overdosed in 1993.
The tour guide commentary explained that in the 1920's Hollywood blossomed due to the prohibition in Los Angeles.
Hollywood was outside the Los Angeles city limits so "speak easy's" started popping up, and Hollywood was born.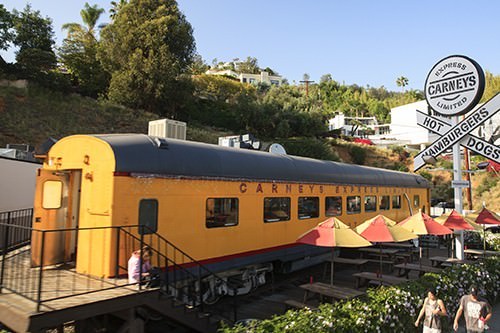 Our final highlight on the Starline Red Route was the Carney's Limited Express.
The restored, bright yellow, Union Pacific Rail car is home to Carneys hot dog & burger restaurant.
The car was bought to the site in 1970 and has been a popular local feature and tourist attraction since. 
We hopped off the red and onto the yellow route as the sun started setting.
The Starline tour had certainly allowed us to pack a lot of sights seeing into one day.
In Santa Monica, we had just enough energy left for a cocktail overlooking Santa Monica Pier.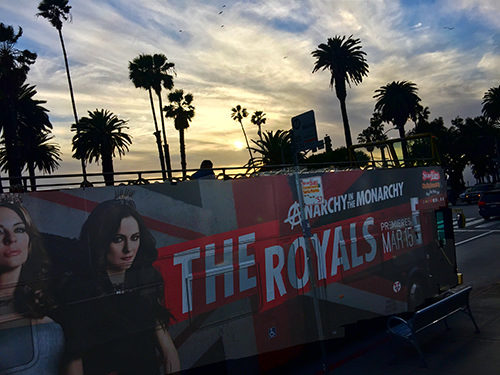 As we gazed into the sunset, we noticed more happy customers disembarking from a day sightseeing with the Starline Buses.
I wonder if any of them snagged a snog with Brad Pitt or David Grohl.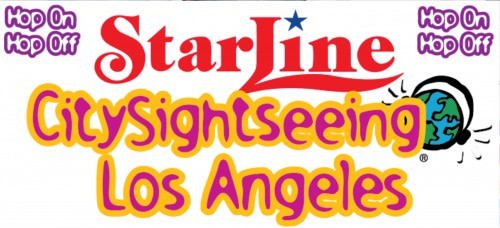 Starline Sightseeing Los Angeles
Starline Hollywood Terminal
Forecourt of TCL Chinese Theatre
6925 Hollywood Blvd CA 90028