We have a new member of the family! She is a pop-up camper trailer that we are going to take on many camping holidays. So we decided to visit Pebbly Beach in Yuraygir National Park north of Coffs Harbour to try it out on our first camping expedition in it.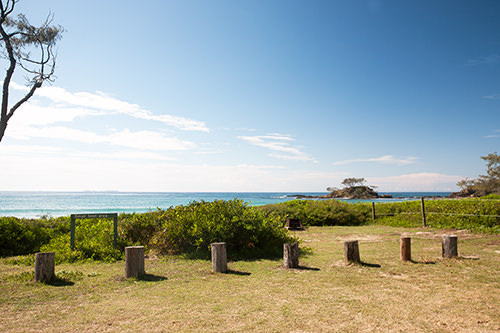 Where Is Yuraygir National Park?
Yuraygir National Park is a coastal National Park which stretches from Corindi Beach just north of Coffs Harbour to Angourie near Yamba on the New South Wales North Coast in Australia.
Yuraygir National Park is somewhere we love to camp. Throughout the National Parks pristine environment, there are a number of camping grounds and day visitors areas.
Visitors driving up the Pacific Highway can stop, rest and take advantage of the beautiful natural surroundings.
Popular activities here are fishing, surfing and hiking the Yuragir National Park coastal walk. The beach isn't suitable for little kids as there is a quick drop off but the creek is a perfect swimming spot.
One of our favourite bush camping sites in Yuraygir National Park is Pebbly Beach.
Pebbly Beach was also one of our favourite spots to escape for the weekend when we owned our first camper trailer.
Fast forward two children, thirteen years and a new 2001 Jayco OB Camper trailer later and Pebbly Beach was the obvious place to christen our new glamper van.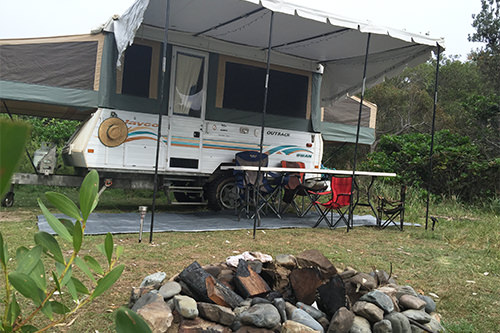 Ok, if we're honest, it's not quite a glamour camper at the moment, but it will get a remodel. I've already got plans in the pipeline to give the camper a bit of a facelift.
Since it's now school holidays the camper trailer renovation will have to wait until after a few brief trips.
We've planned two weeks of traveling up and down the coast. The trip will include some free camping, National Parks campsites and a few stops in some well-placed caravan parks.
This style of travel is something we are very familiar with as we have traveled all around outback Australia and even to the tip of Cape York in previous adventures.
4wd Access to Pebbly Beach Campground
We arrived at Pebbly Beach later than expected. Getting to the Pebbly Beach campground requires some beach driving and crossing a creek, so a 4wd is a must. Big caravans won't make it, getting to the Pebbly Beach campground is suitable for high clearance camper trailers only. 
Crossing the creek looked a bit more dicey than usual. Hubby got out and walked across first.
The water level was mid-thigh height on him. But he's 6 foot 6 "!
Brett assured me that low tide had been just one hour ago. I was worried.
The access and crossing had completely changed. Given that low tide had passed, every minute of staring at the water increased the depth.
We decided to bite the bullet and make the crossing before the tide got higher.
As we drove through the creek the water came over the bonnet at one stage.
The creek has a rock bottom so there was no chance of being bogged in the sand.
We continued to drive and we dipped low and then rose up on rocks and then submerged once again.
I was waiting for the 4×4 to die a tragic death in the creek. Miraculously we made it across!
My first task was to check if we had gotten any water inside the camper.
I was surprised and relieved to see that everything was dry! These Jaycos are made for these conditions
Campsites at Pebbly Beach Yuraygir National Park
We had barely got to the Pebbly Beach campgrounds and selected a campsite when the sun went down. So we got to setting up camp in the dark, luckily the campsites are spacious and all are well situated and spaced out.
Thankfully we've owned a Jayco camper before and we could almost put it up in our sleep.
I had bought the kids their own flashlights for the trip so their job was to shine the lights where it was needed.
With the campsite set up, we were just about to get out the camp chairs when some louts in a beat up old black 4wd Nissan Patrol parked up alongside us.
The driver had all the spotlights blazing which made it look like daylight once again.
Turned out the vehicle belonged to my eldest son. He and some friends decided to stop by after work and check out our site. It was such a nice surprise!
The first thing he said was "How did you get this across the creek?" His vehicle is lifted and has big tyres etcetera and he said he almost didn't make it!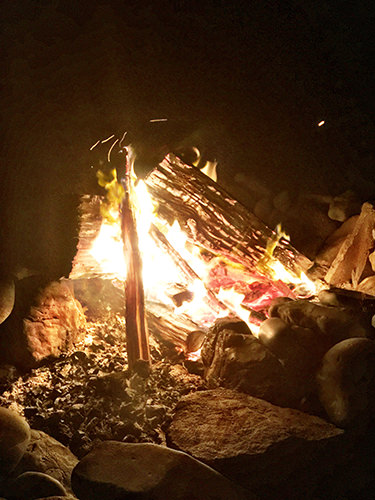 We set the boys to work building our campfire. The previous campers had left a ring of large stones so it made the job nice and easy for us.
I started making nachos for everyone and asked if they were planning to stay the night. He said "Nah, we just popped out to say hi!"
Bahaha! We couldn't help laugh.
Brett said "You might be here a while, high tide isn't until 9.00pm. The low tide is at 3.00am.
"True to his nature Ty's response was, "Oh well, there are worse places to be stuck."
I had bought ingredients to make S'mores. We usually just toast marshmallows on the fire but I kind of wanted to pimp our campfire routine.
I figure s'mores must be a taste sensation if so many Americans love them. Here's my Australian version of a S'more recipe.
The s'mores were awesome! As much as I don't like to love junk food… I have to say I loved these! Forever more I will be packing the S'mores ingredients for our camping trips.
Once dinner was complete the big kids had a dilemma. All three of them had to work the following day. What had initially been a quick drive after work was looking like an unexpected camping trip.
Camping makes me tired so we said good night and headed inside whilst the big kids pondered their options.
Shortly after I heard the Patrol start up. I presumed they were going to take a look at the creek crossing.
I drifted off to sleep with nothing but the sound of the waves hitting the beach.
A few hours later there was a knock at our camper door. Ty's voice said "knock, knock". We opened the door and he said. "Do you have anywhere for me to sleep that doesn't include my car?"  Bahaha! Love my boy.
We got an update, Ty had walked his friends across the creek.
The creek was now up to his underarms. Obviously, at that height, there was no way to get a vehicle across.
The three kids (20 somethings) walked the 8kms down the beach in the dark. The eventually reached the beach access point.
Ty said goodbye to his mates there as his friends were being picked up on the other side of the dunes.
Tylor then walked the 8 kms back along the beach in the dark by himself.  He said it got a bit freaky at times and the hairs on the back of his neck stood up more than once.
Then he crossed the creek all the time imagining there were sharks in the inky black water. Once across the creek he got in his car and drove to our campsite.
His new plan was to dry off, sleep on our couch and set an alarm for 5.00am.
I woke up this morning to the sounds of the birds in the trees and the waves breaking on the shore.
There was no sign of Tylor on the lounge. As far as I know, there isn't a vehicle in the creek so I guess he made it to work.
Pebbly Beach Creek Crossing
Yep, just took a walk to the creek crossing. As you can see the tide is full and there is no vehicle in the water.

The weather wasn't fabulous but the kids still had fun swimming.
There were other kids to make friends with so before too long a game of cricket had started on the grass.
Brett and I took this opportunity to relax and read a book.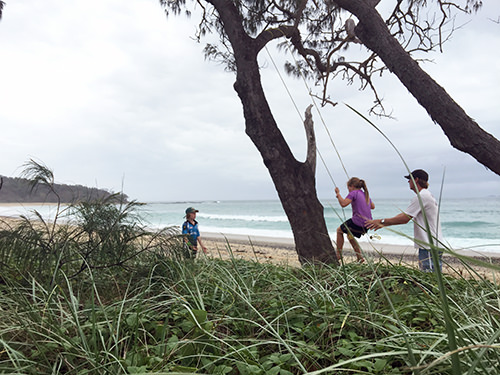 Anais found some rope and convinced Brett to make a bush style swing back at our campsite.
That kept her happy for hours.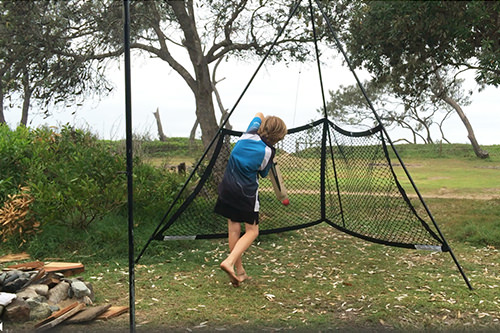 We had also packed one absolutely essential item for Locky.His Puma Batting forever cricket set up.
Locky is a crazy cricketer and going anywhere without this would have caused a holiday mutiny.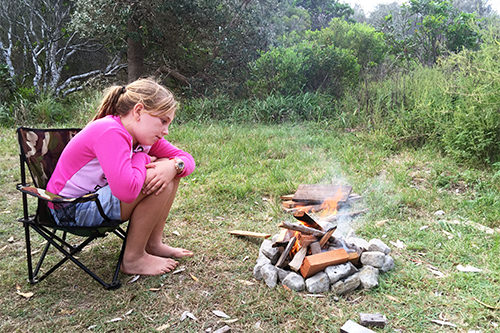 Anais also amused herself by building her own little campfire next to the big one.
I swear you can't underestimate the value of fire to amuse children.
Swags Under The Camper
Once again we were woken through the night by our eldest son, his girlfriend and another mate.
Apparently, the older kids weren't put off by the events of the other night and had decided to join us for the day.
This time they were prepared so they set up swags under the camper awning.
It was raining quite hard but they were dry in the swags.
I love that my big boys are grown up now and still like to do this stuff with us.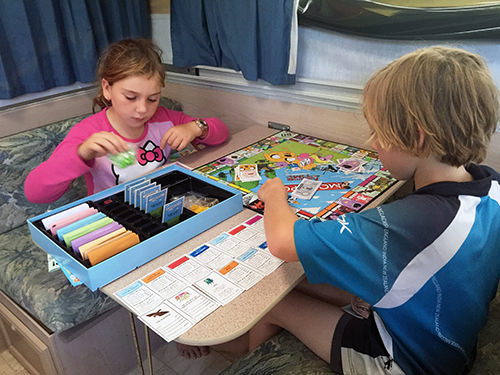 We started the day with a true camping breakfast. Bacon & Eggs on toast.
Tylor cooked the bacon outside and I did the eggs and toast inside.
Anais convinced Ty's girlfriend to play a game of Adventure Time Monopoly while breakfast was being prepared.
Everyone was happy and dry!
Yuraygir Coastal Walk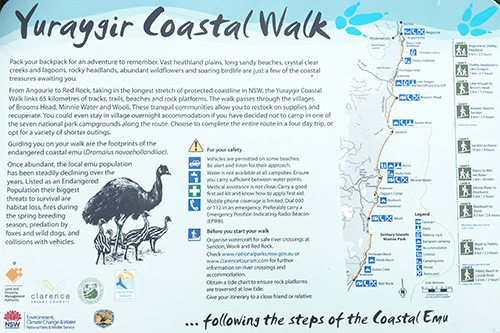 When the rained stopped we decided to do one of the marked hikes.
Through out Yuraygir National Park there are graded bush and coastal walks.
You can actually walk all the way to Angourie following these walks.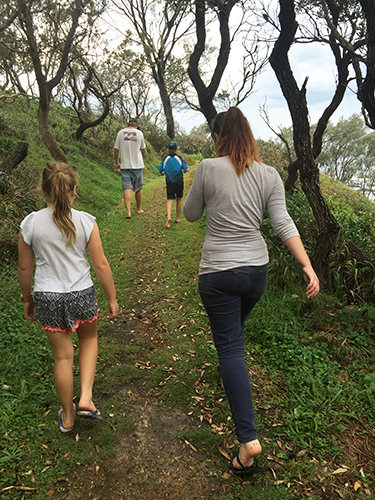 We took the track over the headland to Freshwater Beach and then continued for another hour along the coast.
There are some lovely spots to site on the bench seats and just watch the ocean.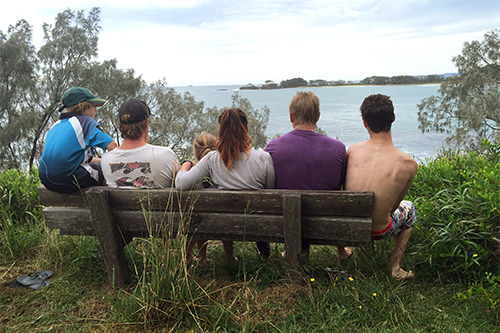 We also found a pretty significant tree house built in one of the Australian Coastal Pandanus Trees.
It was even decorated with shell wind chimes.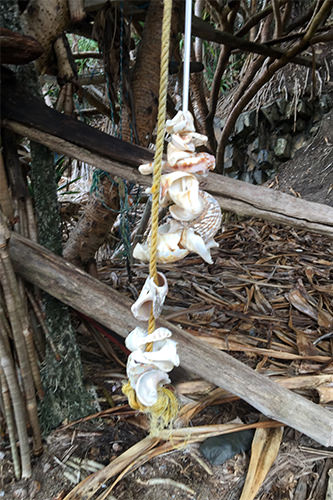 The threat of rain pulled the walk up before we could reach Wooli.
I had been hoping to make the 6km walk from Pebbly Beach to Wooli.
The little kids were very pleased for the two or three drops of rain that paused those plans.
They're not a fan of the hikes we like to do.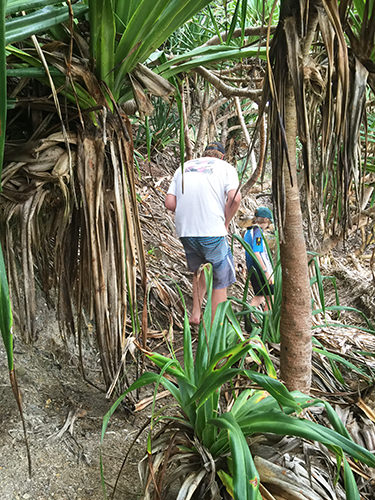 Tylor thought it was amusing that the little kids are undergoing the same brutal treatment that he did as a child.
Although I didn't notice Tylor complaining on the hike so I guess our perseverance as parents paid off.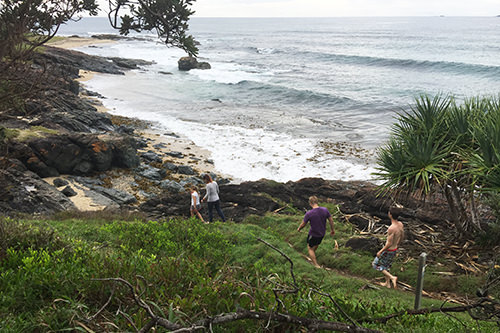 As it turned out there was no further rain until well after we had gone to bed that night.
We returned from the walk we made a campfire and cooked these Pork Burgers on the hotplate.
I even brought with me brioche buns to make them even more delicious.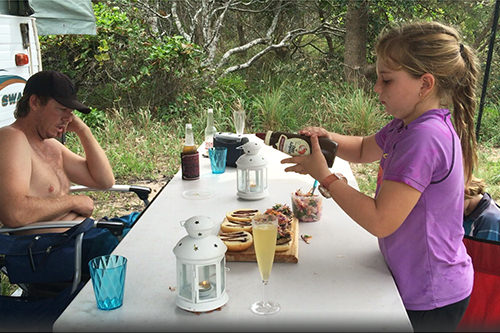 Anais did most of the cooking and service of our lunch whilst I enjoyed a Mimosa.
The pork patties had been prepared at home and frozen a week earlier.
It was simply a matter of grilling the burger and adding salad and sauce.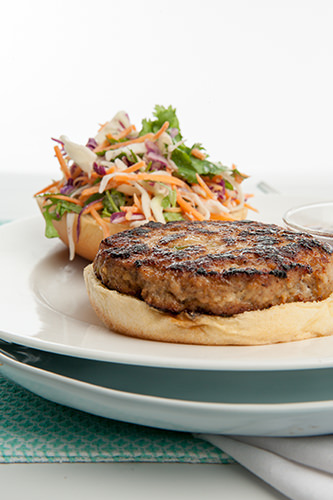 SUP Paddleboarding Pebbly Beach Creek
The sun was out in force for our last day camping at Pebbly Beach. The kids started off the day playing monopoly but after breakfast, we decided to make the most of the beautiful day.
We drove down to the creek with the stand-up paddleboard and the kid's body boards. The tide was due to run in from the ocean for another hour so we drifted lazily up the creek, swept along by the tide.
The water in Pebbly Beach creek is absolutely crystal clear!
At times it was so clear we could see large fishing swimming along the creek bottom.
The creek was so beautiful and peaceful. Periodically I jumped of the SUP and took a swim to cool down.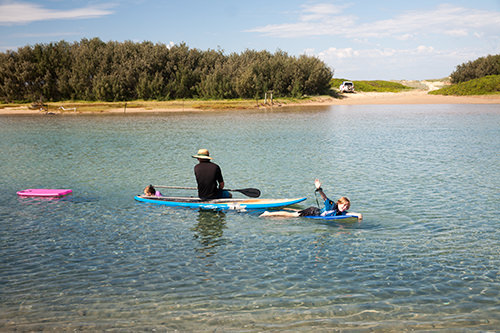 We were about to pass a steep sand hill that would be perfect for the kids to toboggan down.
We stopped and the kids climbed to the top of the hill with their body boards.
Anais was the first to launch herself down the sand dune. She literally flew down the hill on the board and splashed into the water below.
Giggling and spluttering from getting a nose full of water Anais was quick to jump out of the water and head straight up the sandhill again.
Seeing the fun Anais was having Locky decided to follow his sisters lead and he too went screaming down the sand dune, splash landing in the water below.
The kids took it in turns of running up the hill and then hurtling back down at break neck speed.
I took the time to enjoy a swim in the clear water as the children played.
From the top of the sandhill we could see a wooden jetty in the distance.
Station Creek Campsite Yuraygir National Park
We realised we must be near the Station Creek campsite. Once again we took to the creek on the boards to drift and lazily paddle. The tide was much less strong so it took a little bit of paddling to reach the jetty.
At the jetty, we beached the boards so we could take a look at the area.
We had indeed drifted down to the Station Creek campsite.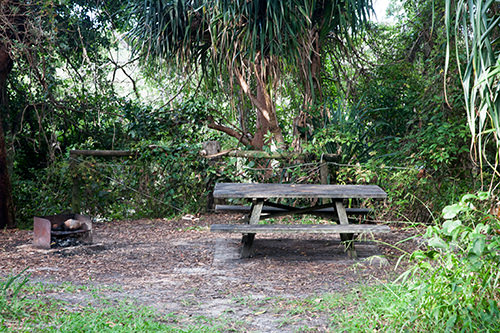 It was the first time we had taken a look at this site. It's a really pretty camp area with great facilities.
It would be the perfect spot for a BBQ or picnic. There were so many open fireplaces with picnic tables nearby.
The campsite looked to be suited to tents more than campers although we did spot a caravan that looked quite settled in the shade.
Floating down the creek had been a great adventure but we decided to make the trip back to our own campsite.
The trip back was a little more difficult. The tide wasn't flowing in either direction so we needed to use some of our own energy to get back to the ocean mouth and Pebbly Beach campground.
This was a fabulous experience. I would totally recommend bringing a SUP or some other buoyancy device. We even saw one couple in a blow-up dinghy.
They had a bottle of bubbly with them and an esky that was floating behind them in its own mini blow up boat. They had definitely done this before.
On the drive back to Coffs Harbour we declared our maiden voyage to Pebbly Beach a resounding success.
I had packed enough water, food and wine. Our meals were delicious. When it rained the kids were happy playing board games. We had no internet or phone service so it was very relaxing.
Camper Survived The Trip To Yuraygir National Park
Most importantly the camper didn't leak in the rain, the fridge work fabulously on gas. The stove worked, the new dual battery system we had installed to run the caravan lights worked perfectly.
We also discovered the water tank has an electric pump which worked off the dual battery system.
That was a huge win! I hated pumping water in our old camper.
I also found that I hadn't forgotten to pack anything! So you can rest assured if you use my "What to Pack in Your New Camper" list you'll be set up with everything you need.
Another fabulous win was that we still have more storage space available in the Jayco Swan.
This was really surprising as we never quite had enough space for clothing in the Outback Eagle.
So with our first trip complete to Yuraygir National Park, I am looking forward to glamping up our next camping experience.
Yuraygir National Park Map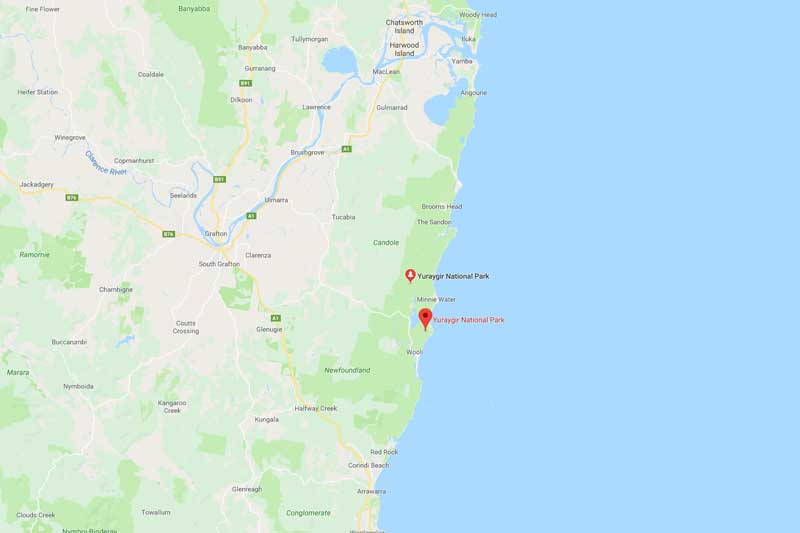 Click the Map above to go to Google Maps. Yuraygir National Park is always open unless closed due to bushfires etc. 
Park entry fees are $8 per car (or you can get a yearly pass that gets you into most National Parks within NSW)
Camping Fee's are $12 per Adult and $6 per child between 5-15 years old per night. Kids under 5 are free.